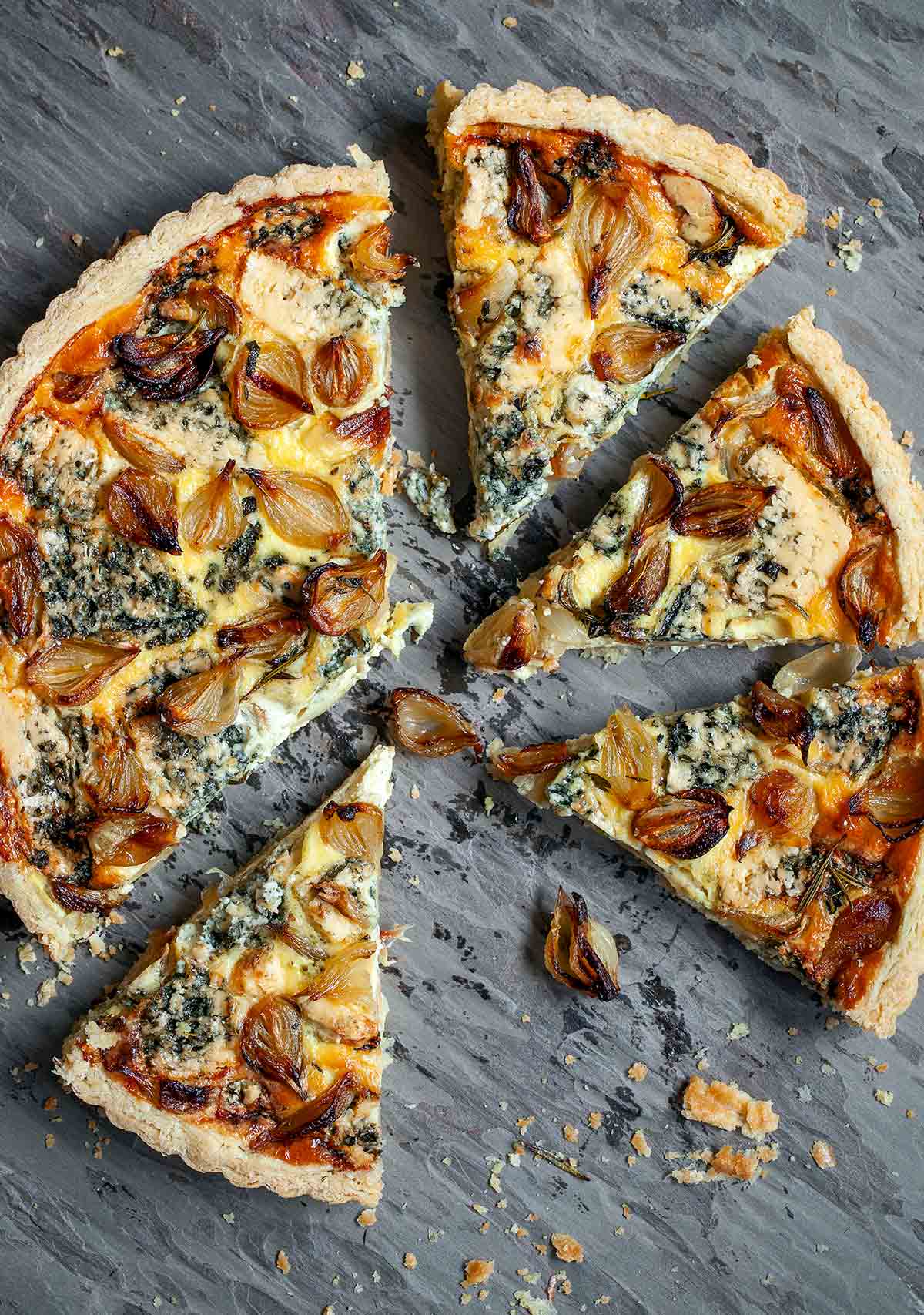 Don't look at the long list of ingredients for this onion and blue cheese tart and think for a minute this is a difficult recipe. Because it's not. It's without a doubt one of the finest recipes on LC. I've made it for what seems like a ballroom full of guests and no one can ever seem to get enough.
I do have one small caveat, though. Bleu de Gex isn't the easiest cheese to find. Do some investigative work in your local markets, because the difference it makes is noticeable. If you can't find it, Stilton subs nicely.–David Leite
What is Bleu de Gex cheese?
Bleu de Gex cheese. Wondering what the heck is that? To be truthful, we asked ourselves the same thing the first time we encountered this recipe. More importantly, we also asked where can we find it? A scouring of New York City cheese shops left us empty-handed. (Well, not really, as we had a refrigerator full of some truly lovely cheeses…) If, like us, you can't find the marvelous Bleu de Gex cheese, fret not. You can order it online. Or you can substitute Bleu d'Auvergne (another elusive cheese) or good old Stilton. Trust us, your tart will still be delicious, creamy, and requested time and again by friends and family. Any leftover blue cheese can be used to make this divine broccoli and blue cheese gratin.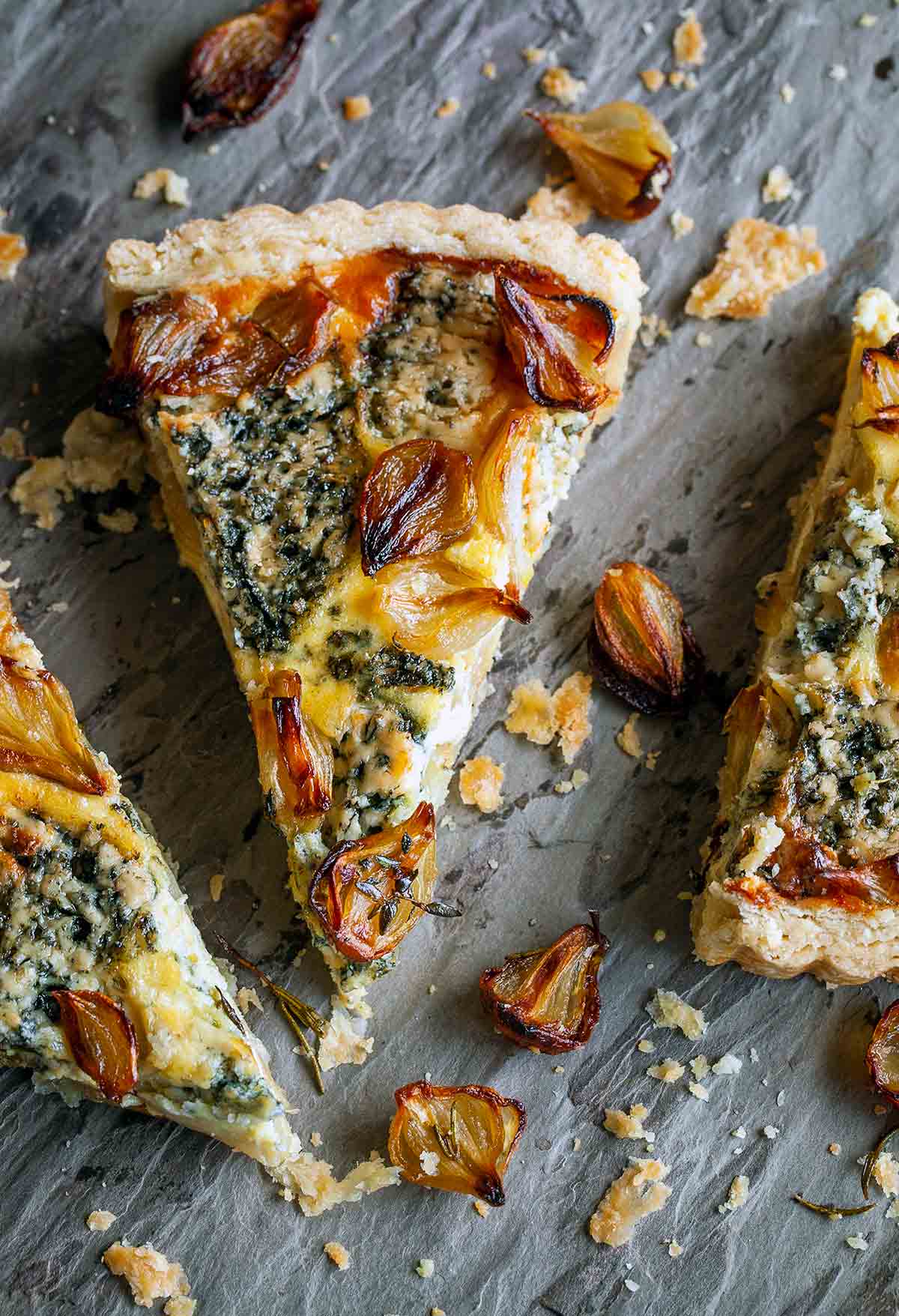 Onion and Blue CheeseTart
This onion and blue cheese tart is a savory pie made with roasted cipollini or pearl onions, a rich ricotta filling, and a creamy blue-cheese royale (translation: filling).
Equipment
10-inch (25-cm) tart pan with a removable bottom
Ingredients
For the onions
1 1/2

pounds

cipollini, boiling, or large pearl onions

,

peeled* (see *How to peel cipollini onions below) and quartered

1/4

cup

extra-virgin olive oil

1/4

cup

loosely packed rosemary leaves

1

tablespoon

finely sliced sage leaves

t

tablespoon

thyme leaves

1

teaspoon

Kosher salt
For the tart dough
2

cups

all-purpose flour

,

plus more for the work surface

1/4

teaspoon

Kosher salt

12

tablespoons (6 oz)

cold unsalted butter

,

cut into 1/2-inch (12-mm) cubes

3 to 5

tablespoons

ice water
For the filling
1/2

cup

whole-milk ricotta

,

drained if wet

1

large

egg yolk

1

tablespoon

extra-virgin olive oil

1/4

cup

crème fraîche

Pinch of kosher salt and freshly ground black pepper
For the royale
1

large

egg

1

teaspoon

all-purpose flour

Pinch kosher salt

1/4

cup

heavy cream

1/4

cup

whole milk

1

tablespoon

crème fraîche

1/2

pound

Bleu de Gex, rind removed and cut into 1/4-inch slices

,

(you can substitute Stilton or Bleu d'Auvergne)
Instructions
Prep the onions
Preheat the oven to 350°F (175C°).

In a small bowl, toss together the onions, olive oil, rosemary, sage, thyme, salt, and pepper. Spread the mixture in a single layer on a rimmed baking sheet and roast until the onions are softened and begin to color but still hold their shape, 45 minutes.

☞ TESTER TIP: If you used our nifty peeling trick for cipollini onions found beneath the recipe, you may find you can reduce the roasting time by as much as 15 minutes since the onions have been partially cooked.

Place the baking sheet on a wire rack to cool. Increase the oven temperature to 375°F (190°C) and adjust the oven rack to the middle position.
Make the tart dough
Dump the flour and salt in the bowl of a food processor and pulse to combine. Add the butter and pulse until the mixture resembles small peas, about 10 one-second pulses. While pulsing the mixer, drizzle 3 tablespoons ice water through the feed tube until the dough starts to come together. If the dough isn't coming together, add the remaining water, 1 tablespoon at a time. Don't overmix the dough.

Transfer the dough to a lightly floured work surface and form it into a disc with your hands. Roll out the dough into a 13-inch circle, then ease it into a 10-inch tart pan, fitting it snugly against the sides and bottom, and trim the excess. Prick the bottom of the tart with a fork and refrigerate for 30 minutes.
Make the filling
In a small bowl, whisk the ricotta, egg yolk, and olive oil until smooth. Stir in the crème fraîche and season with salt and pepper.
Make the royale
Whisk the egg, flour, and salt in a small bowl. Heat the cream and milk in a small saucepan until hot but not boiling, then slowly add it to the egg and flour mixture, whisking until smooth. Stir in the crème fraîche.
Assemble the tart
Spread the filling evenly in the tart shell. Scatter 3/4 of the onions in the tart shell and drizzle with the royale. Arrange the slices of cheese on top. Dot with the remaining onions.

Bake the tart for 30 minutes, rotating it 180° after 15 minutes.

Loosely cover the tart with foil and bake for another 15 minutes. If the pastry needs more color, increase the heat to 400°F (200°C), uncover the tart, and bake for 10 to 15 more minutes.

Cool the tart in its pan on a wire rack for at least 5 minutes. Slice and serve.
Notes
*How To Peel Cipollini Onions
The one downfall of cipollini onions is that if you don't know how to properly peel them, this can take forever. We suggest you cut off the root end on each onion and then drop them in boiling water for 2 minutes. The peels will slip off much more readily than trying to wrestle with the papery skins. If you use this trick, shared with us by recipe tester Nadine Bonda, you may be able to decrease the time to roast the onions from 45 minutes to 30 minutes because they're already partially cooked.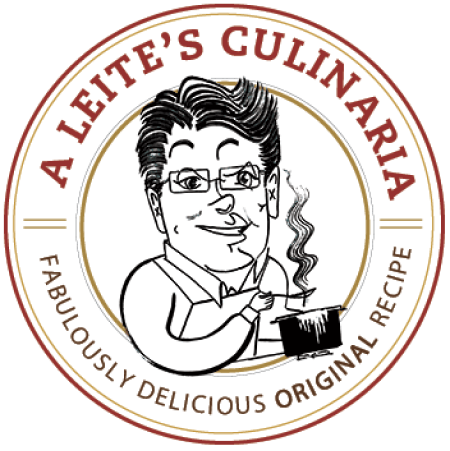 Nutrition
Serving:
1
slice
Calories:
534
kcal
Carbohydrates:
35
g
Protein:
12
g
Fat:
39
g
Saturated Fat:
18
g
Polyunsaturated Fat:
2
g
Monounsaturated Fat:
15
g
Trans Fat:
1
g
Cholesterol:
132
mg
Sodium:
429
mg
Potassium:
289
mg
Fiber:
3
g
Sugar:
5
g
Vitamin A:
820
IU
Vitamin C:
7
mg
Calcium:
104
mg
Iron:
3
mg
Nutrition information is automatically calculated, so should only be used as an approximation.
Recipe © 2005 Suzanne Goin. Photos © 2021 Cenk Sönmezsoy. All rights reserved.
---
Recipe Testers' Reviews
This onion and blue cheese tart is well worth the time it takes. It's not only beautiful but it tastes divine. The filling is unlike a quiche filling in that it has more texture and taste with the addition of ricotta cheese and rème fraîche. The sweet taste of the lovely cipollini onions in combination with the bleu cheese is perfect. I served it for Sunday night dinner and it was a hit, described as "this is definitely a make again."
The one downfall of cipollini onions is that if you don't know how to peel them, they can take forever. I cut off the root end on each then dropped them in boiling water for 2 minutes. This allowed me to pull off the skin in a much shorter time. Also, because the onions were now partially cooked, I was able to cut the time to roast the onions from 45 minutes to 30 minutes. Both of these steps were a plus in doing a multi-step dish.
I used Bleu d'Auvergne cheese. I baked the completed tart for 30 minutes, but I did it on the middle rack in my oven to help it brown a little faster. It was perfect. It was nicely golden on the top and had a firm texture. I served it alone as dinner and found that it served two of us with an additional serving left for lunch tomorrow.