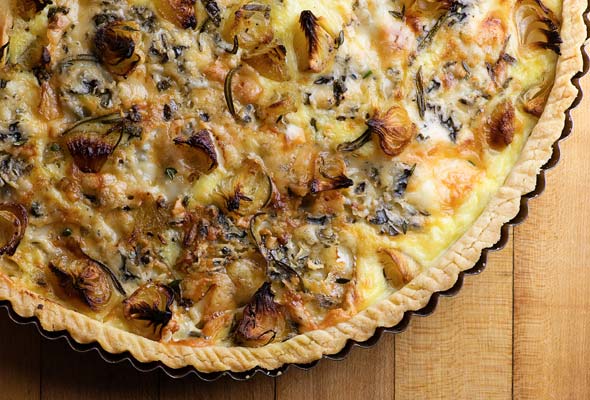 Don't look at the long list of ingredients for this cipollini tart and think for a minute this is a difficult recipe, because it's not. It's without a doubt one of the finest recipes on our blog. I've made if for what seems like a ballroom full of guests and no one can ever seem to get enough.
I do have one small caveat, though. Bleu de Gex isn't the easiest cheese to find. Do some investigative work in your local markets, because the difference it makes is noticeable.–David Leite
LC The Bleus Note
Bleu de Gex. Wondering what the heck is that? To be truthful, we asked ourselves the same thing the first time we encountered this recipe. More importantly, we also asked where can we find it? A scouring of New York City cheese shops left us empty-handed. (Well, not really, as we had a refrigerator full of some truly lovely cheeses…) If, like us, you can't find the marvelous Bleu de Gex cheese, fret not. You can order it from iGourmet.com. Or you can substitute Bleu d'Auvergne (another elusive cheese) or good old Stilton. Trust us, your tart will still be delicious, creamy, and requested time and again by friends and family.
Cipollini and Bleu de Gex Tart
Quick Glance
30 M
2 H, 10 M

Serves 8 to 10
Special Equipment: 10-inch tart pan with a removable bottom
Ingredients
Email Grocery List
For the cipollini

1 1/2 pounds cipollini onions, peeled and quartered

1/4 cup extra-virgin olive oil

1/4 cup loosely packed rosemary leaves

1 tablespoon finely sliced sage leaves

t tablespoon thyme leaves

1 teaspoon Kosher salt

For the tart dough

2 cups all-purpose flour

1/4 teaspoon Kosher salt

12 tablespoons (6 ounces) cold unsalted butter, cut into 1/2-inch cubes

3 to 5 tablespoons ice water

For the filling

1/2 cup whole-milk ricotta, drained if wet

1 large egg yolk

1 tablespoon extra-virgin olive oil

1/4 cup crème fraîche

Pinch of kosher salt and freshly ground black pepper

For the royale

1 large egg

1 teaspoon all-purpose flour

Pinch kosher salt

1/4 cup heavy cream

1/4 cup whole milk

1 tablespoon crème fraîche

1/2 pound Bleu de Gex, rind removed and cut into 1/4-inch slices (you can substitute Stilton or Bleu d'Auvergne)
Directions
Prep the cipollini

1. Preheat the oven to 350°F (175C°).

2. In a small bowl, toss together the onions, olive oil, rosemary, sage, thyme, salt, and pepper. Spread the mixture in a single layer on a rimmed baking sheet and roast until the onions are softened and begin to color but still hold their shape, about 45 minutes. Place the baking sheet on a wire rack to cool.

3. Raise the oven temperature to 375°F (190°C) and adjust the rack to the bottom third of the oven.

Make the tart dough

4. Place the flour and salt in the bowl of a food processor and pulse to combine. Add the butter and pulse until the mixture resembles small peas, about 10 one-second pulses. While pulsing the mixer, drizzle 3 tablespoons ice water through the feed tube until the dough starts to come together. If the dough isn't coming together, add the remaining water–1 tablespoon at time. Don't overmix the dough.

5. Transfer the dough to a lightly floured work surface and form into a disc with your hands. Roll out the dough into a 13-inch circle, then ease it into a 10-inch tart pan, fitting it snugly against the sides and bottom, and trim the excess. Prick the bottom of the tart with a fork and refrigerate for 30 minutes.

Make the filling

6. Whisk the ricotta, egg yolk, and olive oil in a small bowl until smooth. Stir in the crème fraîche and season with salt and pepper.

Make the royale

7. Whisk the egg, flour, and salt in a small bowl. Heat the cream and milk in a small saucepan until hot but not boiling, then slowly add it to the egg and flour mixture, whisking until smooth. Stir in the crème fraîche.

Assemble the cipollini tart

8. Spread the filling evenly in the tart shell. Scatter 3/4 of the onions in the tart shell and drizzle with the royale. Arrange the slices of cheese on top. Dot with the remaining onions.

9. Bake the tart for 30 minutes, rotating it 180° after 15 minutes. Loosely cover the tart with foil and bake for another 15 minutes. If the pastry needs more color, increase the heat to 400°F (200°C), leave the tart covered, and bake for 10 to 15 more minutes. Cool on a rack for a few minutes before slicing and serving.
Cipollini and Bleu de Gex Tart Recipe © 2005 Suzanne Goin. Photos © 2012 Kate Jackson. All rights reserved. All materials used with permission.
If you make this recipe, snap a photo and hashtag it #LeitesCulinaria. We'd love to see your creations on Instagram, Facebook, and Twitter.