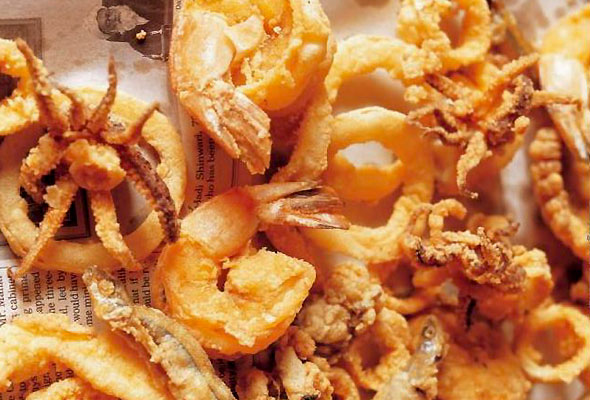 Every port in Italy has a fried seafood combination plate, but not too many have good ones. On the Amalfi Coast, however, they know how to do fried seafood right. The key is to make sure the oil is at the right temperature. I fry seafood at 275°F (135°C), which is at least 100 degrees (Fahrenheit) lower than what most people do. I also use a combination of half olive oil and half vegetable or peanut oil. The lower temperature and the combination of oils keeps the seafood crisp on the outside and moist on the inside. Use whatever seafood looks freshest at your local market. The fried lemon slices, which I first saw on the Amalfi Coast, are a great touch.–David Pasternack and Ed Levine
LC Fried Seafood Flourish Note
When you read The Young Man & The Sea, you'll find that author chef David Pasternack relies on Wondra flour for dredging this mixed bag of seafood given that the flour "never clumps" and "the excess is easily shaken off." Who are we to argue? We were actually too distracted to contemplate the type of flour the first time we made this fritto misto, so wooed were we by the accompanying fried lemons with their cracklingly crisp crust yet juicily citrus smack. Truly divine. Don't you dare omit them–although do fry them before you fry the fish, for what we think are obvious reasons.
Fritto Misto Amalfitano
Quick Glance
20 M
40 M

Serves 4
Special Equipment: Deep-fry or candy or instant-read thermometer
Ingredients
Email Grocery List
6 cups extra-virgin olive oil, or more as needed

2 cups canola oil, or more as needed

1 1/2 cups Wondra flour (or substitute rice flour)

1 cup cornstarch

Pinch of sugar

Pinch of cayenne pepper

Sea salt

Freshly ground black pepper

2 lemons, 1 thinly sliced and 1 cut into wedges

1 pound squid, cut into 1 1/2-inch pieces, or large shrimp, peeled and deveined

4 ounces shucked oysters

4 ounces bay scallops

1/2 pound scrod, cod, or other mild white fish, cut into 1 1/4-inch strips
Directions
1. Combine the olive and canola oils in a Dutch oven, stock pot, or other wide, deep pot. You should have a pool of oil that's at least 8 inches deep. (If that's not the case, add more to bring it to that depth.) Set the pot over a medium flame. Bring the oil to 275°F (135°C) and maintain that temperature.

2. While the oil is heating, combine the flour, cornstarch, sugar, cayenne, and 2 teaspoons each of salt and pepper in a wide, shallow bowl. Dredge the lemon slices and the seafood in the flour mixture, shaking off any excess flour.

3. Using tongs or a slotted spoon, gently lower some of the dredged lemon slices into the hot oil, working with just 4 to 6 pieces at a time so as not to crowd the pot. The oil should bubble and sizzle but not spatter. Cook until golden brown and crisp, about 5 minutes. (Keep an eye on the oil temperature. It will drop after the raw ingredients are added and climb as they are cooking. Do not let the oil temperature climb above 280°F [138°C].) Using tongs or a slotted spoon, transfer the lemons to a baking sheet or platter lined with paper towels or a brown paper bag and season with salt and pepper while everything is still hot out of the oil. Repeat with the seafood, reserving the squid. Increase the temperature of the oil to 325°F (163°C) and repeat with the squid. Serve the fritto misto family-style, on a platter or a newspaper-clad table, along with the lemon wedges on the side for squeezing.
Recipe Testers Reviews
This recipe works perfectly as written, but for the person who's less experienced with cooking fish, especially frying fish, I'd add a few pointers:
1) I used a deep fryer, which makes it easier to control the temperature of the oil.
2) The temperature of 275°F is perfectly fine for thicker fish and the scallops. I used flounder, cod, walleye, and swai fillets.
3) For the squid, I first tried cooking it at the same temperature as the fish but it came out too rubbery. So for the next batch I brought the temperature to 320°F and the squid was perfect after about 3 minutes.
4) Make sure to fry the fish in batches according to size and thickness, as the thicker pieces will take longer (about 4 minutes) and the thinner will cook faster (the squid took 3 minutes max).
5) Make sure when dredging the squid rings to open them up nicely so that their insides are floured so they won't stick.
I did a batch with Wondra flour and another with rice flour (due to being on a gluten-free diet). My husband tried both and felt there was very little difference between them; if anything, he felt the seafood that was coated with the rice flour was even lighter than the seafood coated with Wondra. The color of my seafood wasn't as golden brown as the photo above. The scallops especially were tremendously moist and juicy. It was far from greasy/oily. We ate it as an antipasto but made a meal out of it. Although it was finger food, our hands weren't greasy, which I think says something. The reason I DID like using the flour was that it was much more like southern European-style, where there is barely any batter. Living in Wisconsin, where Fish Fry Fridays are common, I'm never able to eat the fish due to the heavy batter, which in my mind takes away from the actual taste of the seafood. This is absolutely not your typical American fried fish. It's very European, hence I loved it. Even after the fried seafood turned cold, it kept its crispness.
Since I first tested this recipe I've made it quite a few more times, and the results have always been amazing.
This is a unique approach to frying fish with unique results. While it takes a watchful eye to keep the oil temperature below 280°F, the results are worthwhile. It took about 7 minutes to heat a blend of olive and canola oils to 275°F on medium heat. I began by frying the lemons. They emerged from the fryer crisp but juicy. These were absolutely wonderful. I think I could have eaten a plate of the lemons all by themselves. When I placed the lemons in the oil, the flour mixture did disperse a bit. This caused the oil to become cloudy, but it didn't affect the outcome of the lemons or the fish. The fish fried up into a lightly crisp, nongreasy, flavorful piece of cod. The texture of the fish becomes firm but not rubbery, although the fish does not fry up into a deep, golden brown; it's not like a British fish fry. Eat some of the lemons and fish together. They are a great combo. (These lemons would also be fabulous on their own served as is or with some powdered sugar for a sweet finish.)
Fritto Misto Amalfitano Recipe © 2007 David Pasternack | Ed Levine. Photo © 2007 Christopher Hirsheimer. All rights reserved. All materials used with permission.
If you make this recipe, snap a photo and hashtag it #LeitesCulinaria. We'd love to see your creations on Instagram, Facebook, and Twitter.