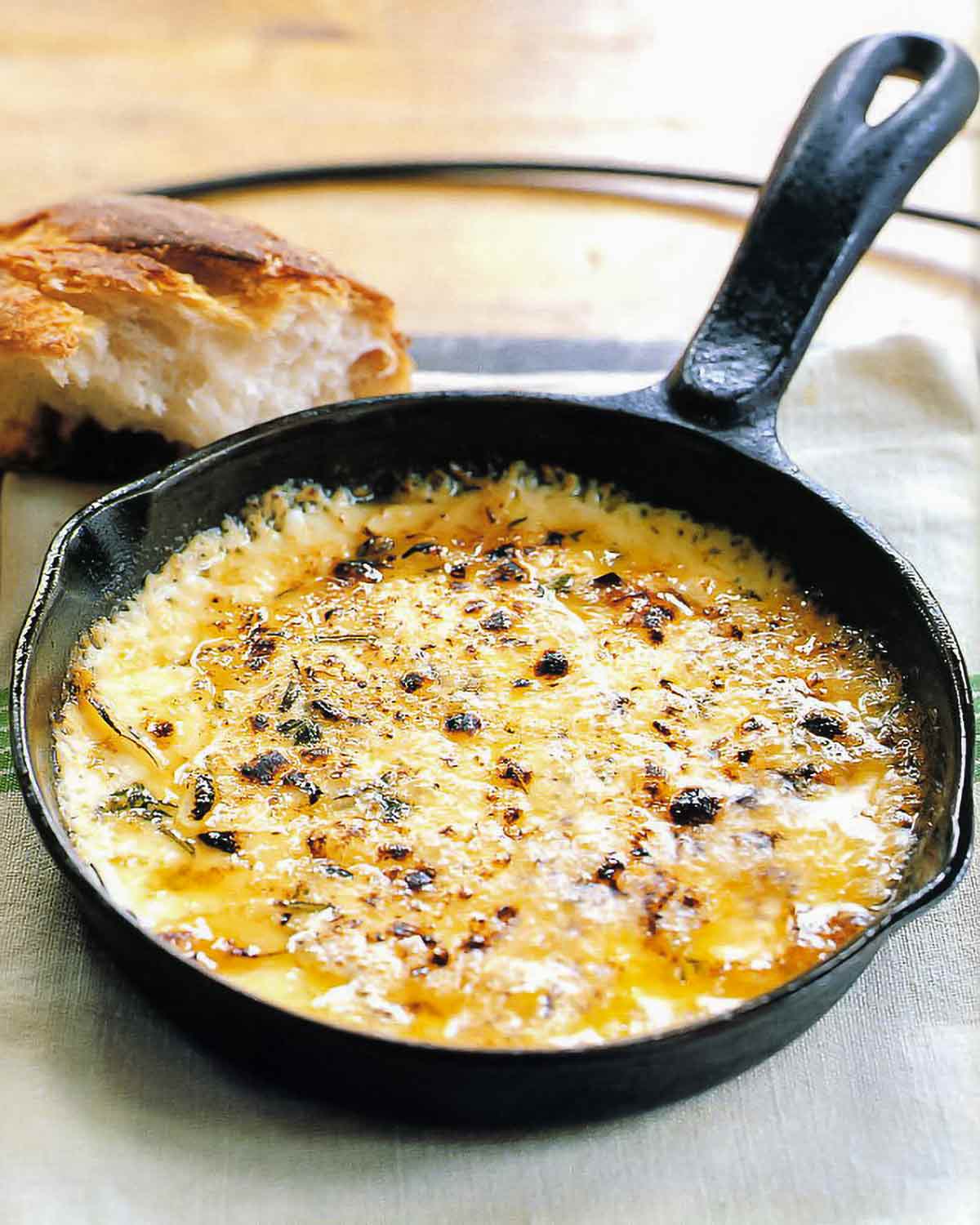 This is a streamlined, simplified version of fondue without the fondue pot, without the cans of Sterno, and without the wine, cornstarch, or other supporting ingredients. You just take some cubed fontina cheese, top it with slivered garlic, thyme leaves, and olive oil, and broil until it's melted and bubbly enough to scoop up with hunks of bread. It's a great appetizer, and, paired with a green salad and a glass of wine, a pretty nifty lunch or dinner as well.–Jimmy Bradley and Andrew Friedman
*What kind of cheese can I substitute for Fontina?
If you are able to find fontina, author Jimmy Bradley says to be sure to use an Italian fontina. As he explains, "The Danish varieties don't melt right for this recipe." You heard the man. However, if you can't find it—or if you just can't wait—you can swap in some mild provolone, Gruyère, or gouda.
Baked Fontina with Garlic and Thyme
We dare you try this baked fontina and not grin from ear to ear. A bubbling, garlicky skillet-full of melted cheese is a magical thing, friends. A loaf of your favorite bread is all you'll need to make it disappear.
Ingredients
1 1/2

pounds

Italian fontina*

,

soft brown rind trimmed and discarded, cheese cut into 1-inch dice

1/4

cup

olive oil

6

cloves

garlic

,

thinly sliced

1

tablespoon

thyme

1

teaspoon

finely chopped rosemary

Salt

,

to taste

Freshly ground black pepper,

to taste

Sliced country bread or rolls
Instructions
If making individual servings, divide the fontina among four 6-inch cast-iron pans.

If making a single large skillet full of ooey gooey goodness, dump the fontina in a 12-inch cast-iron skillet.

Drizzle the fontina with olive oil and scatter with the garlic, thyme, and rosemary. Season with salt and pepper. Broil until the cheese is melted and bubbly, 6 to 7 minutes.

Plunk the skillet(s) on a trivet or folded cloth towel on the table with bread on the side for dunking, dipping, or otherwise enrobing in cheesiness. Originally published April 19, 2006.
Nutrition
Serving:
1
portion
Calories:
790
kcal
Carbohydrates:
5
g
Protein:
44
g
Fat:
66
g
Saturated Fat:
35
g
Polyunsaturated Fat:
4
g
Monounsaturated Fat:
25
g
Cholesterol:
197
mg
Sodium:
1362
mg
Potassium:
138
mg
Fiber:
0.3
g
Sugar:
3
g
Vitamin A:
1637
IU
Vitamin C:
4
mg
Calcium:
951
mg
Iron:
1
mg
Nutrition information is automatically calculated, so should only be used as an approximation.
Recipe © 2006 Jimmy Bradley. Photo © 2006 David Sawyer. All rights reserved.
---
Recipe Testers' Reviews
My husband and I DEVOURED this dish along with some gluten-free bread I'd made. Sure, in theory it serves four, but it was a perfect amount for two hungry people — we just had the bread and the cheese and were completely satisfied. Just picture bubbling Fontina flavored with olive oil, garlic, thyme, rosemary, salt, and pepper! The easiest fondue you'll ever make. You just broil it.
As fontina is so mild, I can imagine all sorts of additions, such as a few oven-roasted tomatoes scattered on top, other fresh herbs such as basil, or perhaps a bit of mint with a brief squeeze of lemon juice. Not that I am looking for a way to improve this awesomeness, but my creative mind is always seeking options. I seriously don't think that the dish could be improved—just modified here and there, but not necessarily made any better. This is pure comfort food. My husband and I will be eating this in front of the fireplace on winter evenings, I just know it.
I made this as individual servings with Italian fontina as directed. I highly recommend this be considered not four to six servings, but rather two to three servings, as no one should have to skimp on bubbly cheese with crusty hunks of bread. One word of caution when it comes out of the oven looking ready to dive in, pause. It is VERY hot and will burn the inside of your mouth if you are not able to have a little patience before devouring.
I found this to be completely satisfying solo, but it is rich, and a nice crisp green salad served alongside would perfectly balance and complement this large amount of cheese. Alternately, a fresh crisp raw vegetable could also serve in this complementary fashion, such as radishes, which would add a little spark of color to the plating, in addition to a textural counterpoint."
I'll occasionally test 2 recipes together that I can serve simultaneously. I especially like to serve test recipes together without telling anyone what we're having for dinner. I call it Super Surprise Dinner and it fills me with joy every time I get to do it. This weekend, I had the pleasure of making both Leite's perfect ciabatta and this incredible baked fontina cheese dish, then eating them together.
Let me just get this out of the way first—I love a cheese fondue like lions love fresh gazelle. That is to say, ferociously. But this melty little cast-iron wonder is so fast and tasty and perfectly flavoured that I might extinguish those pesky Sternos once and for all.
I used a mixture of fontina and provolone as that's what I could find in the required amount. I rarely buy provolone because, while it tastes delicious, it makes my mouth hurt. But fontina is hard to find here, so I split the difference—puffy tongue be damned.
And it was everything that I was promised—bubbly and melty and creamy and even more eye-rollingly good than I could have imagined. The fresh ciabatta was perfect with it; I also served gherkins, olives, salami, and pickled grapes. Eating the melted cheese out of the cast iron kept it warm for quite some time, long enough that we got through quite a bit of it. The portion that was left, I moved to a small cast iron pan and had it for a snack the next day. Reheating it was absolutely no problem, it even gained a little more crispy bits which we all know are the very best bits.