We dare you try this baked fontina and not grin from ear to ear. A bubbling, garlicky skillet-full of melted cheese is a magical thing, friends. A loaf of your favorite bread is all you'll need to make it disappear.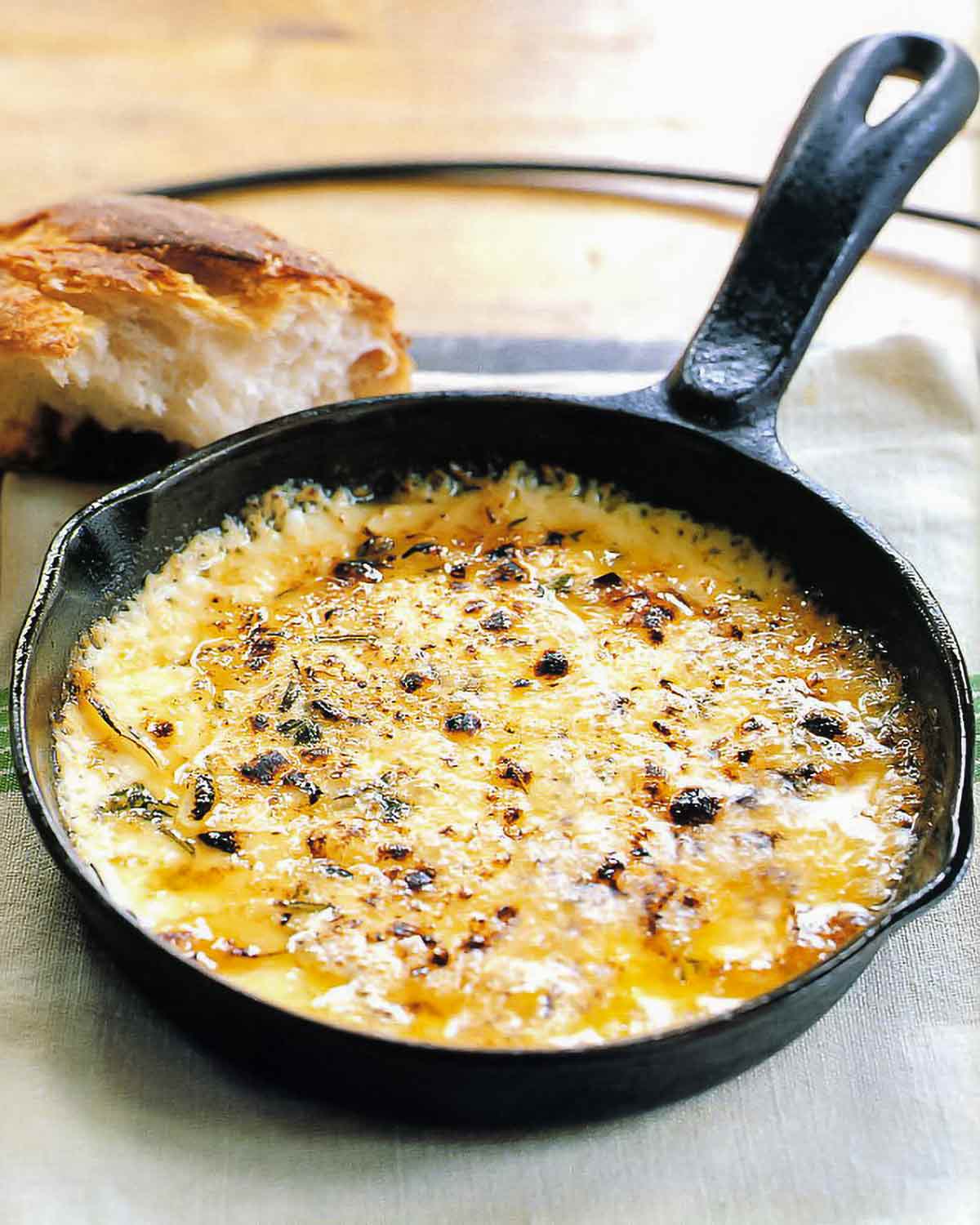 *What kind of cheese can I substitute for Fontina?
If you are able to find fontina, author Jimmy Bradley says to be sure to use an Italian fontina. As he explains, "The Danish varieties don't melt right for this recipe." You heard the man. However, if you can't find it—or if you just can't wait—you can swap in some mild provolone, Gruyère, or gouda.
Baked Fontina with Garlic and Thyme
Quick Glance

(3)

15 M
25 M
Serves

4

to 6
Print Recipe
Ingredients
Directions
If making individual servings, divide the fontina among four 6-inch cast-iron pans.
If making a single large skillet full of ooey gooey goodness, dump the fontina in a 12-inch cast-iron skillet.
Drizzle the fontina with olive oil and scatter with the garlic, thyme, and rosemary. Season with salt and pepper. Broil until the cheese is melted and bubbly, 6 to 7 minutes.
Plunk the skillet(s) on a trivet or folded cloth towel on the table with bread on the side for dunking, dipping, or otherwise enrobing in cheesiness. Originally published April 19, 2006.
Print Recipe
Recipe Testers' Reviews
My husband and I DEVOURED this dish along with some gluten-free bread I'd made. Sure, in theory it serves four, but it was a perfect amount for two hungry people — we just had the bread and the cheese and were completely satisfied. Just picture bubbling Fontina flavored with olive oil, garlic, thyme, rosemary, salt, and pepper! The easiest fondue you'll ever make. You just broil it.
As fontina is so mild, I can imagine all sorts of additions, such as a few oven-roasted tomatoes scattered on top, other fresh herbs such as basil, or perhaps a bit of mint with a brief squeeze of lemon juice. Not that I am looking for a way to improve this awesomeness, but my creative mind is always seeking options. I seriously don't think that the dish could be improved—just modified here and there, but not necessarily made any better. This is pure comfort food. My husband and I will be eating this in front of the fireplace on winter evenings, I just know it.
I made this as individual servings with Italian fontina as directed. I highly recommend this be considered not four to six servings, but rather two to three servings, as no one should have to skimp on bubbly cheese with crusty hunks of bread. One word of caution when it comes out of the oven looking ready to dive in, pause. It is VERY hot and will burn the inside of your mouth if you are not able to have a little patience before devouring.
I found this to be completely satisfying solo, but it is rich, and a nice crisp green salad served alongside would perfectly balance and complement this large amount of cheese. Alternately, a fresh crisp raw vegetable could also serve in this complementary fashion, such as radishes, which would add a little spark of color to the plating, in addition to a textural counterpoint."
Baked Fontina with Garlic and Thyme Recipe © 2006 Jimmy Bradley. Photo © 2006
David Sawyer
. All rights reserved. All materials used with permission.