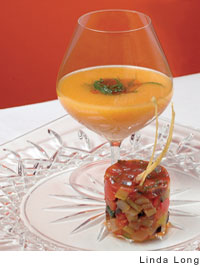 This yellow gazpacho with ratatouille was created by David Burke: "Creating vegetable dishes? Love it! It is the way of the future and a nice challenge. It also gives us a chance to show off."–Linda Long
Yellow Gazpacho and Ratatouille
Quick Glance
50 M
1 H

Serves 6 to 8
Print Recipe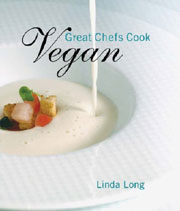 Ingredients
For the yellow gazpacho

1 tablespoon cumin seeds

1 tablespoon coriander seeds

1 tablespoon celery seeds

6 ripe yellow beefsteak tomatoes, roughly chopped

3 cucumbers, peeled, seeded, and roughly chopped

3 yellow peppers, cored, seeded and roughly chopped

2 red onions, roughly chopped

1 bunch cilantro, roughly chopped

1 jalapeño pepper, seeded and chopped

2 cups sherry vinegar

1 cup extra virgin olive oil

Store-bought or homemade Tabasco, salt, and pepper, to taste
For the ratatouille

1 tablespoon canola oil

1 red bell pepper, finely diced

1 yellow bell pepper, finely diced

1 eggplant, finely diced

1 yellow squash, finely diced

1 zucchini, finely diced

1 red onion, finely diced

3 cloves garlic, finely chopped

Salt and pepper, to taste

2/3 cup prepared tomato sauce

1/4 cup finely chopped basil leaves

1 or 2 corn tortillas

Garnish

1 scallion, julienned
Directions
Make the yellow gazpacho

1. Toast the cumin, coriander, and celery seeds in a nonstick skillet until aromatic. Cool, and then grind in a spice grinder until fine.

2. Combine all of the gazpacho ingredients except for the Tabasco, salt, and pepper in a bowl and marinate overnight.

3. Purée in a food processor and strain out pulp. Season with Tabasco, salt, and pepper; refrigerate.

Make the ratatouille

4. Heat oil in a 10-inch saute pan. In small batches, saute vegetables until slightly brown and crispy. Remove and place into a mixing bowl. Season with garlic, salt, and pepper to taste.

5. Bind with tomato sauce and basil. Heat oven to 350°F (175°C). Cut the corn tortilla into 1/4-inch strips. Place on a baking sheet and top with another. Crisp for about 10 minutes; cool.

6. Fill a large wine glass about one-third to one-half full (depending on the size of the glass) with the yellow gazpacho and float a teaspoon of ratatouille in the center with the scallion julienne.

7. Place a 1 1/2 x 3-inch-ring mold in the center of a side plate. Carefully fill mold with ratatouille and pack to remove any excess liquid. Let set momentarily, then carefully slide a turner underneath and transport to a dinner plate; remove mold. Add two corn tortilla strips as garnish. Serve immediately.
Yellow Gazpacho and Ratatouille Recipe © 2009 Linda Long. Photo © 2009 Linda Long. All rights reserved. All recipes and photos used with permission of the publisher.
If you make this recipe, snap a photo and hashtag it #LeitesCulinaria. We'd love to see your creations on Instagram, Facebook, and Twitter.