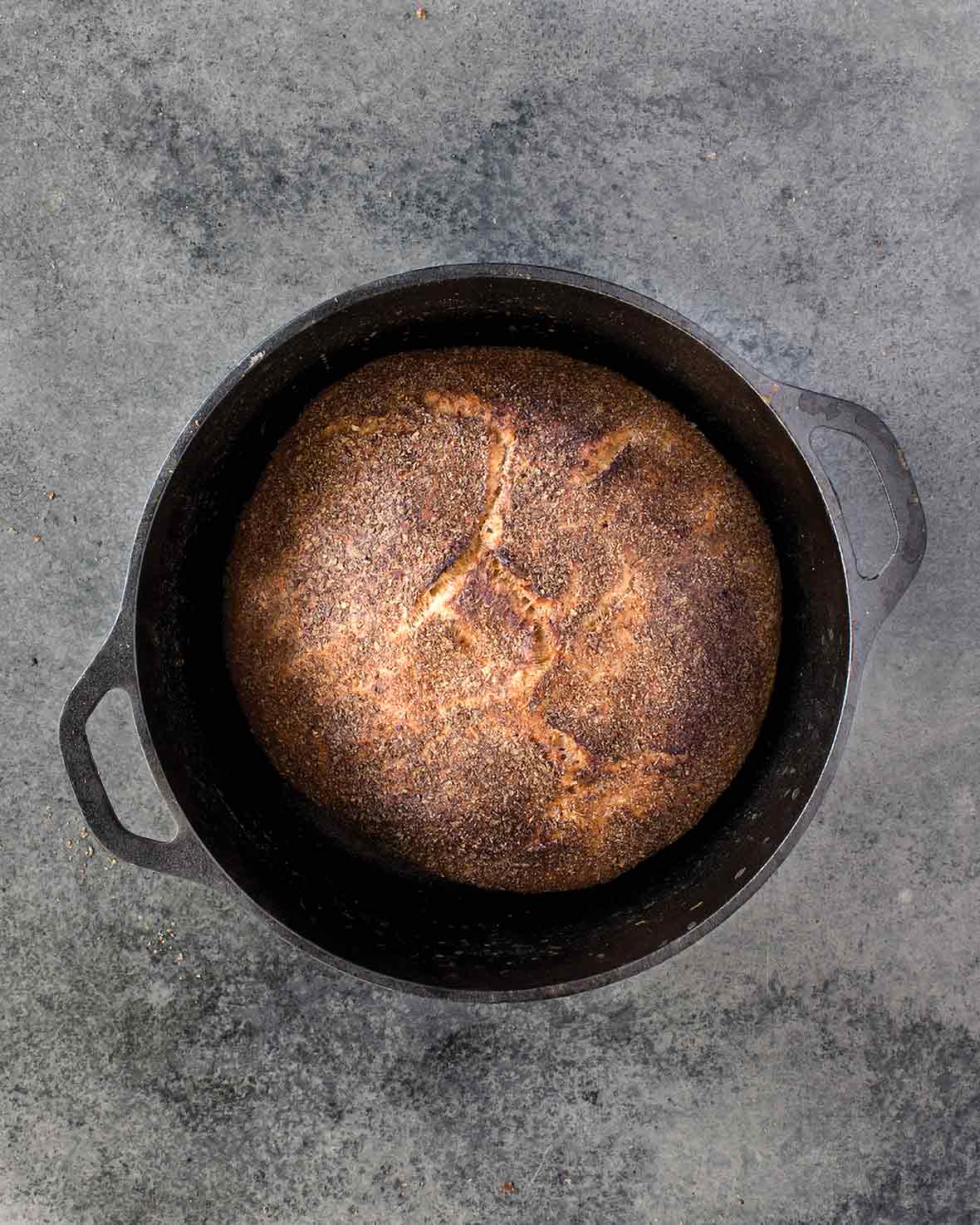 Jim Lahey's no-knead whole-wheat bread is a brilliant innovation that brings you healthfulness with ease. And that's to say nothing of the nutty, not overly healthful taste. More of that, please.–Renee Schettler Rossi
Jim Lahey's No-Knead Whole-Wheat Bread
This no-knead whole-wheat bread from Jim Lahey is quick to make but as good as old-fashioned bread. And with the added benefit of whole wheat and being done in less than two hours.
Ingredients
2 1/4

cups

bread flour

,

plus more for the work surface

3/4

cup

whole-wheat flour

1 1/4

teaspoons

table salt

1/2

teaspoon

instant or other active dry yeast

1 1/3

cups

cool (55 to 65°F | 13° to 18°C) water

Wheat bran, cornmeal, or additional flour

,

for dusting
Instructions
In a medium bowl, stir together the flours, salt, and yeast. Add the water and, using a wooden spoon or your hand, mix until you have a wet, sticky dough, about 30 seconds.

Cover the bowl and let it sit at room temperature until the surface is dotted with bubbles and the dough has more than doubled in size, 12 to 18 hours.

Generously dust a work surface with flour. Use a bowl scraper or rubber spatula to scrape the dough onto the surface in 1 piece. Using lightly floured hands or a bowl scraper or spatula, lift the edges of the dough in toward the center. Nudge and tuck in the edges of the dough to make it round.

Place a clean towel on your work surface and generously dust it with wheat bran, cornmeal, or flour. Gently place the dough on the towel, seam side down. If the dough feels tacky or sticky, dust the top lightly with wheat bran, cornmeal, or flour.

Fold the ends of the tea towel loosely over the dough to cover it and place it in a warm, draft-free spot to rise for 1 to 2 hours. The dough is ready when it is almost double in size. When you gently poke the dough with your finger, it should hold the impression. If it springs back, let it rise for another 15 minutes.

About half an hour before you think the second rise is complete, preheat the oven to 475°F (245°C). Adjust the oven rack to the lower third position and place a 4 1/2-to-5 1/2-quart heavy Dutch oven or pot with a lid in the center of the rack.

Using pot holders, carefully remove the preheated pot from the oven and uncover it. Unfold the tea towel and quickly but gently invert the dough into the pot, seam side up. (Use caution—the pot will be very hot.) Cover the pot and bake for 30 minutes.

Remove the lid and continue baking until the loaf is a deep chestnut color but not burnt, 15 to 30 minutes more. The bread is done when it registers 200°F to 210°F (93°C to 99°C) on an instant-read thermometer.

Use a heatproof spatula or pot holders to carefully lift the bread out of the pot and place it on a rack to cool thoroughly.
Notes
Jim Lahey's No-Knead Whole-Wheat Bread Variation
Seeded Whole-Wheat Bread
You can make this sturdy whole-grain loaf even more substantial–and satisfying–when you consider pretending you're German and tossing in a handful of walnuts or maybe some pumpkin and sunflower sesame seeds when mixing the dough. Consider it bread that sprecheksn the Deutch.
Slightly More (Or Less) Hearty Whole-Wheat Bread
You can easily adapt this whole-wheat bread recipe to turn out loaves that are a little less hearty by tweaking the proportion of all-purpose to whole-wheat flours. The recipe currently offers a 3:1 ratio, but feel free to nudge it slightly up or down, making it closer to 4:1 or even 2:1 (all-purpose : whole-wheat) depending on how pale or dense a loaf you like.
Nutrition
Serving:
1
slice
Calories:
84
kcal
Carbohydrates:
17
g
Protein:
3
g
Fat:
1
g
Saturated Fat:
1
g
Polyunsaturated Fat:
1
g
Monounsaturated Fat:
1
g
Sodium:
183
mg
Potassium:
42
mg
Fiber:
1
g
Sugar:
1
g
Vitamin A:
1
IU
Vitamin C:
1
mg
Calcium:
5
mg
Iron:
1
mg
Nutrition information is automatically calculated, so should only be used as an approximation.
Recipe © 2009 Jim Lahey. Photo © 2009 Squire Fox. All rights reserved.
---
Recipe Testers' Reviews
This no-knead whole-wheat bread is so simple to make it has become my go-to bread recipe. (I rarely buy bread.) It has a chewy crust and a well-developed flavor.
When making bread with all whole-wheat flour and/or if adding bran, I've found adding about a tablespoon of any kind of sugar or syrup really helps jump-start the yeast; otherwise it must sit for considerably longer than 12 hours to finish the first rise.
My favorite thing about this recipe is that it lends itself very well to experimentation, I'm still trying to figure out what combination and proportion I like best!
This no-knead whole-wheat recipe makes it easy to turn out crusty loaves of chewy whole-wheat bread that will have you turning up your nose at supermarket bread in no time.
It also invites experimentation, begging to be tweaked with more or less whole-wheat flour and the addition of nuts and seeds (flax? sunflower? pumpkin?). Loaves of bread don't last long in our house, so there are very few days now when we don't have a bowl of dough rising on the counter.