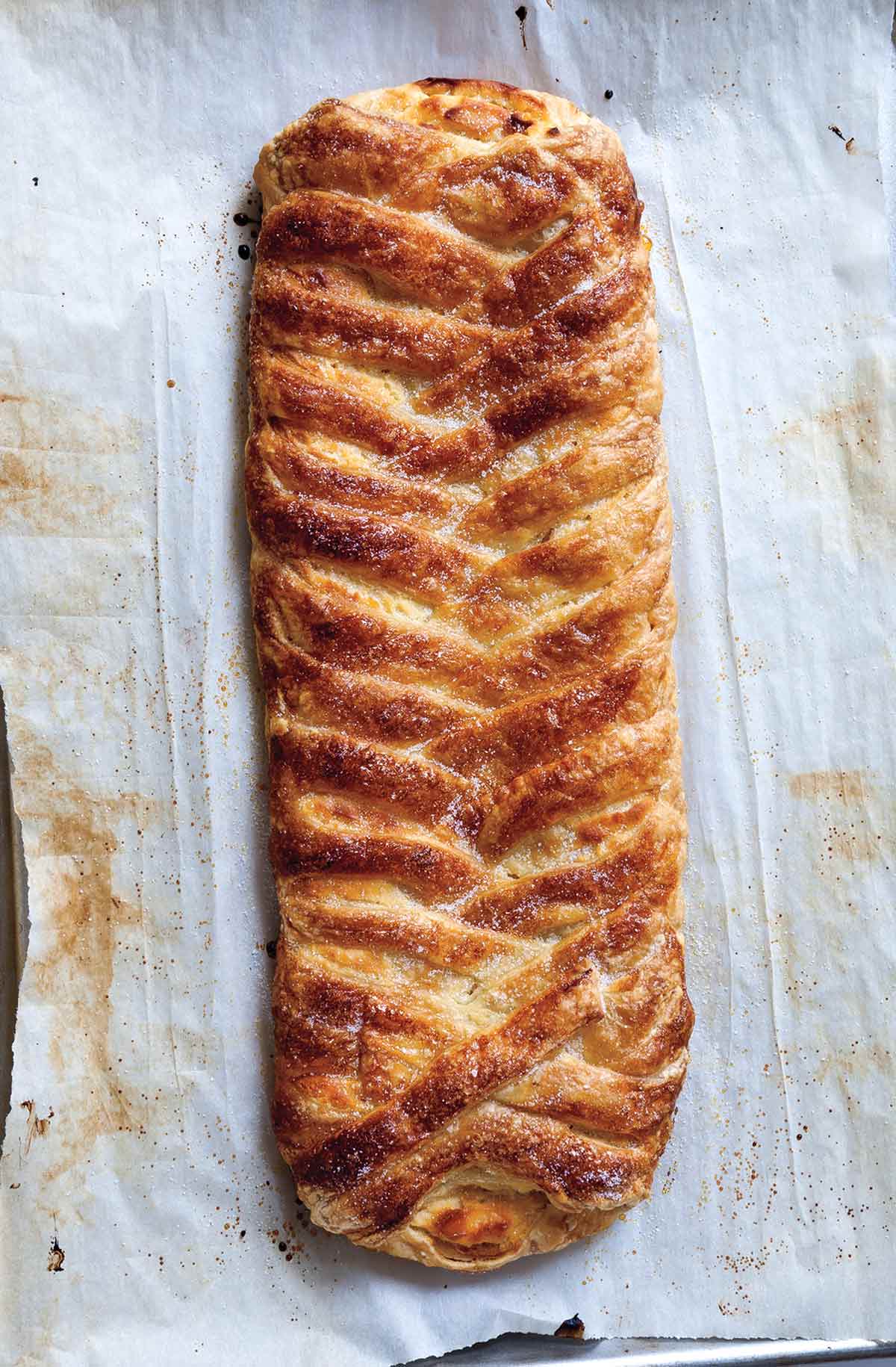 Growing up in New York, cheese Danishes were everywhere. It always amazed me that wherever you bought them they tasted exactly the same. Then when I entered the food business I learned that, sadly, most Jewish bakeries buy their Danish dough commercially.
Sometime after the industrialization of food in the 1940s and 1950s, Jewish bakeries stopped making pastries from scratch. And that's precisely why I recommend that if you like desserts you should bake them from scratch.
The one commercial ingredient I am grateful for is frozen puff pastry sheets. I've made puff pastry from scratch many times, but I know that even skilled home bakers prefer to use frozen ones. At least you have a homemade cheese filling in this recipe!
It's a nice breakfast pastry to serve either before services on Rosh Hashanah or for post Yom Kippur break-fast.–Paula Shoyer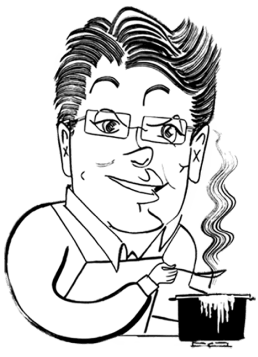 Why Our Testers Loved This

Our testers loved that this cheese Danish was easy to put together and had a rich, creamy filling. Linda P. said it best with her comment, "This cheese Danish is better than any I have ever had from a bakery." Makes you want to try it, doesn't it?
Notes on Ingredients
Puff pastry–The cheese Danish recipe was designed with commonly available Pepperidge Farms puff pastry in mind. If you make your own pastry or use a different brand, you may need to trim or roll it slightly to get the correct dimensions.
Cream cheese–Use full-fat cream cheese for the best flavor. Don't use whipped cream cheese as it can become grainy when melted.
How to Make This Recipe
Thaw the pastry. Let it sit at room temperature for 45 minutes.

Make the cheese filling. Beat the cream cheese, egg yolk, 1/4 cup sugar, lemon zest, and salt together until smooth. Cover and chill until you are ready to assemble the Danish.

Preheat the oven to 400°F. Flour a piece of parchment paper that is roughly the size of a baking sheet.

Roll the pastry. Using a rolling pin, and flouring the pastry as you go, roll until you have a 12-by-15-inch rectangle. Rotate the pastry so the short side is facing you and lightly score the pastry into 3 columns.

Spread the cream cheese mixture over the pastry. Fold the top of the pastry over the filling to seal it, then cut strips in the two side columns and fold them over in an alternating pattern to cover the filling. Brush the pastry with egg white and sprinkle with sugar.

Baked the Danish. Cook until golden brown and serve warm.
Recipe FAQs
Can I make my own puff pastry dough?
Of course you can! This recipe uses store-bought dough, which we fully support, but we know that our readers often like to do it themselves. And we have an excellent recipe for quick puff pastry. Give it a try and see what you think.
How do you properly thaw puff pastry?
The hardest thing about store-bought puff pastry is waiting until it's fully thawed. If you try using it too soon, the dough will crack as your unfolding it. Wait too long, and the dough will get too warm—making it limp and you risk the butter starting to melt. Your best bet is to take the frozen dough out of the box and let it thaw overnight in the fridge.
How do I roll out puff pastry?
In one word—carefully. Use a light touch with puff pastry, just enough to shape it and get rid of any bumps from the packaging. Otherwise, you risk losing those flaky layers. If you find your dough getting too warm at any point, just put it on a baking sheet and pop it back into the fridge.
Is there a specific brand of puff pastry I should buy?
We've got no shame about the fact that this easy cheese Danish recipe relies on frozen puff pastry sheets as opposed to homemade. Where our snobbishness and, perhaps a touch of disdain tends to come in regarding different brands of frozen puff pasty.

The most common and affordable brand is Pepperidge Farm, and this recipe was actually designed with the specific dimensions of that brand in mind. Opt for this, and you'll end up with a perfectly fine cheese Danish.

But if, like us, you want puff pastry made with real butter and just a handful of real ingredients that you can pronounce, and if you want no preservatives or anything artificial, and if you want knee-wobblingly buttery pastry that puffs into über flaky and shatteringly crisp layers, then you want the slightly pricier Dufour brand. Whatever you create with it will be ridiculously magnificent.

If you do use a 1-pound package of Dufour for the package size called for in this recipe, note that the Dufour dimensions are slightly different than that of Pepperidge Farm. As such, you'll need to scale the recipe back a little by trimming a couple inches from one side of the square dough to obtain a rectangle.

And you probably won't need quite all the cream cheese filling, which means you can plop a dollop of cream cheese filling smack in the center of those puff pastry trimmings, bring the opposite corners together above the filling, and bake.
Helpful Tips
Write a Review
If you make this recipe, or any dish on LC, consider leaving a review, a star rating, and your best photo in the comments below. I love hearing from you.–David
Even though the directions looked a little complicated at first, this cheese Danish recipe turned out to be very easy to make. And it's delicious.

ginny
Cheese Danish
This cheese Danish is made from store-bought puff pastry and a filling of cream cheese, sugar, egg, vanilla, and lemon zest. It's easy and perfect for Hanukkah and Christmas and Easter and weekends and, okay, any time.
Ingredients
1

sheet

frozen puff pastry

,

(the instructions below are for Pepperidge Farm puff pastry; if using Dufour, see the FAQs)

Flour

,

for the baking sheet

12

ounces (1 1/2 cups)

cream cheese

,

left at room temperature for at least 30 minutes

1

large

egg

,

separated

1/4

cup

granulated sugar

,

plus 2 teaspoons for sprinkling

2

teaspoons

vanilla extract

1

teaspoon

finely grated lemon zest

,

(preferably organic)

Dash

salt
Instructions
Thaw the package of frozen puff pastry at room temperature for 45 minutes.

Place the cream cheese, egg yolk, 1/4 cup sugar, vanilla, lemon zest, and salt in a medium bowl and beat together with an electric mixer until smooth. Cover and place in the fridge until the dough is ready.

Preheat the oven to 400°F (200°C). Tear off a piece of parchment paper the size of a jelly roll pan or a 12-by-16-inch (30-by-40-centimeter) baking sheet. Lightly sprinkle the parchment paper with flour.

Unroll the puff pastry on the parchment paper and, using a rolling pin, roll it out until it measures about 12 by 15 inches (32 by 38 centimeters). After every few rolls, carefully lift up the puff pastry and sprinkle a little more flour underneath it.

Rotate the pastry on the parchment paper so it's vertical when you look at it. (In other words, so one of the short sides is facing you.) Use the back of a knife to lightly score the dough into 3 long, vertical columns, being careful not to cut all the way through the dough.

Remove the cream cheese filling from the fridge and spread it in the center column, leaving a 1-inch (2 1/2-centimeter) plain puff pastry border on the top and bottom edges of the column.

Fold down the top edge of the puff pastry 1/2 inch (2 centimeters) over the filling to seal it. Take your knife and, leaving the side columns attached to the center column, cut horizontal slits in the 2 side columns, starting about 3/4 inch (2 centimeters) before the cream cheese filling begins and slicing all the way to the edge of the pastry, making 1-inch-wide (2 1/2-centimeter) strips. [Editor's Note: This will make a heck of a lot more sense when you have the ingredients in front of you. Trust us.]

Now, starting at the top, take the top strip on the right side and pull it over the cream cheese filling at a downward angle and press it into the cream cheese. Take the top strip from the left side and cross it over the top strip from the right side and press to seal. Repeat on the right side and keep alternating until you get to the bottom. When you get to the bottom 2 strips, cross them over each other but this time go up the pastry. Fold the bottom pastry up 1/2 inch (2 centimeters) over the filling to seal it.

Beat the reserved egg white and lightly brush it on the pastry. Sprinkle with the remaining 2 teaspoons sugar. Slide the parchment paper and the cheese Danish onto a baking sheet. Bake for 30 to 35 minutes, or until golden. Serve warm.
Notes
Storage–Leftover cheese Danish can be stored, wrapped in foil, in the refrigerator for up to 3 days or frozen for up to 3 months. Reheat in a 350°F oven until heated through.
Puff pastry brands–The above recipe was designed with the Pepperidge Farms brand in mind. If you use a different brand of pastry, note the weight and dimensions. You may need to trim it slightly to work with the recipe.
Nutrition
Serving:
1
portion
Calories:
280
kcal
Carbohydrates:
18
g
Protein:
4
g
Fat:
21
g
Saturated Fat:
9
g
Polyunsaturated Fat:
2
g
Monounsaturated Fat:
8
g
Trans Fat:
1
g
Cholesterol:
56
mg
Sodium:
177
mg
Potassium:
70
mg
Fiber:
1
g
Sugar:
6
g
Vitamin A:
484
IU
Vitamin C:
1
mg
Calcium:
39
mg
Iron:
1
mg
Nutrition information is automatically calculated, so should only be used as an approximation.
Recipe © 2013 Paula Shoyer. Photo © 2013 Michael Bennett Kress. All rights reserved.
---
Recipe Testers' Reviews
This cheese Danish is better than any I have ever had from a bakery. The store-bought puff pastry makes a light and airy crust with plenty of buttery flavor. The homemade filling is spot-on in terms of flavor and creaminess.
If you follow the instructions for preparing the dough and assembling the pastry, it will turn out looking as beautiful as the photo. You may have to read the directions more than once, but follow them precisely and you will have a perfect, professional-looking pastry.
If I had known how easy this would end up being, I'd have been making Danish forever ago. In the span of just about 1 hour, I had a lovely treat to take to a family celebration.
The filling was easy to put together, and since the day was warm, I didn't bother to pull out the electric mixer but used a little elbow grease and mixed it by hand. The filling was lovely and slightly citrusy, and the puff pastry was easy to work with.
My only difficulty came when doing the final crossing of the pastry onto the cheese. Scoring the pastry and laying the cheese into the center was simple enough. Where I ran into trouble was making the pastry pattern. Should it be pulled to the other side across the cheese or only halfway? When it finished baking after 35 minutes, it wasn't pretty, but it smelled divine.
I made a second one with goat cheese with the second sheet of puff pastry. It was equally tasty but the filling was a little more crumbly. One taster commented that it was like having little bits of cheesecake, and another couldn't pick a favorite between the two of them. They were both good enough that none came home.
I can't wait to make this again, maybe with a rum or almond flavoring with the cheese or apple bits added in. The possibilities seem endless.