This kale and Brussels sprouts salad is a vibrant combination of zingy raw greens, sweetly spiced nuts, and crisp apple tossed in a honey-mustard vinaigrette. Healthy, delicious, and you can even make it ahead of time.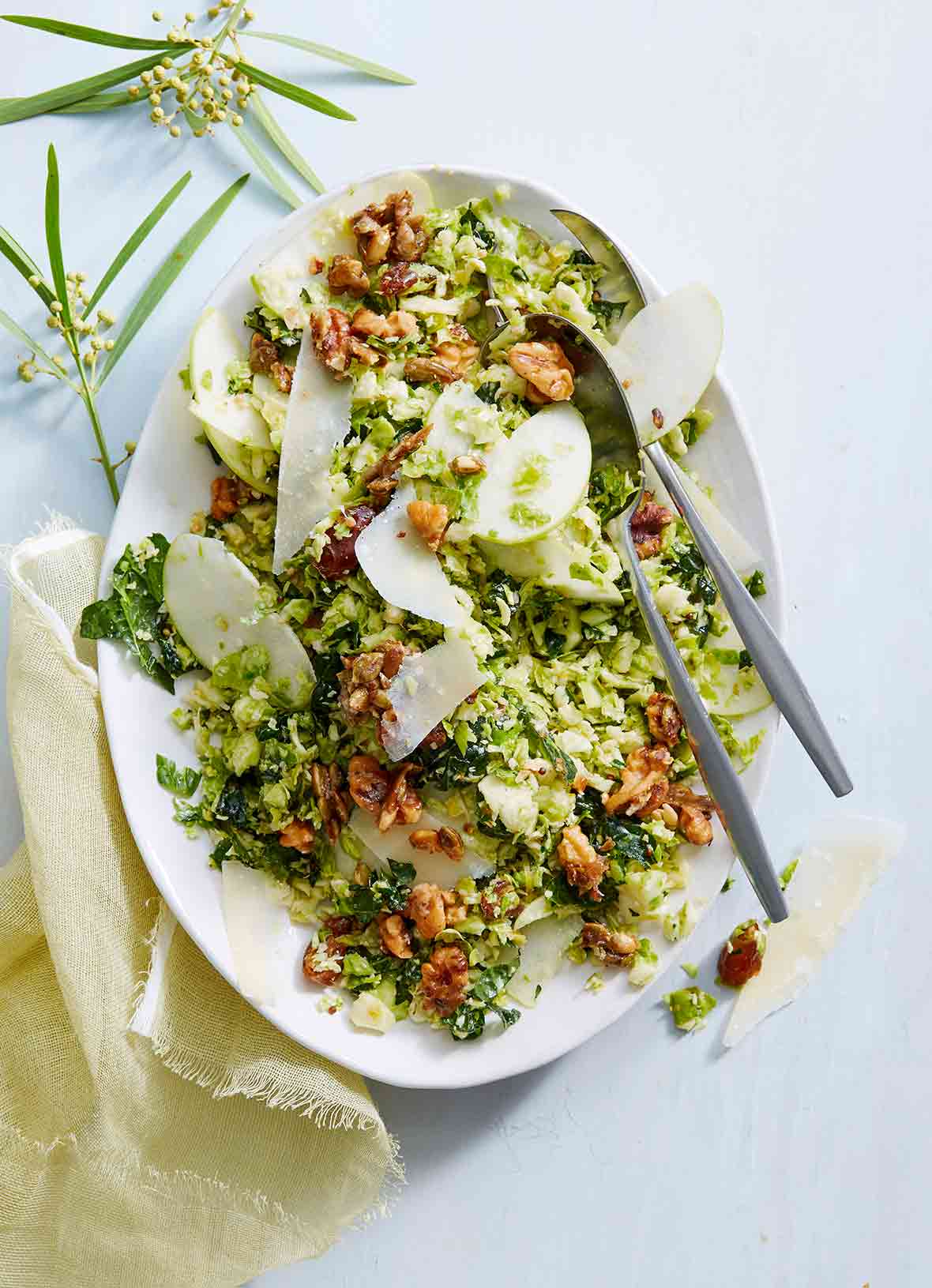 We'll celebrate a pan of perfectly roasted Brussels sprouts with crisped edges and a subtly sweet caramelized taste as much as anyone. But when we're itching to venture beyond the usual, this brilliant winter salad is our answer. Able to make it in advance? Suitable to serve at room temperature? Scalable for a crowd? Check, check, and check. Best yet, this stunning toss of zingy raw greens, sweetly spiced nuts, and crisp apple tastes phenomenal. And, bonus, it can easily be made vegan.–Jenny Howard
Kale and Brussels Sprouts Salad
Quick Glance
45 M
1 H

Serves 4 to 6
Ingredients
Email Grocery List
For the sweet-and-spicy nuts

1 cup mixed nuts or seeds (4 1/2 oz), such as walnuts, pecans, pumpkin seeds, and/or sunflower seeds, toasted and chopped

1/4 cup granulated sugar

1 tablespoon unsalted butter (1/2 oz)

Pinch cayenne pepper, or more for extra spice

Pinch kosher salt

For the honey-mustard vinaigrette

Grated zest and juice from 1 large lemon, preferably organic

1 tablespoon minced shallot

1 tablespoon whole-grain mustard

1 tablespoon Dijon mustard

2 tablespoons Champagne vinegar

2 teaspoons honey, or more to taste

1/8 teaspoon kosher salt, or more to taste

1/3 cup extra-virgin olive oil

For the salad

12 ounces fresh Brussels sprouts

4 large Lacinato kale leaves (about 4 oz), stemmed

4 Medjool dates, pitted and chopped

1/2 Granny Smith apple or other tart, firm apple, cored and thinly sliced

1/4 teaspoon kosher salt, or more to taste

1/8 teaspoon freshly ground black pepper, or more to taste

For serving (optional)

1 cup finely grated Parmesan cheese and/or 1/4 cup shaved Parmesan cheese (8 g)
Directions
Make the sweet-and-spicy nuts

1. In a medium nonstick skillet over medium heat, toss the nuts, butter, sugar, cayenne pepper, and salt. Cook, stirring occasionally, until the butter is melted, the sugar dissolves, and the nuts are completely coated, about 5 minutes. Transfer the nuts to piece of parchment or wax paper to cool. Before using, break them apart. (You'll have more candied nuts than you need for the recipe. Since when has that ever been a problem? Extras keep, covered at room temperature, for up to several days and make a lovely nosh alongside cocktails. They're also pretty terrific atop ice cream.)

Make the honey-mustard vinaigrette

2. In a large bowl, combine at least 1/2 teaspoon lemon zest and about 4 tablespoons lemon juice. Add the shallot, whole-grain mustard, Dijon mustard, vinegar, honey, and salt. Whisking constantly, slowly drizzle in the olive oil. Taste and, if necessary, adjust the ingredients according to personal preference. (If you prefer a less acidic dressing, consider adding a touch more honey, but keep in mind that the pronounced lemon stands up quite nicely to the earthy greens.)

Make the salad

3. In a food processor fitted with the blade attachment, pulse the Brussels sprouts 10 to 15 times, until just shredded, being careful not to pulverize them into tiny bits. Transfer to the bowl with the vinaigrette. Add the kale leaves to the food processor and pulse 4 to 6 times, until shredded, again being careful not to chop too finely.

4. In the large bowl with the vinaigrette and Brussels sprouts, add the shredded kale along with the dates, apple, salt, and pepper. Toss thoroughly to coat in dressing. Taste and season with more salt and pepper, if desired. Cover and refrigerate for at least 15 minutes and up to 12 hours before serving.

To serve (optional)

5. Toss the salad with grated Parmesan cheese, if desired. Transfer the salad to a shallow serving bowl and garnish with a handful of sweet-and-spicy nuts, and, if desired, more pepper and shaved Parmesan.
Not Into Brussels Sprouts?
Make the entire salad with kale. Or even shredded green cabbage. Either sturdy green leafy things will do well in a salad recipe such as this in which the greens are doused with the vinaigrette and then left to rest for at least a couple hours so the leaves can soften somewhat.
Recipe Testers Reviews
Kale and Brussels Sprouts Salad Recipe © 2018 Caroline Chambers. Photo © 2018 Linda Pugliese. All rights reserved. All materials used with permission.
If you make this recipe, snap a photo and hashtag it #LeitesCulinaria. We'd love to see your creations on Instagram, Facebook, and Twitter.