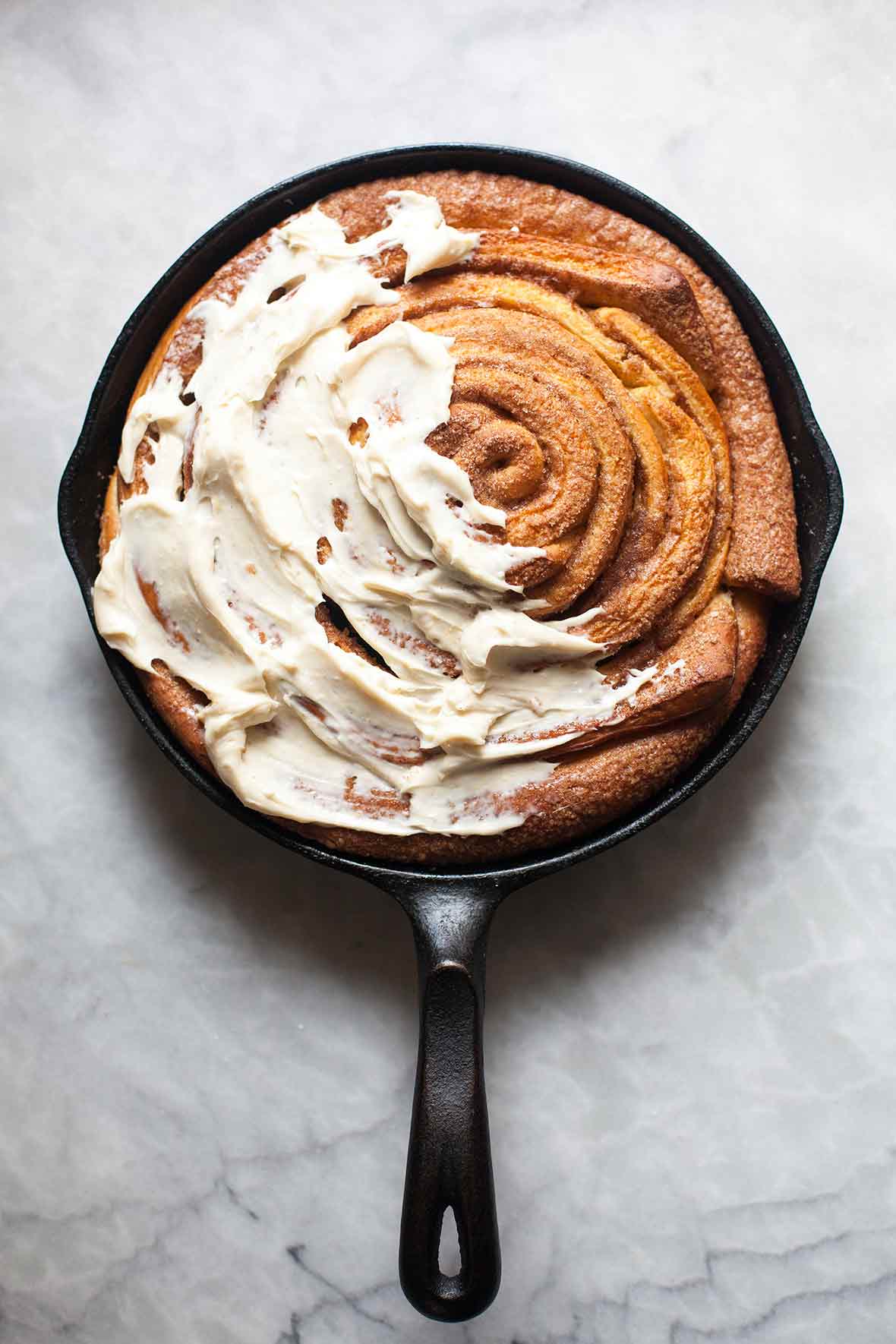 Versions of the cinnamon roll can be traced to Denmark and Sweden, but they have taken on a life of their own in the United States. A day isn't complete without seeing the fluffy spiral buns, filled with cinnamon sugar and butter, slathered with icing on Instagram. They've become synonymous with a joy-filled breakfast; a fresh batch is the perfect way to kick your mornings up a notch. Try all the fun variations.–Jeff Hertzberg M.D. and Zoë François
Our easy instructions help you make either a single giant skillet cinnamon roll or more modest-size individual rolls. Whichever you want. No judgement here. The hardest part of the recipe, we swear, is waiting for the cinnamon rolls to rest a little after you slather on the cream cheese icing while it gets all melty.
Devour, devour, devour.
Skillet Cinnamon Rolls
These skillet cinnamon rolls are made with an easy make-ahead dough that's rolled and baked with cinnamon sugar and slathered with cream cheese icing. Can be made as a giant roll or individual rolls in a cast-iron skillet.
Equipment
8- or 9-inch (20- or 23-cm) cast-iron skillet
Ingredients
For the brioche dough
1 1/2

cups

lukewarm water (about 100°F | 38°C)

1

tablespoon

instant yeast

1

tablespoon

kosher salt

6

large

eggs

,

lightly beaten

1/2

cup

honey

7

cups

all-purpose flour

3

sticks (12 oz)

unsalted butter

,

melted
For the skillet cinnamon roll(s)
2

tablespoons (1 oz)

unsalted butter

,

melted, plus more for the pan

1

pound

brioche dough

All-purpose flour

,

for dusting

1/4

cup

granulated sugar

1/4

cup

well-packed light or dark brown sugar

Pinch salt

1 1/2

teaspoons

ground cinnamon

1/2

teaspoon

grated orange zest

,

preferably organic
For the cream cheese icing
4

ounces

cream cheese

,

preferably Philadelphia brand, at room temperature

3

tablespoons

confectioners' sugar

1 to 2

tablespoons

heavy cream

1/2

teaspoon

vanilla extract

1/4

teaspoon

grated orange zest

,

preferably organic
Instructions
Make the brioche dough
In a 6-quart (6-liter) bowl or other large container, or in the bowl of a heavy-duty stand mixer, dump all the ingredients in the order listed.

Using a spoon and strong biceps or the paddle attachment of the stand mixer, blend in the flour until combined. (If you're not using a mixer, you may need to use wet hands to incorporate the last of the flour.) Don't try to work with it at this point.

☞ TESTER TIP: The dough will be a little loose and sticky but don't worry. It will firm when it's cold.

Loosely cover the container and let it rest at room temperature for 2 hours.

Refrigerate the dough until it's thoroughly chilled, at least 3 hours. (You can refrigerate the dough for up to 5 days.)
Make the skillet cinnamon roll(s)
Generously butter an 8- or 9-inch (20- or 23-cm) cast-iron skillet.

Dust the surface of the refrigerated dough with flour and cut off a 1-pound (455-g) piece of dough. Return the rest of the dough to the refrigerator and use within 5 days.

Place the dough on a lightly floured surface and quickly shape it into a ball by stretching the surface of the dough around to the bottom, rotating the ball a quarter-turn as you go.

Roll the dough into a rectangle roughly 9 inches by 12 inches (23 by 30 cm) and 1/4 inch (6 mm) thick, using just enough flour to prevent it from sticking.

Brush the melted butter over the entire surface of the rolled dough. In a small bowl, mix together the sugars, salt, cinnamon, and orange zest. Evenly sprinkle the mixture over the butter-topped dough.

For one giant skillet cinnamon roll (pictured), use a sharp knife or pizza cutter to cut the dough lengthwise into 1 1/2-inch-wide (40-mm-wide) strips. Roll one of the strips into a tight coil. Place the coil on the end of the next strip and roll that strip around the coil, connecting the two ends together. Repeat with the remaining strips of dough until you have a giant coil of dough. At some point, you will have to lay the coil down on the work surface and wind the dough around it, or it will get too large and unwieldy. Use a large spatula to set the entire coil into the buttered cast-iron skillet. Cover loosely with plastic wrap and let rest at room temperature for 75 minutes.For several smaller skillet cinnamon rolls, start at the short end and roll the dough into a log. Using a sharp knife or pizza cutter, cut the log crosswise into 6 equal rolls. Arrange the rolls inside the buttered cast-iron skillet. Space slightly apart for rolls with crisp edges, if desired, or nestle together for softer rolls. Cover loosely with plastic wrap and let rest at room temperature for 75 minutes.

Preheat the oven to 350°F (180°C).

Bake the cinnamon roll(s) until golden brown and set in the middle, about 25 minutes. To test for doneness, you'll need to use the tip of a knife to probe a little into the center between the rolls.

Let the roll(s) cool in the skillet for 10 minutes before icing.
Make the cream cheese icing
Place the cream cheese in the bowl of a stand mixer fitted with the whisk attachment and mix on low speed until smooth.

Add the confectioners' sugar, 1 tablespoon cream, vanilla, and orange zest and whisk until well combined. If the icing seems too thick to spread, dribble in a little additional cream until the icing is still thick but spreadable.

Serve the cinnamon roll(s) straight from the skillet or, if desired, transfer to a platter. Slather the cinnamon roll(s) with the cream cheese icing and, if serving the single skillet roll, slice it into wedges. Then watch your hard work quickly disappear.
Notes
Skillet Cinnamon Rolls
Skillet Cinnamon Rolls with Any White Bread Dough
If you're seeking something a touch less indulgent (for reasons we won't question!), you can easily substitute your favorite white bread dough for the brioche. All the same cinnamon loveliness with a little less richness.
Skillet Cinnamon Rolls with Five-Spice Powder
Lend an air of intrigue to your cinnamon rolls when you swap out Chinese five-spice powder for the cinnamon. The blend of warming spices includes cinnamon, so technically these will still be cinnamon rolls. All the same cinnamon loveliness with a little more robust, more complex, more showstopping warmth from its blend of spices.
What To Do With Leftover Bread Dough
Another benefit from this recipe, aside from the obvious, is that you'll end up with more dough than you'll need for these skillet cinnamon rolls. Lucky you! The superfluous dough can be covered and refrigerated for up to 5 days and used, as cravings arise, for additional batches of these cinnamon roll or it can be shaped and baked into buns or burger rolls or loaves, or it can be transformed into our off-the-charts gooey monkey bread.
Adapted From
Holiday and Celebration Bread in Five Minutes a Day
Buy On Amazon
Nutrition
Serving:
1
portion
Calories:
530
kcal
Carbohydrates:
69
g
Protein:
9
g
Fat:
25
g
Saturated Fat:
14
g
Polyunsaturated Fat:
1
g
Monounsaturated Fat:
2
g
Trans Fat:
0.2
g
Cholesterol:
142
mg
Sodium:
386
mg
Potassium:
26
mg
Fiber:
0.3
g
Sugar:
33
g
Vitamin A:
804
IU
Vitamin C:
0.4
mg
Calcium:
60
mg
Iron:
1
mg
Nutrition information is automatically calculated, so should only be used as an approximation.
Recipe © 2018 Jeff Hertzberg | Zoë François. Photo © 2018 Sarah Kieffer and Zoë François. All rights reserved.
---
Recipe Testers' Reviews
A skillet full of cinnamon, buttery, flaky goodness. Crusty golden rolls with a lovely, soft interior. Sweet cinnamon with the citrus zest gave the rolls a wonderful warm flavor. And the icing gave them a super indulgent feel. The brioche turned out beautifully in the rolls with a soft buttery texture and airy layers. Everyone in your house will be smiling.
Not only are these skillet cinnamon rolls delicious and fun to eat, they're actually quite simple to make. The dough does need some rising and resting time, so it's best as a make ahead, which is perfect because what could be better than pulling out a showstopper of a massive cinnamon roll for weekend brunch?
The brioche dough was loose and thick like coffee cake batter. I let the dough rest for 2 hours at room temperature and it doubled in size and then I refrigerated it for another 3 hours. The dough was easy to work with and was formed into a ball with just a few turns, as per the directions. It rolled out nice and smoothly. I used a large spatula to move the shaped cinnamon roll into the cast iron skillet. The roll had room to rise and was almost doubled after the 75 minutes. It was done baking after 25 minutes and was a nice golden caramel color.
The rising and resting times are ideal as a make-ahead recipe. We served the rolls with coffee and fruit for a simple and decadent brunch.
First thing I'd like to say about this recipe is YUM! I absolutely loved it and it was really easy to make and full of flavor. When I first saw the instructions and that I'd have to make my own dough (I'm not a baker), it seemed a little daunting, but I was pleasantly surprised as to how easy it was to make. The next time I have some friends over for dinner I'm definitely making this for dessert and when it's done just putting it in the middle of the table and tell people to dig in!
I made the roll twice—one cinnamon roll and one Chinese five-spice roll—and both times used the brioche dough. In both recipes, I used my 8-inch cast-iron pan, light brown sugar and organic oranges however I used two different cream cheeses which did have two different results.
I found the instructions to be pretty precise, however, when it came time to cut the dough to 1 ½ inch strips I wasn't sure if you did that from the 9 inch side of the rectangle or the 12 inch. When I made the cinnamon roll I did the strips from the 12 inch side so they were 9 inches long and that seemed to give me a better looking roll for some reason.
When I did the Chinese five-spice roll I cut them the other way and I found it a bit difficult to coil because the strips were so long. When making the coil it did get big and became hard to keep coiling so I put it in the pan and picked up a strip. However, the sugar topping came off so I just stuck with rolling the coil while the strips were on the counter even though it was a bit tricky. The instructions for coiling the dough did make sense but the picture of the recipe also helped (gave me a visual).
During both makings of the rolls the dough did rise while resting for the 75 minutes however the second time (Chinese five-spice roll) it didn't rise as much. I'm not sure if that's because the dough had been stored in my fridge for three days at that point whereas the cinnamon roll was made within hours of the dough being ready to use.
Both times I baked the rolls, the timing of 35 minutes was very accurate as was letting it rest for 10 minutes before I put the icing all over it. The end product looked exactly like the picture except both times I baked the rolls, they didn't touch the edges of the pan. They were about half an inch to an inch away from the side when finished.
For the icing I used two different cream cheeses. For both I used a whisk to create the cream cheese icing and I had a different experience with both cream cheeses. For the cinnamon roll I used original Philadelphia brand cream cheese and it was perfect. It had the perfect texture for a cinnamon roll. It was slightly thick and sticky. For the Chinese five-spice roll, I used an organic cream cheese (full fat) and it didn't work out. The icing was way too watery/loose and wasn't the least bit sticky. Next time I'm making this recipe I will definitely be using Philly as it was the perfect cream cheese to use.
I loved the flavour of both rolls. The orange zest worked really nicely with both the cinnamon and Chinese five-spice. I can't wait to make this again.
These cinnamon buns were not only delicious, they were incredibly easy to make. I used the white bread recipe, mixed up the dough in just 10 minutes the night before making the rolls, and then needed only 20 minutes of effort the next morning to turn out picture-perfect cinnamon buns. Definitely won the best mom award with my kids for pulling that off on a Saturday morning!
With all the leftover dough I made pull-apart rolls and a couple loaves of white bread.
I used the white bread dough recipe and it came together easily as described. It took about 30 seconds in my stand mixer for the dough to come together. I let it rise in the 5 quart mixer bowl and it did rise above the top, but not by too much.