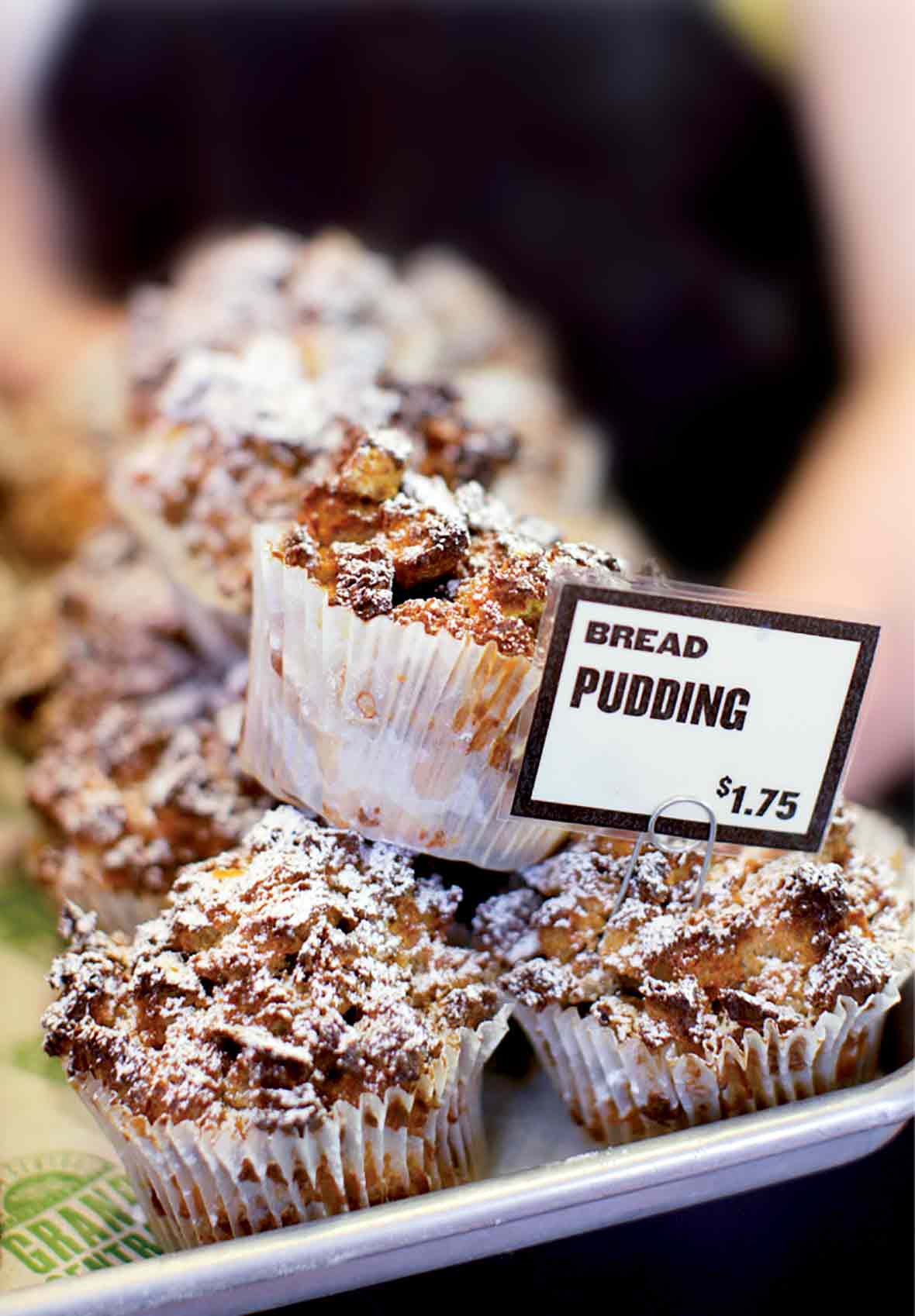 …the bread pudding earlier and earlier, until it wound up in the breakfast pastry lineup as bread pudding muffins. Since Grand Central bread pudding is baked in muffin cups and tastes quite a bit like French toast, this seems fitting. If you can't think about bread pudding before noon, don't hesitate to bake this for dessert. Finish it with a boozy hard sauce or fresh berries mixed with a bit of sugar to draw out their juices.–Piper Davis
LC Muffin Misnomer Note
These muffins aren't exactly muffins—at least, not as we know 'em. Instead of being filled with batter, muffin tins are crammed full with heaps of custard-soaked, cinnamon-spiked cubes of your favorite artisan bread, though you still end up with soft, cakey treats that you can grab for breakfast on the go or a handy sweet something come late afternoon or evening. Not only that, but they possess maddeningly crave-inducing crisp edges, the likes of which you generally only get when there's bread involved. We think you'll adjust to the notion of these quite nicely.
Bread Pudding Muffins
Muffin tins crammed full with heaps of custard-soaked, cinnamon-spiked cubes of your favorite artisan bread that you can grab for breakfast on the go or a handy sweet something come late afternoon or evening.
Ingredients
Butter for the muffin tin

1

pound

crusty artisan white bread

1/2

teaspoon

ground cinnamon

6

eggs

3/4

cup (5 1/4 ounces)

granulated sugar

1 1/2

cups (12 fluid ounces)

heavy cream

1 1/2

cups (12 fluid ounces)

milk

,

preferably whole

2

teaspoons

vanilla extract

Confectioners' sugar

,

for sprinkling
Instructions
Thickly slice the bread and then cut it into 1-inch cubes. Plop the bread in a large bowl and toss it with the cinnamon.

Make the custard by whisking the eggs, sugar, cream, milk, and vanilla together until well combined. Pour the custard over the bread. Cover and refrigerate for at least 4 hours and up to 24 hours to ensure the bread soaks up the custard.

Preheat the oven to 325°F (160°C). Line a standard-size 12-cup muffin tin with paper liners or generously butter the muffin cups.

Scoop a heaping 1/2 cup bread pudding mixture into each muffin cups; each one should be nicely mounded. Top off each bread pudding with any liquidy custard that remains in the bottom of the bowl.

Bake for 45 minutes, rotating the muffin tin halfway through the baking time. The bread pudding muffins should be lightly golden brown on top. Dust them with confectioners' sugar while they're still warm.
Nutrition
Serving:
1
muffin
Calories:
310
kcal
Carbohydrates:
36
g
Protein:
9
g
Fat:
15
g
Saturated Fat:
8
g
Polyunsaturated Fat:
2
g
Monounsaturated Fat:
4
g
Trans Fat:
1
g
Cholesterol:
128
mg
Sodium:
236
mg
Potassium:
155
mg
Fiber:
1
g
Sugar:
19
g
Vitamin A:
628
IU
Vitamin C:
1
mg
Calcium:
152
mg
Iron:
2
mg
Nutrition information is automatically calculated, so should only be used as an approximation.
Recipe © 2009 Piper Davis | Ellen Jackson. Photo © 2009 John Valls. All rights reserved.
---
Recipe Testers' Reviews
This is the ultimate comfort food. It's very easy to put together. I used pagnotta for my bread and thought it was a very good choice. The recipe says it makes 12 muffins but I ended up with 18. I ate one hot out of the oven, and it was a very good basic bread pudding. The crunchy top and the custard on the bottom were a taste treat. The next one I sprinkled with cinnamon powdered sugar, and it was very good. For breakfast the next morning I popped one back in the oven to reheat it and served it with sliced strawberries sprinkled with vanilla sugar. Tonight I had another one with a homemade caramel sauce, and it was just over the top. Bottom line: This is a very versatile recipe and makes a fantastic breakfast, snack, or dessert. I believe this recipe would be great with blueberries, too. The toppings you can add to this recipe are endless.
You must try these straight from the oven. They're surprisingly light, with a delicious crispiness along the edges. A nice substitution for French toast at your next brunch. For an added treat, brush on a glaze of warm apricot preserves and sprinkle with crushed pecans or hazelnuts.
Add my voice to the approval for this creative recipe. The very idea of bread pudding muffins deserves applause, and I wonder why I haven't seen this particular stroke of genius elsewhere. These are extremely easy to prepare, light yet satisfying to eat. They're moist on the inside, which is exactly what a muffin should be—but, better than a muffin, they feature a top crust that takes full advantage of everything that's fabulous about bread. "French toast in a cup" is a pretty good description. The recipe is generous in its yield. I actually got 15 mountain-high muffins out of the recipe, versus the dozen stated. Because of the quantity of bread and the relatively small sizes of my mixing bowls, I needed to break this up between two bowls to do the initial combining of ingredients. Once the custard was poured in, though, I could place the mixture into a single recipient for refrigeration. I would recommend taking the time to pull this together the night before and let the bread soak overnight, not just for four hours. I did both, and the portion of bread pudding that sat overnight came out with a more pleasing consistency: moist, with a top crust that was still crisp but less dry than the ones I made after soaking a shorter amount of time. A final recommendation, to take this recipe from "great concept" to "wow, gotta have more!": Try drizzling a bit of melted bittersweet chocolate over the tops of the muffins, after the powdered sugar has been sifted on. My family went bonkers over the muffins with this one, simple addition. You can also play with a sprinkling of slivered almonds over the top or try add-ins to the pudding itself, such as fresh berries, chopped dried fruits, chocolate chips…. The possibilities are only limited by your own imagination.