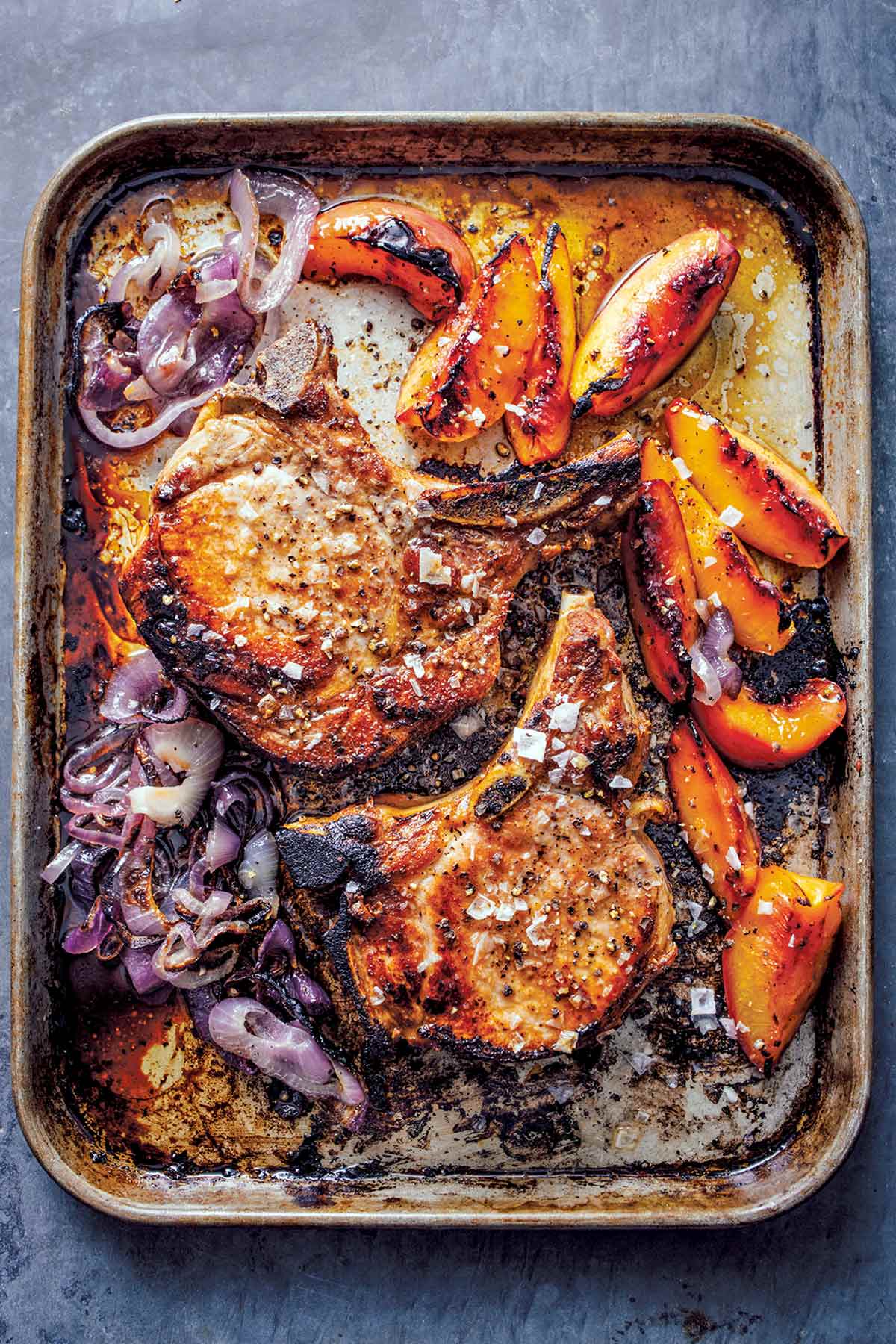 This easy, no-fuss meal of roasted pork chops with peaches and red onion, all drizzled with pomegranate molasses belongs on your dinner rotation as long as stone fruit is in season. Because summer is meant to be spent outside and not in the kitchen. And since this quick and simple meal is on the table in 35 minutes, and clean-up is a breeze, that's exactly where you can spend it.–Angie Zoobkoff
Roast Pork Chops with Peaches
These roast pork chops with peaches are an easy, no-fuss, sheet pan meal of seasoned, roasted pork chops, peach wedges, and red onion, all topped with pomegranate molasses. A weeknight winner that belongs in your dinner rotation.
Ingredients
2

(12-ounce)

bone-in pork* or veal chops (about 1 1/2 inches | 4 cm thick)

1

medium (about 10 oz)

red onion

,

sliced 1/2 inch (6 mm) thick and separated into individual rings

1

tablespoon

plus 1 teaspoon extra-virgin olive oil

1

teaspoon

kosher salt

,

plus more as needed

1

teaspoon

freshly ground black pepper

,

plus more as needed

2

medium (about 12 oz)

peaches or nectarines

,

pitted and cut into thick wedges

Pomegranate molasses,

for serving (optional)

Chopped fresh basil

,

for serving
Instructions
Preheat the oven to 475°F (250°C). Adjust the oven rack to the upper position. Line a rimmed baking sheet with heavy-duty aluminum foil.

In a large bowl, toss the chops and onions with 1 tablespoon of the olive oil as well as the salt and pepper.

Arrange the pork chops and onions on the baking sheet, keeping the pork chops on one side and the onions on the other and and leaving space for adding the peaches later. Roast for 8 minutes.

Meanwhile, in a large bowl, toss the peaches with the remaining 1 teaspoon olive oil and sprinkle with a generous pinch each salt and pepper.

Remove the baking sheet from the oven. Set the oven to broil.

Flip the chops and add the peaches to the cleared space on the baking sheet.

Slide the baking sheet back in the oven and roast until everything is lightly charred and the chops are just cooked through, 5 to 8 minutes.

☞ TESTER TIP: If your chops are thinner than 1 1/2 inches, pull them from the broiler when they are cooked through, and then return the baking sheet to the broiler to finish the onions and peaches.

Divvy the chops, onions, and peaches among plates, drizzle with pomegranate molasses, if desired, and sprinkle with chopped basil.
Notes
*How do I keep my pork chops from drying out?
Pork chops are a pretty lean cut of meat. Because of that, you might find that they easily get tough and dry. The biggest secret to keeping them juicy is not overcooking them. The old belief that pork needs to be thoroughly and deeply cooked has lost traction in recent years, and you can now feel safe serving pork that's been cooked less aggressively. A meat thermometer is a perfect way to tell–the thickest part of the chop should read 145°F. You can pull them out of the oven just before they reach that temp because they'll continue to cook for a few minutes and you won't be at risk of dried out, leathery pork.
Nutrition
Serving:
1
portion
Calories:
541
kcal
Carbohydrates:
6
g
Protein:
54
g
Fat:
32
g
Saturated Fat:
9
g
Polyunsaturated Fat:
4
g
Monounsaturated Fat:
16
g
Trans Fat:
1
g
Cholesterol:
176
mg
Sodium:
1306
mg
Potassium:
970
mg
Fiber:
1
g
Sugar:
2
g
Vitamin A:
25
IU
Vitamin C:
4
mg
Calcium:
66
mg
Iron:
2
mg
Nutrition information is automatically calculated, so should only be used as an approximation.
Recipe © 2017 Melissa Clark. Photo © 2017 Eric Wolfinger. All rights reserved.
---
Recipe Testers' Reviews
This recipe was fast (32 minutes start to finish!), easy, delicious, special, and stress-free.
Prep and cleanup couldn't have been easier (I highly recommend lining your baking sheet with heavy-duty aluminum foil). I scaled the recipe up by 1 1/2 times to perfectly serve 3 of us and this fit perfectly on a half sheet baking pan.
I bought 3/4-inch-thick veal loin center-cut chops because they're far more affordable than the 1 1/2-inch-thick veal rib chops that my butcher also offered. I roasted for 10 minutes at 475°F. Not wanting too much char, after adding the peaches I started my broil phase on the middle oven rack on the low broiler setting for 3 minutes, then moved the baking sheet to the upper oven rack on high broiler setting for 2 minutes—perfect. The meat (despite being thinner than the thickness called for in the recipe) was a perfect doneness–just a hair over medium-rare but less than medium.
The richness of the veal paired well with the hint of tartness from the peaches and the sweetness of the pomegranate molasses. The salt in the dish (I recommend you be generous with it) along with the charred onions prevented the sweetness from overpowering the meat and kept everything well balanced.
This dish won me compliments and appreciation. (Please don't tell my family how easy it actually was!)
This one pan roast pork with peaches was nearly effortless. The only real work involved was slicing the onion and the peaches. The meal was complete in under 30 minutes.
Roasting my mediocre, off-season peaches also transformed them into oozing deliciousness that paired perfectly with the pork and the charred onions. I served this with plain couscous and took the leftover pork, peaches, and onions all mixed together with the couscous for lunch the following day and liked it just as much.
Don't be afraid to drizzle the pomegranate molasses—it really helps tie everything together.
Super easy but also very satisfying dinner. Bone-in pork chops are a hefty weight and you might think you're going to save some for another meal, but this simple treatment made them too tempting and 2 chops made a dinner for 2 with the nicely charred peaches and onions over a bed of romaine. Good enough for weekend dining, but easy enough for a weeknight.
It all comes together quickly, the prep done while the oven is heating and the the meat can sit to take off the chill.
Be generous with the pepper. I found it helpful to flip the chops after the first 8 minutes so that both sides got a nice bit of browning. I moved the sheet pan up to about 3 to 4 inches from the broiler element for the broiling treatment and checked the internal temperature at 5 minutes. It wasn't quite as cooked as I hoped, so I gave it another 2 to 3 minutes and an internal temperature probe read 145℉. If you do this with the door open or if your rack is too close to the top of your oven you might need to reset your smoke detector, but the dinner is worth that minor trouble.
The onions were a perfect combination of slight char and cooked, the peaches the same.
A drizzle of pomegranate molasses really set the glazed surface prettily as well as adding an extra element. My basil had frozen, so at the last minute I had to substitute a bit of chopped mint and that worked well, although I do love how basil sets a nice contrast with peaches and will try to have that on hand next time I have some really good pork chops.
Dinner on the table in under 45 minutes and with little fuss. Served 2 greedy people. Honestly they were so delicious we were a little piggy.