This roasted venison with balsamic blackberry sauce is an elegant and impressive entrée—so impressive, folks are calling it the best thing they've ever eaten—that pairs game with a tart balsamic vinegar reduction and sweet blackberry- and bourbon-infused maple syrup.–Angie Zoobkoff
Roasted Venison with Balsamic Blackberry Sauce
This roasted venison with balsamic blackberry sauce is an elegant and impressive main course made by basting venison with a balsamic blackberry reduction and finishing it with a bourbon-infused maple syrup. Perfect for holiday entertaining.
Ingredients
For the blackberry-balsamic vinegar reduction
2

cups

balsamic vinegar

1/2

cup

packed light brown sugar

1

tablespoon

zested orange zest (from 1 orange)

1

sprig thyme

1

pint

plus 12 whole fresh blackberries
For the blackberry maple syrup
1

pint

fresh blackberries

2

cups

pure maple syrup

2

cups

bourbon

1

cup

firmly packed light brown sugar

1 1/2

tablespoons

lemon zest (from 1 lemon)

1

tablespoon

grated orange zest (from 1 orange)

8

black peppercorns

1

sprig thyme
For the roasted venison
2

tablespoons

olive oil

1

pound

venison loin (454 g) or two (8-ounce | 227-g) venison loin steaks

2

teaspoons

coarsely ground black pepper

1/2

teaspoon

kosher salt

1

shallot

,

cut into 1⁄8-inch-thick (3-mm) rings (about 1⁄4 cup)

1/2

medium

orange

,

thinly sliced

1

sprig oregano

2

garlic cloves

3

tablespoons

blackberry-balsamic vinegar reduction

1

tablespoon

blackberry maple syrup

1

teaspoon

sea salt
Instructions
Make the blackberry-balsamic vinegar reduction
In a medium saucepan over medium heat, bring the balsamic vinegar, brown sugar, orange zest, thyme, and 1 pint of the blackberries to a simmer. Cook until mixture is reduced by half, about 45 minutes.

Remove the saucepan from the heat and let stand 15 minutes. Cut the remaining 12 blackberries in half.

Place a fine mesh strainer over a bowl or 1-quart (946-ml) jar and pour the vinegar reduction through the strainer. Discard the solids. Add the halved blackberries. Serve immediately or cover and store at room temperature up to 3 days.
Make the blackberry maple syrup
Meanwhile, in a medium saucepan over medium heat, bring all the blackberry maple syrup ingredients to a simmer. Cook until the syrup is reduced by about half, about 50 minutes.

Remove the saucepan from the heat and let stand for 1 hour.

Place a fine mesh strainer over a bowl or a 1-quart (946-ml) jar and pour the syrup through the strainer. Discard the solids. Serve immediately or and store at room temperature up to 3 days.
Make the roasted venison
In a medium skillet over medium heat, warm the oil.

Sprinkle the venison with the pepper and kosher salt. Sear the venison until golden brown all over, about 8 minutes total.

Add the shallot to the skillet and cook until golden brown, about 2 minutes.

Arrange the orange slices, oregano, and garlic around the meat in the skillet, and cook 4 minutes, turning the oranges after 2 minutes.

Carefully spoon the blackberry-balsamic vinegar reduction over the venison, and cook, basting with reduction mixture in the skillet, until the venison is done to the desired doneness, preferably when the internal temperature is between 130° and 140°F (54° and 60°C), about 4 minutes, for medium-rare.

Transfer the venison to a cutting board and let stand at least 10 minutes.
To serve the roasted venison
Meanwhile, add the blackberry-maple syrup to the drippings in the skillet and stir until combined, about 1 minute.

Slice the venison and sprinkle with salt. Drizzle with the pan sauce and serve immediately.
Notes
What You Need To Know About How To Use Leftover Vinegar And Syrup
You'll end up with an abundance of both blackberry balsamic vinegar and blackberry maple syrup, which is a very good thing. Pondering what to do with the leftovers? We have a few suggestions. And we'd love to hear what you did in a comment below.
For the blackberry-balsamic vinegar
Make a batch of shrub cocktails.
Swap it in for regular balsamic vinegar in your favorite vinaigrette.
Make this again, but swap in duck breast or pork tenderloin for the venison.
For the blackberry maple syrup
Drizzle it over good-quality vanilla ice cream.
Pour over pound cake and serve with fresh blackberries on top.
Leite'S Loves…Inspired By This Recipe
Love the look? Click to bring the LC Lifestyle into your home.
Feast Rectangular Hammered Iron Serving Platter by Crate and Barrel
Baroque Pewter Pitcher by Sur La Table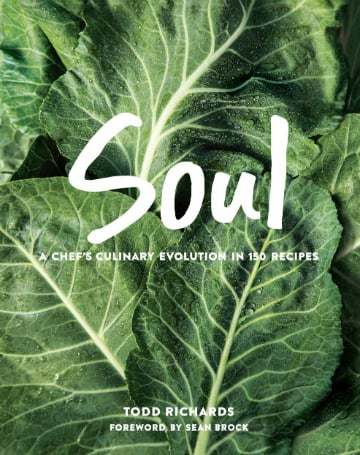 Nutrition
Serving:
1
portion
Calories:
287
kcal
Carbohydrates:
19
g
Protein:
27
g
Fat:
10
g
Saturated Fat:
2
g
Polyunsaturated Fat:
1
g
Monounsaturated Fat:
6
g
Cholesterol:
96
mg
Sodium:
937
mg
Potassium:
503
mg
Fiber:
2
g
Sugar:
14
g
Vitamin A:
102
IU
Vitamin C:
19
mg
Calcium:
61
mg
Iron:
5
mg
Nutrition information is automatically calculated, so should only be used as an approximation.
Recipe © 2018 Todd Richards. Photo © 2018 Time, Inc.. All rights reserved.
---
Recipe Testers' Reviews
This roasted venison with balsamic and blackberry is one of the most delicious things I've eaten in, well…maybe my entire life. This will be going on both my Thanksgiving and Christmas menu!
It's a bit time-consuming because there are two different reductions to make, but let me tell you, the end result is well worth it. The reductions aren't difficult; it's just kind of annoying to have to make two reductions for one recipe, but don't let it stop you. The rest of the recipe is so straightforward and easy once the reductions are made.
And while I used precise measurements, it's actually a really forgiving recipe. For the reductions, I used reasonably good quality maple syrup and balsamic vinegar, but they weren't top of the line or anything. For the venison, I don't think it would matter if you used one shallot or two or four, 2 garlic cloves or 4, etc. If you didn't want to buy fresh oregano (mine is still growing), I think the end result would still be great if you only used thyme sprigs.
I would imagine that most any kind of orange would work, although I used Cara Cara. My one caution would be to use a meat thermometer and don't cook the venison (I used a backstrap venison loin) beyond 125°F and let it rest for the full 10 minutes (and maybe even 20) before slicing it. You will be rewarded with the rosiest, juiciest, most flavorful piece of meat you've ever eaten!
I also think that searing the outside but then finishing it in the oven on 325°F until it reaches 125°F might be an easier way to ensure that it's not overcooked. Then it could just rest on a cutting board while the sauce is completed with the pan drippings. Since the indirect heat of the oven is somewhat more gentle, I will test it that way next time.
I hear so many people say they hate venison but I defy anyone to try this recipe and not fall in love with it! It will knock your socks off!
And you'll have a lot of both reductions left over which is great, because I promise, once you taste this you WILL want to make it again so those reductions will be put to great use (they would also be amazing with a pan-roasted duck breast or even a humble pork tenderloin).
Both reductions would be great with duck, but I also think each one could make the base for a fantastic vinaigrette with the addition of some Dijon and maybe a mix of hazelnut oil and olive oil. In fact, this venison would be a great salad topping sliced and served cold. Over arugula, with some chopped toasted hazelnuts, extra blackberries, and some aged gouda!
I used two venison backstrap loin roasts that were about 1 pound each. I figured as long as I was going to the trouble to make this I might as well have some leftovers.
I didn't serve it with anything because we devoured it with our fingers right off the platter! I think it would be fantastic with celery root potato puree and roasted root vegetables or shaved Brussels sprouts salad. And I might even just drizzle some of the spiced blackberry maple syrup over some good vanilla ice cream!
I was extremely skeptical of this dish because when I was making the blackberry sauces, my whole house smelled kind of strong to say the least and I was not very fond of the strong smell. So this made me skeptical to the point of only putting in one of the venison steaks with the sauce and then tasting it. BUT WOW was I surprised… this cut every single gamey thing that I hate about venison. I am very, very picky when it comes to venison, it essentially has to taste like a filet of beef for me to even touch it. This was spectacular.
With a few edits this recipe is to die for. I have searched long and hard for venison recipes but most of what I find online a very, very terrible recipes. So it was amazing that this was so fantastic. I have no idea how it did it but I loved it.
I used venison loin steaks because that is what the hubby had!
Definitely four servings. I served it with a side of pasta! YUM
This recipe was in depth because of the sauces and I ended up loving it. Definitely less time in the pan for the venison loin steaks though. Were a little over done for me. Just four less minutes would have been medium rare. There really was not any pink.