I've always loved chicken pot pie. Apart from being quick, simple, and scrumptious, puff pastry gives you a really flaky, crispy top, which I can never get enough of. I was invited to dinner at the food critic Fay Maschler's home a while back, and she made me a wonderful chicken pot pie. Her tip was to put some sausage meat balls in the stew and they tasted fantastic. Three stars!–Jamie Oliver
What's the best pastry for this chicken and leek pot pie?
Puff pastry is a cinch of a topper for pot pie. If you can, opt for all-butter puff pastry, which not only lacks the multisyllabic unnatural ingredients found in mass-market brands but also tastes infinitely better. Or, natch, you can use your own homemade puff pastry or even pie crust. In a pinch, buttered slices of baguette could probably work. Hmmm. That makes us wonder, what else would you consider a proper topper for pot pie? Potato chips? Herbed bread crumbs? Is it still a pie? Or does it simply become stew? Discuss amongst yourselves.
Chicken and Leek Pot Pie
To call this the best chicken and leek pot pie is only a litle bit hyperbolic, we think. The name comes from Jamie Oliver, who crafted this pot pie from a version he was served. With a crisp, puff pastry lid and full of chicken, sausage meatballs and veggies, who are we to argue?
Ingredients
Olive oil

2

knobs (pats)

butter

2

pounds plus 3 ounces

boned and skinned chicken legs

,

cut into pieces

2

medium

leeks

,

trimmed, washed and sliced into 1/2 inch (12 mm) pieces

2

carrots

,

peeled and roughly chopped

3

celery sticks

,

finely sliced

Small

handful

thyme sprigs

,

leaves picked

2

tablespoons

all-purpose flour

1

wineglass (6 oz)

white wine

1 1/4

cups

milk

Sea salt and freshly ground black pepper to taste

9

ounces

good pork sausages

One

(16-ounce)

package all-butter puff pastry

1

large

egg

,

lightly beaten with a pinch of salt
Instructions
Prepare the chicken stew
Take a large casserole pot and add a glug of olive oil and your butter. Add the chicken, leeks, carrots, celery, and thyme and cook slowly over medium heat for 15 minutes. Turn the heat right up, add the flour, and keep stirring for a couple of minutes before adding the wine, then a wineglass of water, and then the milk. Season with a little salt and freshly ground black pepper.

Cover with a tight-fitting lid and simmer very slowly on the stove, stirring and scraping the pan every so often, until the chicken is tender, 30 to 40 minutes. The sauce should be quite thick. If it's a little too liquidy, just continue to simmer it with the lid off until it thickens slightly. (At this point you can let it cool and keep it in the fridge for a couple of days if you want to before assembling the pot pie—or it can also be eaten as a stew.) Pour the chicken mixture into an appropriately sized pie dish.
Assemble the chicken pot pie
Preheat the oven to 425°F (220°C). Adjust the oven rack to the middle position.

Squeeze the pork sausage out of the casings, roll it into little balls, and brown them with a little olive oil in a clean skillet over medium heat. Place them over the stew.

Roll out your pastry to about 1/4 inch thick. Carefully drape the pastry over the dish, using a knife to trim any pastry hanging over the edge of the dish. Lightly brush the top of the pastry with the egg to make it turn golden while baking. If desired, pinch the pastry to crimp it round the edge of the dish (there's no need to do this, but I like to as my mum always does it and it makes it look pretty. I also use the back of a knife to lightly crisscross the top of the pastry—this makes the pastry crisp and flaky.)

Bake the chicken pot pie in the center of the oven for about 30 to 40 minutes, until golden on top. Originally published December 07, 2004.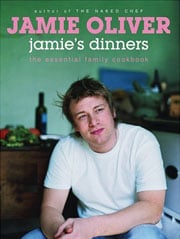 Nutrition
Serving:
1
portion
Calories:
1310
kcal
Carbohydrates:
69
g
Protein:
47
g
Fat:
91
g
Saturated Fat:
27
g
Polyunsaturated Fat:
13
g
Monounsaturated Fat:
43
g
Trans Fat:
0.5
g
Cholesterol:
243
mg
Sodium:
889
mg
Potassium:
872
mg
Fiber:
4
g
Sugar:
8
g
Vitamin A:
6429
IU
Vitamin C:
8
mg
Calcium:
174
mg
Iron:
6
mg
Nutrition information is automatically calculated, so should only be used as an approximation.
Recipe © 2004 Jamie Oliver. Photo © 2004 Анна Журавлева. All rights reserved.
---
Recipe Testers' Reviews
What makes a good chicken pot pie? A flavourful, hearty combination of ingredients. A not too thick or too thin filling. A good ratio of vegetables to meat to pastry. This recipe ticks all of the boxes—it makes a great pot pie. It would also work as a proper pie with a base. And if you don't have the sausages—it would really be good without. It can be made-ahead so it is also easy as well as being very, very tasty.
I didn't cook the pie until two nights later and the instructions needed to be a bit clearer on how to cook from cold. I placed it straight into the oven from cold. After 30 minutes the top of the pie was very dark but as I cooked it from cold the pie wasn't hot enough when I temp'ed it. So, I covered in foil and lowered the oven to 400°F and cooked for a further 14 minutes. Next time I'll warm the filling before putting in the oven.
Bless Jamie Oliver for his delightful measurements of knobs of butter and wine glasses of water and white wine. Despite the vagueness of these measurements, this chicken and leek pot pie recipe is totally forgiving and quite delicious. I love it when I bring a dish to the table and my family looks at it and just sighs with contentment. The best chicken and leek pot pie won't disappoint.
I substituted easy-to-find boneless, skinless chicken thighs for the chicken legs. A rotisserie chicken would be a good alternative. If you don't want to buy leeks, a mild sweet onion is a good substitute. I used 8-ounces of mild breakfast sausage to make the little sausage meatballs. The LC Note allowed me latitude with the pot pie topping and homemade baking powder biscuit dough is our topper of choice. (Refrigerated biscuits are another alternative).
We didn't particularly care for the addition of the sausage balls on top of the stew. Perhaps if I had browned the sausage into large crumbles or made the meatballs very small and incorporated them into the stew instead of on top, we might have liked them better. I used an unoaked Chardonnay for the white wine but suggest substituting all milk or even half-and-half cream instead of the milk and water for a richer sauce.
This chicken and leek pot pie is a beautiful presentation and tastes as good as it looks. It's chock full of chicken which is moist and tasty. The puff-pastry dough is easy and delicious. And the meatballs were a pleasant surprise. As a variation next time I make it, I'll add 2 additional carrots, 1/2 cup of frozen peas, and a cup of sliced mushrooms—perhaps a mixture of bella and shiitake—and I'll chop the celery into 1/4 inch pieces. It's seldom that I have a chicken pie where I want more vegetables, but I think this pie could benefit from a few more.
I prepared the chicken mixture on Sunday and stored it in the refrigerator in a pie plate so on Monday night I just browned the meatballs, topped the pie with puff pastry, and popped it in the oven for a beautiful Monday night dinner.