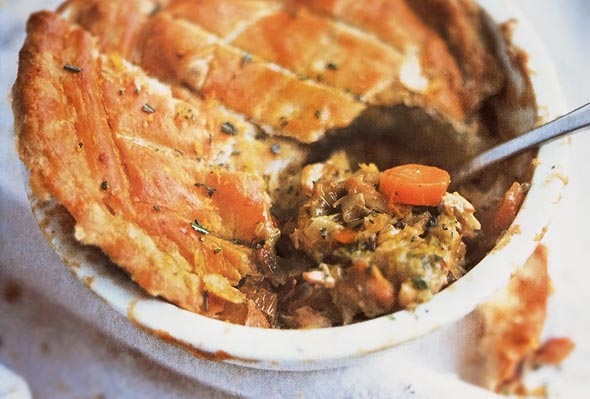 I've always loved chicken pot pie. Apart from being quick, simple, and scrumptious, puff pastry gives you a really flaky, crispy top, which I can never get enough of. I was invited to dinner at the food critic Fay Maschler's home a while back, and she made me a wonderful chicken pot pie. Her tip was to put some sausage meat balls in the stew and they tasted fantastic. Three stars!–Jamie Oliver
LC Proper Topper Note
Puff pastry is a cinch of a topper for pot pie. If you can, opt for all-butter puff pastry, which not only lacks those crazy multisyllabic ingredients in mass-market brands but also tastes infinitely better. Or, natch, you can use your own savory pie crust. In a pinch, buttered slices of baguette could probably work. Hmmm. That makes us wonder, what else would you consider a proper topper for pot pie? Potato chips? Herbed bread crumbs? Is it still a pie? Or does it simply become stew? Discuss amongst yourselves.
The Best Chicken Pot Pie
Quick Glance
30 M
1 H, 50 M

Serves 4
Print Recipe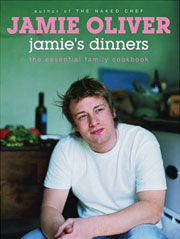 Ingredients
Email Grocery List
Olive oil

2 knobs (pats) butter

2 pounds plus 3 ounces boned and skinned chicken legs, cut into pieces

2 medium leeks, trimmed, washed and sliced into 1/2 inch pieces

2 carrots, peeled and roughly chopped

3 sticks celey, finely sliced

Small handful thyme sprigs, leaves picked

2 tablespoons all-purpose flour

1 wineglass white wine

1 1/4 cups milk

Sea salt and freshly ground black pepper to taste

9 ounces good pork sausages

One (16-ounce) package all-butter puff pastry

1 large egg, lightly beaten with a pinch of salt
Directions
Prepare the chicken stew

1. Take a large casserole pot and add a glug of olive oil and your butter. Add the chicken, leeks, carrots, celery, and thyme and cook slowly over medium heat for 15 minutes. Turn the heat right up, add the flour, and keep stirring for a couple of minutes before stirring in the wine, then a wineglass of water, and then the milk. Season with a little salt and freshly ground black pepper, then cover with a tight-fitting lid and simmer very slowly on the stove, stirring and scraping the pan every so often, until the chicken is tender, 30 to 40 minutes. The sauce should be quite thick. If it's a little too liquidy, just continue to simmer it with the lid off until it thickens slightly. (At this point you can let it cool and keep it in the fridge for a couple of days if you want to before assembling the pot pie—or it can also be eaten as a stew.) Pour the chicken mixture into an appropriately sized pie dish.

Assemble the chicken pot pie

2. Preheat the oven to 425°F (220°C). Adjust the oven rack to the middle position.

3. Squeeze the porks sausage out of the casings, roll it into little balls, and brown them with a little olive oil in a clean skillet over medium heat. Place them over the stew.

4. Roll out your pastry to about 1/4 inch thick. Carefully drape the pastry over the dish, using a knife to trim any pastry hanging over the edge of the dish. Lightly brush the top of the pastry with the egg to make it turn golden while baking. If desired, pinch the pastry to crimp it round the edge of the dish (there's no need to do this, but I like to as my mum always does it and it makes it look pretty. I also use the back of a knife to lightly crisscross the top of the pastry—this makes the pastry crisp and flaky.) Bake the chicken pot pie in the center of the oven for about 30 to 40 minutes, until golden on top.
The Best Chicken Pot Pie Recipe © 2004 Jamie Oliver. Photo © 2004 David Loftus. All rights reserved. All materials used with permission.
If you make this recipe, snap a photo and hashtag it #LeitesCulinaria. We'd love to see your creations on Instagram, Facebook, and Twitter.