These chicken dan dan noodles are an authentic dish made with homemade chicken broth, a Sichuan peppercorn tare, and a spicy chicken topping that's mounded atop your favorite fresh noodles. Comfort food at its finest.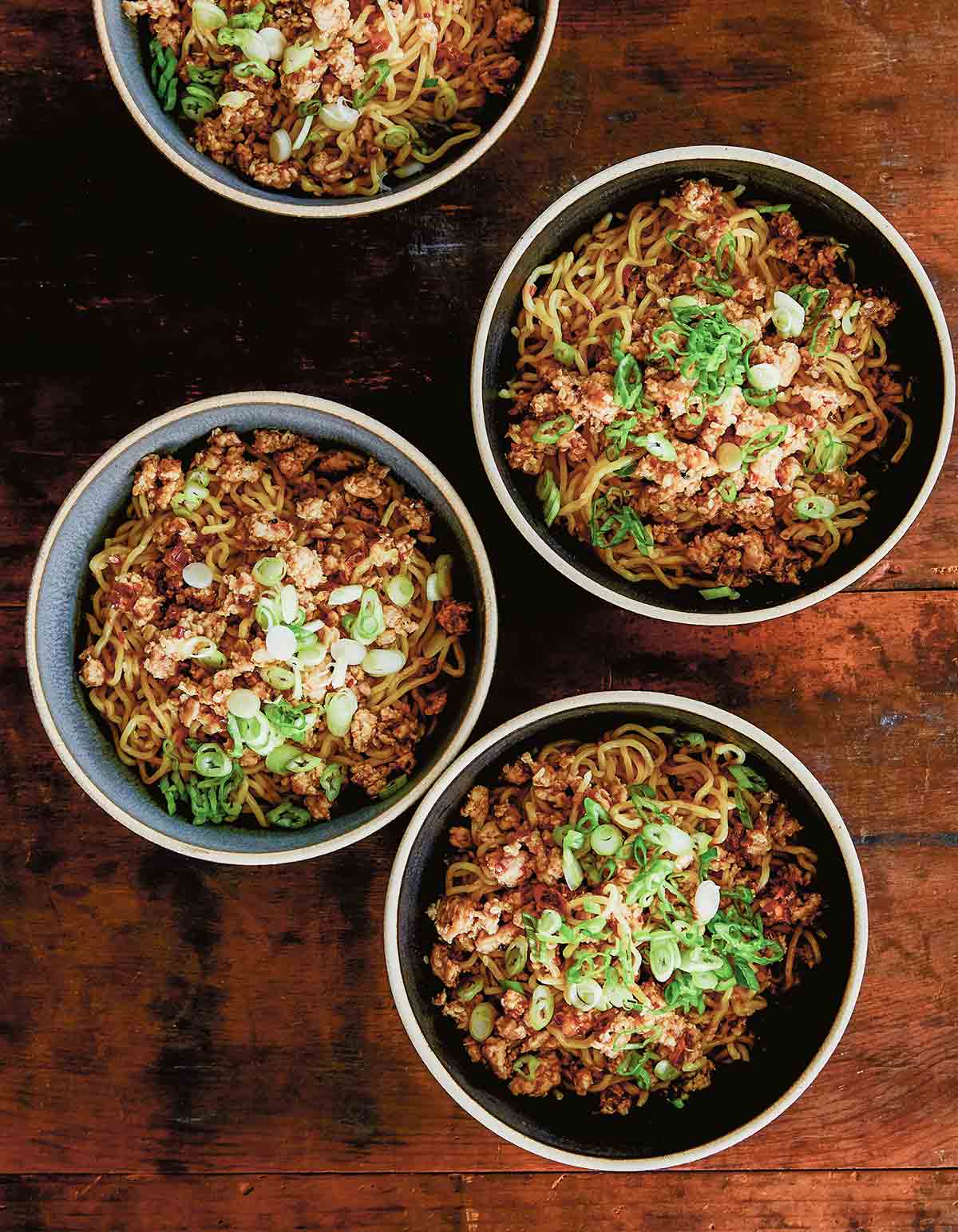 There are as many reasons to love chicken Dan Dan noodles as there are variations on the recipe. We're particularly smitten with this one, which combines homemade chicken broth, a numbing Sichuan peppercorn and schmaltz—yes, schmaltz—tare, and a spicy chicken topping in a bowl of your favorite fresh noodles.–Angie Zoobkoff
Chicken Dan Dan Noodles
Quick Glance
Quick Glance
1 H
19 H

Serves 4
Print Recipe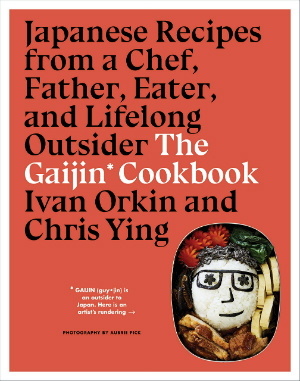 Ingredients
Email Grocery List
For the chicken broth*
For the tare
For the chicken topping
For serving
Directions
Make the broth*
In a large stockpot over medium heat, combine the whole chicken, chicken feet or backs, and 5 quarts (20 cups or 4.7 l) cold water to cover. Bring to a simmer, skimming any gray scum that floats to the surface during the first 10 to 15 minutes of cooking.
Reduce the heat to medium-low and ever so gently simmer for 6 hours, replenishing the broth with fresh water as it reduces.
Strain the broth and let it cool to room temperature. Cover and refrigerate overnight.
Scrape the fat from the surface of the broth and reserve 5 tablespoons of it. Refrigerate or freeze the remaining chicken fat for another use or discard it. You will only need 2 cups broth for this recipe and can refrigerate or freeze the remaining chicken broth.
Make the tare
In a spice grinder, blitz the Sichuan peppercorns and red pepper flakes together.
Heat a small skillet over medium heat and then add the sesame oil and the 2 tablespoons reserved chicken fat or oil. Add the ground spices and scallions and cook, stirring constantly, until the scallions are slightly softened and the spices are very fragrant, about 2 minutes.
Remove from the heat and immediately stir in the white soy sauce, vinegar, sugar, and salt. Transfer to a large bowl.
Set a large pot of salted water over high heat and bring to a boil for the noodles.
In a separate saucepan over low heat, warm the 2 cups reserved chicken broth.
Make the chicken topping
In a spice grinder, blitz the Sichuan peppercorns and red pepper flakes together.
Heat a large skillet over medium heat, then coat with the sesame oil and the 3 tablespoons reserved chicken fat. Add the scallions, ginger, and garlic and cook until very fragrant, about 2 minutes.
Stir in the ground spices and sesame seeds and cook for 2 minutes more.
Add the ground chicken, sugar, and salt and sauté, using a fork or wooden spoon to break up any clumps, until the chicken is cooked through and any liquid has almost completely cooked off, 5 to 10 minutes.
Once the chicken is ready, drop the noodles into the boiling water and cook until al dente, according to package directions.
Drain the noodles, shaking them to remove any excess water.
To serve, whisk the hot broth into the reserved tare. Add the cooked noodles and toss to combine thoroughly. Portion among four bowls and top each with the chicken topping. Garnish with chopped scallions and serve immediately.
Print Recipe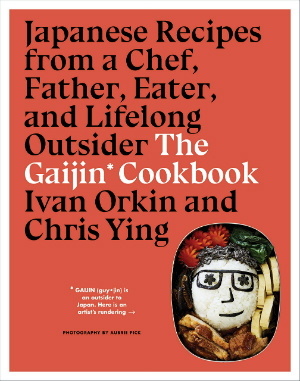 *What You Need To Know About The Chicken Broth For This Recipe
You can, of course, substitute your own homemade chicken stock according to your favorite recipe or even swap in store-bought stock. However, the pure, clean flavors of this simple, pure stock made from nothing but chicken and water allow the other flavors of the dish to meld and yet stand out in a truly outstanding manner.
Recipe Testers Reviews

If you like a spicy, warming soup for a chilly day, this is it! We really loved this full-flavored, tasty soup. From the chewy noodles to the sesame-studded ground chicken to the slightly numbing Sichuan peppercorns, it was a sensory gift.
If you have stock on hand, as I did, the preparation for this is pretty fast.
I am thankful that we have leftovers as this will be another enjoyable meal.
I used 1 teaspoon Sichuan peppercorns in the Tare and 1 1/2 teaspoons in the meat mixture. This was plenty of spice! I had Ream's egg noodles on hand and used them.

There are many recipes for Dan Dan noodles, from difficult to prepare to very simple to prepare but lacking complexity. This recipe walks the line between those extremes. My husband (who is a pretty light eater and rarely finishes his plate) ate the whole thing and tipped the bowl up to get the last of the delicious broth.
If you make the broth and the tare sauce ahead of time, this recipe comes together pretty easily but delivers so much flavor. I made the broth using the amount of chicken called for and it produced just the right amount of fat for the tare and chicken topping. I had plenty of broth left over and made a wonderful chicken congee the next day with it.
If you have a good Asian market nearby, you should be able to get all of the ingredients easily, but you could make some substitutions if needed. For example, if you can't get brown rice vinegar, regular rice vinegar would be fine. But the two ingredients you wouldn't want to change would be the ShiroShoyu and the Sichuan peppercorns, which are essential.
The best part of this recipe (other than the part where you get to eat it) is the heavenly aromas you get while making the tare and then again when you add the hot broth to it. It's worth the work for that alone.
Also, you can easily adjust the amount of heat in the recipe. I used the full amount of Sichuan peppercorns called for and used milder Korean chili flakes and the heat was perfect for me, but you could use a bit less if you like less heat. This would be wonderful on a chilly night when you need something to warm you from the inside out.
I used 1 teaspoon Sichuan peppercorns for the tare and 2 tablespoons sesame oil. For the chicken topping I used 2 teaspoons Sichuan peppercorns.
This was 4 generous servings.
Chicken Dan Dan Noodles Recipe © 2019 Ivan Orkin & Chris Ying. Photo © 2019 Aubrie Pick. All rights reserved. All materials used with permission.
If you make this recipe, snap a photo and hashtag it #LeitesCulinaria. We'd love to see your creations on Instagram, Facebook, and Twitter.