Pork chop recipes that span every need and craving, whether in the oven or on the grill, healthy or fried. We could go on, but we'd really prefer you stop reading and start cooking. Because these recipes are gonna take you by surprise in the best possible way.
These dry rub grilled pork chops are coated in a blend of crushed coriander seeds, chipotle chile powder, ground cumin, smoked paprika, and mustard powder. They're cooked using both direct and indirect heat for the best flavor and tenderness.
Recipe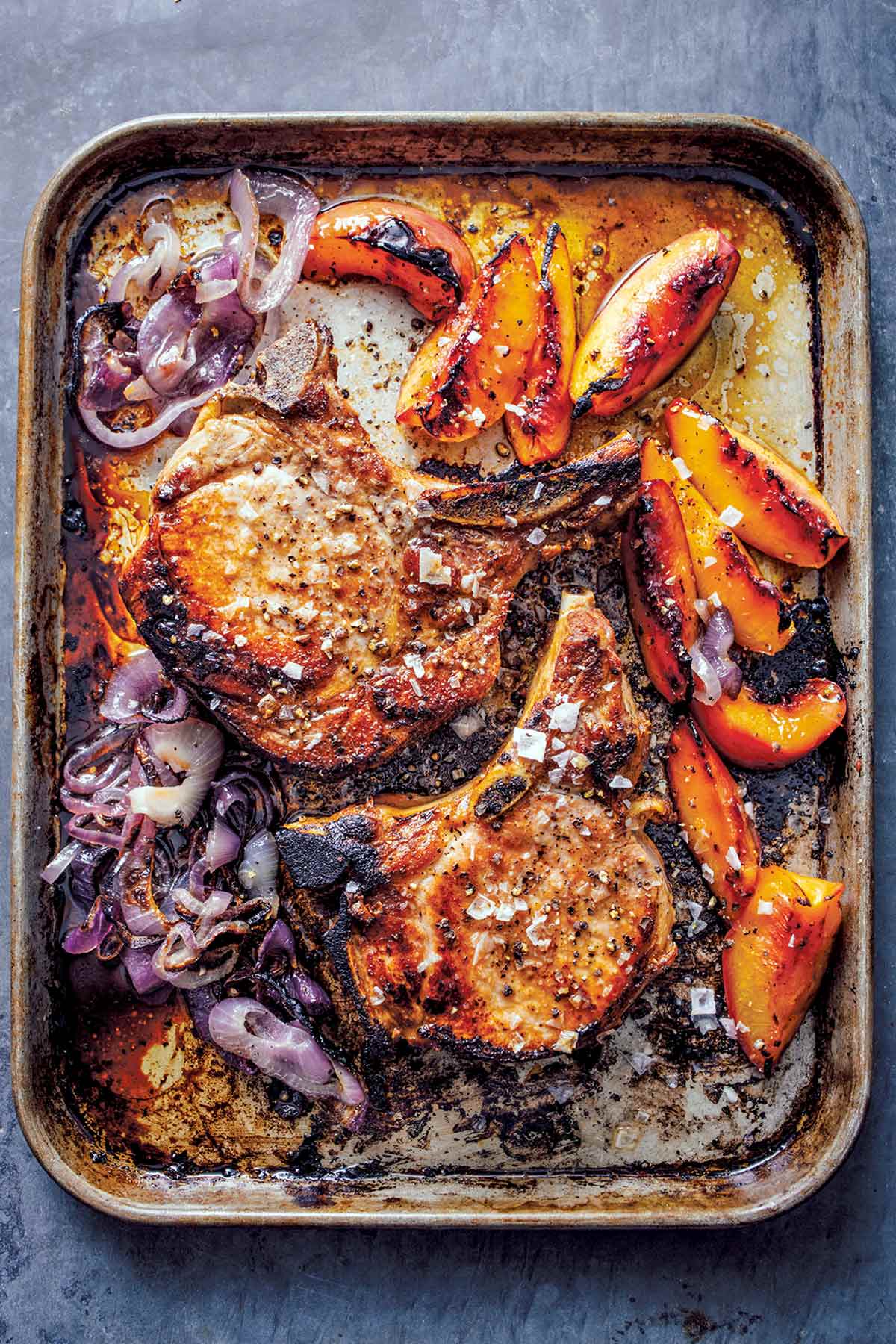 These roast pork chops with peaches are an easy, no-fuss, sheet pan meal of seasoned, roasted pork chops, peach wedges, and red onion, all topped with pomegranate molasses. A weeknight winner that belongs in your dinner rotation.
Recipe
This grilled pork loin roast creates the best, most tender pork chops ever. The pork loin takes a dunk in a marinade or brine made with garlic, cumin, and paprika and then is grilled and sliced into chops. Here's how to cook juicy pork chops every time.
Recipe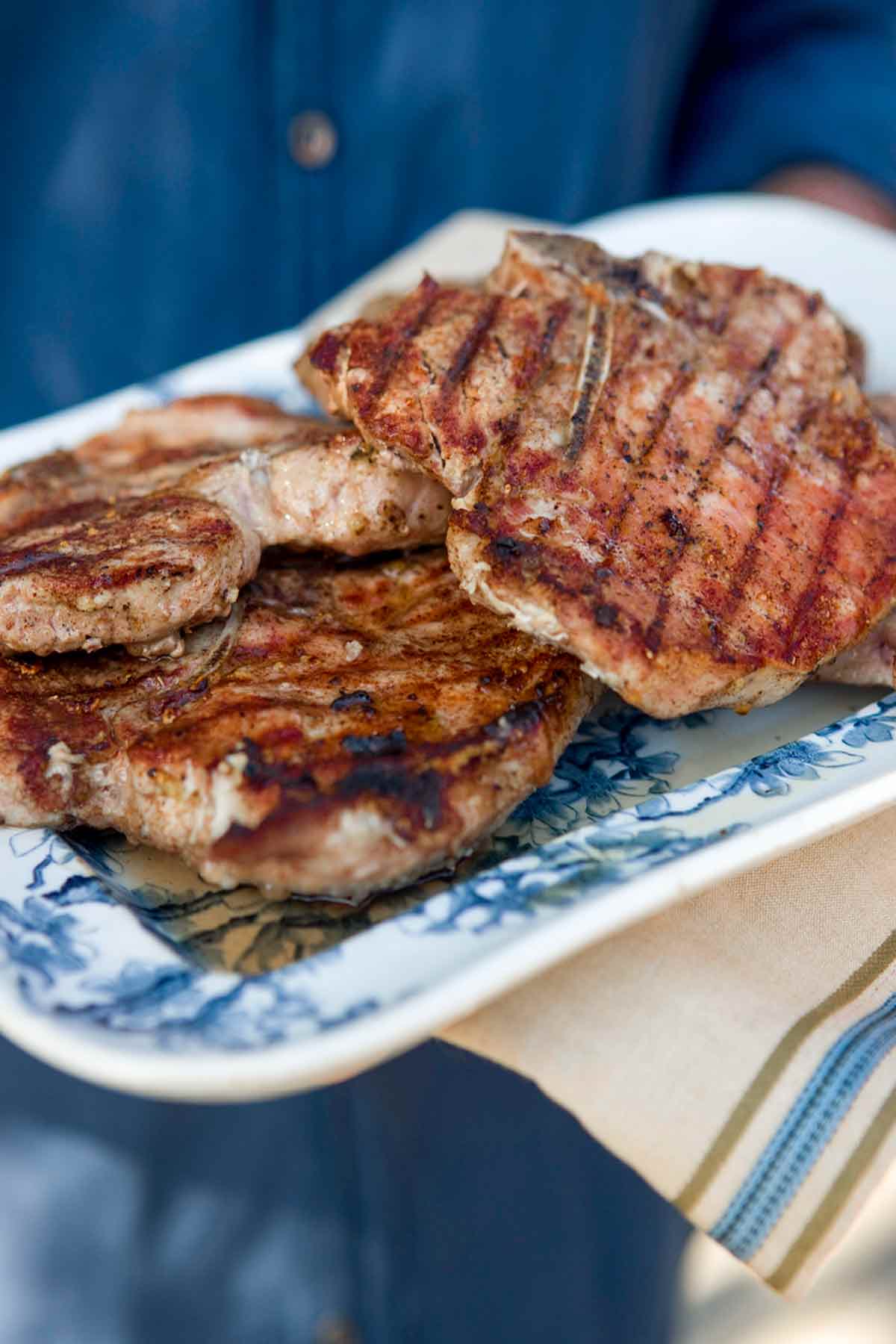 These five-spice grilled pork chops are a delightful way to upgrade your grilling game. T-bone pork chops, marinated with ginger, garlic, and five-spice powder, come off the grill infused with flavor.
Recipe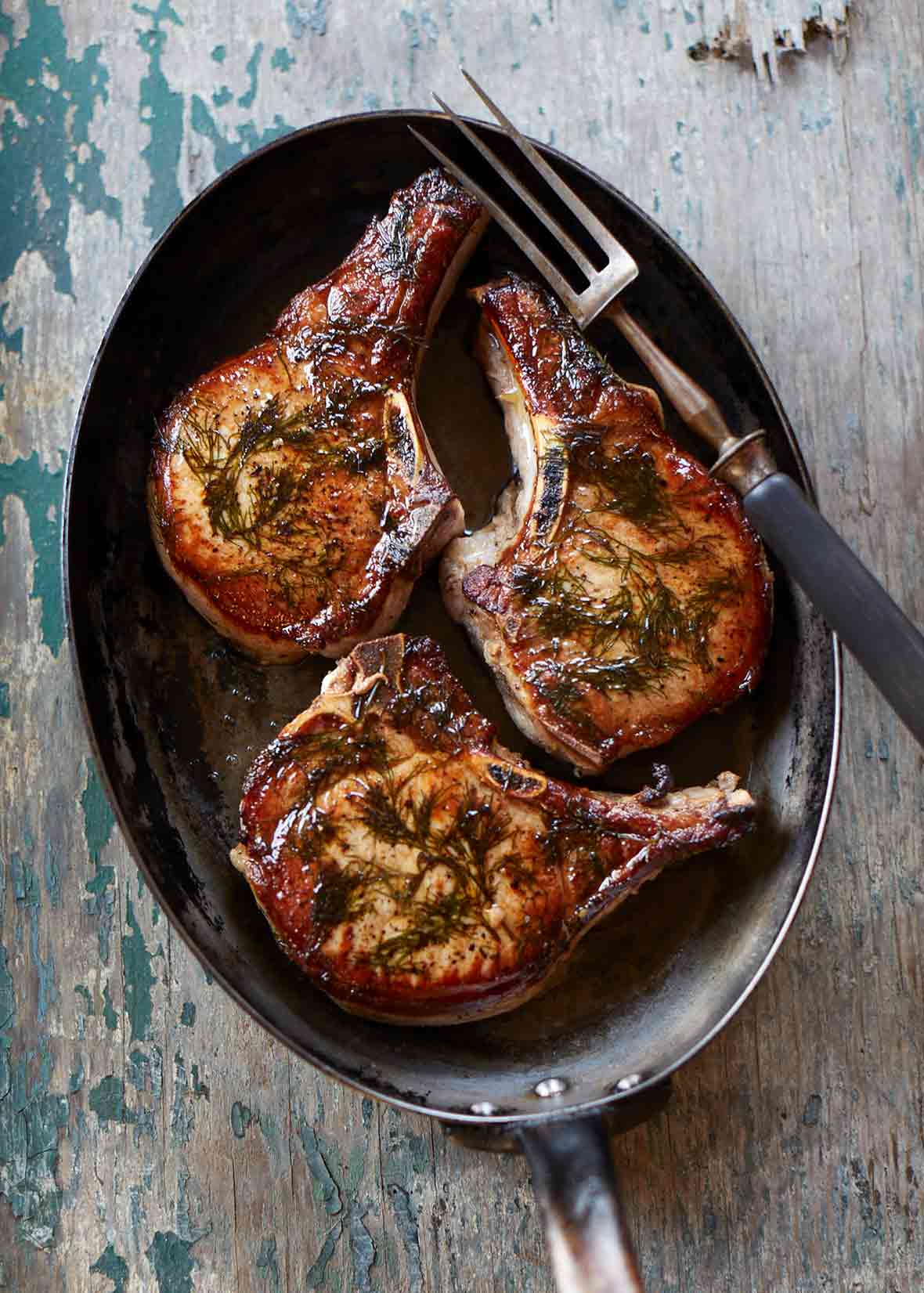 Did you know that the leftover juice in your pickle jar makes a fantastic brine for tender, juicy pork chops? Terrific, right? And to be honest, it's even better than it sounds.
Recipe
These Cambodian pork chops are coated in an aromatic peppercorn and lemongrass rub and then grilled to tender perfection. Sorta like street food that you can make at home.
Recipe
Coffee crusted grilled pork chops require nothing more than a simple spice rub yet yield mind-numbing complexity in terms of taste. It's quite possible you won't even discern coffee as an ingredient. And chances are you already have all the ingredients you need.
Recipe
These adobo marinated pork chops rely on a quick and easy adobo sauce, made with two types of dried chiles, spices, sugar, and vinegar. A secret weapon in your weeknight dinner arsenal.
Recipe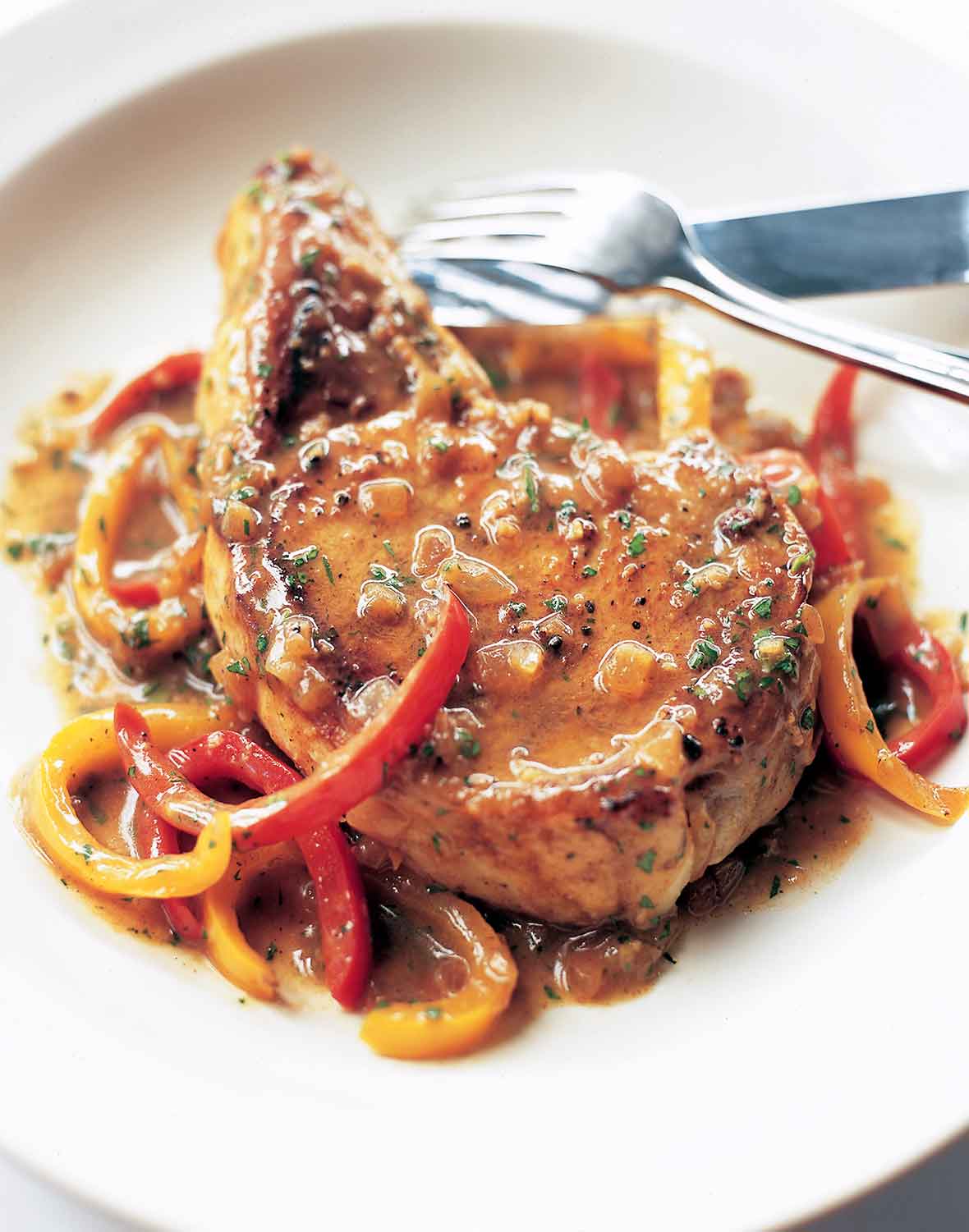 These tender pork chops are brined and pan-seared with onion and sweet pepper in a tangy white wine vinegar sauce.
Recipe
These pan-roasted pork chops are brined overnight in a mixture of apple juice, salt, maple syrup, and cinnamon. A quick sear on the stovetop and dinner is served.
Recipe
These maple-brined pork chops take their juiciness from a maple syrup-bay leaf-peppercorn brine. A pear chutney pairs beautifully with the chops. A conversation-stopping autumn dinner.
Recipe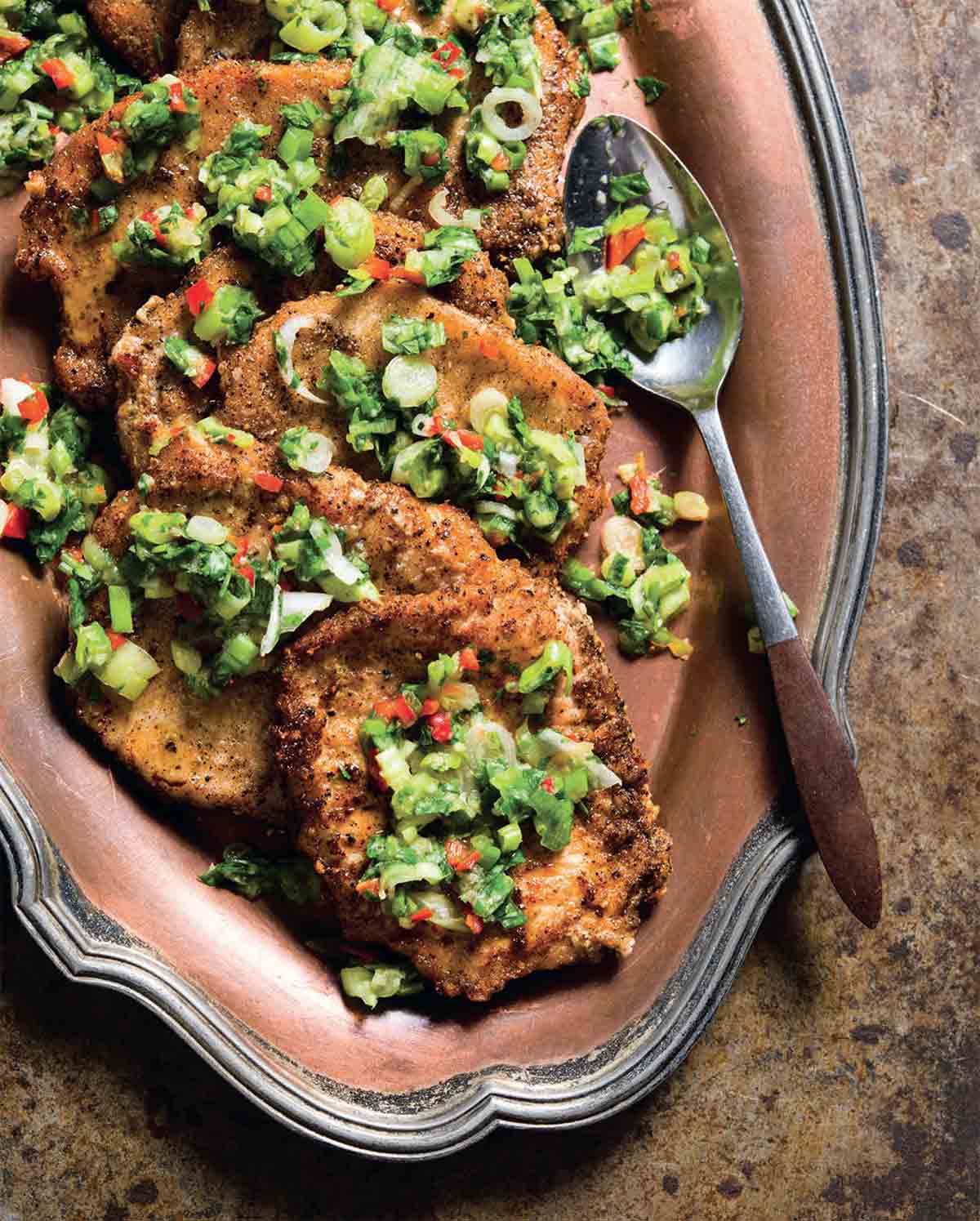 These Cantonese-inspired salt and pepper pork chops are coated in spiced cornstarch and pan-seared until golden. They're topped with a spicy scallion, cilantro, and chile mixture. An easy, gluten-free, weeknight meal.
Recipe
Pork chops are an easy-peasy favortie. Grilling peaches and other stone fruits lend a flavor boost, bringing their natural sugar to the fore.
Recipe
This roast pork chops dinner contains everything that makes an autumn dinner special–apples, kale, apple cider, mashed potatoes, and pork chops. Full of color and texture, it's sure to be on repeat at your table.
Recipe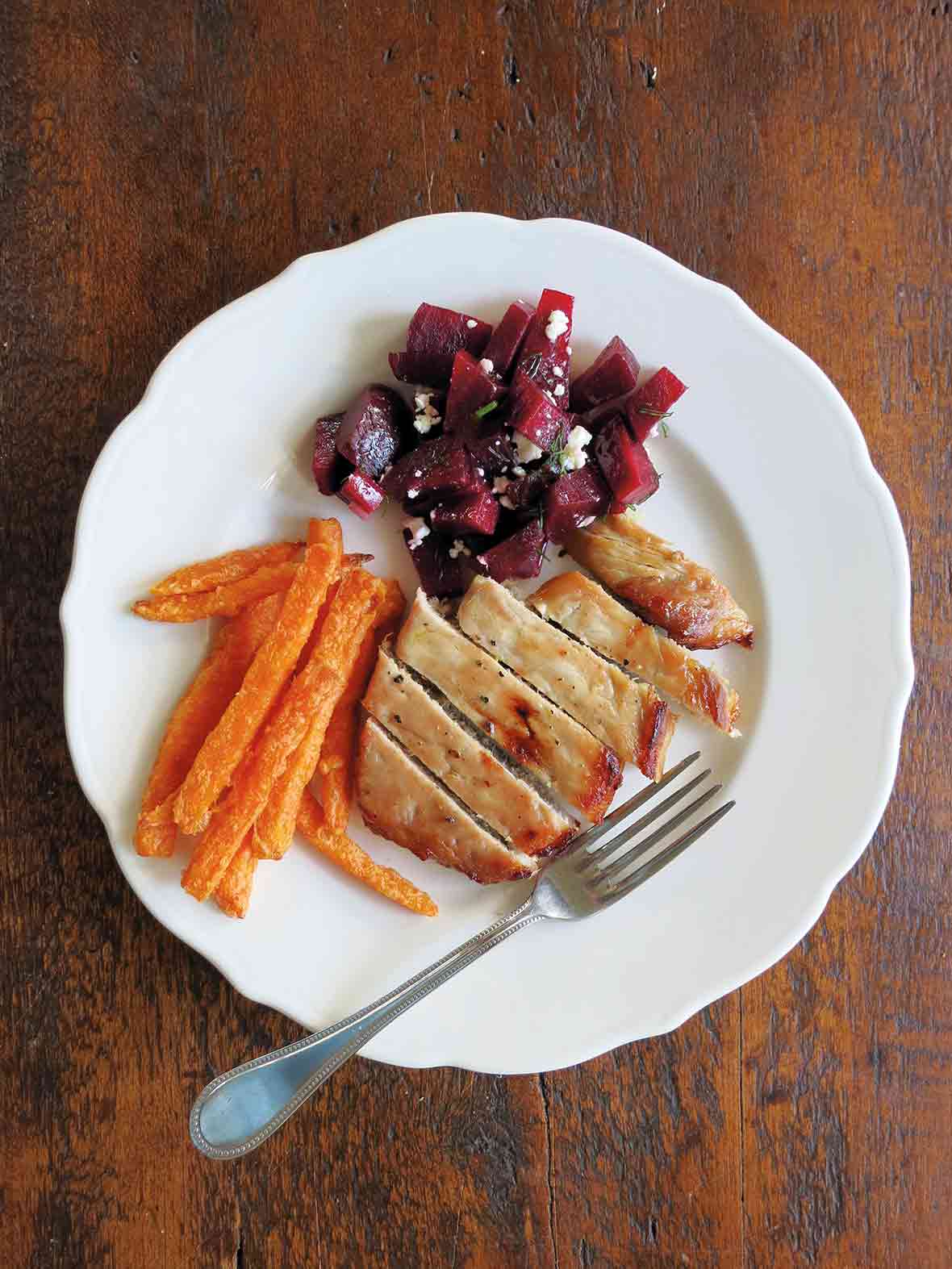 These maple pork chops are bathed in a marinade of maple syrup, soy sauce, and rice vinegar. The marinade doubles as a glaze for the finished pork chops. An easy weeknight meal.
Recipe
© 2020 Leite's Culinaria. All rights reserved. All materials used with permission.