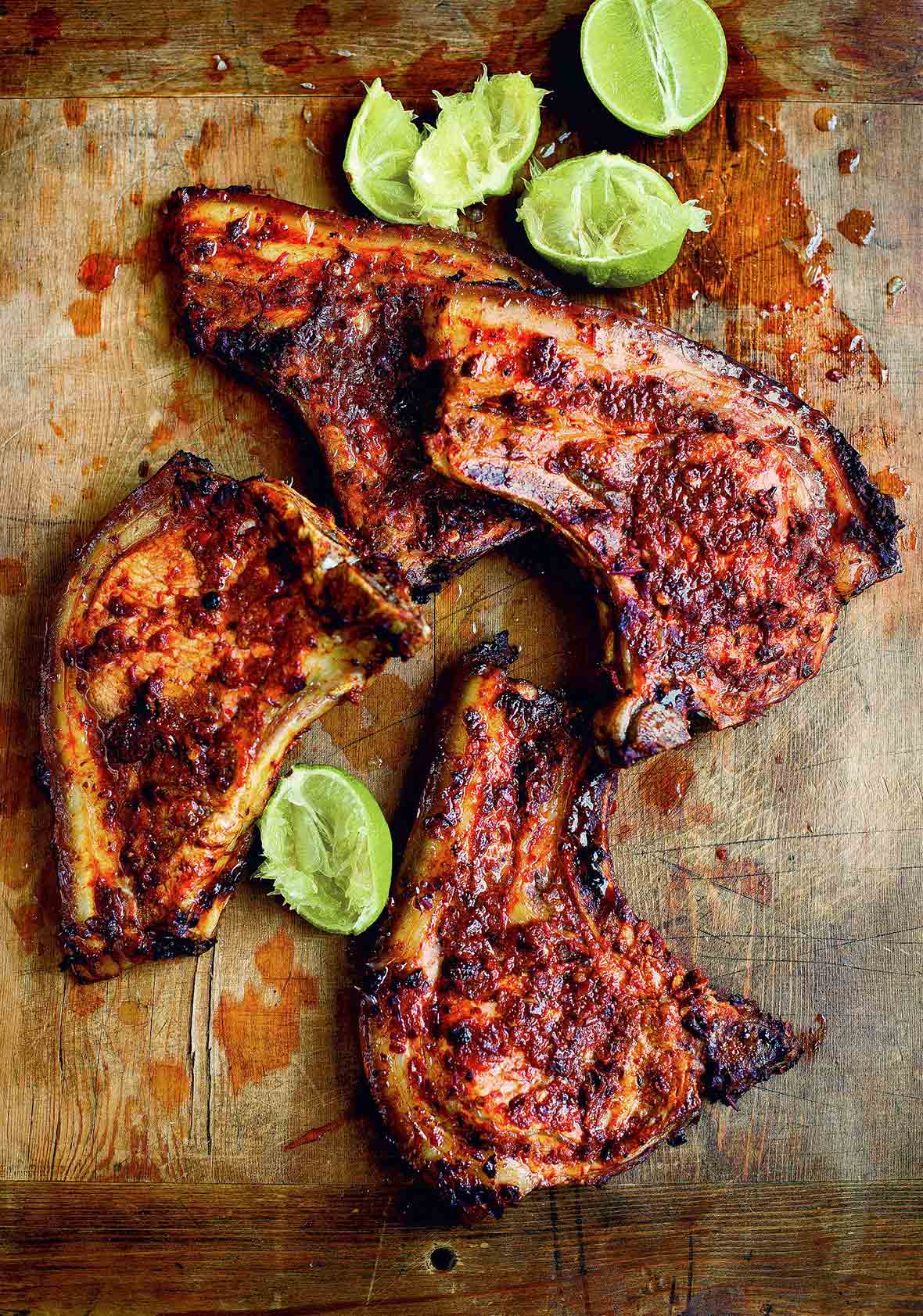 Wow. That's the only response to this adobo, a Mexican paste made from dried chiles, herbs, and vinegar. Once you've tried adobo, it will become one of the most useful things in your refrigerator (and it will change your experience of pork chops forever). There are lots of different versions—some people add cloves, others use bitter orange juice instead of vinegar, and the type of chile used varies, too. This is my own version, but feel free to adapt it as you want. I particularly like sherry vinegar in this (though no Mexican home cook would use it), as it lends the spice paste a lovely, deep, woody flavor. Brown sugar isn't usual, either, but again, it gives the adobo depth of flavor.
To use adobo, spread the spice paste over bone-in chicken pieces or thick-cut pork chops and marinate them—ideally overnight, although I often leave them for just 30 minutes. This recipe gives you enough paste to make two Mexican-flavored meals for six people. I serve it with guacamole and boiled white rice.–Diana Henry
LC Adobo Note
There's adobo and then there's adobo. The latter is what Diana Henry mentions above—the Mexican spice paste of paprika, spices, chiles, and vinegar. The former refers to a Filipino dish that simmers meat or seafood in a garlicky, vinegary, liquidy concoction that oft includes chiles, sugar, onions, and herbs. Confusing, we know.
Adobo Marinated Pork Chops
Quick Glance
15 M
1 H, 30 M

Serves 4 to 6
Print Recipe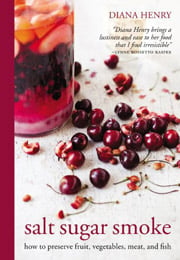 Ingredients
For the adobo

5 dried chipotle chiles

4 dried ancho chiles

1 teaspoon cumin seeds

1 teaspoon coriander seeds

1/2 teaspoon ground allspice

1 1/4-inch piece cinnamon stick

1 teaspoon dried oregano

5 garlic cloves, roughly chopped

2 shallots, roughly chopped

1 1/2 teaspoons salt, or to taste

2 teaspoons soft dark brown sugar, or to taste (optional)

1 to 2 tablespoons red wine vinegar

5 tablespoons sherry vinegar

For your dinner

4 to 6 bone-in, thin pork chops, or bone-in, skin-on chicken pieces (thighs, wings, breasts, or drumsticks)

1 lime, cut into wedges
Directions
Make the adobo

1. Toast the chiles in a dry skillet over medium heat. You don't want to char them, you just want to make them more pliable, seeing as mild heat softens them.

2. Discard the stems and the seeds from all the chipotles and half the anchos. Place the chiles in a small saucepan and add enough water to cover. Bring to a boil, then remove from the heat and let soak for 30 minutes. Strain the chiles, reserving the soaking liquid.

3. Toast the whole spices in a dry skillet over medium heat until fragrant, about 40 seconds. Now put all the ingredients for the adobo, minus the chile soaking liquid, into a food processor and whiz to a purée. Add just enough of the chile soaking liquid to get it to the consistency of a paste. Taste for seasoning and adjust if you think it needs it.

4. Scrape the adobo into a sterilized jar, seal with a lid, and refrigerate. (You should have enough to fill an 8-ounce jar. It will be fine there for up to 4 months, but you'll have used it way before then.)

Make your dinner

5. Place the pork chops or chicken in a large bowl, add half the adobo paste, and use your hands to coat the meat thoroughly. Cover and refrigerate for at least 30 minutes and up to 8 hours.

6. Preheat the oven to 375°F (190°C) if you're making pork chops or 350°F (176°C) if you're making chicken. Line a rimmed baking sheet or roasting pan with parchment paper.

7. Place the pork or chicken on the baking sheet in a single layer. Roast the pork chops for 20 minutes or the chicken for 40 minutes. Cover with foil after 15 minutes, as the paste can burn. Transfer to a warm platter and spoon the thick pan juices over the top. Serve with the wedges of lime.
Recipe Testers Reviews
Adobo Marinated Pork Chops Recipe © 2012 Diana Henry. Photo © 2012 Laura Edwards. All rights reserved. All materials used with permission.
If you make this recipe, snap a photo and hashtag it #LeitesCulinaria. We'd love to see your creations on Instagram, Facebook, and Twitter.