These maple pork chops are bathed in a marinade of maple syrup, soy sauce, and rice vinegar. The marinade doubles as a glaze for the finished pork chops. An easy weeknight meal.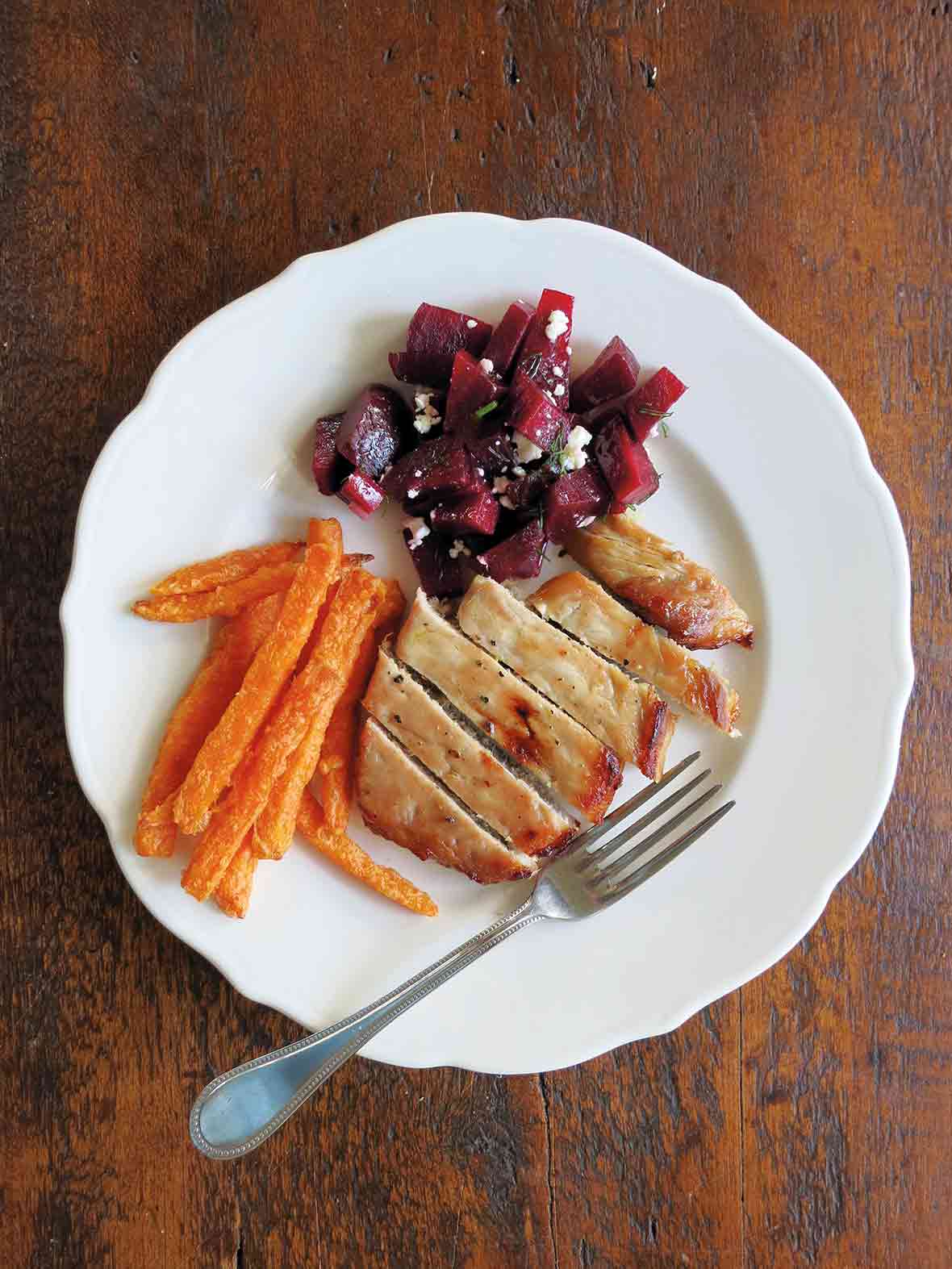 How do you cook pork chops without drying them out?
It depends on the particular type of pork chops. But when we're talking thick-cup pork chops as in this recipe, there are a few things.
Buy pork with as much fat as possible on them
Fat equals flavor. It also tends to bath the pork with its goodness as it melts, which in turn helps prevent the pork chops from drying out.
Start them on the stove, finish them in the oven
A quick sear on both sides lends the pork chops a little color and flavor, but you don't want to keep them on the stovetop because by the time the inside is cooked to doneness, the outer parts will be completely dried out. The solution is to give them a sear and then slide the skillet into a hot oven so the heat can more gently permeate the meat.
Use a thermometer to check for doneness
The most accurate way to know when you can remove the pork chops from the oven is to know its internal temperature. And for this you need a digital thermometer.
Maple Pork Chops
Quick Glance

(3)

15 M
30 M
Serves

4
Print Recipe
Ingredients
Directions
Place the pork chops in a resealable plastic bag or container. Add the maple syrup, oil, soy sauce, rice wine vinegar, and garlic and shake or stir. Seal the bag or cover the container, toss in the fridge, and refrigerate, flipping the chops occasionally, for 12 to 24 hours.
When ready to cook, preheat the oven to 450°F (232°F). Remove the chops from the marinade and pat them dry with paper towels. If you'd like to make a glaze for the pork chops, reserve the marinade, skimming any fat off the surface, and then strain the marinade into a saucepan and simmer until reduced to an almost syrupy consistency. Taste and drizzle in a little more maple syrup, if desired. If you don't want a glaze for the pork chops or simply want to mess with one less thing, discard the marinade.
If you prefer to just shove the pork chops in the oven and forget about them, place them on a rimmed, foil-lined baking sheet and roast, flipping once, until the pork chops register 145°F (63°C) on a thermometer, 10 to 15 minutes total, depending on the thickness. If desired, baste with the reduced marinade throughout the time in the oven. If you prefer a sorta caramelized, seared surface on your chops and don't mind a little stovetop juggling, place them in a large cast-iron or other ovenproof skillet slicked with oil over medium-high heat and cook, flipping once, until beautifully browned, 2 to 3 minutes per side. Slide the skillet into the oven and roast until the pork chops register 145°F (63°C) on a thermometer, about 8 minutes, depending on the thickness. If desired, baste with the glaze once or twice while it's in the oven.
Place the pork chops on a plate, cover loosely with foil, and let rest for 5 minutes prior to serving. If you've reduced the marinade to a glaze, spoon it over the pork chops or pass it on the side, if desired. Originally published October 26, 2014.
Print Recipe
Recipe Testers' Reviews
Just a few minutes, a resealable plastic bag, and a few staples from the pantry, and ta-da! Some of the most beautiful and delicious maple pork chops I've ever made. If you love pork chops, you'll find that this is a terrific recipe. I'll certainly be putting these in the rotation.
This maple pork chop recipe is a rock star! The marinade is simple, easy, and tastes great. You probably already have everything you need in your fridge and pantry. (That's another great thing about this recipe—nothing out of the way or really kooky to hunt for at the store.) Boneless center-cut pork chops are called for, and that is what I used. However, I'm willing to bet that this recipe would be just as good with almost any kind of pork chop you use.
I marinated my pork chops for a little more than 2 hours, and they could have spent more time in the bag with no ill effects. I timed my chops at 15 minutes in the oven, turning them at 7 1/2 minutes. Next time, rather than rely on time, I'll just do the "take a look" test. Easy and tasty. Let's do it again.
Maple Pork Chops Recipe © 2014 Jenny Rosenstrach. Photo © 2014
Jenny Rosenstrach
. All rights reserved. All materials used with permission.
If you make this recipe, snap a photo and hashtag it #LeitesCulinaria. We'd love to see your creations on Instagram, Facebook, and Twitter.