I don't cook roast pork that often—I just didn't grow up with it, we were a lamb- and chicken-eating family—but when I do, it's usually with fruit. This is gorgeously autumnal.–Diana Henry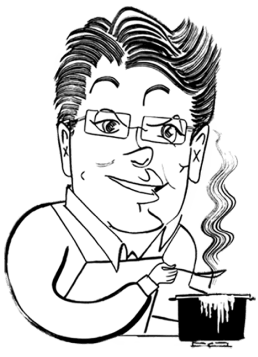 Why Our Testers Loved This
Our testers loved that this easy recipe produced a "flavorful, tender roast" that would be perfect for serving at a "holiday celebration or any special dinner gathering." We couldn't agree more.
What You'll Need to Make This
Pork loin–You'll need a deboned pork loin that has been roll cut and tied. You can do this yourself (check out the handy video below) or save some time and ask your butcher to do it for you.
Garlic–Using 6 cloves will give your roast plenty of flavor. If you're garlic-averse, you can cut the amount of garlic in half, without any problem.
Black seedless grapes–It's worth seeking out small black grapes as they'll lend the most flavor to your finished sauce.
Dry Marsala wine–This adds a rich flavor to the crushed grape sauce. Avoid using sweet Marsala, as your pan sauce will be way too sweet. If you can't find Marsala, substitute 1 cup of dry white wine and 1/2 cup of brandy.
How to Make This Recipe
Make the spice mixture. Use a mortar and pestle to crush the salt, peppercorns, rosemary, and juniper berries. Mix in the olive oil to create a loose paste.

Rub the pork. Insert slivers of garlic into small incisions in the pork and spread the spice mixture all over the unrolled pork roast.

Chill the roast. Stash it in the fridge for at least 12 hours and up to 24 hours. Let sit at room temperature for 30 minutes before roasting.

Cook the pork. Reroll and tie the pork and cook it for 25 minutes at 400°F, then reduce the oven to 375°F. Toss in the grapes and 1 cup of wine, and continue to cook until the internal temperature reaches 145°F.

Make the pan sauce. Transfer the cooked pork and grape clusters to a serving platter, then add the remaining Marsala and mash any loose grapes into the liquid. Bring to a boil and simmer until syrup. Spoon the sauce over the pork and serve.
Common Questions
What's the difference between black and red grapes?
Black grapes tend to be smaller and sweeter than red grapes. They are most commonly used in winemaking, while red grapes are intended for snacking.
What is Marsala wine?
Marsala wine is an Italian fortified wine. It is frequently used for developing nutty, caramelized flavors in pan sauces, most famously chicken Marsala. It's available in dry or sweet varieties, but the dry variety is more commonly used for savory dishes, such as filet mignon with mushroom sauce.
What should I serve alongside this?
Our readers highly recommend serving this roast pork with a rich, creamy, starchy side dish, such as this cheesy pumpkin potato gratin. A little gem salad would also complement the pork nicely.
Helpful Tips
To save some time, ask your butcher to debone, cut, roll, and tie the pork loin.
If you don't have a mortar and pestle for crushing the spices, toss all the ingredients into a resealable bag and use a rolling pin to smash them.
This recipe is suitable for gluten-free and dairy-free diets.
Leftover roast pork and crushed grape sauce can be stored in an airtight container in the fridge for up to 4 days. Reheat in a warm oven until heated through.
Write a Review
If you make this recipe, or any dish on LC, consider leaving a review, a star rating, and your best photo in the comments below. I love hearing from you.–David
Roast Pork with Crushed Grapes
This roast pork with crushed grapes is an elegant yet easy and affordable autumn meal of rosemary-seasoned roast pork loin in a black grape and Marsala wine sauce.
Ingredients
1/2

tablespoon

flaky sea salt

1/2

tablespoon

black peppercorns

Leaves from 3 rosemary sprigs (about 2 tablespoons)

1

tablespoon

juniper berries

2

tablespoons

extra-virgin olive oil

4

pound

deboned pork loin

,

roll cut and tied

6

garlic cloves

,

very thinly sliced

Sea salt and freshly ground pepper

1

pound 2 ounces

black seedless grapes

,

half destemmed and half in small clusters

1 1/2

cups

dry Marsala
Instructions
Using a mortar and pestle, or a resealable plastic bag and a rolling pin, coarsely crush the salt, peppercorns, rosemary leaves, and juniper berries. In a small bowl, combine the crushed ingredients and the oil.

On a cutting board or work surface, unroll the pork and place it meat side up. Pat it completely dry.

Using the tip of a sharp knife, make small incisions all over the meat and cram the slivers of garlic into the incisions. Rub the crushed spice mixture evenly over the meat, pushing bits of it into the incisions.

Place the pork in a roasting pan, cover, and refrigerate for 12 to 24 hours. Remove from the refrigerator and let the pork rest at room temperature for 30 minutes.

Preheat the oven to 400°F (204°C).

Roll the pork tightly and firmly, keeping as much of the seasoning inside as you can, and then re-tie it at intervals with kitchen string (or the string from the butcher).

☞ TESTER TIP: You may want to ask for help from a second pair of hands as you tie the rolled pork so you can keep it from unraveling.

Season the pork all over with salt and pepper. Roast fat-side up in the roasting pan, uncovered, for 25 minutes.

Reduce the oven temperature to 375°F (191°C). Add all of the grapes and 1 cup Marsala to the roasting pan. Continue roasting, uncovered, until done, about 1 hour more. The pork is done when the juices run clear if the meat is pierced with a metal skewer and the internal temperature of the meat is 145°F (63°C).

Remove the roast from the oven and place the pork and clusters of grapes on a cutting board or platter. Cover and let rest for 15 minutes.

Place the roasting pan along with the roasting juices and the loose grapes over medium heat on the stovetop, using 2 burners if necessary. Stir in 1/2 cup Marsala. Using a potato masher or the back of a spoon, crush the grapes into the juices. Boil until the sauce is slightly syrupy, 10 to 12 minutes.

Serve the pork with the Marsala sauce and the clusters of roasted grapes.
Notes
Reduce the garlic–If you're sensitive to garlic, cut back the garlic to 3 or 4 cloves.
Marsala substitute–If you can't find dry Marsala, substitute with a mixture of 1 cup dry white wine and 1/2 cup of brandy.
Storage–Leftover roast pork and crushed grape sauce can be stored in the fridge in a sealed container for up to 4 days. Reheat in a warm oven until heated through.
Dietary–This recipe is suitable for gluten-free and dairy-free diets.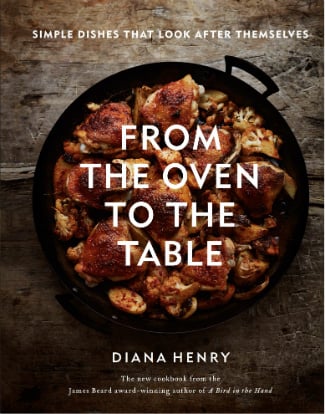 Nutrition
Serving:
1
serving
Calories:
453
kcal
Carbohydrates:
19
g
Protein:
52
g
Fat:
13
g
Saturated Fat:
3
g
Polyunsaturated Fat:
1
g
Monounsaturated Fat:
6
g
Cholesterol:
143
mg
Sodium:
553
mg
Potassium:
1020
mg
Fiber:
1
g
Sugar:
12
g
Vitamin A:
57
IU
Vitamin C:
3
mg
Calcium:
34
mg
Iron:
2
mg
Nutrition information is automatically calculated, so should only be used as an approximation.
Recipe © 2019 Diana Henry. Photo © 2019 Laura Edwards. All rights reserved.
---
Recipe Testers' Reviews
This is an excellent roast pork with great flavor that makes for a beautiful presentation when sliced and plated. The fruit sauce from the black grapes is an excellent complement to the pork and helps to keep the pork moist and flavorful. It's truly a perfect autumn dish and would be great for serving at a holiday celebration or for any special dinner gathering.
I made half of the recipe. which served 4. The only negative would be the garlic. I found that the garlic didn't cook that much and still had a very strong flavor in the finished product. Perhaps the garlic should be roasted a bit before it is inserted in the incisions.
Lovely roast for autumn dinner. Unusual ingredients but it all works. Roasting times were very accurate and it resulted in a flavorful, tender roast.
I had never used juniper berries (only to make gin) and this is the best time of year for black grapes. The sauce made from the grapes and Marsala wine paired perfectly with the pork roast. I was very pleased with the result and will be making this again.