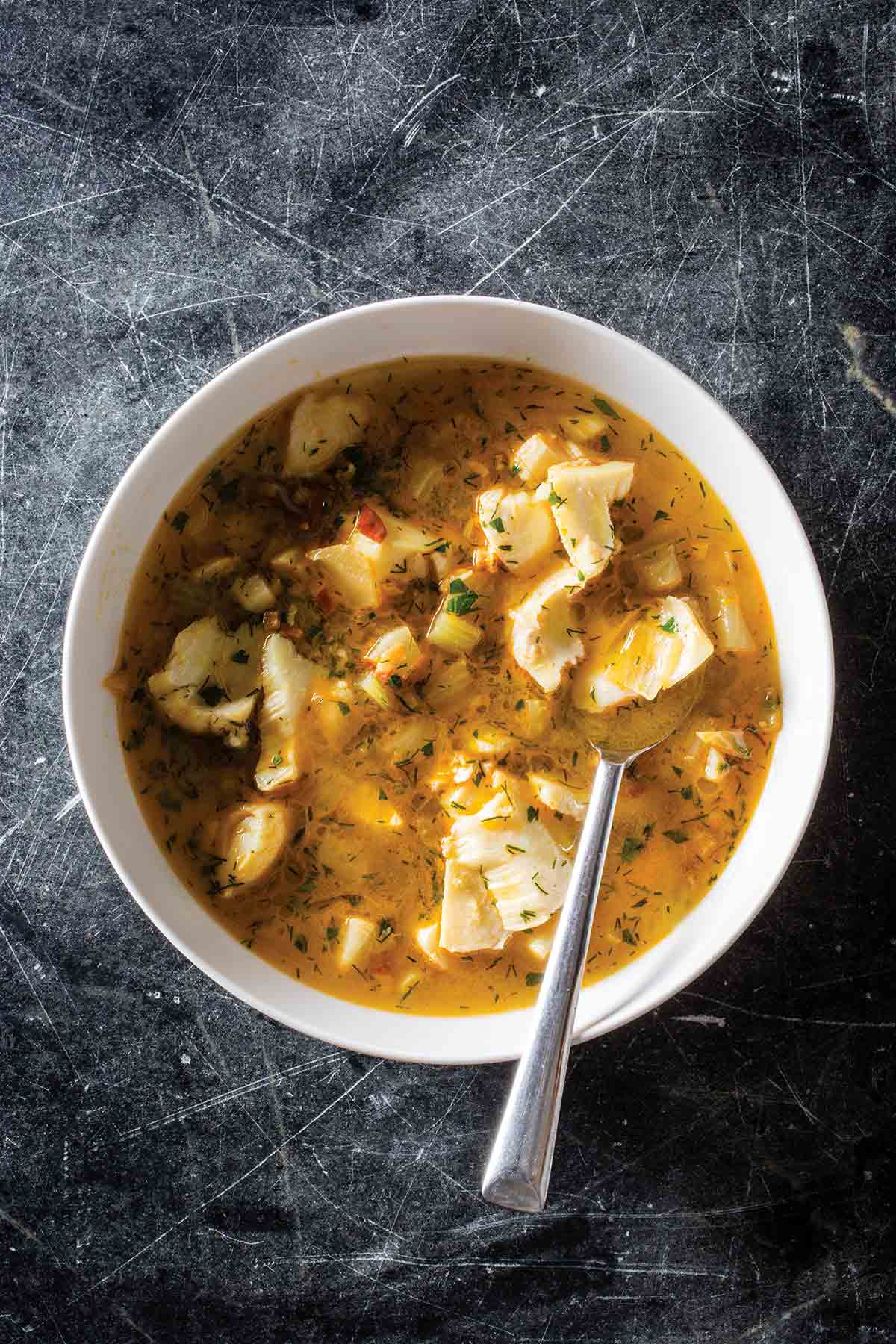 Every country or region with a coastline boasts its own take on fish soup; our Provence-inspired version is not only easy to make, it features a richly flavored broth fragrant with fennel, paprika, saffron, and orange zest—flavors that complement the delicate seafood. Deglazing the vegetables and spices with wine and bottled clam juice brought out a more balanced flavor, but we wanted even more depth, so we browned some pancetta and cooked the vegetables in the rendered fat for a little smokiness that balanced the citrus aroma. We eventually turned to a more unconventional method for cooking the fish. We placed the fish in the pot, shut off the heat, and let it poach gently. [Editor's Note: That cooking technique is a keeper. If you're not certain what to expect from this, consider it a less-expensive, less time-consuming approach to bouillabaisse.]–America's Test Kitchen
Provençale Fish Soup
This Provençale fish soup is made with a fragrant vegetable-infused clam juice broth and tender poached fish. It's easy and healthy, though you'd never guess from the abundance of flavor.
Ingredients
1 to 2

tablespoons

extra-virgin olive oil

,

plus more for drizzling

6

ounces

pancetta

,

chopped fine

1

medium (9 oz)

fennel bulb

,

2 tablespoons fronds minced, stalks discarded, bulb halved, cored, and cut into 1/2-inch (12-mm) pieces

1

medium (6 oz)

onion

,

chopped

2

medium (4 oz)

celery ribs

,

halved lengthwise and cut into 1/2‑inch (12-mm) pieces

1 1/2

teaspoons

table salt

4

garlic cloves

,

minced

1

teaspoon

paprika

1/8

teaspoon

red pepper flakes
Pinch saffron threads,

crumbled

1

cup

dry white wine

4

cups

water

Two

(8-ounce)

bottles clam juice

2

pounds

skinless hake

,

or other firm white fish fillets, 1 inch (25 mm) thick, sliced crosswise into 6 equal pieces

2

tablespoons

minced fresh parsley

1

tablespoon

grated orange zest
Instructions
In a Dutch oven over medium heat, warm the oil until shimmering, 1 to 2 minutes. Add the pancetta and cook, stirring occasionally, until beginning to brown, 3 to 5 minutes.

Stir in the fennel bulb, onion, celery, and salt and cook until vegetables are softened and lightly browned, 12 to 15 minutes.

Pour in the wine, scraping up any browned bits. Stir in the water, clam juice, and bay leaves. Bring to simmer and cook until the flavors meld, 15 to 20 minutes.

Remove from the heat and discard the bay leaves. Nestle the fish into the cooking liquid and then spoon some cooking liquid over the top. Cover the Dutch oven and let the fish sit, off the heat, until the fish flakes apart when gently prodded with a paring knife and registers 135°F (57°C), 8 to 10 minutes.

Gently stir in the parsley, fennel fronds, and orange zest and, if desired, break the fish into large pieces. Season with salt and pepper to taste. Serve, drizzling individual portions with addition oil, if desired.
Nutrition
Serving:
1
portion
Calories:
283
kcal
Carbohydrates:
3
g
Protein:
30
g
Fat:
14
g
Saturated Fat:
4
g
Polyunsaturated Fat:
2
g
Monounsaturated Fat:
7
g
Trans Fat:
1
g
Cholesterol:
19
mg
Sodium:
893
mg
Potassium:
659
mg
Fiber:
1
g
Sugar:
1
g
Vitamin A:
169
IU
Vitamin C:
5
mg
Calcium:
80
mg
Iron:
2
mg
Nutrition information is automatically calculated, so should only be used as an approximation.
Recipe © 2020 America's Test Kitchen. Photo © 2020 America's Test Kitchen. All rights reserved.
---
Recipe Testers' Reviews
This was perfect in my book, because I love nothing better than a delicately prepared fish dish! One of my favorite restaurants in Nashville opened a pop-up seafood market during COVID, so I asked the chef about the fish for this dish, and she recommended red snapper. (Actually in TN, apparently you can't buy sea bass.)
I love a light broth, especially for summer time, and this started off with aromatics and pancetta, which pack a lot of flavor. I used pinot gris for the dry white wine. The touch of orange zest was really, really beautiful to serve this with—the fish was rich and silky but firm enough to stay whole. Just immersing it in the warm broth for 10 minutes produced the perfect doneness.
I served this with an orange Italian wine called Vej that had similar citrus notes and it was an ideal pairing. I decided not to break up the fish at the beginning, and instead just broke off bits to eat along the broth. It looked so gorgeous I didn't want to spoil the effect.
This is a great way to prepare Provençal fish soup. The dish delivers all that is promised in the description. The build-up of layers of flavor yields a broth that is perfectly complementary to the fish—neither overpowering or watery.
The method of immersing the raw fish filets off the heat into the hot broth allows the fish to cook thoroughly but not be overdone. My cod filets were perfectly cooked to 135°F in just 10 minutes.
I served it with some boiled potatoes the first time and crusty toasted baguette the second time. It would be nice to add some shrimp and/or mussels as an alternative version. The broth is nicely seasoned, but the fish could be lightly seasoned before being immersed in the liquid. The fillets do not spend enough time in the liquid to absorb much of its flavor and some seasoning would help.
Select a Tester
This fish soup is a winner on flavor. The lightly simmered broth perfectly melds the flavors of the fennel, paprika, saffron, bay leaves, and garlic, and the orange zest added at the end of the cooking process complements rather than overwhelms these flavors. And I can't forget the red pepper flakes that added just the right amount of heat. My taste buds were in full swing with every spoonful, sensing the stronger tastes of the fennel and saffron, but delighted to find the underlying flavors of the garlic, paprika, and citrus without much effort.
Make sure to be generous with that pinch of saffron, to use a good dry white wine for the broth, and to select a firm, mild white fish that will hold up to poaching.
I used Mahi Mahi because I had 2 pounds of it in my freezer, individually packaged into 6 equal pieces. I did some research on the internet and found that some chefs have found Mahi Mahi to be an underrated white fish and highly recommend it for poaching in fish soups and stews because it's a lean and firm white fish that has a clean and sweet flavor and large, moist flakes. And, true to this description, it worked perfectly with this recipe.
I used Louis Bouillot Cremand de Bourgogne Perle de Vigne Grande Reserve Brut, an extra-dry French sparkling wine, in the broth, not because I was trying to be fancy, but because I had quite a few bottles taking up needed space in my wine cooler—and hey, it is French. We also shared the leftover wine with dinner, which paired very well.
I served the soup with croutons made from French bread that I lightly sautéed in olive oil. Because this soup would make an excellent base for a bouillabaisse, with all of the ingredients of a rouille except egg yolk, melting the croutons in the broth added texture and body, allowing the soup to impersonate a simple bouillabaisse without all of the labor.
Finally, this recipe says it serves 6 to 8. Don't believe it. Maybe as a starter, but as a meal, my husband and I both had 2 large steaming bowls, with him going back for seconds, and enough left over for his lunch the next day.
The recipe didn't specify sweet or smoked paprika, so I used smoked to complement the pancetta.
This is a good fish soup recipe. Tasty and definitely light enough for summer. While this took a long time due to the number of ingredients and a little fussiness, it was not a difficult soup to make.
I think this needed something else. Maybe not just parsley and orange zest. While I'd normally advocate for using orange juice because you've already zested, I'd suspect that some more tang is needed, like lemon juice. Or one could just add more red pepper flakes. Alternatively, you could sprinkle a little Parmesan.
Additional thought: I think you need to make some bread (or buy some bread) to go along with this stew. It's not really, really thick and dipping bread is fun.