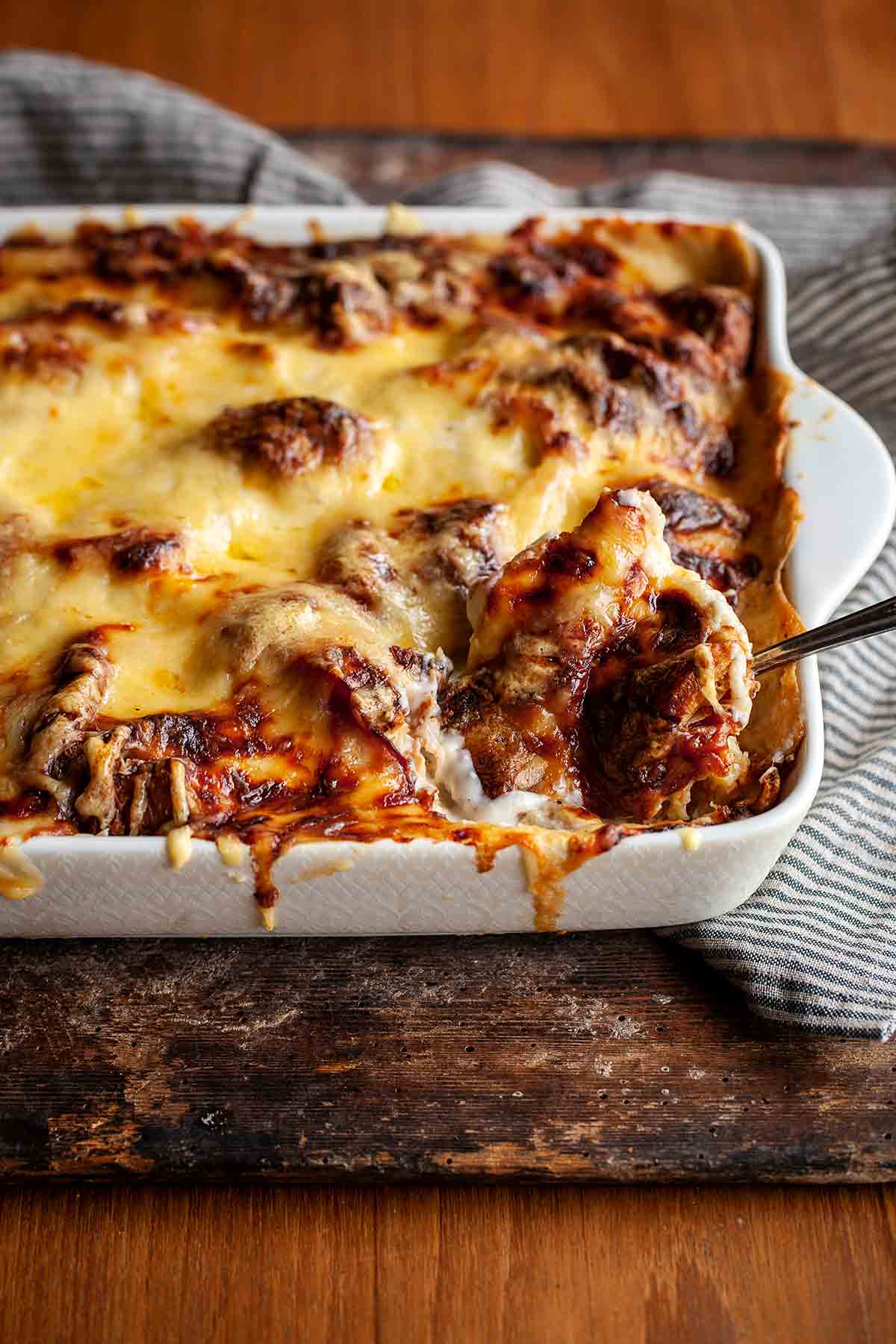 ☞ READ THE BLAHG POST: WHEN COSTCO GIVES YOU CROISSANTS MAKE CROQUE MONSIEUR CASSEROLE
Common Questions
What's the difference between a croque monsieur and a croque madame?
A croque monsieur served with a poached or lightly fried egg on top is known as a croque madame (or, in parts of Normandy, as a croque à cheval). The name croque mademoiselle is associated with a lighter, vegetarian version that's made of the same bread, but with ordinary melting cheese, accompanied with chives, cucumber, and green salad.

A monte cristo is another type of French sandwich, also made with ham and Gruyère. It is dipped in egg custard and pan fried. It is served with jam or syrup.
Can I freeze this croque monsieur casserole?
Indeedy you can. Bake the casserole and allow it to cool completely, wrap it in plastic, and then wrap it tightly with foil. The night before you plan on reheating the casserole, place it in the refrigerator to defrost overnight. Reheat the dish in a 325°F to 350°F (163°C to 175°C) oven until the temperature in the center is 165°F (74°C).
What other bread would work in place of croissants?
Now, I've gotten questions from some folks about whether you can use something other than croissants. My question always is, "Why?!" The answer is, yes, of course. But I'd suggest enriched bread, such as brioche or challah. You want that little bit of extra richness for this marvelous dish.
Croque Monsieur Casserole
Croque monsieur—that perennial French classic—is the little black dress of the bistro set. Here we've given it a string of pearls, if you will, by making it a breakfast bake and using croissants. This is insanely rich, so a small piece goes a long way. (Or in our house, a not-so-long way.)
Equipment
9-by-13-inch (23-by-33-cm) casserole dish
Ingredients
For the croque monsieur casserole
Butter

,

for the dish

7

large

croissants

,

(about 1 pound | 500 g)

Your favorite Dijon mustard

14

slices

deli ham

,

(about 8 ounces | 230 g)

8

ounces

Gruyère, Emmenthaler, Jarlsburg, or Swiss cheese

,

grated (about 2 cups)

8

large

eggs

2

cups

whole milk

Salt and freshly ground white pepper
For the béchamel sauce
3 1/4

cups

whole milk

5

tablespoons (2 1/2 oz)

unsalted butter

5

tablespoons

all-purpose flour

Pinch

ground nutmeg

Salt and freshly ground black pepper
Instructions
Make the croque monsieur casserole
Slice the croissants lengthwise and spread with a bit of mustard.

Tuck 2 slices of ham and about 1/4 cup cheese inside each croissant.

Cut each croissant into quarters, and fit the pieces in the dish. Turn them different ways, so some have frilly slices of ham showing.

In a large bowl, whisk the eggs, then pour in the milk and whisk to combine. Season lightly with salt and pepper.

Evenly pour the egg mixture over the croissant pieces. Press down with your hands to make sure all the liquid is absorbed. Cover with plastic wrap and refrigerate overnight.
Make the béchamel sauce
In a medium saucepan over medium heat, warm the milk just until a skin begins to form on top, but the milk isn't boiling.

Meanwhile, in another medium saucepan over medium heat, melt the butter. Add the flour and stir constantly until the mixture bubbles, about 2 minutes.

Slowly pour the hot milk into the pan with the flour-butter mixture, whisking the whole time. Bring the mixture to a boil, then reduce to low and simmer until the béchamel thickens, 2 to 3 minutes more. Season with nutmeg, salt, and pepper.

Pour the sauce into a container, press plastic wrap against the surface to prevent a skin from forming, and let cool to room temperature. Refrigerate overnight.
Assemble the casserole
The next morning, remove the casserole and béchamel sauce from the refrigerator 30 minutes before baking. Crank the oven to 350°F (175°C).

Uncover the casserole and place it on a foil-lined rimmed baking sheet. Using a whisk, stir the béchamel to loosen it. Spread the sauce over the top, and sprinkle with the remaining cheese.

Bake the casserole until puffed and golden brown, 50 to 55 minutes.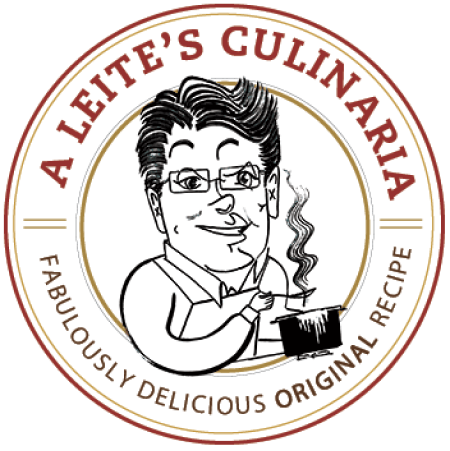 Nutrition
Serving:
1
portion
Calories:
556
kcal
Carbohydrates:
31
g
Protein:
25
g
Fat:
37
g
Saturated Fat:
20
g
Trans Fat:
1
g
Cholesterol:
252
mg
Sodium:
727
mg
Potassium:
368
mg
Fiber:
1
g
Sugar:
12
g
Vitamin A:
1221
IU
Vitamin C:
1
mg
Calcium:
416
mg
Iron:
2
mg
Nutrition information is automatically calculated, so should only be used as an approximation.
Recipe © 2021 David Leite. Photos © 2021 Cenk Sönmezsoy. All rights reserved.
---
Recipe Testers' Reviews
This croque monsieur casserole packs a wallop of cozy. So rich and creamy, it epitomizes "comfort food." With ingredients like croissants, Gruyère, eggs, and ham–it's a dreamy strata that is high on the rich and velvety quotient. So much so, that it's a dish that's perfect for entertaining and/or a special occasion, especially since you can prepare all the components ahead of time. I'd never eaten or prepared the classic croque monsieur dish but I had served a mushroom tartine version that had similar components and preparation. At the time, I suggested to my family that they should envision ham and cheese prepared the same way and they all swooned.
I could envision this dish being served for brunch, dinner, or part of a buffet. It's also an ideal dish to share with neighbors and friends who recently had a baby or are going through a difficult time. What a gift of love this would be!
With over twenty-plus years with my husband, I know when he likes something I've cooked for him, when he's not too thrilled with it, and when he REALLY loves it. This croque monsieur casserole would merit the REALLY-REALLY-loves-it category. How did I know? I never had to ask him what he thought of the dish. His Pavlovian response was "Mmmm, this is good," as soon as the warm gooey mass hit his mouth. And the "Oh boy, I love this!" comment muttered under his breath a few times throughout the meal—as if I weren't in the room with him—definitely gave it away.
I decided to make one change—I ended up turning this luscious dish into a croque madame, adding a creamy, dreamy over-easy egg (cooked in butter) on top of the wedge of deliciousness. Maybe that's why hubby's eyes rolled back in his head? Who knows? I do know I'll be serving it again this week, sharing it with our neighbor, and making it again in the future—for brunch, lunch, and/or dinner. It would be a great potluck dish too!
I served it with a salad of butter lettuce, avocado, pistachios, orange segments, fresh dill and parsley, olive oil, red wine vinegar, salt, pepper, and the juice of the orange.
This croque monsieur casserole is a wonderful upgrade to more traditional egg/bread casseroles. The croissants give it a wonderful fluffy quality and the bechamel sauce adds a delicious richness.
It's important to use good-quality ham so the flavor really comes through. It's easily put together, and, because it's refrigerated overnight, it makes for a stress-free morning. I made this for Sunday brunch and it was perfect with some fresh fruit and good coffee. I definitely recommend making this for guests.