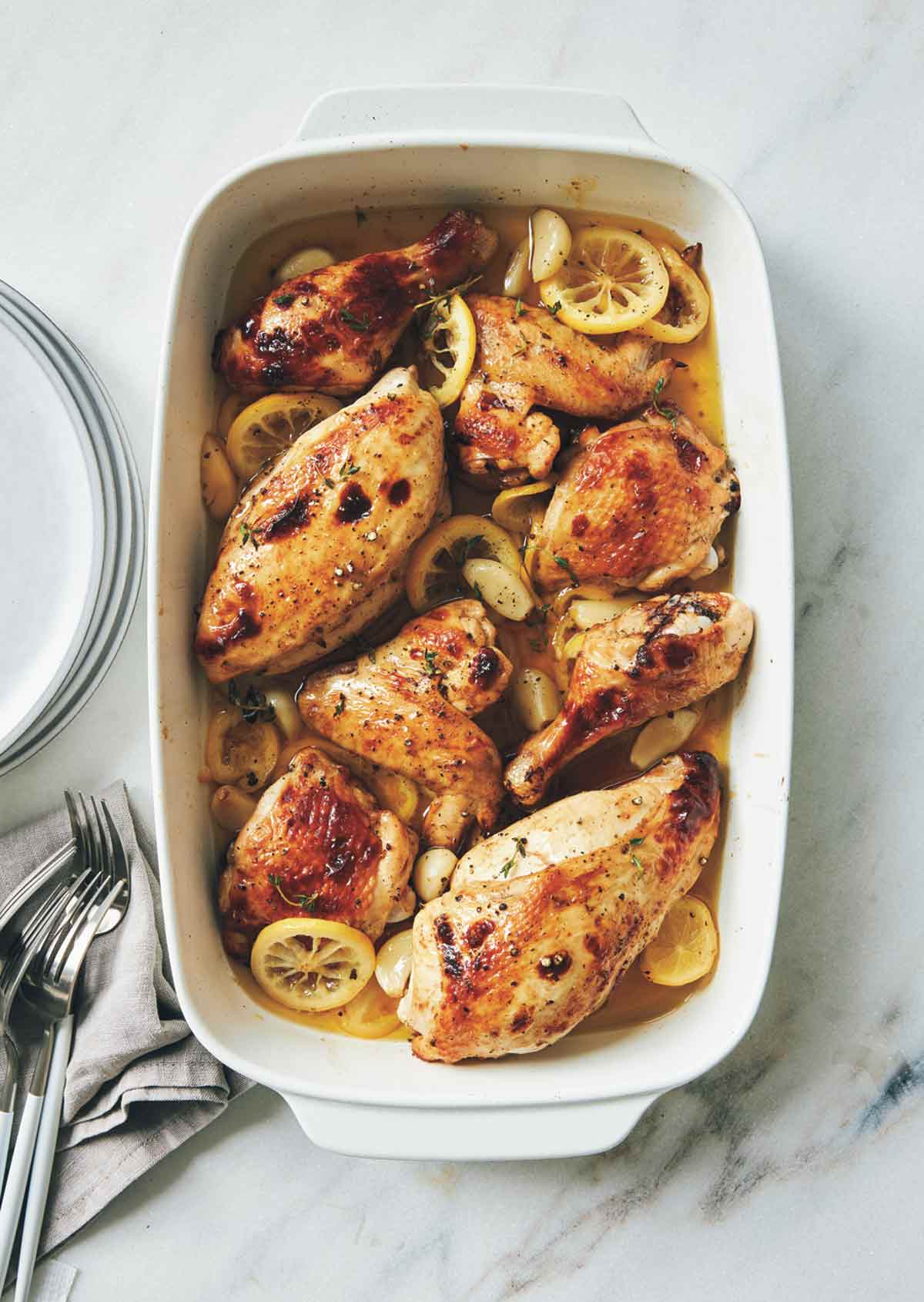 Honey Glazed Chicken with Garlic Confit
This simple roast chicken meal is made with chicken pieces that are basted with honey and balsamic vinegar, and then roasted in garlic confit with lemon slices. It's perfect for entertaining or special occasion meals.
Recipe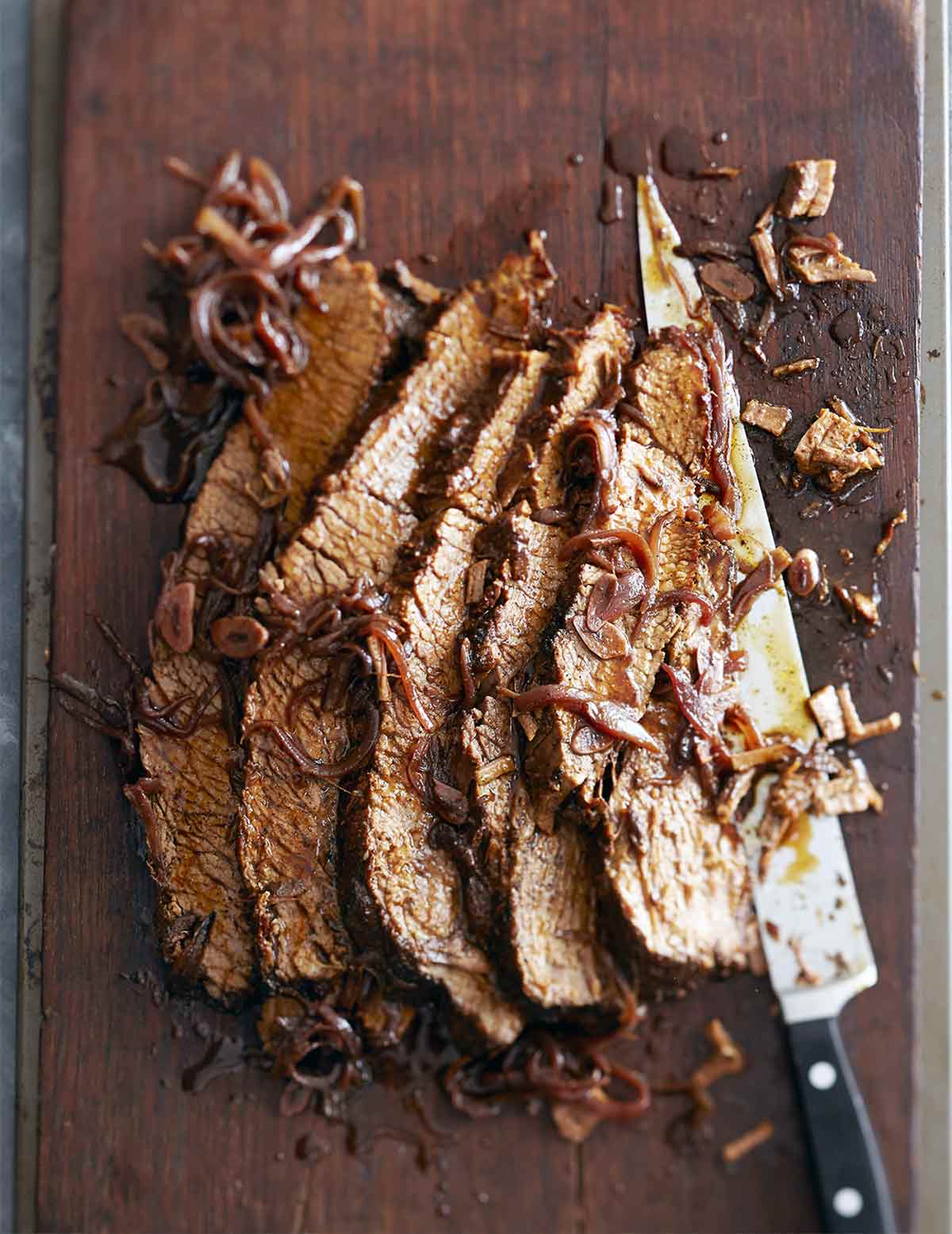 Braised Brisket with Red Wine and Honey
This braised brisket with red wine and honey is sweet and tangy and fall-apart tender and so perfect it makes us go weak in the knees. And it's a hunk of beef large enough to feed a crowd so it has that going for it, too.
Recipe
I made this braised brisket today for our family Seder, and it was delicious. At serving time, we passed the reheated broth over the sliced brisket, which was delicious.

Easiest brisket I've ever made. My new go-to recipe. Thanks!!

beth s.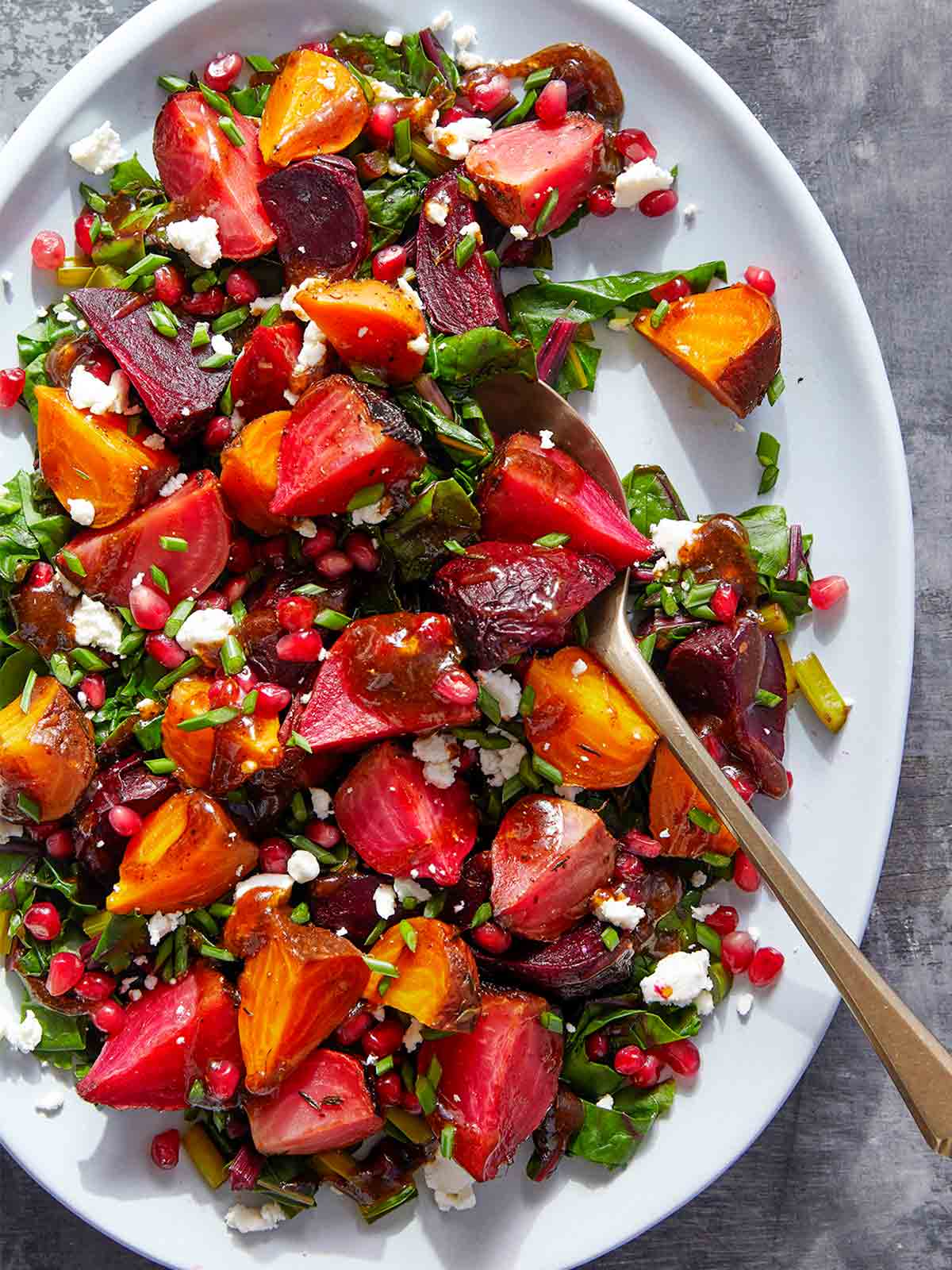 Pomegranate Roasted Beets with Goat Cheese
I like to serve this salad on a bed of lightly steamed beet greens because it's a nice textural contrast, it looks really pretty, the greens are full of good nutrients that shouldn't go to waste, and they're free! How many more reasons do you need?
Recipe
Potato Latkes with Apple-Date Chutney
These potato latkes are, per tradition, blissfully crisp outside, tender inside. And the wonderfulness doesn't stop there. A dollop of sweet apple-date chutney takes the place of the usual applesauce and the requisite plain sour cream takes on a holiday lilt thanks to a pinch of ground cinnamon.
Recipe
Potato latkes are a very subjective dish–everyone has their secret ingredient or step to make them come out crispy and yet soft on the inside. This recipe gets it all right.

It's the first time I've used a recipe, and just like all the other recipes I've tried on this website–it's a keeper. I plan on making these and two other latke recipes from this site for my holiday get-together–who doesn't like a party where everything is fried. Yum!

marilyn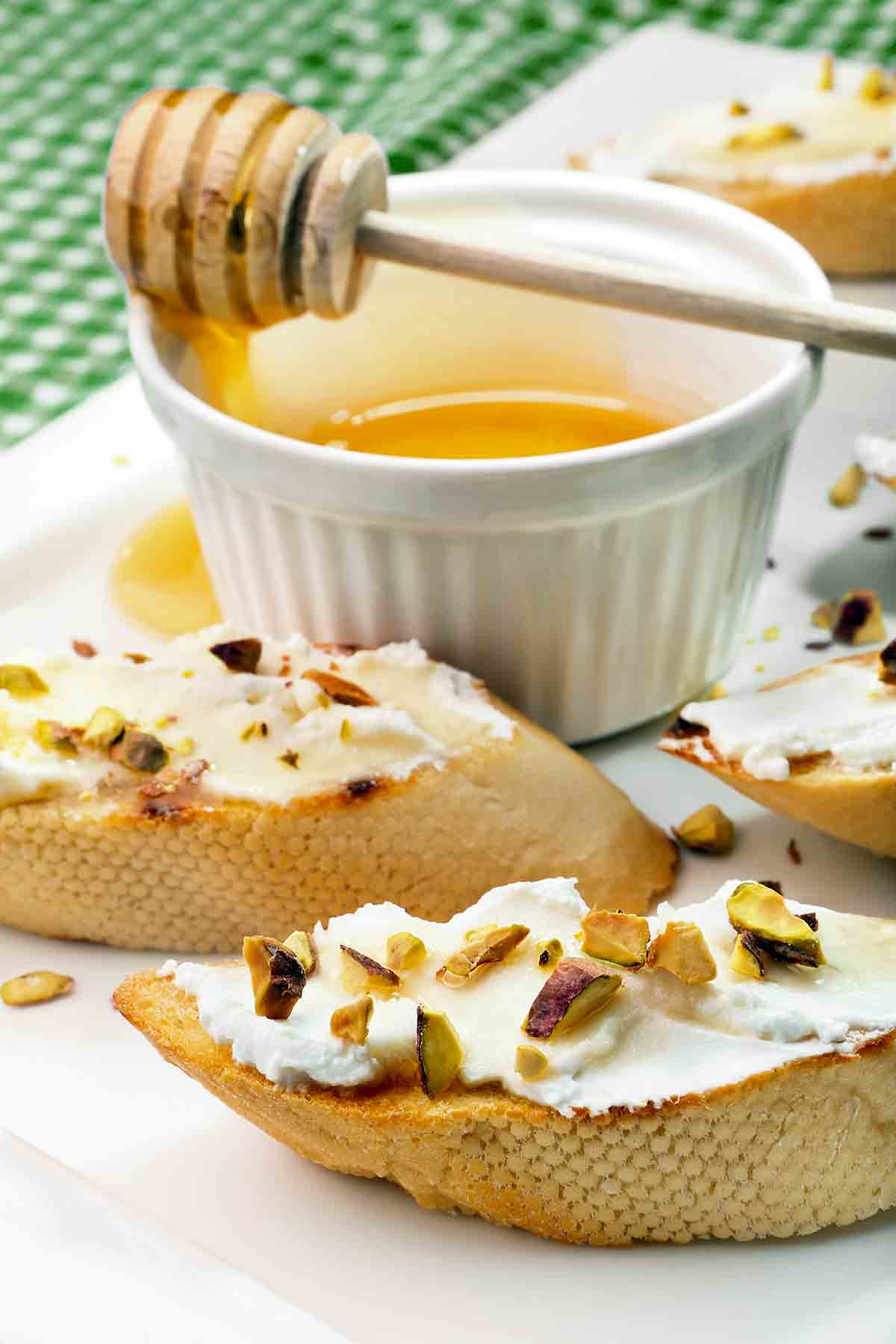 Goat Cheese with Honey
A beautifully made, straightforward dessert can be a lovely ending to a meal. While you're picking up some gorgeous goat cheese at the farmer's market, try some local honey to drizzle on top.
Recipe
Apple Jelly
This apple jelly works well on both sweet and savory dishes. Honey, earthy rosemary, sweet apples, and a bit of tanginess from lemon juice.
Recipe
A beautiful apple jelly recipe with precise instructions. I doubled the recipe, and it came out perfect.

sumeet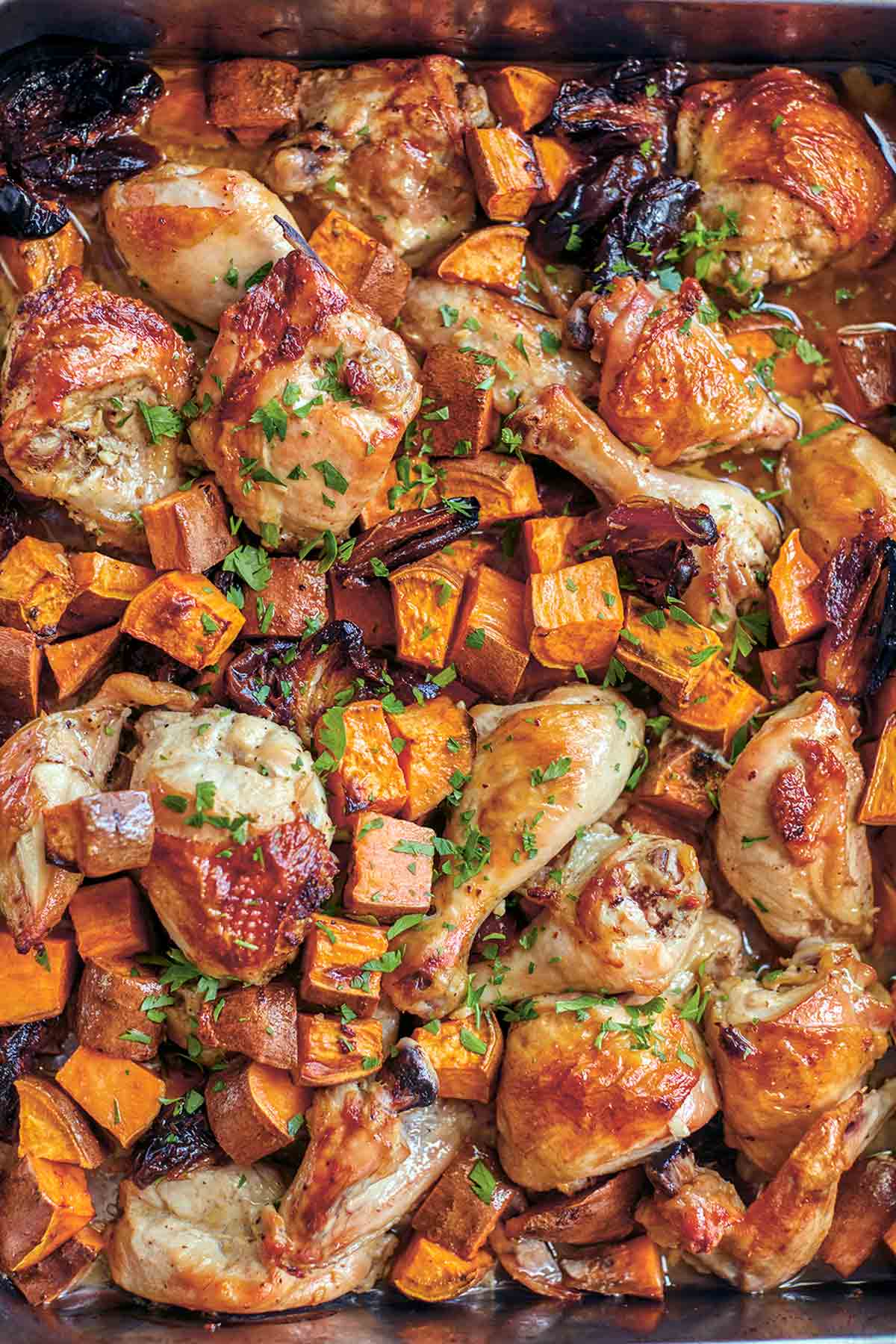 Roast Chicken with Sweet Potatoes and Dates
This roast chicken with sweet potatoes and dates is worthy of a Rosh Hashanah celebration, but is just as welcome at your next casual gathering or Sunday supper.
Recipe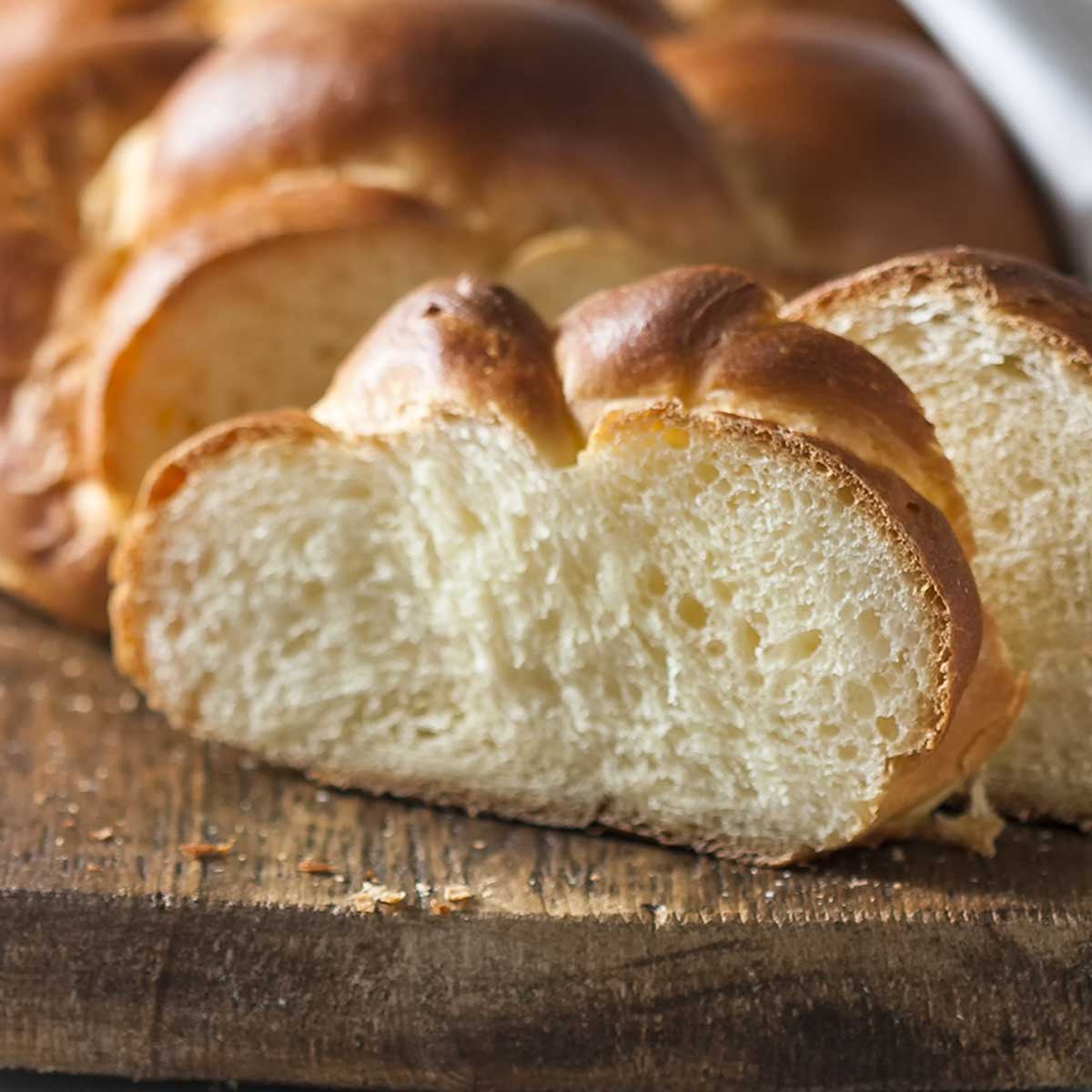 Challah
This challah is a traditional Jewish bread made with yeast, flour, water, eggs, and oil, that's perfect for the Sabbath, Rosh Hashanah, or any other special occasion.
Recipe
This is the best challah recipe I've ever used. I've made A LOT of challah, but never have I achieved the springy, fluffy quality this one has!

I absolutely love it and will definitely be making it again. The outside had a nice firm texture–very pretty and dark–while the inside was light and soft. I loved it!!

achilles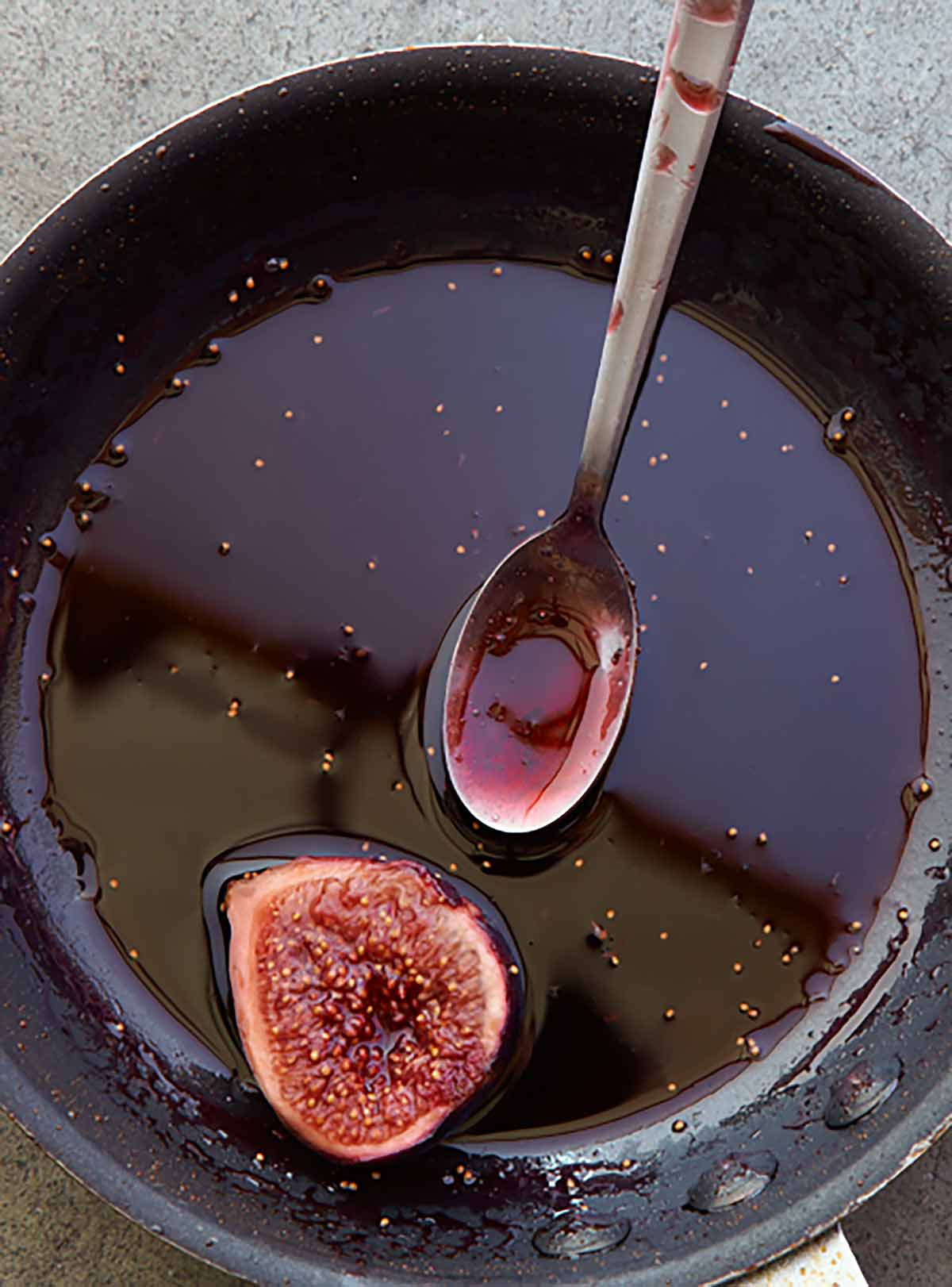 Figs in Port
These figs in Port wine, made with fresh figs, tawny port, sugar, and black peppercorns, is a simple, elegant summer dessert.
Recipe
Apple Cake
This easy apple cake is made with a couple of crisp apples and a tangy buttermilk cake batter, giving it a lovely fresh apple flavor.
Recipe
My 6-year-old son requested this delicious apple cake for his birthday! A family favorite!!

katie
Honey-Ginger Apple Tarts
Honey-ginger apple tarts are rustic perfection. Flaky pastry crust, wrapped around a sweet-tart filling. And then everything is sprinkled with crushed cinnamon-sugar walnuts. See? Absolute perfection.
Recipe
Rosh Hashanah FAQs
What foods are traditionally eaten at Rosh Hashanah?
There are several traditional Rosh Hashanah foods that herald the beginning of the Jewish New Year and symbolize the hopes for a prosperous year ahead.

Apples and honey are two of the most common foods traditionally consumed during the holiday. They can be served in sweet or savory dishes and are often enjoyed by simply dipping apple slices in honey. Their sweetness is symbolic of hope for a good year.

Challah is also very popular during the holiday but is specifically baked into a round shape to symbolize the infinite cycle of years and seasons. It is frequently sweetened with apples or raisins.

Pomegranates are another sweet fruit consumed at Rosh Hashanah. They're frequently eaten as the "new fruit," which hasn't been eaten yet in the year. The fruit's many seeds symbolize good deeds and merits to perform and acquire in the upcoming year.
Are there any foods to avoid during rosh hashanah?
Some Jews avoid nuts during Rosh Hashanah, as the numerical value of the Hebrew word for walnuts (egozim) is the same as the word for sin. It is also believed that eating nuts can increase the production of phlegm, which can be disruptive to prayers.

Rosh Hashanah is celebrated with sweet foods for a sweet and prosperous year, so many avoid vinegary or bitter foods. Dairy and meat are not typically served at the same meal.
what does rosh Hashanah celebrate?
Rosh Hashanah celebrates the Jewish New Year. It's held in September and lasts for two days. It's celebrated by enjoying symbolic foods, such as apples, honey, and dates, engaging in prayer, and blowing the shofar horn.
We've given you a smattering of our favorites, but if you're looking for more, check out our entire collection of Rosh Hashanah recipes.