These potato latkes are, per tradition, blissfully crisp outside, tender inside. And the wonderfulness doesn't stop there. A dollop of sweet apple-date chutney takes the place of the usual applesauce and the requisite plain sour cream takes on a holiday lilt thanks to a pinch of ground cinnamon.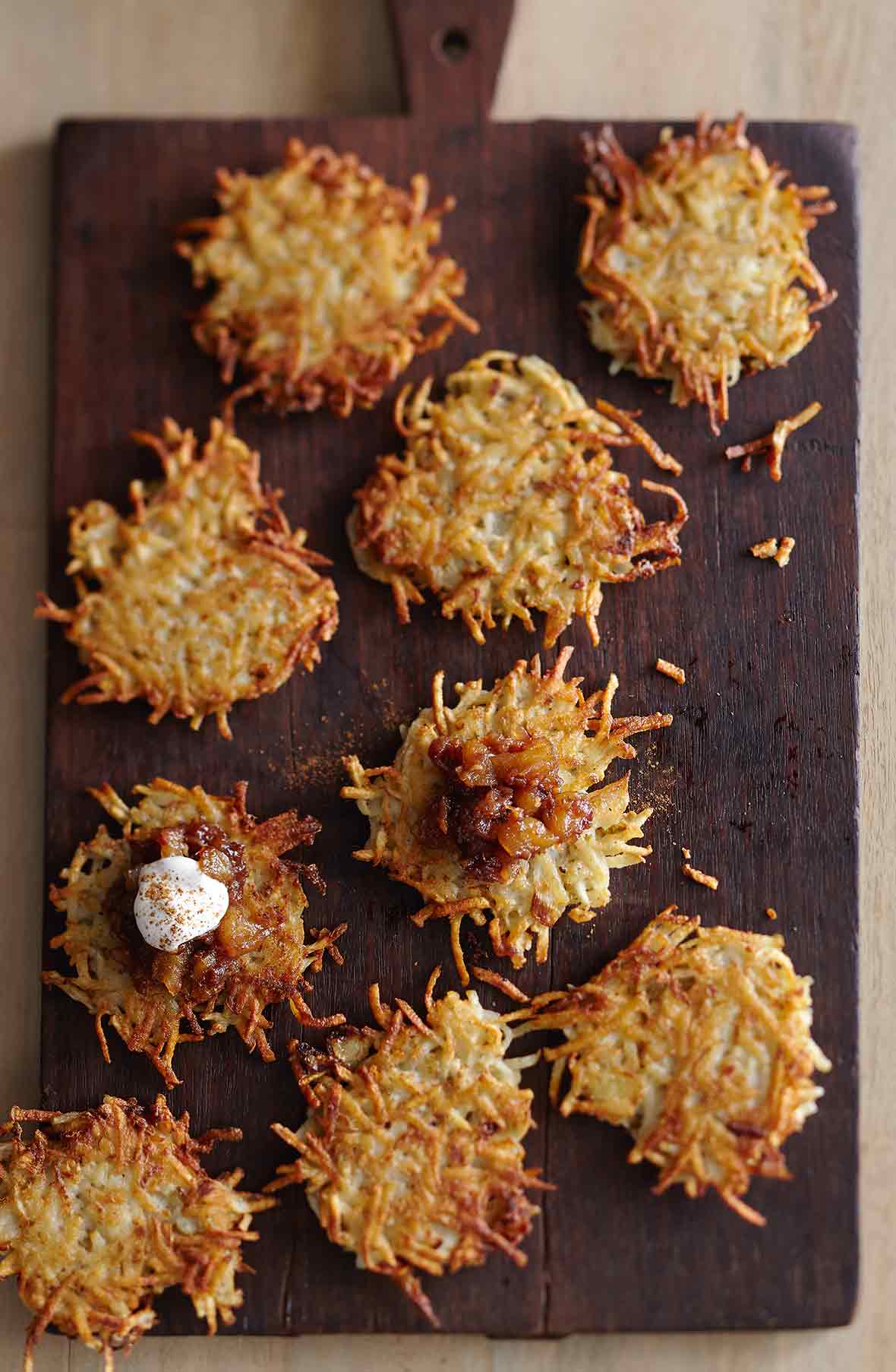 These potato latkes with apple date chutney and cinnamon sour cream are all fancied up for the holidays. As is tradition, the potato pancakes boast all the perfectly-crisp-on-the-outside-tender-on-the-inside goodness of usual latkes. But we've swapped a sweet apple date chutney for the usual applesauce and and slyly stirred some cinnamon into the requisite sour cream. So impressive they may just come to earn a special place on your table year round.–Angie Zoobkoff
Potato Latkes with Apple-Date Chutney and Cinnamon Sour Cream
Quick Glance
1 H, 30 M
1 H, 30 M

Makes about 15 latkes
Print Recipe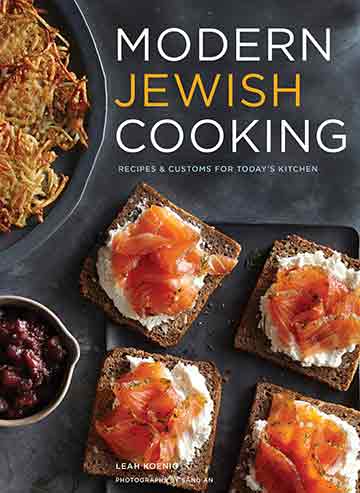 Ingredients
For the apple date chutney

1 pound (455 grams) crisp, tart apples, such as Granny Smith, cored, and cut into 1/2-inch (12 mm) chunks

1/3 cup (50 grams) finely chopped pitted dates

1/3 cup (80 grams) finely chopped yellow onion

1 2-inch (5 cm) piece fresh ginger root, peeled and finely chopped

1/4 cup (60 ml) red wine vinegar

2 tablespoons (30 ml) cider vinegar

1/2 cup (100 grams) packed light brown sugar

2 tablespoons (30 ml) honey

Zest of 1 lemon, finely grated (about 1 tablespoon)

1/2 teaspoon ground allspice

For the cinnamon sour cream

1/2 cup (113 grams) sour cream

1/2 teaspoon (6 grams) ground cinnamon

1 teaspoon (5 ml) pure maple syrup

For the potato latkes

2 pounds (910 grams) russet potatoes, scrubbed and unpeeled (about 2 large potatoes)

1 medium yellow onion (about 80 grams)

2 large eggs, lightly beaten

1/3 cup (40 grams) all-purpose flour

1 1/2 teaspoons salt

1/2 teaspoon freshly ground black pepper

Vegetable oil for frying
Directions
Make the apple date chutney

1. In a medium saucepan over medium-high heat, combine the apples, dates, onion, ginger, red wine vinegar, cider vinegar, brown sugar, honey, lemon zest, and allspice and bring to a boil. Reduce the heat to low, cover, and simmer, stirring occasionally, until the apples are very tender, about 30 minutes. Uncover the pan, crank the heat back up to medium, and cook, stirring frequently, until the liquid reduces to a syrup, 4 to 5 minutes. You'll know when it's done when the liquid has a consistency similar to maple syrup. Remove from the heat and let cool completely. (You can cover and refrigerate the chutney for up to 1 day. Let it come to room temperature before plopping atop the potato latkes.)

Make the cinnamon sour cream

2. Meanwhile, stir together the sour cream, cinnamon, and maple syrup in a small bowl. (You can cover and refrigerate the cinnamon sour cream for up to 1 day.)

Make the potato latkes

3. Grate the potatoes and onion on the large holes of a box grater or, alternatively, cut the potatoes and onions into quarters and shred them in a food processor fitted with the shredding blade. Working in batches, wrap the grated potatoes and onion in a dish towel or several layers of paper towels and squeeze as much water as you can out of them. You really need to get your squeeze on here to prevent the latkes from being soggy.

4. Dump the potatoes and onion into a large bowl, add the eggs, flour, salt, and pepper, and mix with a wooden spoon until the ingredients are fully incorporated.

5. Heat 1/4 inch (6 mm) vegetable oil in a large skillet over medium-high heat until shimmering but not smoking. Line a large rimmed baking sheet with 2 layers of paper towels. Drop the batter by the 1/4-cupful into the skillet and gently press with a spatula to flatten, working in batches of just 3 or 4 latkes so as not to crowd the skillet. Fry until the bottoms are golden brown, 4 to 5 minutes. Flip each latke and continue to cook until the other side is golden brown and cooked through, 4 to 5 minutes more. Continue frying the remaining latkes, adding additional oil to the pan if necessary and adjusting the heat if the latkes are browning too quickly or not quickly enough. Use a slotted spoon to transfer the potato latkes to the paper towel-lined baking sheet to drain.

6. Serve the potato latkes immediately with a plop of apple date chutney and a dollop of cinnamon sour cream. (Alternately, you can let the potato latkes cool and store in the refrigerator or freezer. When ready to serve, arrange in a single layer on a rimmed baking sheet and reheat in a 400°F (200°C) oven until warmed through.) You'll have some chutney leftover and that's a really good thing. Use it on pancakes, roast chicken or pork or game, sandwiches, mixed into cream cheese and slathered on bagels, or however you please.
Potato Latkes with Apple-Date Chutney and Cinnamon Sour Cream Recipe © 2015 Leah Koenig. Photo © 2015 Sang An. All rights reserved. All recipes and photos used with permission of the publisher.
If you make this recipe, snap a photo and hashtag it #LeitesCulinaria. We'd love to see your creations on Instagram, Facebook, and Twitter.