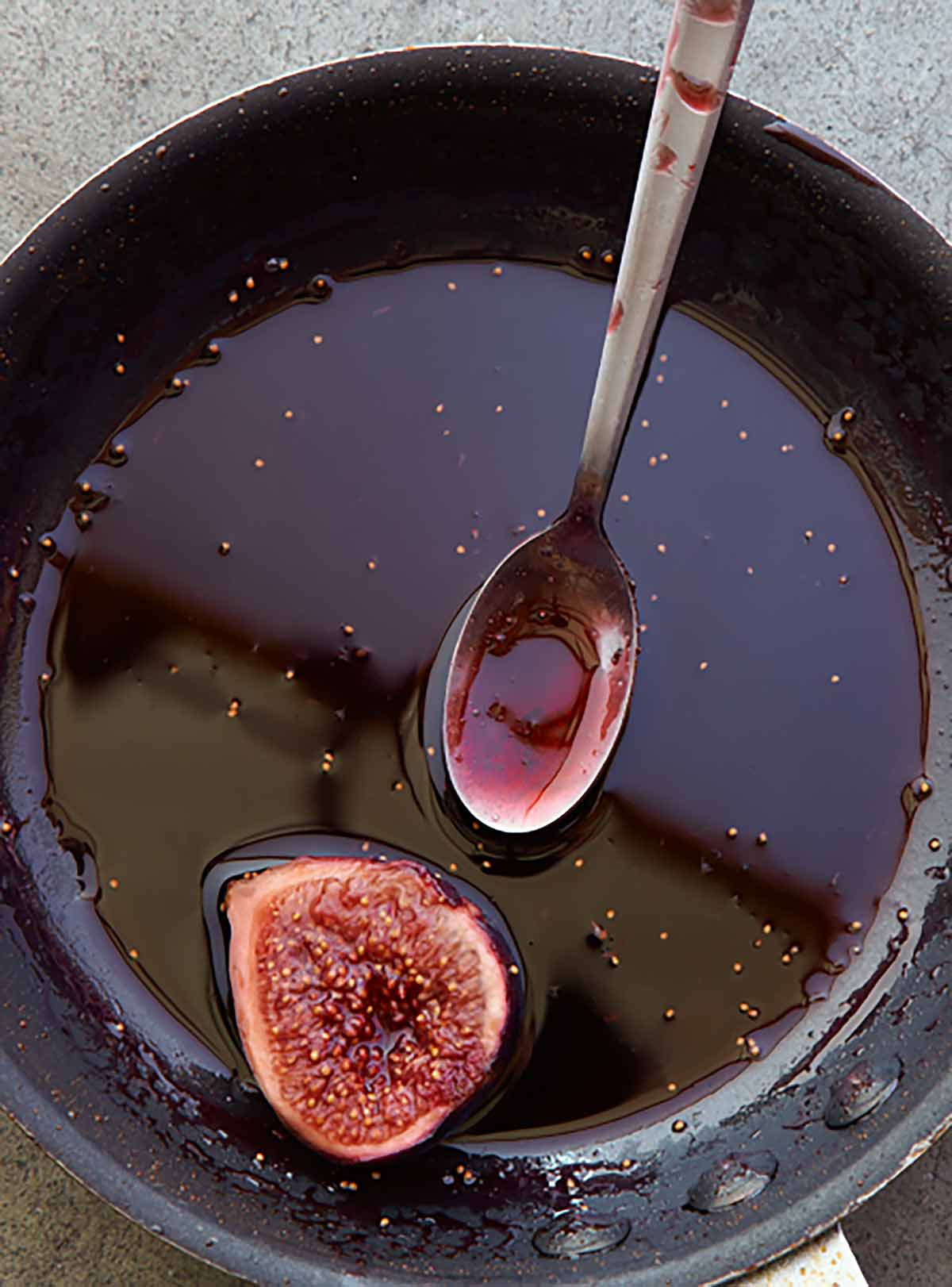 Figs in port. You may be thinking figs poached in port. Nope. It's simply caramelized figs drowned in a sauce made from port that's been reduced until sticky and syrupy and concentrated in flavor. It's the ideal destination for figs that are slightly underripe or somewhat overripe or that are in some way lacking perfection. This simple fig dessert recipe hides their flaws and coaxes them into completion.–David Leite
Figs in Port FAQs
What's the best type of figs to use for this recipe?
The author calls for Black Mission figs in this recipe because, in her words, "their red-purple color and rich natural flavor pair extremely well with the deep, round, fruity aromas and flavors of the port wine. The peppercorns give your palate a kick at just the right moment." We wouldn't dream of arguing.
How should I serve these figs?
The beauty of this recipe is that these figs are welcome almost any time. They are incredible all on their own but work well as an easy appetizer served with some bread, an elegant dessert, or late night snack spooned over vanilla ice cream. One tester even enjoyed them served alongside roast pork tenderloin and mashed potatoes.
Figs in Port
These figs in Port wine, made with fresh figs, tawny port, sugar, and black peppercorns, is a simple, elegant summer dessert.
Equipment
Tea ball or cheesecloth (optional)
Ingredients
10

large,

slightly underripe or somewhat overripe Black Mission figs

1/4

cup plus 2 tablespoons

granulated sugar

2/3

cup

tawny port

1 1/2

teaspoons

whole black peppercorns
Instructions
Remove the stems from the figs and cut them in half lengthwise.

Place a 10-inch stainless-steel or enamel-coated saucepan over medium-high heat until hot but not smoking. Sprinkle the sugar evenly over the surface. It will melt right away and begin to caramelize and smoke. Immediately place the figs, cut side down, onto the caramelizing sugar. Reduce the heat to low and let the figs cook for 2 to 3 minutes. Do not stir or toss or turn the figs. The figs will naturally release their own juices which will dissolve the sugar.

Carefully add the port to the saucepan. Keep the pan over low heat until the caramel melts completely and begins to coat the figs. Add the peppercorns, first enclosing them in a tea ball or cheesecloth, if desired. Use heat-resistant tongs to flip the figs over and cook for 2 to 3 minutes more. Transfer the figs to a platter, cut side up, and cover to keep warm.

Return the pan to medium heat for 3 to 5 minutes, using a heat-resistant rubber spatula to stir and occasionally scrape the bottom to pull up all the caramel and peppercorn goodness that may be stuck there. Remove and discard the peppercorn via the tea ball or cheesecloth or a slotted spoon. The port sauce should be deep purple, thick, and velvety. Remove the pan from the heat.

Drizzle the warm figs with the port sauce and serve immediately.
Nutrition
Serving:
1
fig half
Calories:
29
kcal
Carbohydrates:
5
g
Protein:
0.1
g
Fat:
0.02
g
Saturated Fat:
0.005
g
Polyunsaturated Fat:
0.004
g
Monounsaturated Fat:
0.003
g
Sodium:
1
mg
Potassium:
13
mg
Fiber:
0.1
g
Sugar:
4
g
Vitamin A:
3
IU
Vitamin C:
0.01
mg
Calcium:
2
mg
Iron:
0.1
mg
Nutrition information is automatically calculated, so should only be used as an approximation.
Recipe © 2014 Yigit Pura. Photo © 2014 Frankie Frankeny. All rights reserved.
---
Recipe Testers' Reviews
GLORIOUS. This was a fabulous little recipe that I'm sure I'll make again very soon.
Since port and peppercorns are always on tap in our kitchen, the only grocery list item was the figs. Score.
The only reason that I wouldn't give this recipe an unqualified recommendation is because of the pesky peppercorns. Since there really is no good way to strain them from the sauce (unless you have a more finely-slotted spoon than I), and since they tended to nestle into the flesh of the figs, it was easy to get 3 or 5 accidental peppercorns per mouthful. Thus, we were constantly fishing them out of our mouths—which is rather unseemly—or simply chewing them and preparing ourselves for a smoky flavor blast.
However, we found that one peppercorn per bite was delightful. Not sure how one would remove the peppercorns without sacrificing the beautiful thickness of the sauce—probably a finely-slotted spoon would be the best.
Another reason why this figs in port recipe rocks: It's a perfect late-night fancy snack. My boyfriend plays on Broadway and often comes home at 10:30 or 11 pm. For months, I've been racking my brain—what can I feed him at that time that's lighter than dinner, sort of a treat, and doesn't require tons of cooking? Well, this fits the bill—and since there was so much extra sauce, I served it with thick slices of nice bread, slathered with butter. Thank you!
These port figs are truly a stunning, rustic dish.
It's simple to make but there are a few things to know before beginning the preparations. It's really important for all the ingredients to be ready to go and close to the stove before beginning.
My pan was hot but not smoking. When I sprinkled the sugar in my skillet, I could smell it begin to burn right away. I removed the pan from the heat, lowered the heat to low, placed the figs cut side down in the pan, and placed the pan back on low heat. The mixture barely simmered for 3 minutes. I added the port and the tea ball with the peppercorns. As I was turning the figs over, I could feel big clumps of melted sugar stuck to the pan. Fear struck as I had visions of having to throw my skillet away because of stuck-on burnt sugar. I calmly waited 3 minutes, removed the figs, turned up the heat to medium, and stirred with a wooden spoon while the sauce bubbled and thickened. As I stirred, I realized the stuck-on sugar was dissolving into the sauce. What a relief. By the time 5 minutes passed, the pan was free of all stuck-on sugar.
The sauce was purple, thick, and a similar consistency to caramel. When we served it over scoops of vanilla bean ice cream, my son said it looked like something that would be served in a fancy restaurant. I used fresh local figs and local port. It was beautiful and delicious. I was so glad I'd continued to cook through the fear. No ruined dessert, no ruined pan, just wonderful deliciousness.
Late summer, early fall—one of the things I look forward to most in the kitchen is fresh figs. Cooked or even raw in a simple appetizer, figs pair perfectly with the other ingredients in this recipe—port wine and black peppercorns.
The spiciness of the peppercorns and the sweetness of the rich tawny port are scrumptious with the caramelized fig halves. It was perfect with pork tenderloin and a side of creamy mashed potatoes. This recipe is a keeper.