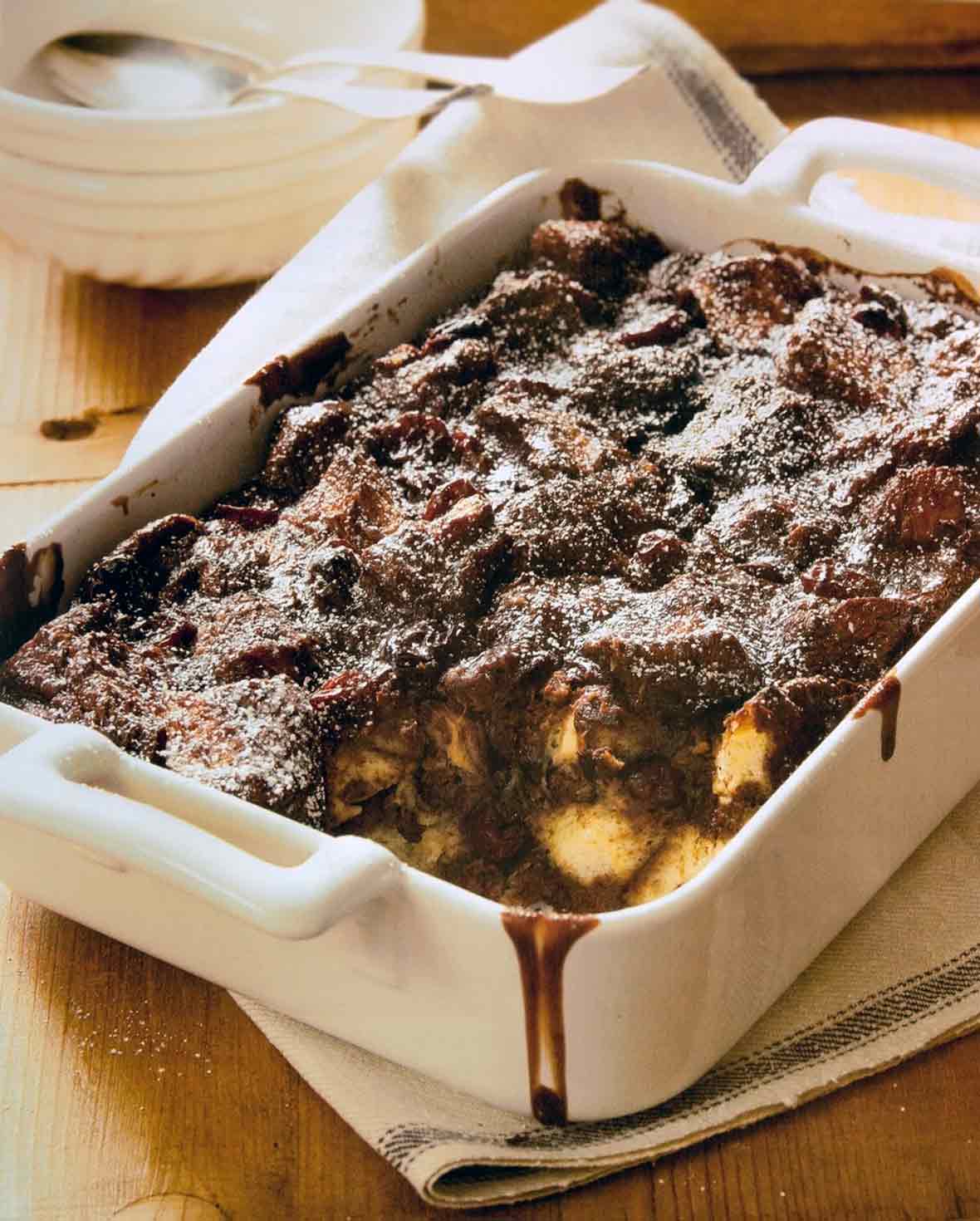 Can something you'd be happy to serve at the end of a fancy dinner party also be something you'd be happy to make when you're hassled? This is the kind of culinary conundrum I'd like to come up against more often. Thanks to its ample amount of fine chocolate, this pudding transcends its homey origins and belies the fact that all you have to do to prepare it is heat some milk and cream, beat some eggs, soak some bread, and slide the pan into the oven. Cut into generous squares and topped with crème anglaise, chocolate sauce, or snowy whipped cream, the pudding looks classy.–Dorie Greenspan
LC Any Which Way Note
We wanted to share author Dorie Greenspan's thoughts on what size pan to reach for when making this indulgent dessert. "I like to use a pan large enough to create a pudding that's only about an inch high. If you'd like a deeper pudding, you can make the pudding in a 7-by-11-inch baking pan or in something deeper, like a soufflé mold. Alternatively, you can make individual puddings—depending on the size of the cups or ramekins you use, you'll need 8 to 10. Of course, with any change of pan, you'll have to change the baking time, which is not difficult since, as you'll see, it's easy to tell when the pudding is properly baked." Seems clear enough to us.
Chocolate Bread Pudding Recipe
Quick Glance
30 M
1 H, 45 M

Serves 8
Ingredients
12

ounces

bread

(brioche, challah, or white), preferably stale

1/2

cup

moist, plump raisins

(dark or golden) or dried cherries (optional)

3

cups

whole milk

1

cup

heavy cream

3

large

eggs

4

large

egg yolks

1/2

cup

granulated sugar

6

ounces

bittersweet chocolate

, finely chopped
Directions
1. Have ready a 9-by-13-inch baking pan (a Pyrex pan is perfect here) as well as a roasting pan big enough to hold the baking pan. Line the roasting pan with a double thickness of paper towels.

2. Cut the bread into 1-inch cubes. If the bread is stale, put it and the raisins or cherries, if you are using them, into the baking pan. If it is not stale, spread it out on a baking sheet lined with parchment or a silicone mat and bake in a 350°F (175°C) oven to "stale" it for 10 minutes, then toss into the pan with the fruit.

3. Bring the milk and cream just to a boil in a small saucepan.

4. Fill a teakettle with water and put it on to boil. When the water boils, turn off the heat. Meanwhile, whisk the eggs, yolks, and sugar together in a bowl. Still whisking, slowly drizzle in about a quarter of the hot milk mixture—this will temper, or warm, the eggs so they don't curdle. Whisking all the while, slowly pour in the rest of the hot milk. Add the chocolate and whisk it in gently until it's melted and the custard is smooth. Rap the bowl against the counter to pop any bubbles that might have formed, then pour the custard over the bread and press the bread gently with the back of a spoon to help cover it with liquid. Leave the pan on the counter, giving the bread the back-of-the-spoon treatment now and then, for 30 minutes.

5. Center a rack in the oven and preheat the oven to 350°F (175°C).

6. Put the baking dish holding the unbaked pudding into the roasting pan, and then slide the pan setup into the oven and very carefully pour enough hot water into the roasting pan to come halfway up the sides of the pudding pan. Bake for 35 to 45 minutes, or until the pudding is uniformly puffed, the top is dull and dry, and a thin knife inserted deep into the center comes out clean. Transfer the baking pan to a rack and let it cool. You could serve this pudding warm, but it's better at cool room temperature or even chilled—it also cuts better when it's cold. Serve the pudding simply with a dusting of confectioners' sugar or less simply with vanilla (or rum or Grand Marnier or brandy) crème anglaise, chocolate sauce, or whipped cream, or crème fraîche.
Hungry for more?
Chow down on these:
Chocolate Bread Pudding Recipe © 2006 Dorie Greenspan. Photo © 2006 Alan Richardson. All rights reserved.
If you make this recipe, snap a photo and hashtag it #LeitesCulinaria. We'd love to see your creations on Instagram, Facebook, and Twitter.