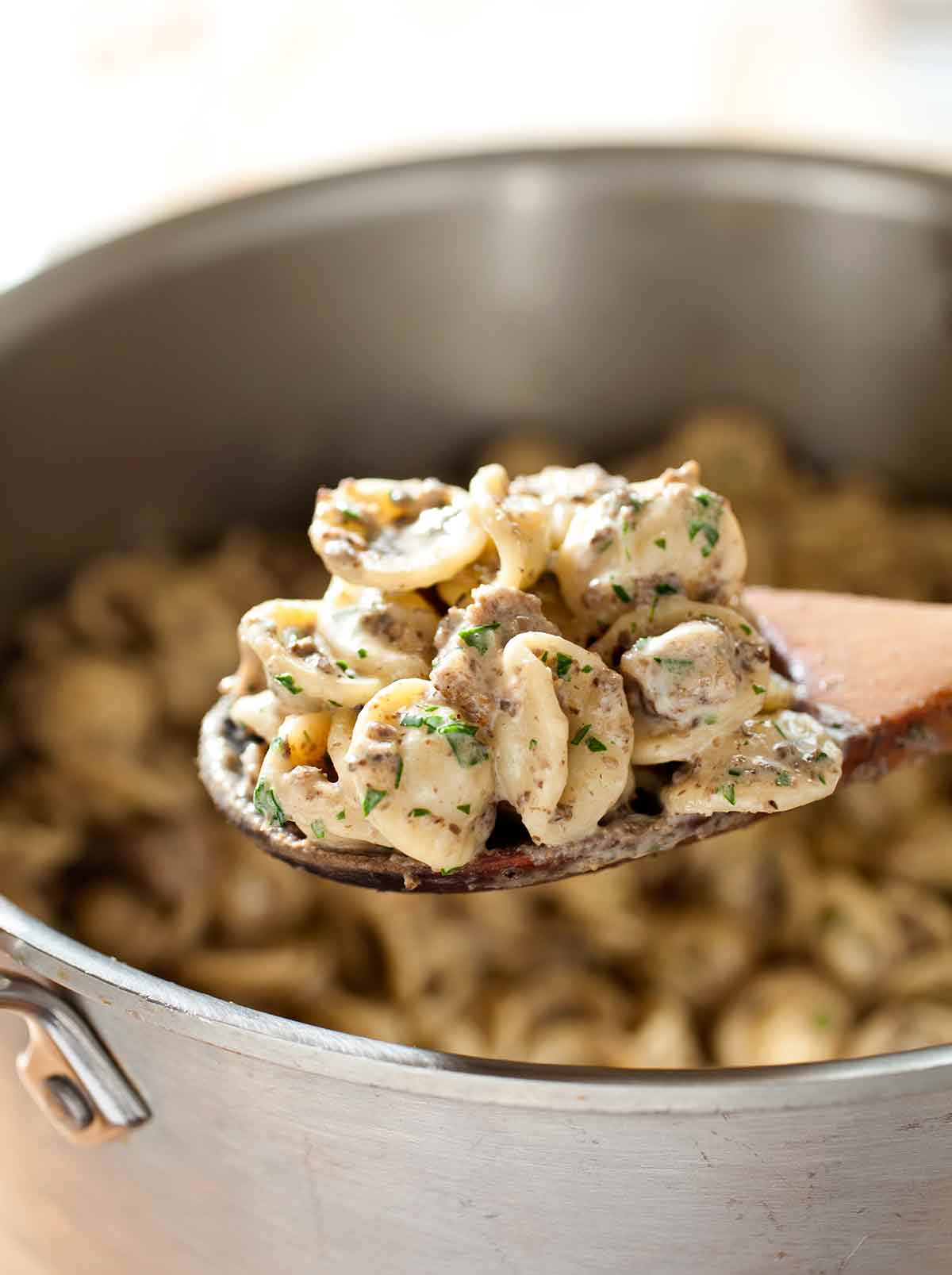 Pasta alla Norcina—fresh ­homemade sausage in a creamy, cheesy sauce tossed with pasta—is the kind of cozy cold-weather dish that keeps you feeling satiated and warm. The star of the meal is rich, moist, seasoned ­sausage, traditionally from the Italian region of Umbria.
In keeping with tradition, we eschewed regular Italian links and made the sausage ourselves, which turned out to be ­surprisingly easy (no meat grinder required). We started by combining ground pork with salt and baking soda and letting it sit for 10 minutes. The baking soda raised the meat's pH, improving its ability to hold on to water and thus stay juicy. And rosemary, nutmeg, and garlic rounded out the flavor. We formed our pork into one big patty, browned it on both sides, and chopped it up; the large sausage pieces finished cooking through in the sauce, guaranteeing moist, tender meat.
Mushrooms bolstered the dish's earthiness. White mushrooms can work in place of the cremini. We prefer the flavor and texture of fresh pasta here, but dried works well, too.—America's Test Kitchen
Pasta Alla Norcina FAQs
What is pasta alla Norcina?
Pasta alla Norcina is a traditional recipe from the Umbria region in central Italy. It's named after the ancient town of Norcia. The area is renowned for hunting, especially wild boar, which, along with pork, make up much of the towns famous cured meats and sausages.
How can I make this pasta alla Norcina fancy?
Well, if you're game (and flush with cash), you can top this with a few shavings of black truffle. Umbria, and Norcia, are also known for truffles, which often find their way into this dish in Italy. But a word of caution: Avoid using truffle oil. In almost all cases, it's a synthetic product. If you want a bit of truffle in your pasta, consider less expensive truffle paste.
I usually can't find orrechette. What other pasta would work?
Any short shape–rigatoni, ziti, penne, cavatappi, farfalle, gemelli, etc.–will work. They have the nooks and crannies the bits of sausage can nestle into. I'd pass on long pastas (spaghetti, fettucine, papardelle). The sausage and mushrooms will just languish on the plate.
Pasta Alla Norcina
Pasta alla Norcina—fresh ­sausage in a creamy, cheesy sauce tossed with pasta—is the kind of cozy cold-weather dish that keeps you feeling satiated and warm. The star of the meal is rich, moist, seasoned ­sausage, traditionally from the Italian region of Umbria.
Ingredients
Vegetable oil spray

1/2

teaspoon plus a pinch

table salt

,

plus more for cooking pasta

1/4

teaspoon

baking soda

8

ounces

ground pork

3

garlic cloves

,

minced, divided

1 1/4

teaspoons

minced fresh rosemary

,

divided

1 1/4

teaspoons

freshly ground black pepper

,

divided

1/8

teaspoon

ground nutmeg

8

ounces

cremini mushrooms

,

trimmed

7

teaspoons

extra-virgin olive oil

,

divided

1

pound

fresh or dried orecchiette

1/2

cup

dry white wine

3/4

cup

heavy cream

1 1/2

ounces (3/4 cup)

Pecorino Romano cheese

,

grated

3

tablespoons

minced fresh parsley

1

tablespoon

fresh lemon juice
Instructions
Spray a large plate with vegetable oil spray. In a medium bowl, dissolve 1/2 teaspoon salt and baking soda in 4 teaspoons water. Gently fold in pork until combined and let stand for 10 minutes.

Add one-third of the garlic, 3/4 teaspoon rosemary, 3/4 teaspoon pepper, and nutmeg and smear with a rubber spatula until well combined and tacky, 10 to 15 seconds. Transfer sausage mixture to prepared plate and form into a rough 6 inch (15-cm) patty.

Pulse mushrooms in food processor until finely chopped, 10 to 12 pulses.

In a 12-inch (30-cm) skillet over medium-high heat, warm 2 teaspoons of the oil until just smoking. Add patty and cook, without moving it, until browned, 2 to 3 minutes. Flip and continue to cook until well browned on second side, 2 to 3 minutes longer (very center will be raw). Transfer patty to cutting board and chop into 1/8- to 1/4-inch (3- to 6-mm) pieces.

In a large pot over high heat, bring 4 quarts water to a boil. Add pasta and 1 tablespoon salt and cook, stirring often, until al dente. Reserve 1 1/2 cups cooking water, then drain pasta in a and return it to pot.

Meanwhile, in now-empty skillet over medium heat, warm 3 teaspoons oil. Add mushrooms and remaining pinch salt and cook, stirring frequently, until browned, 7 to 9 minutes. Stir in remaining garlic, remaining 1/2 teaspoon rosemary, remaining 1/2 teaspoon pepper, and remaining 2 teaspoons oil and cook until fragrant, about 30 seconds.

Stir in wine, scraping up any browned bits, and cook until completely evaporated, 3 to 5 minutes. Stir in sausage, cream, and 3/4 cup pasta cooking water and simmer until meat is no longer pink, 1 to 3 minutes. Off heat, stir in Pecorino Romano until smooth.

Add sauce, parsley, and lemon juice to pasta and toss to coat. Adjust consistency with reserved cooking water as needed. Season with salt and pepper to taste. Serve immediately.
Nutrition
Serving:
1
portion
Calories:
581
kcal
Carbohydrates:
61
g
Protein:
20
g
Fat:
27
g
Saturated Fat:
12
g
Polyunsaturated Fat:
2
g
Monounsaturated Fat:
11
g
Cholesterol:
75
mg
Sodium:
366
mg
Potassium:
515
mg
Fiber:
3
g
Sugar:
3
g
Vitamin A:
641
IU
Vitamin C:
5
mg
Calcium:
132
mg
Iron:
2
mg
Nutrition information is automatically calculated, so should only be used as an approximation.
Recipe © 2021 America's Test Kitchen. Photo © 2021 America's Test Kitchen. All rights reserved.
---
Recipe Testers' Reviews
This simple pasta dish reminded us of meals we had in Italy. Easy to throw together, it yielded a solid, tasty dinner, one we plan on adding to our rotation.
I stirred in the Pecorino Romano cheese off the heat, as directed, and that assured me of a smooth pasta sauce that did not seize up.
Now, the only change I made to the recipe was adding the pasta to the sauce in the pan. I find that easier to contain the sauce and the pasta, with no waste of sauce, from changing it from one pan to the other.
I saved a cup of the cooking water so I would have it when I heated up my leftovers, if I would need it. This could easily feed 4 to 6 people. The first night I roasted some baby broccolini to serve alongside. Tonight, I'll serve a salad with the pasta.
This pasta alla Norcina is exactly as billed: comforting, cozy, and rich. We were grateful for all of that on a cold Sunday evening and enjoyed this with a glass of sturdy Sangiovese and a salad of slightly bitter greens with a bright and light dressing to balance the creaminess of the pasta. I'll definitely place this recipe into the pasta rotation for its ease and speed of preparation (45 minutes start to finish) and its elevated flavor profile.
The pork sausage is greater than the sum of its parts, with just the right mix of herbs and seasonings. The only change I might make is to add a pinch of cayenne or an extra dash of lemon juice to the sauce to cut through the creaminess just a bit.
Pasta alla Norcina delivers on its promise as cozy, comfort food. The homemade sausage was simple to make and the flavors were different from what is usually sold in stores as Italian sausage. We enjoyed the flavor of the sausage most–more subtle than we use usually cook, yet still discernable. With the creamy cheese sauce and mushrooms, this dish delighted us. We enjoyed it with roasted brussels sprouts on the side and a glass of the wine used in the recipe.