I'll be the first to admit it: I have never watched the Super Bowl. (Well, there was that one time in college when I tried to impress a [alas straight] friend, but that doesn't really count.) I have countless halftime shows under my belt, if that counts for anything.
But what I lack in gridiron knowledge, I make up for in game-food mastery. Let's face it, if eating were a sport, I'd be a multiple Heisman Trophy-winning, hall-of-fame Olympiad.
Game-time food needs to be portable, fit in your hand while jumping and screaming at the TV, and utterly delicious. These 12 winners check off all the boxes.
I'm no gambler, but if I had to bet on an MVP on February 12, it would be one of these recipes.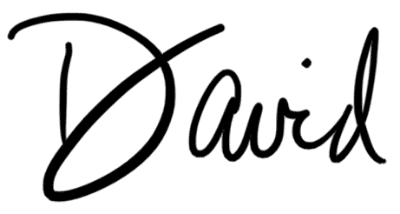 Pressure Cooker Ribs
These pressure cooker ribs, which are easy and ideal for the Instant Pot, are finished in the oven with a brown sugar and Dijon glaze. It's a super-fast method for knee-wobbling, lip-smacking, fall-off-the-bone tenderness.
Recipe
I pressure-cooked the ribs according to the recipe, and they were outstanding, juicy, flavorful, and done in under an hour. Best recipe ever. Thanks for the fine points of standing the ribs on end and letting the pressure release naturally—it really makes a difference.

marilyn s.
Football Cheese Ball
This football cheese ball with bacon is, well, exactly what the title proclaims. A cheese ball in the shape of a football. Made with both Cheddar and cream cheese as well as jalapeño and, yes, bacon. Perfect for Super Bowl.
Recipe
I made this cheese ball last year for my friend's annual Super Bowl party, and it's the only thing I've been asked to bring this year!! Everyone loved it!! Thank you!!

jennifer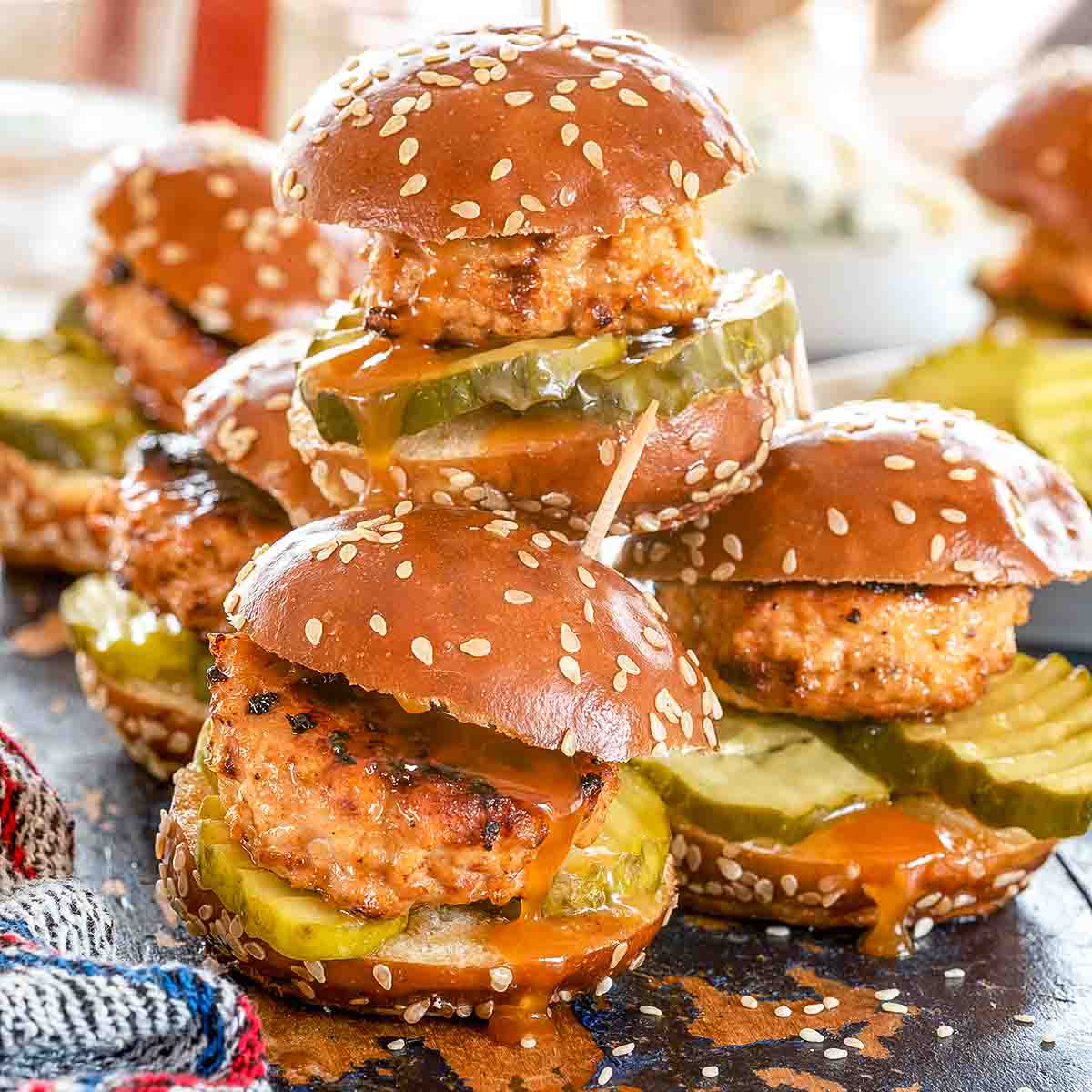 Nashville Hot Chicken Sliders
Long ago in Nashville, the only place to get hot chicken was Prince's Hot Chicken on Ewing Drive. These days, hot chicken is all the rage in Nashville, and you can find it in a lot of restaurants. I love it all, but Prince's is still the gold standard for me. These sliders are my nod to Ms. André Prince Jeffries, who still serves up the best hot chicken I've ever tasted!
Recipe
You've heard of Nashville hot fried chicken, right? These sliders combine those spicy craveable flavors with creamy blue cheese and serve it up in a convenient handheld bite. Genius.
Popcorn Cauliflower Bites
Dipping anything in breadcrumbs and frying until golden is always going to be a winner, and for anyone telling you they don't like cauliflower, they may well change their minds if they try this.
Recipe
We're not suggesting that these crispy cauliflower bites replace your favorite popcorn chicken. They're definitely not the same thing, just like Buffalo cauliflower is not the same as Buffalo wings. But…give these tasty snacks a try. They'll likely surprise you in the best way possible.
Texas-Style Chili with Pork and Brisket
For those who want a quick version of this: just eat the cooked bacon and shoot the tequila . . . I won't tell a soul and just might join you.
Recipe
You won't find a stray bean anywhere in this bowl of Texas-style chili. What you will find is plenty of tender shredded pork, smoky brisket, bacon, onion, chiles, and a spicy tomato and beer sauce.
Sweet and Spicy Chicken Wings
This recipe is inspired by Korean fried chicken, where boneless chicken thighs are fried and tossed either in a sticky, savory sauce or with lots of crispy garlic.
Recipe
These finger-lickin' sweet and spicy wings are irresistible. A Korean-inspired glaze coats crispy fried wings. To save yourself a little mess, they can even be made in the air fryer.
Tater Tot Nachos ~ Totchos
Tater Tot nachos takes one of the most loved, and easiest, dinners and gives it a crispy, crunchy, potato-filled boost. Topped with chili–vegetarian or filled with beef, it's up to you–and loads of tomatoes, sour cream, and jalapeños, Totchos might be everyone's perfect meal.
Recipe
Don't get us wrong. We love classic nachos piled high with all the fixings. We can even be convinced to nosh on a plate of healthy-ish Mediterranean-inspired nachos.
But, given the choice, tater tots are our favorite vehicle for dipping and scooping our nacho toppings. Unless, of course, we're talking about dessert nachos.
Sheet Pan Taco Bake
This sheet pan taco bake has seasoned ground beef, onions, tomatoes, cilantro, and Cheddar and Monterey Jack cheeses enveloped in tortillas and baked until crunchy and golden. Great party food for feeding a crowd.
Recipe
OMG! Soo good, and the instructions were simple. I did use the smaller flour/tostada-size tortillas. But I used a smaller cookie sheet which worked fine. Thanks for sharing a wonderful recipe.

grammasue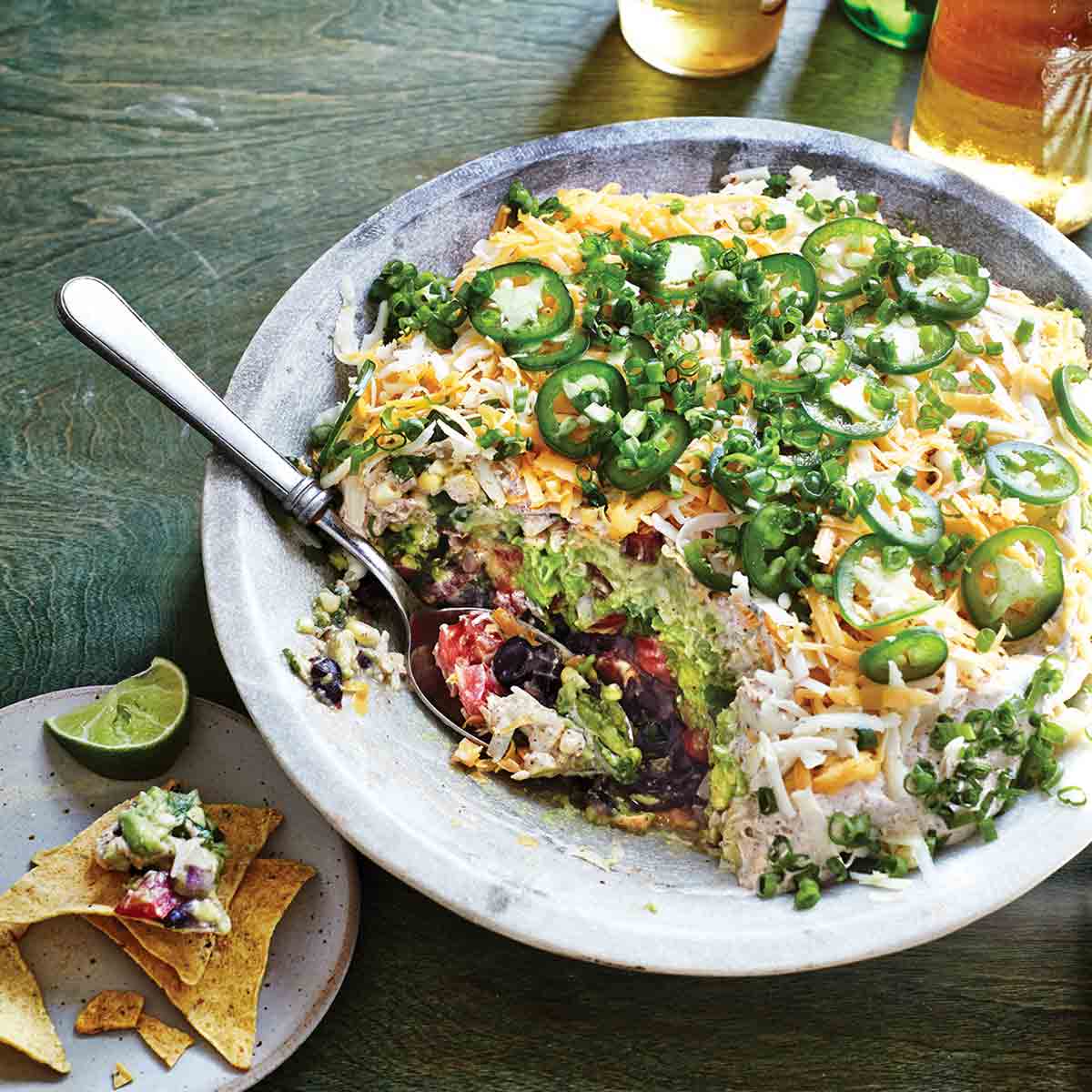 Seven Layer Dip
Seven layer dip is a Mexican-inspired party staple made with beans, cilantro, cheese, avocado, tomatoes, and jalapeño. It's crazy easy to make as well as quite healthy. And it requires no cooking whatsoever. And this is the best darn rendition of it we've ever had.
Recipe
I will admit, the first time I made this seven-layer dip, my husband and I devoured practically the entire dish for dinner in one sitting! This is very addicting and very good! The black beans and fresh elements like jalapenos, cilantro, green onions, and lime make this feel more luxurious and gourmet than a standard seven-layer dip.

I also doubled the recipe and made this for a party, which was enjoyed by those who tried it. I reserved some of the ingredients, sans the dairy products, and layered them in a small dish for one of my guests who is vegan. She appreciated the gesture and enjoyed it.

dawn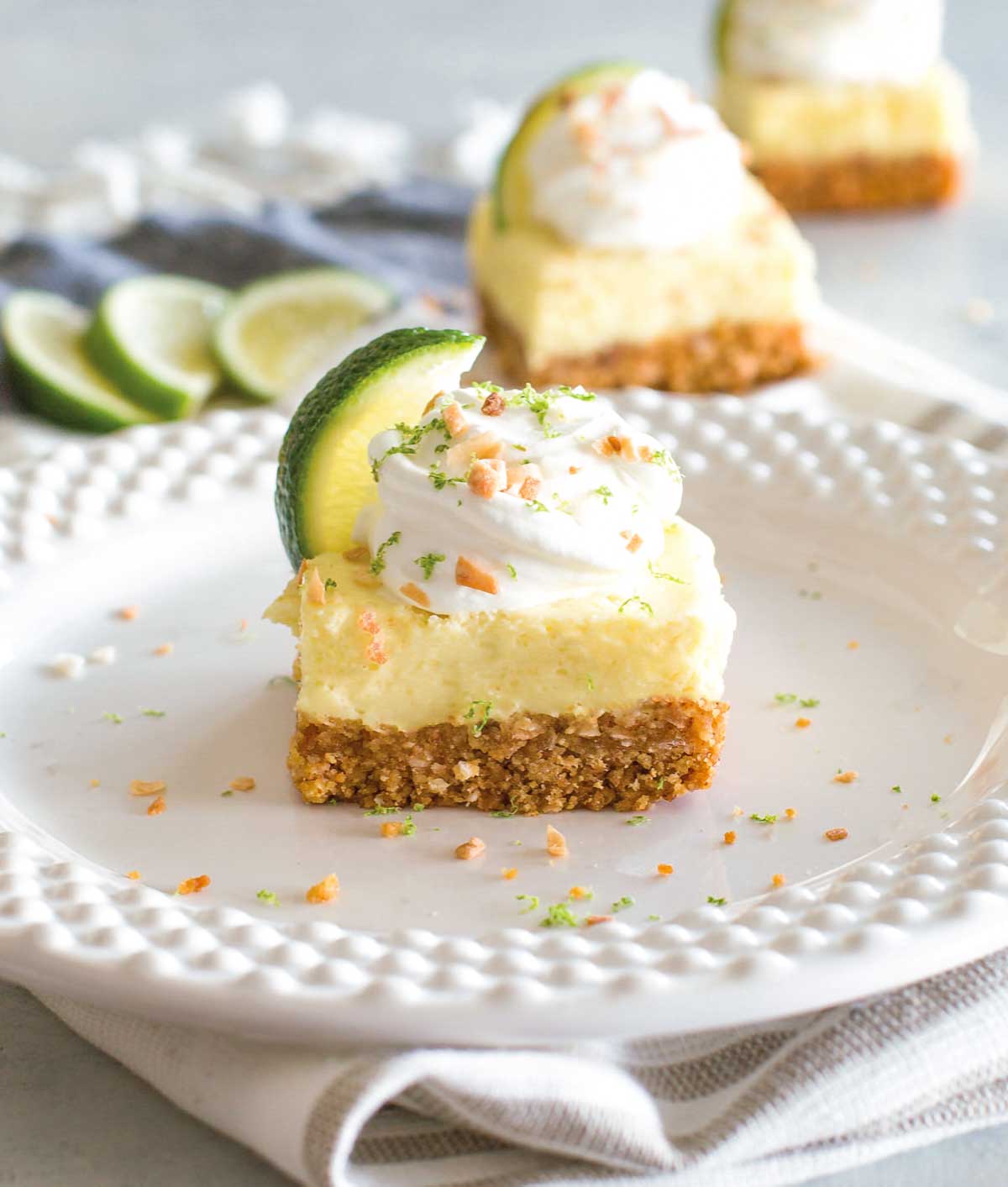 Key Lime Pie Bars
We're an hour and a half from the Florida Keys and take advantage of the tropical atmosphere as often as we can. At certain gas stations along the long road down to the keys they sell slices of key lime pie and I can't resist the tangy, creamy treat. Do you need to make some key lime pie bars to make you think you're in a tropical paradise? I thought you might.
Recipe
Your favorite tangy key lime pie in a convenient handheld bite. Need we say more?
Chicharrón Chocolate Chip Cookies
These chicharrón chocolate chip cookies are soft, chewy, homemade chocolate chip cookies made with—believe it or not—pork rinds. And they're magnificent beyond words.
Recipe
Super Bowl Snack FAQs
How do I keep my food hot?
Slow cooker to the rescue! Your slow cooker is a wonderful tool for keeping all manner of food hot. Soups, stews, queso, and chili will all benefit from hanging out in the slow cooker while your guests graze, but don't be afraid to use it to keep chicken wings or ribs warm, too.
What's the most popular Super Bowl snack?
The most popular choice for snacking during the big game is chips and dip. If you want to get creative, try making your own manchego potato chips and classic onion dip.
Looking for more Super Bowl snack ideas, particularly ones you can prepare in advance? Check out this selection of slow cooker recipes.