In this no-fail, crisper-than-usual, gonna-knock-your-socks-off take on classic Buffalo wings, chicken wings are marinated in hot sauce prior to being double-dipped in flour and spice and then deep-fried. The extra-crisp coating lends them an enviably uniform, golden brown surface and a crunch that's evocative of Southern-style fried chicken. And when you're in the mood for skipping a traditional beat and leveling up, swap your standard supermarket blue for Gorgonzola, Roquefort, Maytag, Stilton, or any other iconic blue cheese you fancy.–Renee Schettler Rossi
Classic Buffalo Wings
These classic buffalo wings are easy to make at home. Marinate the chicken wings in hot sauce before dredging them (twice!) in flour and spice and then fry them to crisp perfection. (Any old pot will do.) Stay true to the original classic and dunk them in a creamy blue cheese dip.
Ingredients
For the blue cheese dressing
1

cup

sour cream

1/2

cup

mayonnaise

Juice of 1 lemon

,

or to taste

1

tablespoon

white vinegar

1/4

cup

chopped parsley

1

teaspoon

minced shallots

1/2

teaspoon

minced garlic

1/4

pound

blue cheese

,

crumbled
For the classic Buffalo wings
30

medium (3 1/4 lbs total)

wings

,

small wing joint removed

2

cups

store-bought or homemade hot sauce

1

cup

Worcestershire

1 1/2

cups

flour

2

large

eggs

1/4

cup

whole milk

Oil for deep-frying

Celery sticks and/or carrots

,

for serving
Instructions
Make the blue cheese dressing
In a bowl, whisk together the sour cream, mayonnaise, lemon juice (start with 2 tablespoons), vinegar, parsley, shallots, and garlic, blending until smooth. Gently stir in the crumbled blue cheese.
Make the classic Buffalo wings
Place the wings in a glass or other nonreactive bowl, add 1 cup hot sauce and the Worcestershire sauce, and mix thoroughly, being careful to coat all the wings. Cover and refrigerate for at least 30 minutes.

Place the flour in a separate bowl and season with salt and cayenne pepper to taste. In yet another bowl, whisk together the eggs and milk. Set up all 3 bowls assembly line fashion (wings, flour mixture, and egg wash). Dredge each wing in the flour mixture, then dip the wing in the egg wash and allow any excess to drip off, and then finally dredge the wing completely in the flour mixture.

Pour enough oil in a pot to reach several inches deep and heat it to 350°F (176°C). Line a plate with paper towels or set out a brown paper bag. Working in small batches, deep-fry the wings, turning as needed, about 12 minutes, or until the batter is crisp and the chicken is cooked through. Let drain on paper towels or the non-printed side of a brown paper bag.
To serve the classic Buffalo wings
Dump the fried wings in a large bowl and drench with the remaining 1 cup hot sauce (or less, to taste). Serve with the blue cheese dipping sauce, celery sticks and/or carrots, and plenty of napkins on the side.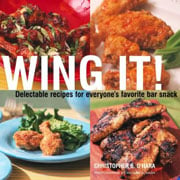 Nutrition
Serving:
5
wings
Calories:
856
kcal
Carbohydrates:
38
g
Protein:
26
g
Fat:
67
g
Saturated Fat:
16
g
Polyunsaturated Fat:
19
g
Monounsaturated Fat:
28
g
Trans Fat:
1
g
Cholesterol:
165
mg
Sodium:
3064
mg
Potassium:
809
mg
Fiber:
1
g
Sugar:
8
g
Vitamin A:
995
IU
Vitamin C:
75
mg
Calcium:
240
mg
Iron:
6
mg
Nutrition information is automatically calculated, so should only be used as an approximation.
Recipe © 2004 Christopher B. O'Hara. Photo © 2019 Joshua Resnick. All rights reserved.
---
Recipe Testers' Reviews
My family are huge fans of buffalo wings. I rarely make them at home because, frankly, they're too time-consuming and I would be more apt to throw a pre-made freezer bag of them in the oven. When we go out to eat, we like to order our wings extra crispy, which is key to a perfect buffalo wing (in our opinion). I was anxious to try this recipe to see if it met our expectations of the perfect wing. I am happy to report the main authority on wings (my husband) gave these a 9.5 score and the rest of the buffalo crew gave them a 9.
I would be glad to make this version of buffalo wings again, minus the clean up—there's no escaping the mess but it is worth the trouble to make a restaurant-worthy wing!
Setting the bowls up assembly-line fashion is a good tip to streamline the coating of the wings and to eliminate as much mess as possible. The only complaint I have on this recipe is the mess of dipping in the flour to the egg wash and back to the flour. It starts to get pretty goopy after wing #10, I wish I had a secret tip to avoid this problem.
I placed 2 inches of oil in my large Dutch oven on the stovetop, which was enough oil to cook the wings in 3 batches. Each batch cooked in exactly 12 minutes. The first batch was the prettiest, the second and third started to look pretty scraggly but the taste was perfect on every last wing. Looks do not matter.
I opted to serve the wings so each person could add as much or little hot sauce to their taste (not everyone can handle the heat).
The blue cheese dressing was easy to pull together and nice. I would maybe add a little less lemon juice, which can vary depending on size of lemon. I would just add 2 tablespoons.
Like many others, I don't often deep fry wings at home. I prefer to bake them in the oven and I find that I can get a pretty crisp coating that way. Having said that, if I'm going to deep fry, this is the recipe that I'll use from now on. T
he coating and marinade make a really flavorful wing, crunchy and very juicy. No doubt, double dredging is a bit of a messy pain but it really contributes to the restaurant-style quality of these wings.
For the marinade, I used a hot sauce and, even naked, the taste of the wings was better than average. I coated them in a buffalo wing sauce that wasn't overly spicy so that I could actually taste everything. This dish is nicely balanced; the Worcestershire came through just enough to give a little extra umami punch and the blue dressing is exactly what I was hoping for.