These chicharrón chocolate chip cookies make perfect sense to those of us (um…me) who have a thing for salty and sweet. And, of course, to those of us who have a thing for pork. (Again, um…me.)
Contrary to common belief, fried pork skins don't add crunch to these cookies. Depending on the pork rinds you use, they can turn tender and chewy when baked into the buttery cookie dough.
In my experience, folks either really like these or they don't. Obviously, I count myself among the former, so much so that I've taken to hiding these from The One. I'm not proud of it, but after you try one, you'll understand.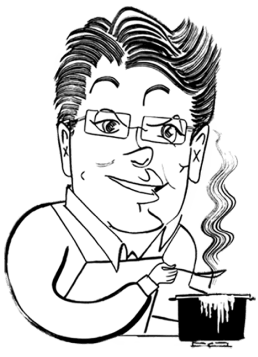 Why Our Testers Loved This
Our testers absolutely adored the sweetness of cookie dough combined with rich dark chocolate and crunchy, salty bits of pork rind in these tasty chicharrón cookies.
Rosie Coelho summed it best with her comment, "How can you go wrong with pork and chocolate? You can't!"
What You'll Need to Make This
Unsalted butter–Since the chicharron will contribute salt to the cookies, if you need to use salted butter, decrease the amount of salt in the cookie dough to 1/2 teaspoon.
Dark chocolate–Bittersweet chocolate plays well against the salty pork rinds and sweet cookie batter. If you prefer a slightly sweeter flavor, you can use a mix of semi-sweet and bittersweet chocolate.
Chicharrón–These are also known as fried pork rinds. You may find them sold as thin and airy or thick and meaty. The thin, airy variety work best here, since you are crumbling them.
How to Make This Recipe
Whisk the flour, baking soda, and salt together in a small bowl. Beat the eggs and sugars together in a mixer until fluffy, then beat in the butter and vanilla. Gently stir in the dry ingredients, followed by the chocolate and chicharrón.

Chill the batter. Cover the cookie dough and chill for at least 2 hours, but preferably overnight.

Heat the oven to 350°F. Line a rimmed baking sheet with parchment paper.

Place tablespoon-sized cookie dough balls on the baking sheet. Baked until the edges begin to brown. Cool on a wire rack before serving.
Common Questions
What are chicharrón aka pork rinds?
Pork rinds are made from the skin of a pig that has been simmered, chilled, partially dehydrated, and fried. When the dehydrated pork rinds are fried, any remaining moisture evaporates and causes the skin to puff, creating the crispy, crackly chicharrón snacks we know and love.
What kind of chicharrón should I buy?
You can find fresh homemade chicharrón at most Mexican markets. If you can choose between airy, thin pork rinds and thick, meaty pork rinds that are ever so slightly curled at the edges, opt for the former.
The purpose of putting pork rinds in these cookies is to amp up the flavor with a smoky and salty oomph. Having said that, the commercial brands of chicharrón will also work just fine in this recipe. (Lesley Téllez prefers Baken-Ets brand, which you'll find at most grocery stores.)
What can I do with extra pork rinds?
If you can resist the temptation to eat them all straight from the bag, they can be ground up and used in place of bread crumbs for coating chicken or pork cutlets or strewn atop a big bowl of mac and cheese. Jazz up your sautéed spinach with a porky, crispy topping, or stuff them into a grilled cheese sandwich.
Helpful Tips
To crumble chicharrón, toss them in a resealable plastic bag and bang on it with a rolling pin or a cast-iron skillet.
Store pork rind cookies in a sealed container at room temperature for up to 4 days or freeze for up to 3 months.
More great chocolate chip cookie recipes
Write a Review
If you make this recipe, or any dish on LC, consider leaving a review, a star rating, and your best photo in the comments below. I love hearing from you.–David
Chicharrón Chocolate Chip Cookies
These chicharrón chocolate chip cookies are soft, chewy, homemade chocolate chip cookies made with—believe it or not—pork rinds. And they're magnificent beyond words.
Ingredients
2 1/4

cups

all-purpose flour

1

teaspoon

baking soda

1

teaspoon

salt

2

large

eggs

3/4

cup

granulated sugar

3/4

cup

packed light brown sugar

2

sticks (8 oz)

unsalted butter

,

melted and cooled to room temperature

1

teaspoon

vanilla extract

7

ounces

dark chocolate (at least 70%),

chopped into 1/4-inch chunks

1

cup

crumbled chicharrón* (aka pork rinds)
Instructions
In a smallish bowl, whisk together the flour, baking soda, and salt.

With a standing mixer on medium-high speed, beat together the eggs, granulated sugar, and light brown sugar until light and fluffy and about double in volume, about 3 minutes. Lower the speed, dump in the butter and vanilla, and beat until well combined.

Stop the stand mixer and, using a wooden spoon or rubber spatula, stir the flour mixture into the butter mixture just until combined. Gently stir in the chocolate and chicharrón. Be careful not to overmix the dough.

Cover the dough with plastic wrap and stash it in the fridge until it's firm, at least 2 hours and, ideally, overnight. The cookies taste best if you chill the dough overnight—the resting time allows the dough to develop more flavor.

When you're ready to bake, preheat the oven to 350°F (180°C). Line a baking sheet with parchment paper.

Drop the cookies by mounded tablespoonfuls onto the parchment paper, spacing the dough blobs about 2 inches apart. Bake for 10 to 12 minutes, or until the edges just start to brown and the middles are still soft.

Let the cookies cool on the baking sheet for 1 minute, then transfer them to a wire rack to cool completely.
Notes
Crumbling chicharrón–To crumble chicharrón, toss them in a resealable plastic bag and bang on it with a rolling pin or a cast-iron skillet.
Storage–Store pork rind cookies in a sealed container at room temperature for up to 4 days or freeze for up to 3 months.
Nutrition
Serving:
1
cookie
Calories:
149
kcal
Carbohydrates:
17
g
Protein:
2
g
Fat:
8
g
Saturated Fat:
5
g
Trans Fat:
1
g
Cholesterol:
25
mg
Sodium:
117
mg
Potassium:
59
mg
Fiber:
1
g
Sugar:
10
g
Vitamin A:
175
IU
Vitamin C:
1
mg
Calcium:
12
mg
Iron:
1
mg
Nutrition information is automatically calculated, so should only be used as an approximation.
Recipe © 2015 Lesley Téllez. Photo © 2015 Penny De Los Santos. All rights reserved.
---
Recipe Testers' Reviews
This savory combination produced an excellent chocolate chip cookie with a bit more complexity—and, I suspect, a more subtle backbone of spicy meatiness than you might get from using actual bacon in a cookie.
The smokiness and spice complemented the chocolate.
With a little planning, this recipe does most of the work while aging in the refrigerator. I used a combination of chocolate, mostly 90% and 70%, and a small bit of 45%, and after breaking it up into largish chunks, I pulsed it in the food processor with a teaspoon or two of the flour to help keep the chopped pieces separate as they got smaller.
I also thought the mixture of cocoa intensity would be well distributed that way, working much more quickly than hand chopping and not heating up or melting the chocolate by handling it too much.
I found chile-seasoned chicharrónes, and a 1-ounce (28-gram) package yielded just about 1 cup after I crumbled it by putting it in a heavy resealable plastic bag and smashing it evenly with a wooden rolling pin.
They were fresh and had a pleasant spicy and smoky taste and smell. I tried to crush the chicharrón as finely and evenly as possible, and I was glad to have done so because, after baking, any larger bits of chicharrón were noticeably crunchy.
After the batter is completely mixed (with the chocolate and chicharrónes added in), it's actually fairly stiff. After 8 hours in the refrigerator, it was very stiff and took some effort to scoop. I used a 1-tablespoon scoop.
They baked for the full 12 minutes, and once cooled, we willingly sampled them. I think they were interesting, especially with the smoky depth the chicharrón gave the chocolate, and although we seldom have cookies, this is a good recipe for tasty ones.
While I won't be able to share these with my vegetarian friends and family, I think they're a nice cookie to have in your arsenal of recipes. I'll probably bake several small batches over the next few days now that the dough is ready, and all I need to do is turn on the oven.
I might like it a bit less sweet but would hesitate to reduce the sugar since it also would change the cookie.
If your chicharrónes don't have spiciness, I might consider adding a tiny amount of chile powder because that was part of what made it so good.
I used kettle-cooked chicharrónes from 4505 Meats in San Francisco.
This is a chocolate chip cookie with smoky, salty, crunchy bits. In one word—delish! Truth be told, I had never eaten chicharrón before, but I was intrigued by the combination, and really, how can you go wrong with pork and chocolate? You can't!
I managed to find "homemade" chicharrón from an international food purveyor who makes them daily. A total score! I had to pick through the batch to get the lighter ones, as mentioned in the recipe, though I did allow some of the "meaty" ones to get through.
I advise sticking to the thinner, lighter chicharrón, as they produce a wonderful crumbly crunch, while the meatier ones provide more of a chewy bite. I much preferred the crunch rather than the chew.
To get the crackle to crumble, I just placed the chicharrón in a bag and used a rolling pin to produce an array of crumble sizes, but mostly the crumble was on the smaller side.
I have to admit that when I started tasting the cookie dough before dropping it onto the baking sheet, I found it hard to stop. The sweetness of the dough with the dark rich chocolate combined with the salty crunch of the chicharrón almost had me inhaling the whole batch before baking.
Well, after baking, the added delight is the juxtaposition of the melted chocolate against the crunchy crumble of the chicharrón. A winner!