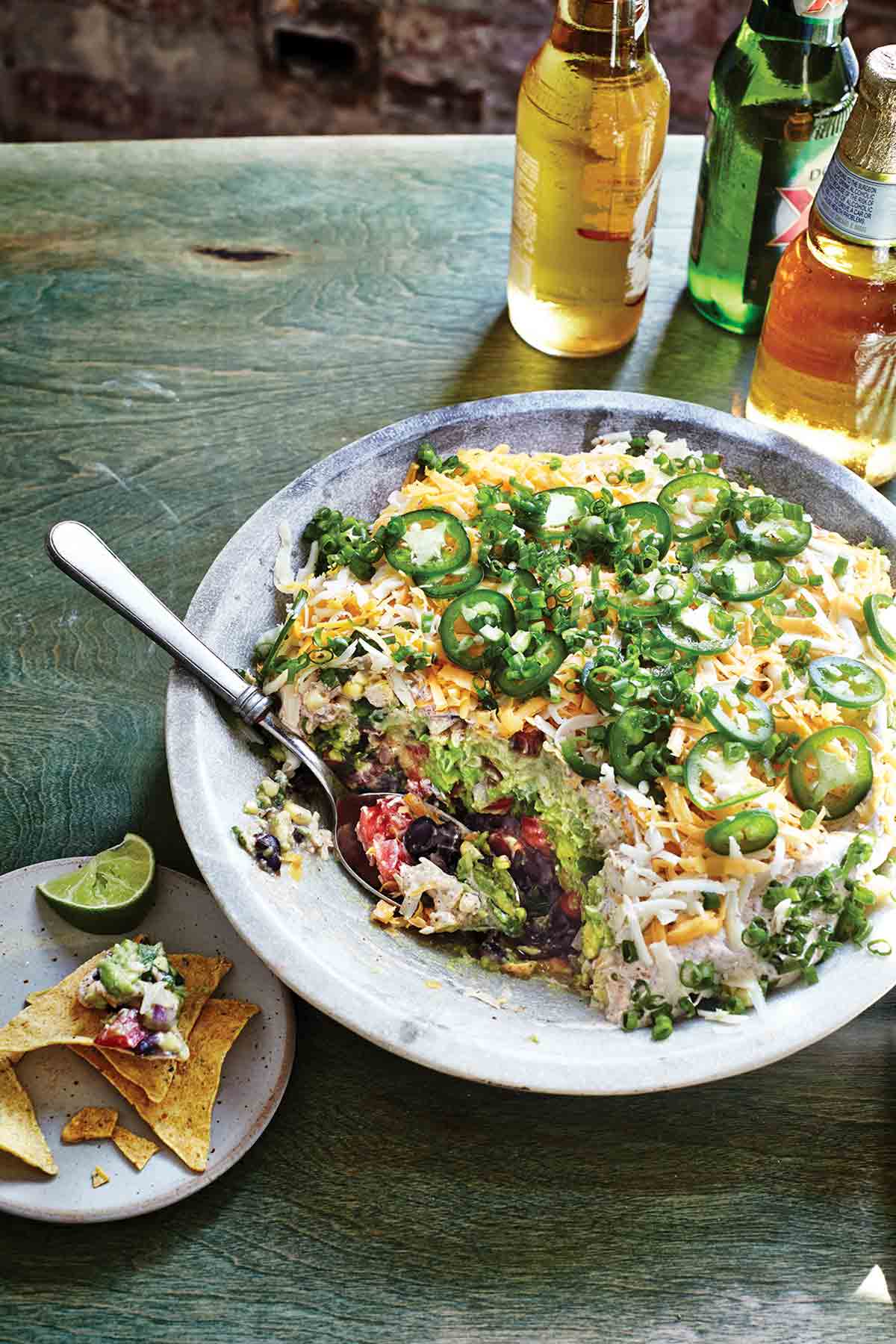 We have something to confess. This ridiculously good riff on seven-layer dip had been meticulously reworked by the folks at Cooking Light magazine to contain as few fat grams as possible thanks to low-fat cheese and reduced-fat sour cream. The thing is, what really matters when it comes to satiety is satisfaction. And we derive a heck of a lot of that from real food. You know, food that hasn't been tampered with in any way. So we ditched the low-fat dairy but kept the recipe, which is seriously the best seven-layer dip we've ever had. Provided you use real cheese and sour cream. One taste and we think you'll agree that it was the right thing to do.–David Leite
Seven Layer Dip FAQs
Any tips before I stow leftovers in the fridge?
You might find that a seven-layer dip releases a little moisture after sitting in the fridge overnight but this is easily remedied–just carefully tip your serving dish and pour out that extra water. But more importantly, before stashing this in the fridge, make sure that any guac poking out gets covered with sour cream, cheese, beans, whatever it takes to keep that layer oxygen-free. When you scoop into it tomorrow and the guac is still green, you'll be glad you did.
What's the difference between pico de gallo and salsa?
Technically, pico is a type of salsa but there are a few things that make it perfect to use in a dish like this. Pico de gallo is made from freshly chopped veg and doesn't get cooked. This means it will remain chunky and isn't as loose or wet as a typical Tex-Mex salsa.
Seven Layer Dip
Seven layer dip is a Mexican-inspired party staple made with beans, cilantro, cheese, avocado, tomatoes, and jalapeño. It's crazy easy to make as well as quite healthy. And it requires no cooking whatsoever. And this is the best darn rendition of it we've ever had.
Ingredients
1/4

cup

water

Salt

One

(15-ounce) can

reduced-sodium black beans

,

rinsed and drained

1/2

cup

chopped fresh cilantro

1/4

cup

finely chopped red onion

1/4

cup

fresh lime juice

1

tablespoon

olive oil

1/2

teaspoon

freshly ground black pepper

,

divided

4

plum tomatoes

,

seeded, chopped, and drained

2

ripe peeled avocados

,

halved

2

cups

fresh or canned corn kernels

1

cup

sour cream

2

teaspoons

chili powder

1

teaspoon

ground cumin

1 1/3

ounces

shredded Monterey Jack cheese (about 1/3 cup)

,

preferably with jalapeño peppers

1 1/3

ounces

shredded sharp Cheddar cheese (about 1/3 cup)

1/4

cup

thinly sliced jalapeño chiles

1/4

cup

thinly sliced green onions
Instructions
In a medium saucepan over medium-low heat, combine the water, 1/8 teaspoon salt, and the beans and cook, stirring and mashing the beans frequently with a wooden spoon, until warmed through and almost smooth, 5 to 7 minutes. Spread the bean mixture in a 2-quart (2.3-liter) baking dish and let cool for 5 minutes.

In a bowl, combine 1/4 cup cilantro, red onion, 2 tablespoons lime juice, oil, 1/4 teaspoon black pepper, 1/8 teaspoon salt, and the tomatoes and sprinkle over the cooled bean mixture.

Combine the remaining 1/4 cup cilantro, the remaining 2 tablespoons lime juice, 1/2 teaspoon salt, 1/8 teaspoon black pepper, and avocado in a bowl and mash with a fork until it achieves the desired consistency. Spread the avocado mixture over the tomato mixture.

Sprinkle the corn over the avocado mixture. In a small bowl, combine the sour cream, chili powder, and cumin and spread it over the corn. Sprinkle with the cheeses, jalapeño chiles, and green onions. Serve immediately or cover and stash it in the fridge for up to several hours.
Nutrition
Serving:
1
serving, based on 8 servings
Calories:
311
kcal
Carbohydrates:
29
g
Protein:
11
g
Fat:
19
g
Saturated Fat:
7
g
Cholesterol:
24
mg
Sodium:
171
mg
Potassium:
683
mg
Fiber:
10
g
Sugar:
4
g
Vitamin A:
906
IU
Vitamin C:
17
mg
Calcium:
141
mg
Iron:
2
mg
Nutrition information is automatically calculated, so should only be used as an approximation.
Recipe © 2016 Cooking Light. Photo © 2016 Oxmoor House. All rights reserved.
---
Recipe Testers' Reviews
Wow, wow, wow! Seven layer dip is one of those things people throw together using cans and packages of things. You see it at a potluck or family picnic and think it should be a good thing, but because of all the packaged foods used, it's only so-so. But this seven-layer dip is something else altogether. Because everything is homemade using beans and veggies, it actually feels like a healthy(ish) thing to eat for lunch. And that's exactly what we did—we sat down with a half recipe of dip and a bag of tortilla chips for the two of us. I made half a recipe and it's a good thing I did or we might have eaten the entire batch. I reduced all my ingredients by half except I used the entire amount of beans. So perhaps the recipe could use double the beans if people want more.
It brings me great joy to see a traditional dip like this seven-layer dip and find that someone has elevated the recipe. While this dip recipe does require some time and effort to put together, it was worth it. It was fresh tasting, light, satisfying, and the perfect appetizer for our summer barbecue. I layered my dip in a 9-inch glass pie dish. The dip filled the pie dish but it didn't overflow it or make a mess. The glass dish also made for a visually appealing presentation. I served my dip with tortilla chips. I had some leftovers and when I pulled it out of the refrigerator the next day, there was a little liquid in the dish but the flavor was still very good.