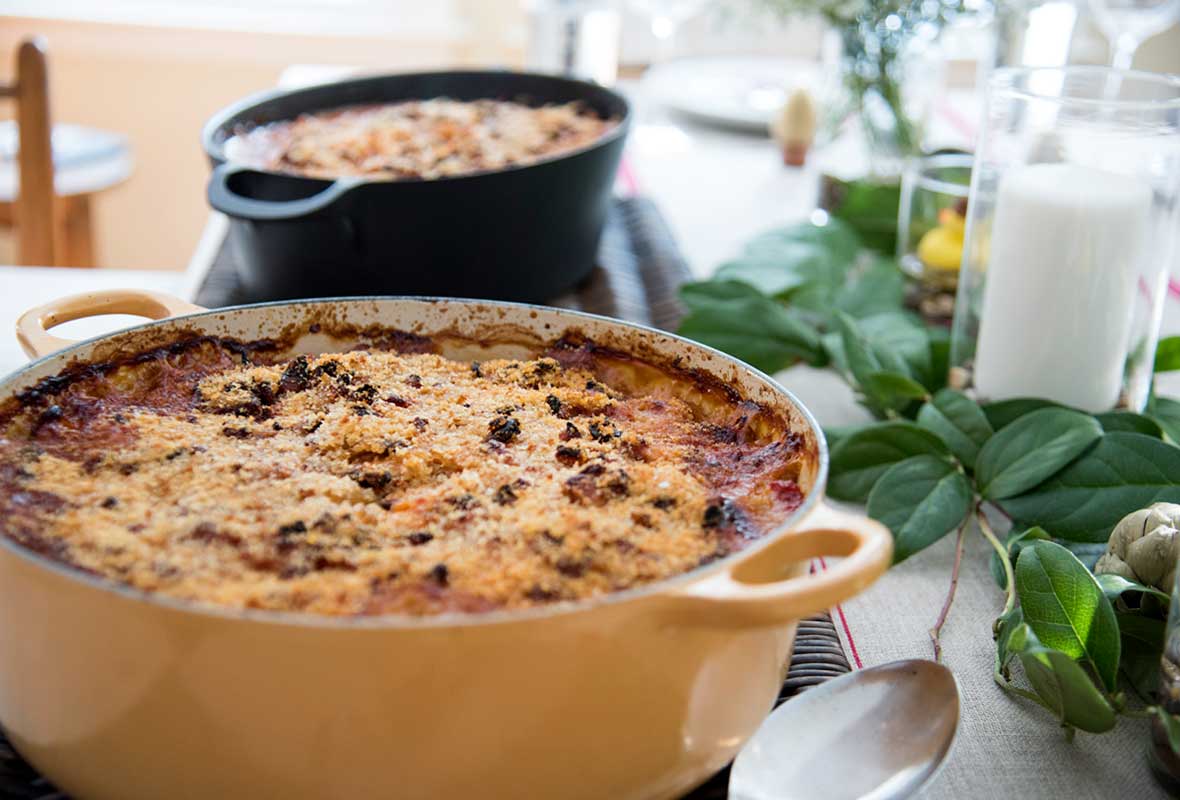 Cassoulet is a dish cooked in the winter in southwest France. It is a winter dish because it is very hearty and uses preserved meats such as sausages and duck confit cooked with white beans called flageolet. Since cassoulet is a traditional peasant dish, there is no need to buy fancy imported ingredients. Serve it with a green salad, plenty of red table wine, and a simple dessert such as poached oranges.–Mary Risley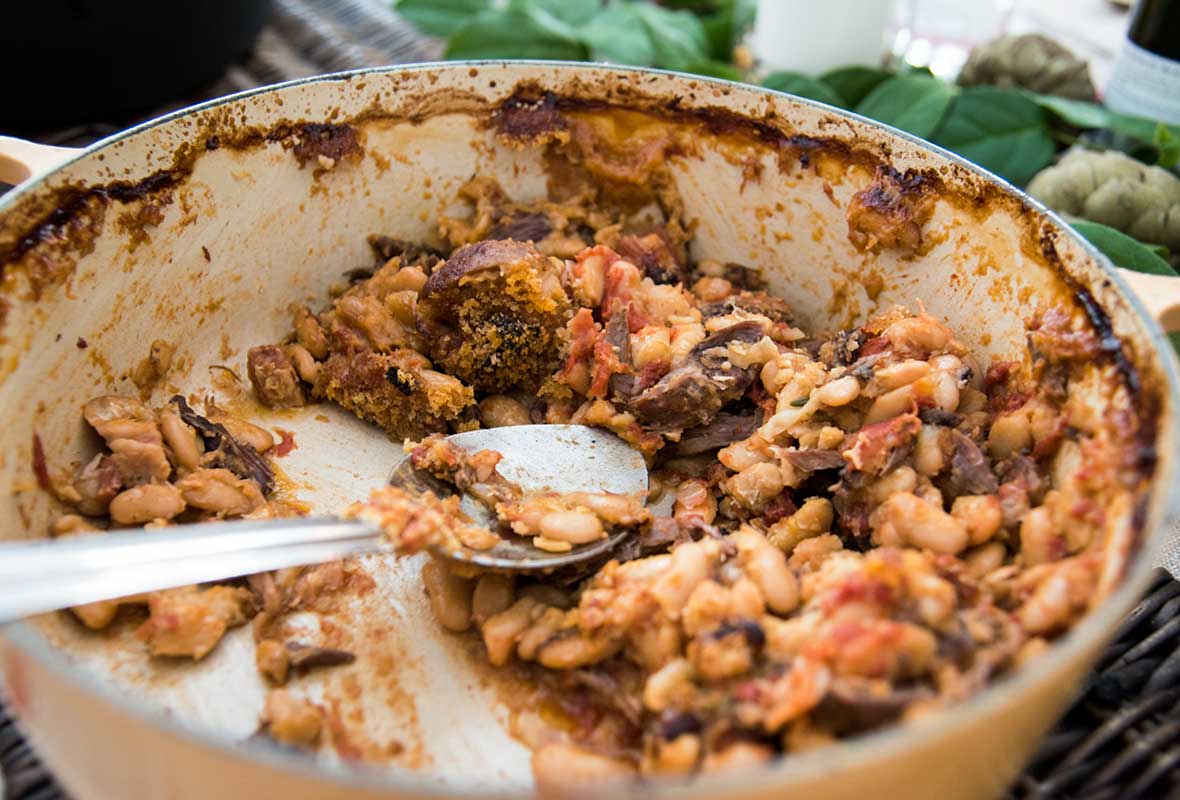 Cassoulet of White Beans, Sausage, and Duck
Quick Glance
1 H
3 H, 30 M

Serves 12
Print Recipe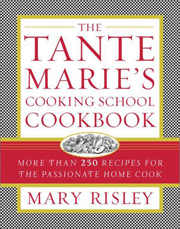 Ingredients
2 pounds small white beans such as Great Northern, soaked overnight in plenty of cold water

1/2 pound salt pork or thick-cut bacon, blanched

2 halved onions, and 1 chopped onion

1 smashed garlic clove, and 1 minced clove

Bouquet garni composed of 4 sprigs parsley, 3 sprigs thyme, and 2 bay leaves

2 quarts homemade chicken stock or canned chicken broth

1 pound pork sausages

4 tablespoons rendered duck fat or olive oil

1 cup dry white wine

1 1/2 pounds red tomatoes, peeled, seeded, and chopped, or one 28-ounce can of tomatoes

Coarse salt

Freshly ground black pepper

1 whole confit of duck, cut in 8 pieces, or 8 whole legs, halved on the bone

1 1/2 cups toasted bread crumbs
Directions
1. To prepare the beans, drain and put them in an 8-quart casserole with the bacon, the halved onions, the smashed garlic, bouquet garni, and chicken stock. Bring to a boil over moderately high heat. Reduce the heat and simmer over low heat, uncovered, for about an hour. Remove the bacon and cut it into 1-inch pieces. Strain the beans, reserving both the beans and the cooking liquid and discarding the onions and bouquet garni. Set the beans aside in a bowl.

2. To cook the sausages, prick each one in two places with a fork and put them in the bottom or a 10-inch saute pan with 1/4 inch water. Cook over medium heat, turning from time to time, until the water has evaporated and the sausages are browned on all sides, about 5 minutes. Remove them and cut at an angle into 1-inch pieces.

3. Add 2 tablespoons of the duck fat to the pan with the chopped onion and cook, stirring from time to time until the onion is soft, about 5 minutes. Add the minced garlic and continue to cook and stir for another minute. Add the white wine and cook for another minute. Stir in the tomatoes and continue cooking for another 5 minutes, stirring from time to time. Season well with salt and pepper and remove from the heat.

4. To assemble the cassoulet, layer one-third of the beans on the bottom of the casserole and add half the bacon or salt pork, sausages, and duck confit (on the bone). Cover this layer with half the tomato mixture. Repeat with another third of the beans and the remaining bacon, sausages, and duck confit. Cover this with the rest of the tomatoes and then the beans. Add salt and pepper to taste to the bean-cooking liquid. Pour in enough of the bean liquid to come up just to the top of the beans. Cover the entire cassoulet with bread crumbs, dot with the remaining 2 tablespoons duck fat, and bake in a 350-degree oven for an hour and 15 minutes, or until the bread crumbs have formed a crust. You can break through the crust with the back of a spoon three or four times during the cooking to allow the juices to help form a crust.
Cassoulet of White Beans, Sausage, and Duck Recipe © 2003 Mary Risley. Photos © 2017 Bob Carey. All rights reserved. All recipes and photos used with permission of the publisher.
If you make this recipe, snap a photo and hashtag it #LeitesCulinaria. We'd love to see your creations on Instagram, Facebook, and Twitter.