This skirt steak, sometimes called bavette, is first seared and then finished in a hot oven. Meanwhile, shallots are caramelized in butter and oil. The steak is served with a red wine jus and a watercress-herb salad.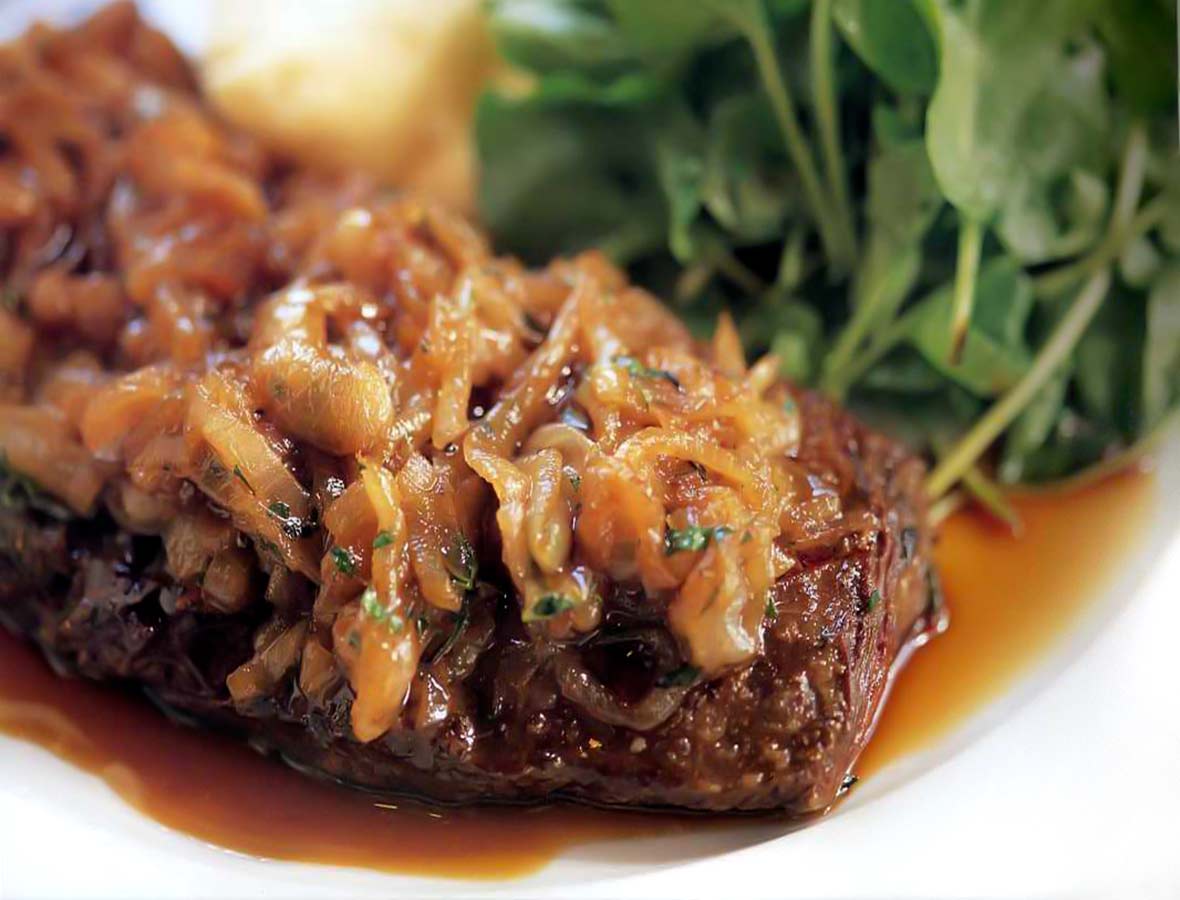 Some nights we dream of being lost amid giant steaks piled high with mounds and mounds of sweet caramelized shallots made according to this recipe. Hate to wake up. Originally published on May 4, 2004.–Renee Schettler Rossi
What Is Skirt Steak?
Skirt steak, known as bavette among many butchers and restaurants, is sorta similar to flank steak although it's more tender with more loosely connected fibers. As a result of its sorta shaggy texture and its really robust taste, it doesn't require a long marinade. A true boon for weeknight cooking. It's increasingly available at meat counters or you can try to special order it. Thomas Keller cautions you to keep in mind that there is an inside skirt steak as well as an outside steak. At Bouchon, he relies on the outside cut, which is thicker and more uniform in size and can stand up to longer cooking, affording you ample time to imbue the meat with butter and shallots and thyme while it cooks.
Skirt Steak with Caramelized Shallots
Quick Glance
1 H
2 H, 30 M

Serves 4
Ingredients
Email Grocery List
For the steak

One (10-ounce) piece trimmed skirt steak

Kosher salt and freshly ground black pepper

1/4 cup canola oil

4 tablespoons unsalted butter (2 oz)

4 cups thinly sliced shallots

4 teaspoons minced thyme

For the Red Wine Jus

1 bottle red wine, such as Cabernet Sauvignon

1 cup diced Spanish onions (1/2-inch | 12 mm)

1 cup peeled and sliced carrots (1/2-inch or 12 mm thick)

1 cup sliced leeks, white and light green parts only (1/4-inch thick)

1 cup sliced shallots (1/4-inch or 6 mm thick)

1 cup sliced button mushrooms (1/4-inch or 6 mm thick)

3 thyme sprigs

6 Italian flat-leaf parsley sprigs

2 bay leaves

1/2 teaspoon black peppercorns

3 large garlic cloves, peeled and smashed

5 cups veal or beef stock

For the salad

2 to 3 ounces watercress, large stems removed

2 teaspoons minced shallots

1 teaspoon minced Italian flat-leaf parsley

1 teaspoon minced tarragon

1 teaspoon minced chives

1 teaspoon minced chervil

Extra virgin olive oil

Kosher salt and freshly ground black pepper
Directions
Make the steak

1. Preheat the oven to 375°F (190°C).

2. Season both sides of the steaks generously with salt and pepper, keeping in mind that the salt and pepper will also season the shallots as they cook.

3. Heat two large skillets over medium-high heat until hot. Add 2 tablespoons canola oil to each skillet. When the oil is hot, add 1 tablespoon butter to each skillet, swirling them to brown the butter. Add the steaks and sear the first side for about 1 1/2 minutes, or until nicely browned. Turn the steaks to brown the second side, tilt the skillets, and use a spoon to baste the meat with the oil and butter. After about 3 minutes, total cooking, remove the skillets from the heat and transfer the meat to a waiting pan. Set aside while you cook the shallots.

4. Set the skillets, with the butter and oil, over medium heat. Add half the sliced shallots to each skillet, toss them in the oil and butter, and cook for about 2 minutes, until they have started to soften. Combine all the shallots in one skillet, add the remaining 2 tablespoons butter and the thyme, reduce the heat, and cook gently until the shallots are completely softened and golden brown. Season to taste with salt and pepper and cook for an additional 2 to 3 minutes to caramelize.

5. Stir any juices that have accumulated around the steaks into the shallots, then spread the shallots over the steaks. Place in the oven to cook for about 5 minutes, or until the steaks are medium-rare.

Make the red wine jus

6. Combine all the ingredients except the stock in a wide heavy saucepan or pot and bring to a boil over high heat. Reduce the heat and simmer for 45 to 50 minutes, or until the wine has reduced almost to a glaze. Add the veal stock, bring to a simmer, and simmer for 30 minutes.

7. Prepare an ice bath. Strain the jus several times through a fine-mesh strainer or a colander lined with cheesecloth. Cool in the ice bath, stirring occasionally. (You can refrigerate the red wine jus for up to 3 days. Warm over low heat just before serving.)

Make the salad and serve

8. Place the watercress in a bowl and toss with the minced shallots, herbs, and a drizzle of olive oil. Season to taste with salt and pepper.

9. Place the steaks on serving plates and spoon about 2 tablespoons jus alongside each steak. Divide the watercress salad among the plates.
Skirt Steak with Caramelized Shallots Recipe © 2004 Thomas Keller. Photo © 2004 Deorah Jones. All rights reserved. All materials used with permission.
If you make this recipe, snap a photo and hashtag it #LeitesCulinaria. We'd love to see your creations on Instagram, Facebook, and Twitter.