Jambalaya gets a new look with this recipe. Duck breasts are grilled then added to the pot along with rice, ham, onions, and bell peppers. Hot and spicy.
Jambalaya is traditionally cooked covered, often in an old iron pot hanging over a fire, but it translates well to a grill party with a few modifications. If you don't care for duck, or find it gaspingly expensive in local stores, substitute boneless, skinless chicken breasts, ignoring the instructions below regarding the duck skin. Originally published February 6, 2005.–Cheryl and Bill Jamison
Duck Jambalaya
Quick Glance
1 H, 20 M
1 H, 45 M

Serves 8
Print Recipe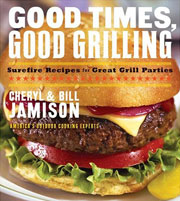 Ingredients
Email Grocery List
For the grill

Four (6- to 7-ounce) individual duck breasts

Coarse salt, either kosher or sea salt

Freshly milled pepper

7 to 8 ounces andouille sausage links, or other smoked pork sausage links, such as kielbasa

For the pot

3 tablespoons vegetable oil

1 1/2 cups chopped onions

1/4 pound tasso (Cajun-seasoned ham), country ham, or other smoky ham, minced

1 1/2 cups minced celery

1 large green bell pepper, chopped

1/2 red bell pepper, chopped

2 plump garlic cloves, minced

2 cups uncooked long-grain rice

3 cups homemade chicken stock or canned chicken broth
1/4 teaspoon store-bought or homemade Tabasco sauce or other Louisiana hot sauce, or more to taste

1 dried bay leaf

1 teaspoon dry mustard powder

1 1/2 teaspoons table salt

3/4 teaspoon crumbled dried thyme

1/2 teaspoon freshly milled pepper

A handful of thin-sliced scallion rings, green and white portions both
Directions
1. If the duck breast skin is any thicker than 1/4 inch, trim it to that thickness with a sharp knife, shearing off portions as needed. Also slice off any portions of skin or fat that hang beyond the top edge of the meat. Make crisscross cuts down through the remaining skin on the breasts. Make the cuts about 1/2 inch apart, through the skin but not into the flesh. This will help the seasonings flavor the duck more fully, and during cooking, it promotes gradual and easy rendering of fat. Rub the salt and pepper over the breasts, cover them, and let them and the andouille sit at room temperature.

2. Fire up the grill, bringing the heat to medium (4 to 5 seconds with the hand test). You will need enough grate space to be able to move the duck breasts around as needed when the inevitable and theatrical flare-ups occur. If you would like to cook the rice over the grill fire, instead of on a side burner or stovetop, you'll need the capability for medium-low heat as well.

3. Begin the rice. Warm the oil in a heavy 8-to-10-inch skillet over high heat. Mix in the onions and tasso and saute until the onion is well browned but not burned, 8 to 10 minutes. Add the celery, bell peppers, and garlic, reduce the heat to medium, and continue cooking until the vegetables are softened, about 5 additional minutes. Stir in the rice and cook for about 3 minutes longer, until the grains are translucent. Pour in the stock and add the Tabasco sauce, bay leaf, mustard powder, salt, thyme, and pepper. Bring just to a boil, then reduce the heat to medium-low. Cover and cook until the rice is tender and the liquid is absorbed, 18 to 20 minutes, stirring up from the bottom once about halfway through the cooking.

4. While the rice cooks, grill the duck breasts and andouille over medium heat. Transfer the breasts to the grill skin side down. Grill over medium heat for 4 to 6 minutes, watching carefully and moving them around as needed to avoid flare-ups. Cook until the skin is deep golden brown and crisp. Turn the breasts and grill skin side up for an additional 3 to 4 minutes for medium, then slice thinly so that each piece has some of the crisp skin. Grill the andouille until nicely brown and a bit crisp, about 6 to 10 minutes, depending on size. Slice the andouille into thin half-moons.

5. Remove the rice from the heat when done, and let it sit covered for 10 minutes. Stir the andouille and any juice from it and the duck into the rice. Remove the bay leaf from the rice. Spoon jambalaya into a large bowl or onto plates. Arrange duck slices on top, dot with scallions, and serve.
Recipe Testers Reviews

This was a fun recipe to prepare and eat. The rice-and-vegetable mixture was particularly tasty, especially as enhanced by the taste and texture of the andouille sausage. As mentioned in the method section, caution needs to be taken when grilling duck breasts. Flare-ups do indeed occur. Therefore, trimming away as much duck fat as possible will make for better-cooked breasts. The dish turned out quite well and was enjoyed by all.
Duck Jambalaya Recipe © 2005 Cheryl and Bill Jamison. Photo © 2005 Ellen Silverman. All rights reserved. All materials used with permission.
If you make this recipe, snap a photo and hashtag it #LeitesCulinaria. We'd love to see your creations on Instagram, Facebook, and Twitter.