The big secret of popovers? According to Shirley Corriher, the doyenne of all things food science, it's "that everything is as warm as you can get it—the pan, heat from the bottom, the batter—everything." But that's not all. Here, a few other pointers from Ms. Corriher: The milk and flour need to stand at least an hour so that the flour is fully hydrated. Adding hot cream to warm the batter just before it goes in the oven helps the batter to heat quickly, which produces steam for a great rise. The hot stone is vital in providing instant heat from beneath the pan to make the batter explode into a great puff.–Renee Schettler Rossi
Mile-High Popovers
These mile-high popovers from Shirley Corriher are made with eggs, bread flour, cream, milk, and salt, and are the loftiest, lightest, and most airy popovers we've ever had.
Ingredients
5

large

eggs

1 1/2

cups

whole milk

1 3/4

cups

spooned and leveled bread flour

1/3

cup

heavy cream

3/4

teaspoon

salt

Non-stick cooking spray
Instructions
Fill a bowl halfway with very hot tap water and gently add the eggs to warm them. When the water cools, carefully drain the eggs and cover them again with very hot tap water.

Meanwhile, in a heavy saucepan over medium heat, warm the milk until it feels warm to the touch. Remove from the heat.

Place the flour in a large bowl or a large measuring cup with a spout. Using a fork or whisk, beat in the milk, a little at a time to prevent the batter from forming lumps. Let the flour and milk mixture stand at room temperature for at least an hour.

After the flour and milk mixture has been standing for about 15 minutes, adjust the oven rack to the lower third position and place a baking stone on it. Preheat the oven to 475°F (246°C). (If you think your oven runs low, turn it to 500°F (260°C) as the oven needs to be quite hot.)

After the flour and milk mixture has stood for over an hour, place the popover pan in the oven on the stone to heat.

Separate 3 of the eggs, saving the whites and storing the yolks. Beat the 2 whole eggs and 3 egg whites together, then beat in about 1/2 cup of the flour and milk mixture. Then beat the egg mixture into the remaining flour and milk mixture.

In the saucepan you used for the milk, bring the cream almost to a boil.

Sprinkle the salt over the batter and slowly whisk in the warm cream.

Pull the hot popover pan out of the oven. I like to place the pan over the sink. Generously spray the cups of the popover pan with nonstick cooking spray and immediately pour the batter into the cups, filling each no more than 3/4 full. This 6-cup batch of filling should be exactly enough for 6 cups. Place the popover pan on the hot stone and bake for 9 minutes. Do NOT open the oven.

Turn down the heat to 425°F (218°C) and bake for 7 minutes more. Do NOT open the oven. Turn down the oven to 325°F (162°C) and leave the popovers in the oven for 20 to 25 minutes more, until risen and dry to the touch.

Gently run the popovers onto a wire rack to cool for a minute or so. Serve immediately with really good butter and preserves. (You can make these popovers several hours ahead and rewarm them at 300°F (149°C) for 5 minutes. Or, when they are completely cool, you can seal them in heavy resealable freezer bags and freeze. Reheat them in a 300°F (149°C) oven for about 5 minutes.)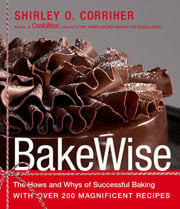 Nutrition
Serving:
1
popover
Calories:
274
kcal
Carbohydrates:
30
g
Protein:
12
g
Fat:
11
g
Saturated Fat:
6
g
Polyunsaturated Fat:
1
g
Monounsaturated Fat:
3
g
Trans Fat:
1
g
Cholesterol:
179
mg
Sodium:
382
mg
Potassium:
184
mg
Fiber:
1
g
Sugar:
3
g
Vitamin A:
519
IU
Vitamin C:
1
mg
Calcium:
107
mg
Iron:
1
mg
Nutrition information is automatically calculated, so should only be used as an approximation.
Recipe © 2008 Shirley O. Corriher. Photo © 2008 HD Connelly. All rights reserved.
---
Recipe Testers' Reviews
These mile-high popovers are excellent. Period. Perfect pillowy airy full of huge bubbles and an exterior that is caramelized and crunchy and tall as they get. Mile-high popovers, indeed!
I really do not have anything to add to this recipe. If you follow it as written, it will deliver the best popovers or Yorkshire puddings for the next Sunday or holiday roast. I know I will be making those frequently.
I used my trusty King Arthur All-Purpose flour and it worked great. So, no need to buy special flour, just don't use something like cake or pastry flour. The timings are very accurate. I followed them as written and got great results. As the recipe says, this pretty much does make perfectly enough batter for a 6-cup popover pan.
I find popovers to be just magical and I love to watch them through the oven window. My friends and family tire of my many calls to "come and see this" during the baking process, but it's an amazing transformation. While maybe not quite a mile high, these popovers rise really well and the use of bread flour provides very good structural integrity to allow them to really grow.
Shirley Corriher, whose Bakewise book is on my shelf, always approaches her recipes as a scientist and a cook. This one is no expectation and the warming of the ingredients as well as the pan are designed to get the highest rise possible. We had them piping hot with butter at dinner and they are delicious. The outer shell is crisp and the inside is tender and steamy hot which melts all of that added butter. Yum.
This was my first time making popovers. I followed the recipe exactly as written, with one exception. I do not own a popover pan and used a muffin tin instead. A 12-muffin pan worked well and there was enough batter to fill 10 cups. (I left the middle 2 empty to provide room to the popovers to rise.) Perfect texture—nice and airy and soft on the inside.
I followed the time given to a T, reducing the temperature to 425°F and then 325°F. My popovers took 22 minutes at 325°F. It was fun to watch them "pop" from the oven window. Within minutes out of the oven, they were ready to eat. I brought them to work the next day and reheated them slightly in a microwave and served them with homemade peach butter. Everyone loved them!