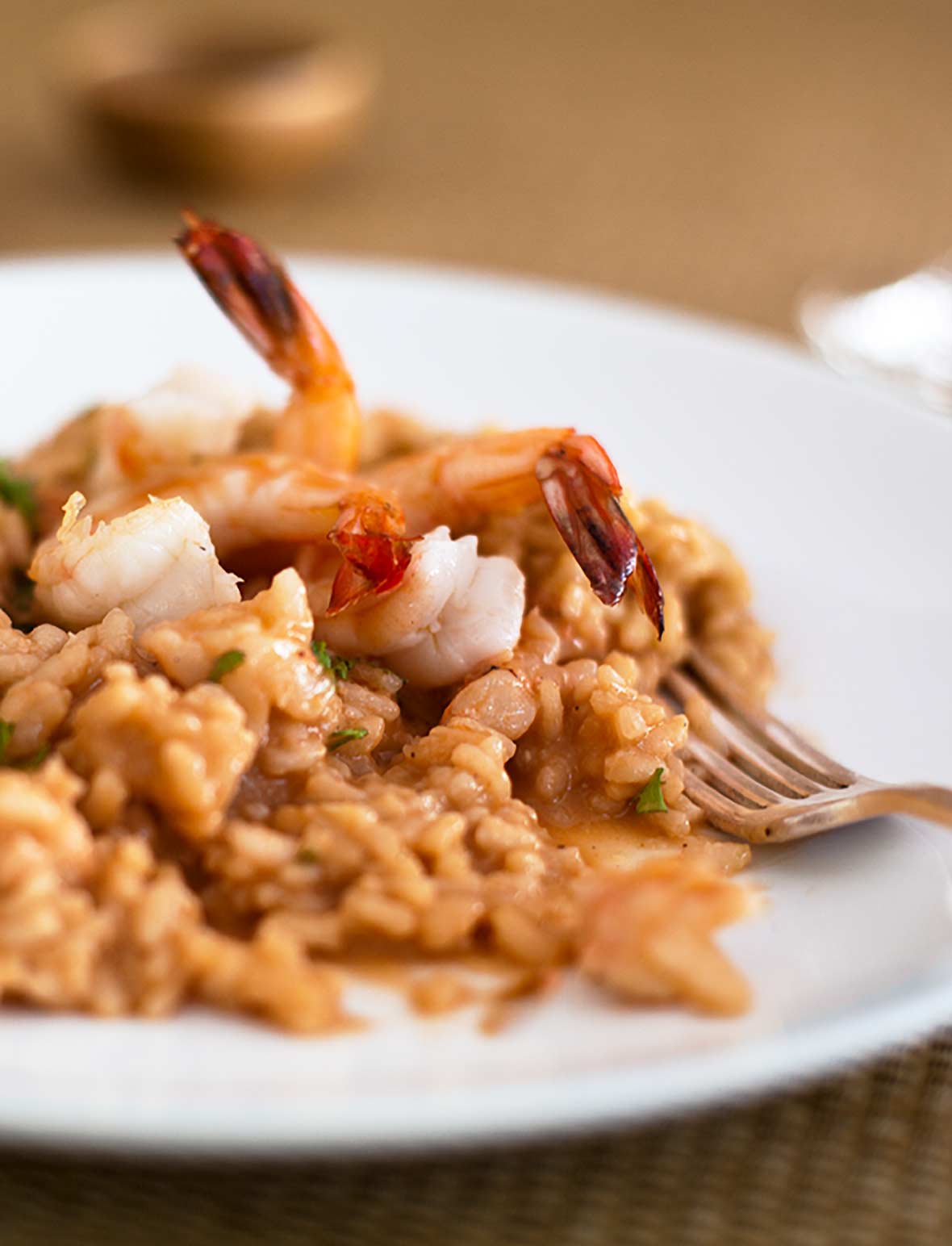 It was on the tiny artists' island of Burano, near Venice, that The One and I were served that fateful first course of shrimp risotto. Put simply, it flat-out beguiled us. I set about recreating this achingly fresh dish as soon as I returned home, and many, many pounds of rice and shellfish later, I hit upon a rendition that I believe comes close to its inspiration.
I've been making this shrimp risotto recipe for 15 years, and each time I change it a little. This last time, though, I was terribly disappointed by the lack of shrimp flavor. It was the only time I'd used supermarket shrimp instead of shrimp I'd bought from my trusted fishmonger. Coincidence? I think not. The moment I realized that the soul of this dish—the very essence of what I'd experienced in Burano—was so easily compromised, I knew that, sadly, there's just no way around it. I hated to do it, but I knew I had to buy special ingredients for this recipe. Those pasty hunchbacks of the seafood case—you know, those pathetic things that've been frozen and thawed and slashed in price—just wouldn't cut it.
Still, it took me a while to actually step up and hand over my credit card number. During my initial stage of denial, I went the frugal route and spent a pittance on shrimp base, hoping I could jack up the shrimp flavor in the recipe with a simple fix. But when mixed with water, it made a vile, salty, and nasty broth.
I then tried just about every combination of ingredients and concoctions I could think of in conjunction with supermarket shrimp. Nothing worked.
Finally, bereft of options and wanting to give you, dear reader, the full wallop of flavor I had in Italy, I purchased five pounds of individually quick frozen (IQF) head-on extra-jumbo Gulf shrimp from CajunGrocer.com. And, much to my surprise, it cost only $50 (well, not including shipping). At my local fish market, that would have easily cost more than $100. When the shipment arrived, smelling all clean and oceanic and nothing at all like those supermarket munchkins, I took out what I needed for the risotto and tossed the rest in the freezer. (There's scampi, gumbo, and potted shrimp in my future.) When cooked, the shrimp were so sweet, so buttery, I almost forgot about making the risotto. Not surprisingly, the heads and shells give the stock that same amazing flavor I'd experienced in Italy and even trump what I paid a small fortune for to my fish guy. And it was cheaper, even after I'd factored in the two-day air charge from FedEx.
And I've even done the math for you: 3 pounds head-on extra-jumbo Gulf shrimp equals 1 1/2 pounds headed, peeled and deveined shrimp, which is exactly what you need to make my shrimp risotto.
If, after hearing all this, you still feel it's against your culinary religion to special order ingredients, I understand. I do. Truly. So scroll down to the variations below the recipe for some creative solutions to get stellar risotto even when circumstances conspire to give you not-so-stellar supermarket shrimp.–David Leite
How To Make Homemade Shrimp Stock
So you want to make your own shrimp stock, but chances are you don't want to—nor can you afford to—shell pound after pound of shrimp to obtain the necessary mountain of shrimp shells required to make your own homemade stock? We get it. That's why we [Editor's Note: And by "we," we mean at least one of us editors here at Leite's] make fast friends with the guy at our local seafood market whenever we move to a new 'hood. After just a trip or two to the counter, we inquire if, perchance, there are any shrimp shells left over from the shelled shrimp sitting there so prettily on ice? Works like a charm and we usually, and gratefully, walk away with a ginormous bag of featherweight shrimp shells at no charge. A word to the wise, though. We always purchase a little something from the seafood counter—some plump sea scallops or a lovely flounder fillet—to express our appreciation. And there may be the occasion gift of, say, apple pie. Just don't count on this as a last-ditch, eleventh-hour solution, because as is the case with anything in life, timing is everything. Often seafood mongers shell the shrimp in the morning and toss the shells right away. So we call ahead as soon as the store opens and ask if they'd set the shrimp shells aside for us. But we aren't telling you where. Nope, we're not sharing. You'll just have to find your own shrimp shell source.
Shrimp Risotto
The secret to this flavorful shrimp risotto is a rich stock made from shrimp shells–plus extra-jumbo shrimp and a lot of old-fashioned stirring.
Ingredients
For the shrimp stock
2

tablespoons

mild vegetable oil

3

pounds

head-on extra-jumbo Gulf shrimp

2

small

carrots

,

peeled and diced

2

small

onions

,

peeled and diced

2

stalks

celery

,

diced

1 to 2

tablespoons

store-bought or homemade tomato paste,

(optional; the version I had in Venice used it, but the risotto won't suffer without it)

7

cups

cold water

1

bay leaf

Salt and freshly ground black pepper

,

to taste
For the shrimp risotto
1 1/2

pounds

extra-jumbo shrimp, reserved from the shrimp stock

5

tablespoons

unsalted butter

1

tablespoon

minced shallot

2

teaspoons

minced garlic

2

cups

high-quality imported risotto rice

,

such as Vialone Nano, Carnaroli, or Arborio

1/3

cup

dry white wine

Shrimp stock

4

tablespoons

chopped parsley

Salt and freshly ground pepper

,

to taste
Instructions
Make the shrimp stock
Remove the heads from the shrimp (to do this, grab right behind the gills with your index finger and thumb and twist off the body. (Here's a nifty how-to video.) Peel the shrimp and reserve the heads, the shells, and the shrimp in separate piles. (If you know yourself to be too squeamish to rip the heads off shrimp, ask someone else to do it or opt for one of the Stock Options For The Squeamish suggestions that follow this recipe.)

Heat the oil in a heavy-bottomed 8-quart stock pot or Dutch oven over medium-high heat. Add the shrimp heads and shells, carrots, onions, and celery and cook, stirring often, until the shells are orange and the vegetables have softened, about 15 minutes. (It may be necessary to reduce the heat.)

Stir in the tomato paste, if using, and mix well. Pour in the cold water and drop in the bay leaf. Bring the liquid to a boil, reduce the heat to low, cover, and simmer gently for 20 minutes.

Strain the mixture through a fine sieve (or a colander lined with several layers of cheesecloth) into a clean pot. Discard the solids. Place the pot of strained stock on the stove and bring to a bare simmer. Season the stock with salt and pepper until it tastes rich and complex. (I know, I know. You've been warned never to salt stock, but like with boiling pasta, this is the only chance you get to infuse flavor into the rice. And since you're not reducing the stock, there's little danger of over-salting it.)
Make the shrimp risotto
While the shrimp stock simmers, devein and coarsely chop the shrimp. (If you'd like to fancy up the risotto, set aside 2 whole shrimp per person as a garnish.)

Heat 2 tablespoons butter in a wide, heavy-bottomed pot over medium-high heat. When the foaming stops, toss in the shrimp, and whole shrimp if using, and sauté until light pink, 3 to 5 minutes. Scrape the shrimp into a bowl.

Return the pot to medium-high heat. Add another tablespoon butter and the shallot and cook until the shallot is translucent, about 3 minutes. Add the garlic and sauté 1 minute more. Lower the heat to medium if needed.

Dump the rice into the pot and stir until each and every grain is well-coated with the butter. Sauté the rice gently for a few moments more until it starts to turn translucent, then add the wine and stir constantly until it has evaporated.

Add the stock by the ladleful (about 1/2 cup at a time) and stir constantly–yes, constantly–until the liquid is absorbed. Repeat until all the stock is used and the rice is creamy and al dente, 25 to 35 minutes. Make sure as you stir to sweep along the entire bottom and sides of the pot to prevent the rice from sticking or scorching.

Stir in the shrimp chunks and the remaining 2 tablespoons butter and allow the shrimp to heat through. Season the risotto with salt and pepper, if you so desire, and spritz it with a little parsley. If you're the fancy schmancy sort, festoon the top of each mound of risotto with the reserved whole shrimp, placing them at a jaunty angle. Serve immediately. And accept accolades shortly thereafter.
Notes
Shrimp Risotto Variation
Supermarket Shrimp Stock
You can certainly use shells from supermarket shrimp to make the stock, but you'll need far more than those from 1 1/2 pounds shrimp to make an intensely flavored stock if you're not using shrimp heads. As you buy shell-on shrimp and peel them for prep in another recipe, stockpile the shells in the freezer. Keep doing this until you have more than you think you'll ever possibly use. (Be sure to keep a running tally of how many pounds of shrimp you've shelled, whether you do so on the resealable plastic bag or somewhere in your kitchen. Shells from about 5 pounds of shrimp is a good start, although shells from 10ish pounds of shrimp is even better. ) Proceed with the stock recipe above, keeping all other amounts exactly as they are. Don't increase the amount of water.
Quick-Start Shrimp Stock
Impatient? Not willing to (forgive me) shell out money to buy Gulf shrimp online? I get it. (I wasn't, either. At first.) There is a quick-start stock you can make with the shells from 1 1/2 pounds of shrimp by jacking it up with clam juice. Make the stock using only 4 cups water. Once it's finished, have a taste. Chances are it'll be somewhat lackluster. Add a combination of water and clam juice until you have 7 cups of stock that has a distinctive shellfish flavor. Don't salt the resulting risotto. The clam juice is plenty briny.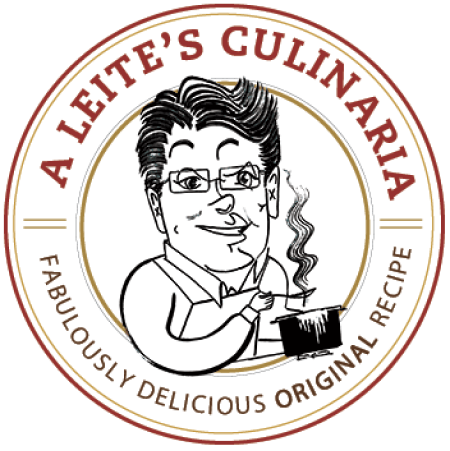 Nutrition
Serving:
1
portion
Calories:
572
kcal
Carbohydrates:
83
g
Protein:
15
g
Fat:
17
g
Saturated Fat:
10
g
Polyunsaturated Fat:
2
g
Monounsaturated Fat:
4
g
Trans Fat:
1
g
Cholesterol:
38
mg
Sodium:
1324
mg
Potassium:
487
mg
Fiber:
3
g
Sugar:
1
g
Vitamin A:
791
IU
Vitamin C:
6
mg
Calcium:
142
mg
Iron:
5
mg
Nutrition information is automatically calculated, so should only be used as an approximation.
Recipe © 2013 David Leite. Photo © 2013 David Leite. All rights reserved.
---
Recipe Testers' Reviews
This is a simple risotto that comes together in the standard way. Note that the risotto is not enriched with huge amounts of butter, and there is no cheese present. This is food purity here. Good ingredients, simple recipe, delicious meal.
What I love about this recipe is that it's all about the shrimp stock. I wouldn't dream of using anything but a homemade shrimp stock here, because the stock is the star, and this recipe lets it shine. I'm a big fan of a good homemade stock, and shrimp stock more than any other. There are a number of ways to go about making it, including the directions here. I eat quite a lot of shrimp, which I always buy shell-on and, usually, head-on. If I'm not making stock right away, I stash the shells and heads in my freezer so I always have a large supply when I need some shrimp stock. Also, once made, shrimp stock freezes beautifully, so I always make extra. I freeze some in pints and some in ice cube trays for when I only need a couple tablespoons. (I remove them from the trays once frozen and keep them in a resealable plastic bag). The great thing about shrimp stock is that it comes together much faster than stocks made from poultry, beef, lamb, pork, etc. The formula given here will give you a great stock (I don't use the tomato paste, though). You can mix the ingredients up a bit depending upon what you have on hand, but don't overdo the carrot. Always use some onion and celery. A bay leaf is nice, and you can also use a sprig of parsley, chervil, or lovage. Stay away from stronger herbs like rosemary, thyme, or oregano.