The heat of the Vietnamese beef and the scent of lemongrass on cool rice noodles and crunchy bean sprouts is a great example of the balance of hot and cold. I love that I can taste the flavor of the wok flame on the beef.–Pauline Nguyen
LC Cheat Sheet Note
This Vietnamese beef classic, a summery salad of sorts, is a jumble of tastes and textures and temperatures that jolt the senses in the best possible way. Sirloin marinated in lemongrass and fish sauce lends the recipe a wonderful lilt, though we've sometimes dispensed with that and instead tossed thinly sliced leftover steak in a skillet until it's sizzling, then tossed that with the cooling rice noodles, cucumber, bean sprouts, and scallions, and been quite pleased.
Here's a step-by-step approach to making the assembly of this recipe go lickety split:
First get the water going for the rice noodles.
Chop and tear and slice and toast everything you need for vermicelli salad, the dipping sauce, and the marinade for the Vietnamese beef.
Toss the rice noodles in the water to soften.
Finish your chopping and tearing and so forth.
Stir together the dipping sauce and marinade.
Take a moment to pour yourself a beer and nosh on a handful of peanuts.
Assemble the vermicelli salad, toast the peanuts, wok-toss the marinated beef, and put it all together.
Grab your fork or chopsticks.
Vietnamese Beef and Rice Noodle Salad
Quick Glance
30 M
30 M

Serves 6
Print Recipe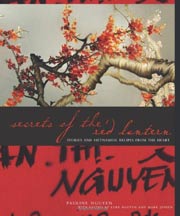 Ingredients
For the rice noodle salad

8 ounces rice vermicelli

2 handfuls bean sprouts

1 small cucumber (about 6 inches long), thinly sliced then cut into matchsticks

1 handful mint leaves, torn

2 scallions, thinly sliced on the diagonal

1 cup firmly packed sliced iceberg lettuce

1/4 cup chopped roasted peanuts, plus more for garnish

For the dipping sauce

3 tablespoons fish sauce

3 tablespoons rice vinegar

1/2 cup water

2 tablespoons sugar

2 cloves garlic

1 bird's eye chili (or other long, skinny, red chili pepper, such as serrano)

2 tablespoons fresh lime juice (from 1 to 2 limes)

For the Vietnamese beef

1 pound sirloin

3 slender lemongrass stems, inner white parts only, finely chopped

2 tablespoons fish sauce

2 cloves garlic, peeled and crushed

2 tablespoons vegetable oil

1 small white or red onion, thinly sliced

2 teaspoons sugar

Pinch salt

Pinch finely ground white pepper
Directions
Make the rice noodle salad

1. Cook the vermicelli in a large saucepan of boiling water for 5 minutes. Turn off the heat and allow the noodles to stand in the water for 5 more minutes. Dump into a colander and rinse under cold water, then cover with a damp towel and set aside at room temperature.

2. Divide the rice noodles among 4 serving bowls or plates. In a large bowl, toss the bean sprouts, cucumber, mint, scallions, and lettuce, and place on top of the vermicelli.

3. In a dry wok over medium heat, stir-fry or shake the peanuts just until aromatic, warm, and a soft brown color. Crush the peanuts in a mortar until coarsely ground. Sprinkle over the rice noodle mixture.

Make the dipping sauce

4. Stir together the fish sauce, rice vinegar, water, and sugar in a saucepan and place over medium heat until just before boiling. Let cool.

5. Add the garlic, chile, and lime juice to the dipping sauce.

Wok-fry the vietnamese beef

6. Slice the beef into 1/16 inch strips and combine in a bowl with 2 tablespoons of the chopped lemongrass, the fish sauce, and half the garlic. Set aside for 10 minutes.

7. Heat the oil in a wok or large skillet over medium heat. Working in two batches, stir-fry the onion, remaining lemongrass, and remaining garlic just until fragrant, 1 to 2 minutes. Increase the heat to high, add the beef, and stir-fry for 2 minutes. Transfer to a plate. Repeat with the remaining onion, lemongrass, garlic, and beef. Return the first batch of beef to the wok, season with the sugar, salt, and pepper, and stir-fry to heat through.

8. Serve the beef on top of the rice noodle salad and sprinkle with the remaining peanuts. Pass the dipping sauce on the side and use it to dip or drizzle.
Recipe Testers Reviews

Delicious, tastes just like it came from a Vietnamese restaurant. It requires a lot of prep work but once everything is ready the dish comes together very quickly. The combination of cool noodles and vegetables with spicy dipping fish sauce is perfect for hot weather. The flavor of the beef was also great with lemongrass and onions.

This does require a lot of prep work of various ingredients but it is totally worth it. The sauce that you pour over the dish is really simple to make and completes the overall dish. The layers of flavor are amazing and totally made my day! Next time, I would cut the amount of noodles in half. I had a tremendous amount of leftover noodles but all the other ingredients were just enough to serve four.

The flavors were great in this dish. I will definitely make it again. It took a lot of prep work, but then went together quickly once I started cooking. One warning: I didn't chop the lemongrass finely enough, or maybe I used too much of the green portion, so that was kind of unpleasant.
Vietnamese Beef and Rice Noodle Salad Recipe © 2007 Pauline Nguyen. Photo © 2007 Alan Benson. All rights reserved. All materials used with permission.
If you make this recipe, snap a photo and hashtag it #LeitesCulinaria. We'd love to see your creations on Instagram, Facebook, and Twitter.