This caramel apples recipe makes a nice, thick caramel coating that hardens to just the right toothsome consistency that's firm but yielding. These are irresistible in the fall, especially when made with a tart variety of apple like Granny Smith or a tart-sweet variety like Pink Lady or McIntosh. If you find that you've candied too many apples, you can cut them up, sauté them very quickly, and serve them over ice cream, French toast, or over bread pudding as we do at the bakery.–Elisabeth Prueitt and Chad Robertson
LC Handsome Handles Note
For decades now, plain old popsicle sticks have done a pretty decent job of maneuvering caramel-cloaked apple goodness from baking sheet to anxiously awaiting lips. Although if you're taken with aesthetics and prefer something that does more than just squeaks by for practicality's sake, gather some actual sticks–yes, as in twigs. Just be sure not to pick them up from a compost pile or other unsavory source. Then rinse and pat them dry, grab a pocket or paring knife and hew one end to a not-too-sharp point, then insert them in the stem end of the apples. Lovely, yes? It's up to your discretion as to whether your audience needs a reminder not to lick or nibble the twig.
Special Equipment: 10 to 12 lollipop or popsicle sticks
Caramel Apples
Quick Glance
30 M
30 M

Makes 10 to 12
Print Recipe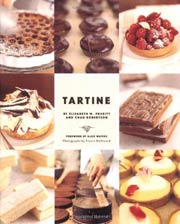 Ingredients
10 to 12 medium apples, preferably with some tartness, such as Granny Smith, Pink Lady, McIntosh, or whatever is at your greenmarket

1 cup sugar

1/2 cup unsalted butter

1/3 cup heavy cream

1/4 cup light corn syrup

2 tablespoons maple syrup

1 tablespoon blackstrap or other dark molasses

1/4 teaspoon vanilla extract

A pinch of salt
Directions
1. To make the caramel apples, line a baking sheet with aluminum foil or parchment paper. Butter the foil or paper lightly or line it with a nonstick liner. Insert a stick into each apple at the stem end. (I use the bottom of a heavy mug to "hammer" in the sticks, but be careful not to drive the handle all the way through the apple.) Set aside.

2. In a deep, heavy saucepan over medium-high heat, combine the sugar, butter, cream, corn syrup, maple syrup, molasses, vanilla, and salt. Stir gently with a wooden spoon from time to time to make sure no sugar is sticking to the bottom of the pan. Bring to a boil and cook until the mixture registers 236° F (113°C) on a thermometer, 5 to 7 minutes.

3. Remove the pan from the heat and let the caramel cool to 180°F (82°C). Working with one apple at a time, dip it into the hot caramel, let the excess drip off the bottom of the apple, and then set it on the prepared baking sheet. If the caramel slides off the first apple, let the rest of the caramel in the pan cool for a minute or so and try again. The caramel should cling to the apple. You may need to tilt the pan to dip the last few apples. (To free your hands, place a wooden spoon under one side of the pan.)

4. Let the caramel apples cool completely to set up. The apples will keep, uncovered, in the refrigerator for up to 3 days. (But who are we kidding? They'll never last that long.)
Caramel Apples Recipe © 2006 Elisabeth Prueitt | Chad Robertson. Photo © 2006 France Ruffenach. All rights reserved.
If you make this recipe, snap a photo and hashtag it #LeitesCulinaria. We'd love to see your creations on Instagram, Facebook, and Twitter.