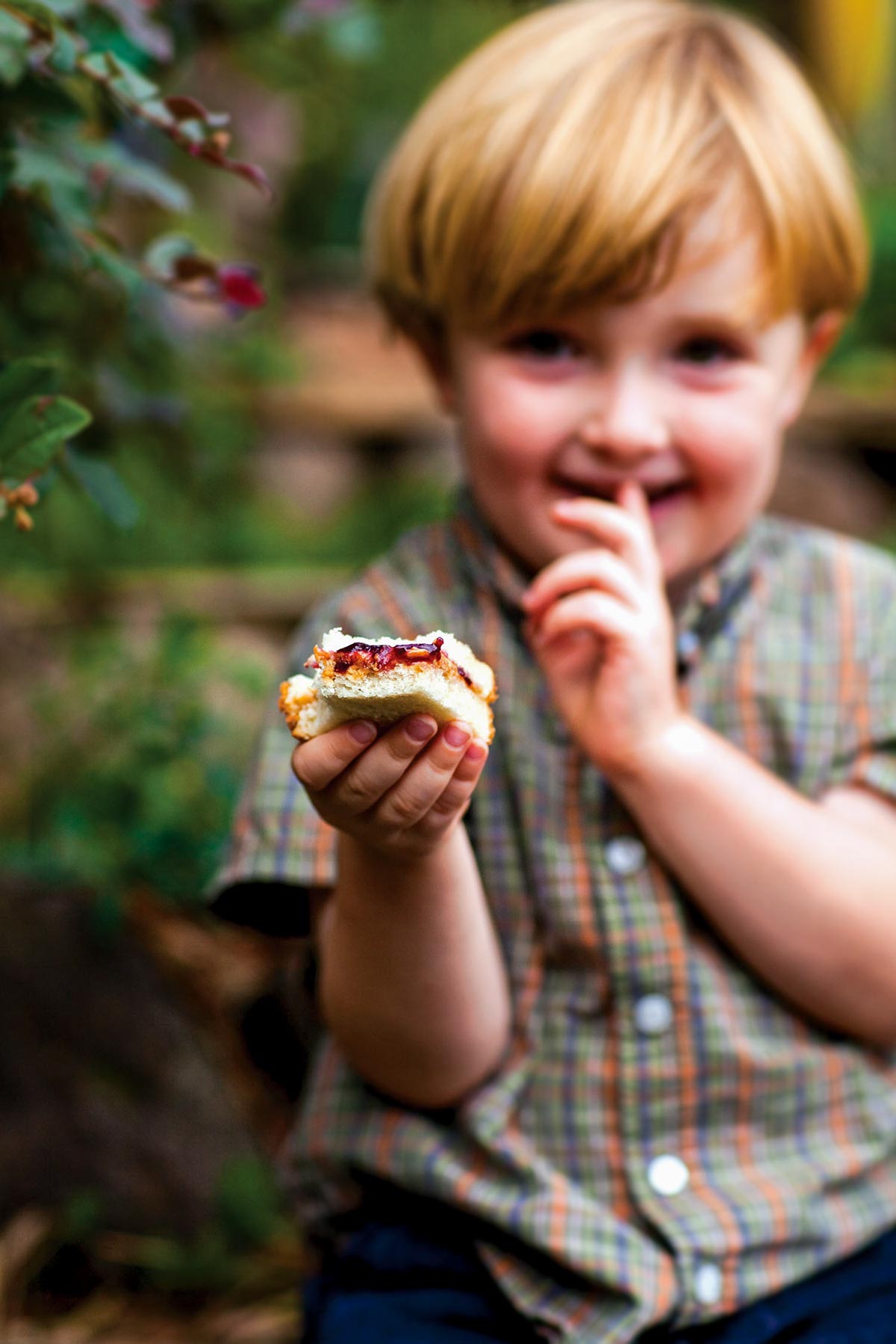 We can think of no more compelling reason to invest time and effort into making one's own Concord grape jam than that cherubic little face and those pudgy hands proffering the PB&J in the photo above. That said, we find the intense, not overly cloying, truly grape jammy flavor of these preserves sufficiently convincing on its own. They're so incredibly perfect and no comparison to the store-bought stuff.–David Leite
Concord Grape Jam
This concord grape jam–nothing but concord grapes, sugar, and citrus juice–is the best and easy to make and creates nothing but smiles. So simple. So much more satisfying than store-bought.
Ingredients
4

pounds

Concord grapes

,

stemmed

2 1/2

pounds

granulated sugar

3

ounces (6 tablespoons)

fresh lemon juice

,

strained

Very finely grated zest of 1/2 an orange

,

orange part only, not the underlying bitter white pith

1/2

ounce (1 tablespoon)

fresh orange juice

,

strained
Instructions
Place a saucer with 5 metal teaspoons in your freezer for testing the jam later.

Working directly over a small nonreactive saucepan, use your fingers to gently squeeze the flesh from each grape, being careful to catch all the grape insides and juices in the pan. Set the skins aside in a large bowl.

☞ TESTER TIP: When squeezing the grapes, try to keep the stem end pointing down towards the inside of the pot. The skins will slip off more easily and the juices won't splash quite as much.

Bring the grape insides and juices to a simmer over medium heat, cover, and cook until soft, 3 to 5 minutes. Immediately force as much of the pulp as possible through a fine-mesh strainer or chinois placed over the bowl of grape skins. Discard the seeds.

Add the sieved grape pulp, sugar, lemon juice, orange zest, and orange juice to the grape skins, stirring well. Transfer the mixture to an 11- or 12-quart copper preserving pan or a wide nonreactive pot. Bring to a boil over high heat.

Continue to cook the jam, stirring very frequently with a heatproof rubber spatula. If the jam starts sticking, lower the heat slightly. When the jam is done, it will acquire a glossier sheen and will have a thicker, more luxurious look than it did initially, usually after 20 to 30 minutes.

Test it for doneness after 20 minutes of cooking. To test, remove the jam from the heat and carefully transfer a small half-spoonful to one of your frozen spoons. Place the spoon in the freezer for 3 to 4 minutes, then remove and carefully feel the underside of the spoon. It should be neither warm nor cold; if still warm, return it to the freezer for a moment. Tilt the spoon vertically to see how quickly the jam runs; if it's reluctant to run, and if it has thickened to a spreadable consistency, it is done. If it runs quickly, cook the jam for another minute or two, stirring, and test again. Repeat as needed.

When the jam is ready, skim any white foam from its surface with a stainless-steel spoon. Pour the jam into sterilized jars and process according to the manufacturer's instructions. Stash at room temperature for up to several months.
Nutrition
Serving:
2
tablespoons
Calories:
118
kcal
Carbohydrates:
31
g
Protein:
0.3
g
Fat:
0.1
g
Saturated Fat:
0.02
g
Polyunsaturated Fat:
0.02
g
Monounsaturated Fat:
0.003
g
Sodium:
1
mg
Potassium:
75
mg
Fiber:
0.3
g
Sugar:
30
g
Vitamin A:
26
IU
Vitamin C:
2
mg
Calcium:
4
mg
Iron:
0.2
mg
Nutrition information is automatically calculated, so should only be used as an approximation.
Recipe © 2010 Rachel Saunders. Photo © 2010 Sara Remington. All rights reserved.
---
Recipe Testers' Reviews
Even while this Concord grape jam was still boiling, I could not stop licking the spoon. The end result? Ahhhh… delicious.
Mind you, I'm more of a marmalade or good honey type of person, so I was really looking forward to seeing the reaction of all other family members. And everyone's verdict was unanimous, from the 3-year-old toddler who had 3 slices of bread with the jam to the teens who decided to forego the bread to my husband, who's expression was "WOW! This tastes like the one we buy at the farmer's markets but even better."
It's not overly sweet and has a nice, light, citrus taste. Be prepared to tire yourself from squeezing grape by grape. Actually, find a friend, partner, or kid to help you out as time will fly faster this way. I did notice that while squeezing if you try to keep the end that was attached to the vine down towards the inside of the pot, they will come out easier and the juices will not splash as much all over the place.
The rest of the execution is pretty easy and straightforward. It did take about 40 minutes though to reach the correct thickness, but that could be due to the fact that the Concord grapes I got this time were extremely juicy, so there may have been more liquid than usual. The spoon trick is perfect. I filled 5 eight-ounce jars.
I believe I will be doing this all over again and gift wrapping them nicely as Christmas presents!
This Concord grape jam is full-flavored, rich, aromatic, thick, and nicely textured, with a regal luxurious look in the pan and in the jar. The hint of citrus is a pleasant addition. The taste brought back memories of my mother's and my grandmother's Concord grape jam and Concord grape wine. Toss in a little memory of Mogen David wine as well! And what's most wonderful is to fall in love with grape jam all over again! This is nothing like the ubiquitous little tasteless packets of grape jelly in diners or even Welch's grape jelly.
The first challenge—finding Concord grapes—was surprisingly easy! I called Whole Foods and they had them. So did my local produce market, and so did my local Jewel (part of Albertsons). However, when I asked at my produce market about how long these grapes would be in season, I was told it's a short season this year. If you miss the season this year, mark this recipe for next fall!
The next part, squeezing out the flesh from the skins, was fun and surprisingly easy: they popped right out! When my pot was boiling, I did need to turn it down a couple of times—just slightly each time. When I tested at the 20-minute mark, I left the pot boiling, and the jam tested done. Next time, I'll either start testing at 15 minutes, or turn the heat off while performing the doneness test: it got a little beyond an easily spreadable consistency. My batch yielded no white foam needing to be skimmed off from the surface.
For holiday gift-giving, this recipe could easily be multiplied out to double or beyond, or, for quick home use, it could also be halved. It's quick and easy enough to make a special batch for breakfast or brunch!