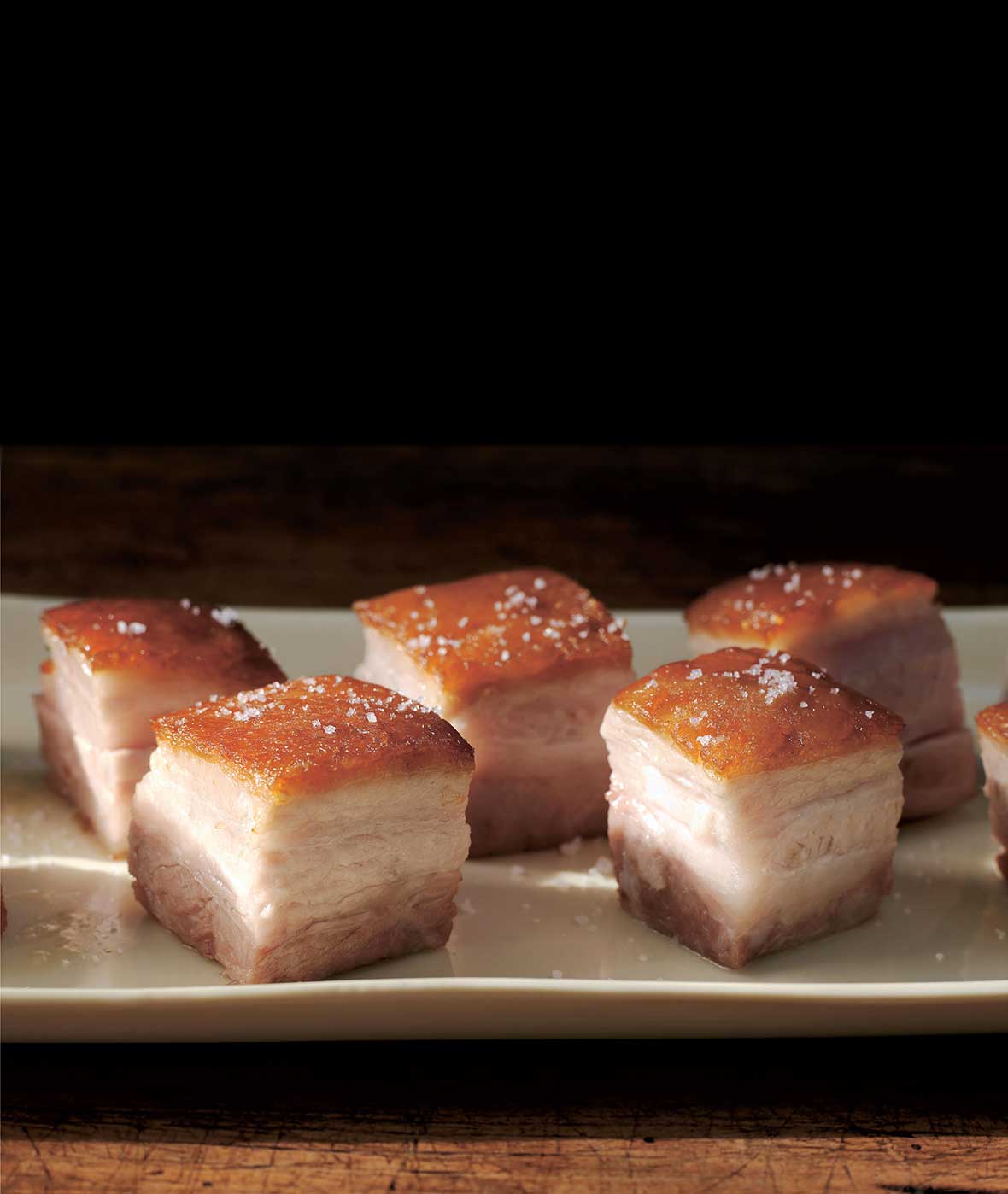 All hail, pork belly, nature's striated masterpiece of fat and lean, the succulent essence of pig.
On the plate, pork belly appears in countless guises. The lattice paving atop a Cantonese dish of braised bitter greens. The hickory-burnished slabs wheeled out of a Kentucky smokehouse. The crisp nuggets strewn over a frisée salad. The fork-soft slabs you fished out of your last choucroute. In Los Angeles, some Korean restaurants serve practically nothing but the belly sliced thin, grilled atop charcoal braziers set into the tables, and served with a swipe of sesame oil and a sprinkle of salt. When I organized a food event last spring with 40 of my favorite chefs cooking to support an environmental organization, nearly half of them served pork belly of one kind or another, and Octavio Becerra's pork-belly banh mi was one of the best things I've ever tasted. Commodity-exchange comedians don't make jokes about pork belly futures any more.
Pork belly contains within itself both the potential for juice-spurting transgression and the wholesomeness of Sunday-morning breakfast, the more lewd pleasures of screaming excess and the quiet satisfaction that comes with making something delicious out of something inexpensive (or what was once inexpensive and is now merely affordable). Last year after I ordered half a plum-fed pork belly from Heritage Foods USA, I stayed up through the night pondering what I might do with the splendid piece of meat—smoke it or braise it, dry-rub it with fennel pollen and rosemary or cumin and mortar-ground chile pequin, invite the neighbors or hoard it for my family. I ended up slow-roasting it and serving it with a Santa Rosa plum compote to friends.
Now that pork belly has passed its peak of media saturation and fashionable chefs have moved on to ears, feet, and eyeballs, it may be time for the rest of us to explore its more subtle but no less luxurious qualities, its tendency to forgive even the longest braises, its crackling surface that melts away to almost nothing, something even the most trepidatious home cook can tease out. Let us celebrate the belly's divinely piggy meatiness. Its utter adaptability to flavors Thai or French, Japanese or Czech. Its three-star kitchen results without the three-star kitchen.–Jonathan Gold
What Exactly Is Pork Belly?
Pork belly is a boneless cut of fatty meat from the belly of a pig and is considered a delicacy in many cultures. In Ameria, bacon and salt pork (which is used often in soups, stews, and chowders) are the most common ingredients made from pork belly. In Italy, it's made into pancetta. In Alsace, it's part of choucroute garnie, and in many Latin countries it's deep-fried and served as chicharrón–called torresmos in Portugal.
Pork Belly Confit
Quick Glance
45 M
1 D, 16 H

Serves 6 as an appetizer
Special Equipment: Deep-fry or candy thermometer
Ingredients
Email Grocery List
For the brine

1/4 cup plus 2 tablespoons honey

12 bay leaves

3 large rosemary sprigs

1/2 bunch thyme

1/2 bunch flat-leaf parsley

1/2 cup garlic cloves, crushed, papery skin left on

2 tablespoons black peppercorns

1 cup (5 ounces) kosher salt

8 cups water

For the confit

1 batch pork brine

One 2 1/2-pound slab pork belly

About 6 cups (3 pounds) lard, at room temperature

For the assembly

Canola oil

Coarse sea salt
Directions
Make the brine

1. Combine all of the ingredients in a large pot, cover, and bring to a boil. Heat for 1 minute, stirring to dissolve the salt, then remove from the heat and let cool completely. Cover and refrigerate for at least 8 hours and up to 3 days.

2. Pour the brine into a container large enough to hold the pork. Add the pork, cover, and refrigerate for 10 hours (but no longer as the pork may become salty).

Make the confit

3. Remove the pork from the brine, discarding the liquid. Rinse the pork under cold water and pat it dry with paper towels or let it air dry.

4. Preheat the oven to 200°F (93°C). Reach for an ovenproof pot that's only slightly larger than the porkand has a lid, such as a 12-quart Dutch oven. Place the pork in the pot and add enough lard to cover it by 1/2 to 3/4 inch. Attach a thermometer to the side of the pot.

5. Place the pot over low heat until the lard registers 190°F (87°C). Cover the pot, transfer it to the oven, and heat until the pork is meltingly tender. This will probably take 5 1/2 to 6 hours, but start checking after 4 hours. (As the fat in the pork melts, the piece of pork will shrink, so it's best to transfer the pork and enough lard to cover it to a smaller pot about midway through cooking.)

6. Remove the pot from the oven and let the pork cool to room temperature. The pork can be refrigerated as-is, enveloped by lard in the pot, for up to 1 week. (We prefer to first gently press the confit to compress the internal layers and force out some of the excess fat. This results in a better texture and appearance. To press the confit, transfer it to a baking dish and pour just enough lard into the dish to barely cover it. Cover the belly loosely with plastic wrap, place a smaller baking dish on top of it and weight it with a brick, a large can, a cast-iron skillet, or something of similar weight. Refrigerate for at least 12 hours. Cover and refrigerate the reserved lard. After it's been pressed, the pork can be covered with some of the reserved lard and refrigerated for up to 1 week.)

Serve the confit

7. Remove the pot from the refrigerator and let it sit in a warm spot for 2 to 3 hours. You want the lard to soften enough so you can scrape it from the pork, yet you want the pork to remain as cold as possible so it will be relatively easy to slice.

8. Remove the pork from the pot and wipe off any lard that clings to the meat. (The lard can be reused to confit additional pork as long as it doesn't taste too salty. To reserve the lard, pour it into a pot and heat gently to liquefy, then strain through a fine-mesh conical strainer into a storage container. Refrigerate for up to 2 months or freeze for up to 6 months.)

9. Using a sharp knife, remove the skin from the pork. Score the fat on the pork belly in a crosshatch pattern. Slice the pork or cut it into squares (actually, the belly can be cut into any shape) and let it rest at room temperature for 20 to 30 minutes.

10. Preheat the oven to 350°F (175°C).

11. Heat some canola oil in a large ovenproof skillet over medium-high heat just until smoking. Place the pieces of confited pork, fat-side-down, in the skillet, being careful not to crowd the pan. (You may need to work in batches.) Immediately reduce the heat to medium-low and cook until the excess fat is rendered and the fatty side is browned, about 18 minutes. You will need to pour off any excess fat about halfway through cooking. When the pork is browned, transfer the skillet to the oven until the belly is heated through, about 10 minutes. Remove from the oven, sprinkle with the salt, and serve.
Pork Belly Confit Recipe © 2009 Thomas Keller. Photo © 2009 Deborah Jones. All rights reserved. All materials used with permission.
If you make this recipe, snap a photo and hashtag it #LeitesCulinaria. We'd love to see your creations on Instagram, Facebook, and Twitter.