What do John D. Rockefeller, John F. Kennedy, Brigitte Bardot, and I have in common–besides enormous sex appeal and outsized egos? We all have something named after us: a building, an airport (et al), a ship, and (drumroll, please) a cocktail, respectively.
To kick off our very first LC get-together, held in Charleston, SC, and hence given the code name "Gritsapalooza," hosts Clayton and Beth Price had a drink specially made for the occasion–and for me. They christened it the Fatty Daddy Cocktail. I was flattered and honored. After all, ever since my dreams of having my high school renamed David Leite High School for Extraordinarily Talented Children, Just Like Its Namesake never materialized, I thought I'd never be immortalized.
And then along came the Fatty Daddy Cocktail.
Once the drink was flowing freely–Clayton has a heavy hand and big retro coupe Champagne glasses–I asked Beth how they came up with the drink, which draws on bourbon, port, bacon-infused maple syrup (that part always makes me go weak in the knees), and Amarena cherries. Turns out they had a little help from one of their favorite bartenders down in Grand Cayman. But Beth was largely the genius behind it.
"Well, the bacon maple bourbon syrup is the 'fatty' part. You're Portuguese, so port was a no-brainer. And bourbon is the basis for a Manhattan, and you live there," explained Beth, patient and polite, as always.
"What about the cherries?" I asked.
She rolled her eyes as if I'd asked the most obvious of questions. "Because you're sweet." [Editor's Note: Well played, Beth. Well played.]
So popular was the drink among our crew of staff and recipe testers that many guests had their hands perpetually stuck out for refills, including The One, who rarely strays from wine or Champagne. Having a reputation as a lightweight imbiber, I limited myself to just two Fatty Daddy Cocktails because 1. I needed to not slur my words [Editor's Note: No comment]; 2. My position as LC's publisher required that I remain upright for the duration of the cocktail party; and 3. If I let loose, I very likely would've been found sitting naked in the Prices' koi pond out back, singing "My Heart Will Go On" from Titanic.
Even the press wanted to get in on the action. Kathleen Purvis, food writer and food editor of The Charlotte Observer, dug into her purse for a pad and pen as she announced to The One that she was going to find out the recipe and write all about it in her paper. With characteristic aplomb, he turned to her and said, "Ooooooooh, no you don't. Not until David writes about it first." Purvis, you have my blessing. Write away.
And now you can drink away. The Fatty Daddy is fast becoming la boisson de la maison chez nous. Here's hoping it does at you'res house, two! (Damn it, I've got to stop tinking these while typing. Thr keys jeep noving.)

Fatty Daddy Cocktail
The inspiration for the Fatty Daddy was the classic Manhattan cocktail, with some minor modifications. Carlos Alvarez, the bartender at Ortanique at Camana Bay in Grand Cayman and the genius who created this little number, says, "I've always loved the deep ruby color of the Manhattan, and in the right glass, it makes for a sexy cocktail." Hence the retro coupe. As for the Amarena cherries, they're the current darling of bartenders everywhere. Understandably so. The Amarena is a sour Italian cherry, typically found bottled in a sweet syrup. Don't you even dare think of substituting maraschino cherries. (Do you hear me?)
As for the inspiration behind the bacon-and-bourbon-infused maple syrup (is it just me or did your knees go wobbly, too, upon reading that?), that comes from Ortanique's brunch menu. Alvarez says you could scale down the amount that you make, but really, why would you want to do such a thing when the extra syrup is sooo lovely drizzled over pancakes, waffles, French toast, corn bread, and, well, I can go on…–Carlos Alvarez
LC Amorous For Amarena Cherries Note
One taste of Amarena cherries—sweetly sour, darkly colored, intensely flavored Amarena cherries—and we think you'll be feeling amorous for them, too. Especially when they're perched atop a retro Champagne coupe, which, according to the editors of Town & Country, has been "spotted recently everywhere, from sovereign luncheon toasts in Prague to fashion events in New York." Their conclusion? "The coupe is enjoying a comeback."
Fatty Daddy Cocktail
The David Leite cocktail recipe, made from bourbon, bacon, maple syrup, port, and Amarena cherries, is also known as The Fatty Daddy. Guess why.
Ingredients
For the Bacon Maple Bourbon Syrup
1

pound

bacon

,

diced

12

ounces

bourbon

,

preferably Jim Beam

3

cups

maple syrup
For the Fatty Daddy Cocktail
2

ounces

bourbon

,

preferably Woodford Reserve

3/4

ounce

ruby port

,

preferably Dow's

1/2

ounce

Bacon Maple Bourbon Syrup

3

drops

Amarena cherry syrup

,

from a jar of Amarena cherries or to taste, plus 2 Amarena cherries for garnish

Ice

2

Amarena cherries
Instructions
Make the Bacon Maple Bourbon Syrup
Cook the bacon in a large skillet over medium heat until golden brown. Carefully pour in the bourbon and cook for a minute or so, stirring and scraping the bottom of the skillet to release those marvelous porky stuck-on bits. Drizzle in the maple syrup and stir. Increase the heat to medium-high just until bubbles appear across most of the surface. Then reduce the heat to low and gently simmer, stirring occasionally, for 20 minutes. Remove the skillet from the heat and let the mixture cool for a bit. Transfer the mixture to a container, cover, and refrigerate overnight. (The wait is intolerable, yet wait you must.)

The next day, scrape the fat from the surface of the mixture. Pour the syrup through cheesecloth, discarding the solids—or, heh, nibbling them. Use the syrup immediately or cover and refrigerate it for up to a week.
Make the Fatty Daddy Cocktail
Pour the bourbon, port, Bacon Maple Bourbon Syrup, and Amarena cherry syrup into a mixing glass and fill with ice. Gently stir the contents with a bar spoon. Strain the elixir into a coupe glass and garnish with 2 Amarena cherries, skewered if desired.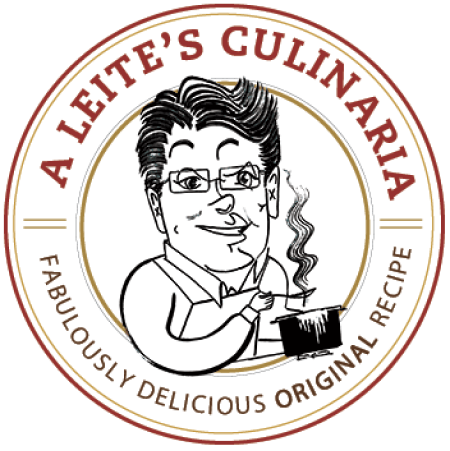 Nutrition
Serving:
1
serving
Calories:
468
kcal
Carbohydrates:
44
g
Protein:
8
g
Fat:
8
g
Saturated Fat:
3
g
Polyunsaturated Fat:
1
g
Monounsaturated Fat:
4
g
Trans Fat:
0.03
g
Cholesterol:
22
mg
Sodium:
388
mg
Potassium:
243
mg
Fiber:
0.1
g
Sugar:
37
g
Vitamin A:
8
IU
Calcium:
57
mg
Iron:
0.4
mg
Nutrition information is automatically calculated, so should only be used as an approximation.
Photo © 2013 David Leite. All rights reserved.
---
Recipe Testers' Reviews
I'm not sure which I loved more—the sublime cocktail with the Amarena cherry teaser or the lovely bits of maple-soaked bacon that I saved and strewed over pancakes.
Originally published March 17, 2013