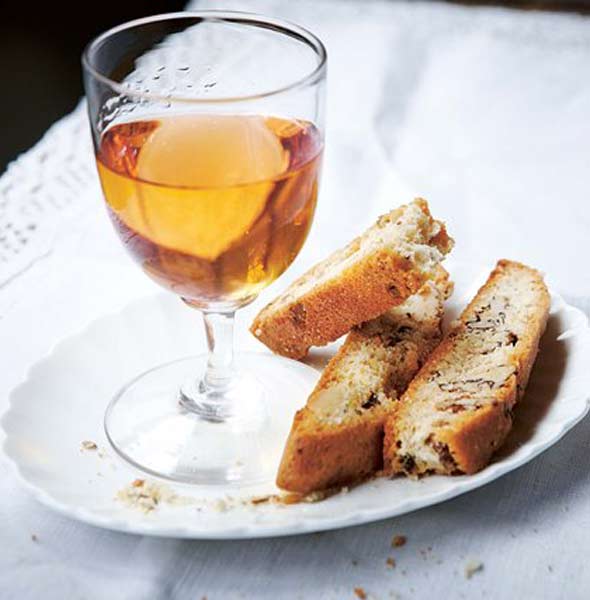 Vin santo is Italian for "sainted wine." It has its origins in the Catholic church, where it was once given at mass. It's made mostly in Tuscany from indigenous Trebbiano and Malvasia grapes and is invariably very sweet. It's occasionally served at the end of a meal as a digestive, but much more commonly offered with biscotti so that you can dunk your sweet biscuits in the wine. I imagine that a good part of this little dessert's appeal is the dunking ritual involved—and the religious undertones of receiving such a naughty Eucharist.–Russell Norman
LC Biscotti By Any Other Name Note
Everyone knows what biscotti are. But not everyone is aware of the fact that biscotti also go by another name, cantuccini, which translates quite aptly as "coffee bread." Makes sense, given that biscotti are commonly dunked in something caffeinated to soften them slightly. While we find this ritual to be quite civilized, we actually vastly prefer dunking twice-baked cookies in something inebriating, as this recipe commands. See, these biscotti are a touch spare in terms of sweetness, but that's only because they're intended to be dunked in something not just boozy but something slightly sweet, such as the traditional vin santo or a tawny port. How do you say "adults only" in Italian?
Biscotti & Vin Santo
Quick Glance
25 M
1 H, 15 M

Makes 60 biscotti
Print Recipe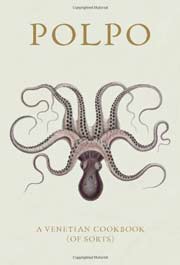 Ingredients
3 medium egg whites

3 medium eggs

2 cups superfine sugar (or just blitz granulated sugar in a blender until finely ground but not powdery)

Seeds from 2 vanilla pods

2 teaspoons sesame seeds

1 teaspoon fennel seeds

21 ounces Italian 00 flour (roughly 4 1/4 to 4 3/4 cups, though we strongly recommend you weigh the flour; do not substitute all-purpose flour)

4 1/2 teaspoons baking powder

1 1/2 cups sunflower or canola oil, plus more for the baking sheet

1 pound mixed walnuts, almonds, and pistachios, roughly chopped

Excellent vin santo or other sweet wine
Directions
1. In a large bowl with a wooden spoon, beat together the egg whites, whole eggs, sugar, and all the seeds—vanilla, sesame, and fennel. Make sure everything is nicely combined. Slowly add the flour, baking powder, and oil and continue to combine with your spoon. Add the chopped nuts and mix thoroughly. Cover and place in the fridge overnight to stiffen.

2. The next day, preheat the oven to 400ºF (200°C). Oil a baking sheet and line it with parchment paper.

3. Divide the biscotti dough in half and situate each portion on the parchment in a mound similar to a long, squat loaf of bread in a rectangle approximately 12 by 6 by 1 1/2 to 2 inches. Bake for 30 minutes.

4. Remove the baking sheet from the oven and let it rest until it's cool enough to handle. Meanwhile, turn the oven down to 275ºF (140°C).

5. When the big biscotti loaves are cool enough to touch, slice each loaf into 1/3-inch-thick slices. Lay the slices flat on a wire rack and return to the oven for 15 to 20 minutes, or until the biscuits are completely dried out. (The biscotti will last for weeks if stored in an airtight container.)

6. To serve, place 2 biscotti alongside a chilled glass of Vin Santo.
Biscotti & Vin Santo Recipe © 2012 Russell Norman. Photo © 2012 Jenny Zarins. All rights reserved.
If you make this recipe, snap a photo and hashtag it #LeitesCulinaria. We'd love to see your creations on Instagram, Facebook, and Twitter.