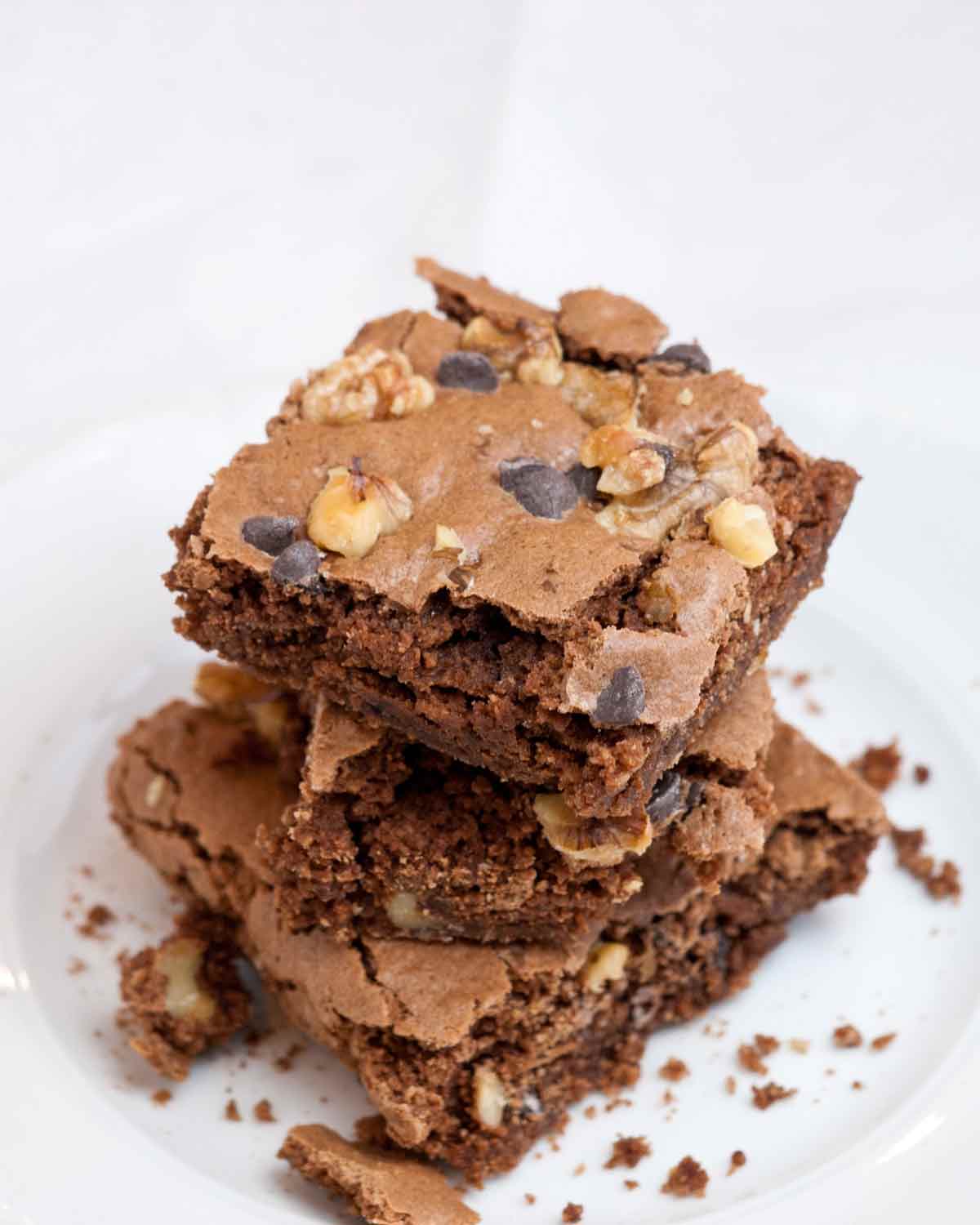 Unlike most disappointingly dry and bland Passover brownies, these are ever so slightly crumbly at the edges and splendiferously fudgy on the inside. This recipe uses matzo meal instead of regular all-purpose flour to make them kosher for Passover or Pesach (and handy for when you can't get your hands on flour!). But you'd never guess they're flourless from the taste. Kindly note that if you're expecting traditional chocolate brownies, you're in for something of a surprise. They've got something of a different taste and texture from classic brownies, yet they're still rich and chocolatey through and through.–Renee Schettler
Passover Brownie FAQs
*What Is Matzo Flour or Matzo Meal and Where Can I Find It?!
Matzo flour or matzo meal can usually be found in most grocery stores next to the matzo during Passover. Matzo meal is slightly more coarse than matzo flour. You can make your own matzo flour from matzo meal by whirring matzo meal in a blender or spice grinder until it's very finely ground. And you can make your own matzo meal from store-bought or homemade matzos simply by blending them in a blender until ground to the desired consistency.
What are the best chocolate liqueurs for baking?
Our personal favorite chocolate liqueurs – for baking, or simply sipping over ice – are Dorda Double Chocolate, Godiva Dark, and Patrón XO Cafe Dark Cocoa. Bear in mind that each of these liqueurs has additional ingredients that may affect the final taste of your brownies, but we think they'd all be pretty tasty. Dorda has the purest chocolate flavor, as it's made by blending dark chocolate with milk and vodka. Godiva Dark may present some notes of black cherry, candied orange peel, and coffee along with the dark chocolate. (how bad could THAT be? Yum.) Patron XO? It's a combination of coffee, cacao, and tequila. Don't forget that brandy is an amazing option as well, and that has a fruity, subtly sweet taste.
Passover Brownies
Passover brownies are almost always disappointing. Not these. How could they be with matzo meal for Pesach, bittersweet chocolate, sugar, butter, eggs, brandy, and nuts? They're slightly crumbly outside and splendiferously fudgy inside.
Ingredients
3/4

cup

matzo flour or matzo meal*

1

cup

granulated sugar

1

teaspoon

vanilla extract or seeds from 1/4 vanilla bean

5

ounces

bittersweet chocolate

5

tablespoons (2 1/2 oz)

unsalted butter

,

plus more for the pan

2

large

eggs

1/4

cup

brandy or chocolate liqueur

1/4 to 1/2

cup

roughly chopped walnuts

1/4 to 1/2

cup

semisweet or bittersweet chocolate chips or chopped chocolate

,

(optional)
Instructions
Preheat the oven to 350°F (170°C). Butter an 8- or 9-inch square baking pan.

In a large bowl, mix together the matzo flour or meal, sugar, and vanilla.

Melt the bittersweet chocolate and butter in a medium-ish to large-ish saucepan over low heat, stirring occasionally, until smooth. (Or you can opt to toss them in a glass microwave-safe bowl and nuke them until the chocolate just starts to lose its shape, checking every 30 seconds or so. As soon as you stir the chocolate, it will melt completely. Stir until smooth.)

☞ TESTER TIP: Be careful not to keep the temperature too high and scorch the chocolate or it will taste, well, you know, scorched.

Stir the flour mixture into the chocolate mixture. Add the eggs, brandy, walnuts, and chocolate chips or chopped chocolate, if using, and stir just until incorporated.

Scrape the batter into the prepared baking pan and bake until a toothpick inserted in the center comes out dry, about 45 minutes. You should probably start checking the brownies for doneness at 30 minutes.

Let the pan of chocolatey goodness rest at room temperature for a few minutes or, if you prefer a moister brownie that's slightly less crumbly, if you can stand the wait, let them linger on the counter overnight before cutting into squares. Serve warm or at room temperature.
Nutrition
Serving:
1
brownie
Calories:
393
kcal
Carbohydrates:
48
g
Protein:
5
g
Fat:
19
g
Saturated Fat:
10
g
Polyunsaturated Fat:
3
g
Monounsaturated Fat:
5
g
Trans Fat:
1
g
Cholesterol:
67
mg
Sodium:
22
mg
Potassium:
152
mg
Fiber:
2
g
Sugar:
34
g
Vitamin A:
296
IU
Vitamin C:
1
mg
Calcium:
26
mg
Iron:
2
mg
Nutrition information is automatically calculated, so should only be used as an approximation.
Recipe © 2013 Orly Ziv. Photo © 2013 Katherine Martinelli. All rights reserved.
---
Recipe Testers' Reviews
This will definitely be my go-to Passover brownies recipe. If you're not familiar with Passover baked goods, you may be surprised at the unusual taste of these Passover brownies, which are made with matzo flour instead of regular flour. Most Passover cakes, brownies, cookies, etc. have a different taste and texture due to the matzo flour. If you're familiar with Passover baking, you'll quickly recognize these as the best Passover brownies ever. They're wonderful, chewy, chocolatey, and easily the best Passover brownies I've had.
It's an easy one-bowl recipe, no mixer needed, and absolutely delicious. If you're making matzo flour from whole matzos, do it in a blender rather than a food processor. A food processor doesn't seem to get the matzo ground fine enough. After trying it in my food processor, I gave up and processed the large crumbs in my spice grinder, and it came out perfectly as very fine flour. I didn't have any brandy so I substituted Passover chocolate liqueur, which gave the brownies an amazing taste. I used all semisweet chocolate since that was what I had in my pantry and it was too stormy outside to warrant a trip to the store.
I used an 8-inch round pan—again, it was what I had on hand. One thing to watch out for—after 25 minutes, I tested the brownies with a toothpick, which came out sticky, so back in the oven for another 4 minutes they went. I tested them again in a few minutes with the same results. After 40 minutes in the oven, I tried poking them in a few different places and discovered that the places where the tester came out sticky was where I had stuck it into the chopped chocolate. In spite of this, the brownies didn't seem overdone. Another thing—when I cut the brownies, the top crust sort of crumbled, but for some reason this isn't unusual with Passover brownies.
I'm not at all certain whether all the ingredients I used for this Passover brownies recipe would pass muster for keeping kosher for the holiday. I used the full 1/2 cup walnuts, because I am far from a person who hates nuts in brownies. (I actually don't think brownies are worth eating if they don't have nuts!) I used approximately 1/3 cup mini semisweet chips. Because I wanted to serve these to someone who is alcohol-free, I used apple juice in place of the brandy.
I baked the brownies in an 8-inch Pyrex pan and didn't adjust the temperature downward to compensate for the glass dish as is sometimes recommended. I melted the chocolate with the butter on the stove, as I'm not a big fan of microwaves. I baked these for a full 50 minutes. I let them cool for 15 minutes before cutting. They were nicely moist, not at all cakey, a little bit grainy, but with great taste. They were substantially fudgier than cake. One of my tasters commented that if I had served these with ice cream, and not mentioned the matzo meal replacement for flour, she would not have noticed anything different about them. They were definitely rich and chocolaty, but not so much so as to be cloying or overwhelming.
The serving range of 8 to 12 is accurate, though I confess that 8 is more accurate than 12. I had an extra brownie later in the evening, to see what would happen to the texture as it cooled, and it did become a little less crumbly but without losing any of the fudgy rich deliciousness.
Although I don't always have matzo meal on hand, if I did, and I was to have a need for brownies, this recipe could be used on a year-round basis, they were that good. As for the ingredients, I happened to have Swedish vanilla sugar on hand, the perfect ingredient for this half-Swedish, half-Jewish baker to use in Passover brownies, so I used 1 tablespoon in place of the 1 teaspoon vanilla extract. There was very little cleanup.