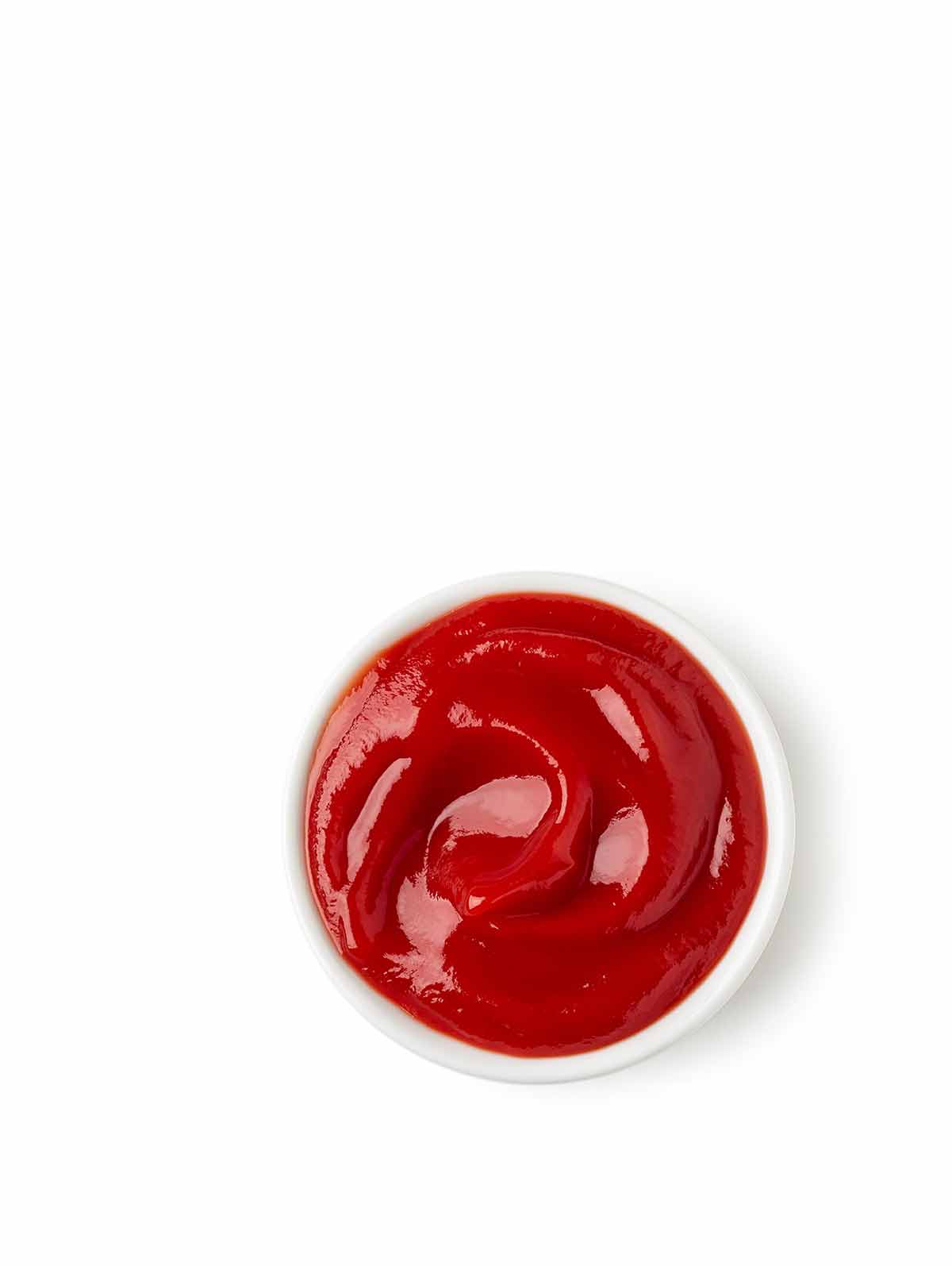 What I love about this homemade ketchup recipe made with fresh tomatoes is that it tates like ketchup. There's nothing worse than the ketchup that now pass for "housemade ketchup" in so many restaurants that tastes either like tarted-up tomato sauce or tastes nothing at all like ketchup because it's "improved" with unusual or trendy ingredients like chipotle peppers or, I don't know, paprika collected by 17-year-old Hungarian virgins.
☞ READ THE ARTICLE: BECAUSE I CAN: HOMEMADE KETCHUP
With this recipe, you achieve the perfect sweet-tart balance of Heinz or Hunt's simply by reducing the tomato liquid into a thick, glossy syrup and then swirling it into the tomato pulp.–David Leite
LC No Food Mill? No Problem! Note
No food mill? No problem! (For those unfamiliar with a food mill, it's a boon to home cooks obsessed with tomatoes because of its ability to remove seeds and skins from a thick purée.) LC recipe tester and homemade ketchup aficionado Brenda Carleton has canned countless incarnations of this condiment recipe, and not once has she bothered to invest in a food mill. Why would she? She has her trusty potato ricer on hand. Carleton is on her 50th or so batch of homemade ketchup, each made in ricer fashion, and she has no complaints. (Uh, almost no complaints. She did mention that the ricer is messy, but then, a food mill would also be messy.
No potato ricer? No problem there, either. Another LC recipe-testing aficionado, Lori Widmeyer, has also made this ketchup more than once and removes the skins and seeds the old-fashioned way. She marks an "X" on the bottom of each tomato, blanches it (that is, plops it in boiling water for just a few seconds), immediately plunges it into ice water, then coaxes the skins to slip off with her fingertips. Then she chops the tomatoes and drains them in a colander. (Those times when Widmeyer was impatient and didn't drain the tomatoes—albeit against her better judgment—the resulting ketchup was watery.)
Homemade Ketchup
This homemade ketchup recipe, made with tomatoes, vinegar, and sugar, is made without high-fructose corn syrup. And with a whole lot more complexity and finesse than the store-bought stuff.
Equipment
Food mill or potato ricer
Ingredients
10

pounds

very ripe red tomatoes

,

preferably beefsteak, cored and roughly chopped

4

garlic cloves

,

chopped

1

large

onion

,

chopped

3/4

cup

white vinegar

,

(for a mild taste) or cider vinegar (for a fruity tang)

1

tablespoon

black peppercorns

1

heaping teaspoon

allspice berries

8

whole

cloves

1/4

teaspoon

cayenne

1/4

teaspoon

ground ginger

2 1/2

tablespoons

salt

6

tablespoons

granulated sugar

,

plus more to taste
Instructions
Place the tomatoes in a heavy, wide, nonreactive pan at least 8 quarts in size. Cover, place the pan over high heat, and cook for 5 to 10 minutes, stirring every minute or so, until the tomato chunks spill tomato juice and everything comes to a boil.

Working in batches, pour the tomato chunks and juice into a large strainer placed over a 3- or 4-quart saucepan. Gently press and stir the tomatoes with the back of a wooden spoon so that all the liquid but none of the tomato pulp goes into the saucepan. You should have about 2 quarts liquid. Reserve the tomato pulp.

To the tomato liquid in the saucepan add the garlic, onion, vinegar, peppercorns, allspice, cinnamon, cloves, cayenne, ginger, and salt. Cook over moderately high heat until the liquid is thick and syrupy and reduced to about 2 cups. This could take anywhere from half an hour to an hour or even as long as 2 hours or, in the case of 1 tester, up to 4 hours, depending on the type of tomatoes used and the size of your saucepan.

☞ TESTER TIP: Some tomatoes, such as beefsteaks, are more pulpy and mealy, whereas other tomatoes, like Romas, are more juicy. This will affect the final yield of juice and total simmering time. Don't let that distract you.

Meanwhile, transfer the tomato pulp to a food mill fitted with the finest screen to eliminate the seeds and skin. You should have about 1 quart strained pulp. Transfer the strained pulp back to the first pan. Discard the tomato solids that you strained from the tomato pulp.

Strain the thick, syrupy, reduced tomato liquid into the reserved tomato pulp, pressing on the solids to extract all the liquid. Stir in the sugar and gently simmer over medium-low or low heat, stirring frequently, until the ketchup is reduced by 1/3, 15 to 20 minutes Taste the ketchup occasionally, adding more sugar if desired. You should have about 4 cups tomato goo at the end. If the ketchup still seems a little runny, continue to simmer the mixture over low heat, stirring occasionally, until the desired consistency is attained. If the ketchup isn't quite the texture of commercial ketchup and some very vocal dissenters in your household prefer that, purée the ketchup in a blender or food processor.

Let the ketchup cool to room temperature. Transfer the ketchup to glass jars or other containers with tight-fitting lids and refrigerate for up to several weeks.
Nutrition
Serving:
1
tablespoon
Calories:
20
kcal
Carbohydrates:
4
g
Protein:
1
g
Fat:
1
g
Saturated Fat:
1
g
Polyunsaturated Fat:
1
g
Monounsaturated Fat:
1
g
Trans Fat:
1
g
Sodium:
277
mg
Potassium:
176
mg
Fiber:
1
g
Sugar:
3
g
Vitamin A:
595
IU
Vitamin C:
10
mg
Calcium:
10
mg
Iron:
1
mg
Nutrition information is automatically calculated, so should only be used as an approximation.
Recipe © 1998 David Leite. Photo © 1998 bigacis. All rights reserved.
---
Recipe Testers' Reviews
There were a couple things I'd change about this homemade ketchup recipe recipe, but the end result was so good it still merits a Testers' Choice. In the interest of full disclosure, I'll confess that I'm not a big fan of regular ketchup. My husband, on the other hand, loves the stuff. We tasted this side by side with some Heinz ketchup. The dipping vehicle of choice was onion rings. The result of our tasting was that we both preferred the homemade ketchup to the Heinz. The commercial ketchup was noticeably sweeter. The homemade was brighter in flavor and a bit saltier. The spices were present without being overpowering or even individually identifiable. In short, it was delicious, even to a ketchup-hater like me.
If I were to change anything, it'd be to reduce the salt just a little. If you decide to make this, make sure you have a really big pot. The author says you need at least an 8-quart pot, and you need to listen to him. You'll also need to allow plenty of time to make this recipe. The finest screen on my food mill wasn't fine enough to remove all the seeds from the tomato pulp, but that was okay. There were some seeds in my ketchup and it didn't bother us at all. I also didn't do a final purée at the end. I felt the ketchup was smooth enough—not perfectly smooth, but a perfectly acceptable texture.
My older daughter, who loves ketchup, helped me out during the process of making the homemade ketchup recipe, continually tasting it to make sure it was to her liking and as similar as possible to the organic Heinz ketchup we usually buy. This was a tough recipe for me to test as I absolutely dislike ketchup. But the entire process is pretty easy.
I used homegrown beefsteak tomatoes, which are more meaty. It took about 1 hour to reduce the liquid part and make it syrupy, but it never became thick. So my daughter thought of adding cornstarch, which did the trick to thicken it. I also ended up adding 3 more tablespoons of sugar. The final result, as per my daughter, is very similar to Heinz ketchup, except it's just a bit darker. Now for someone who doesn't care for ketchup, is it worth the trouble? I'm not quite sure. But I'll make it again, mainly because I know exactly what's in it as opposed to the store-bought kind.
The amount of effort for this recipe is homemade ketchup recipe is tremendous. On the other hand, this ketchup is delicious. First, the cutting of the tomatoes takes a long time. Second, you use several pots and strainers. I was able to get a good texture just by cooking it a little longer than the recommended time. However, you do need to watch it so that it won't burn. I used a food mill because I have one. (A food mill makes things easy.)
I found that it took awhile to get to a syrupy texture (for the tomato liquid) and then the amount of liquid after cooking down wasn't as great as it would seem. So I took some of the purée and mixed it in a few times to add more flavor into the final tomato puree as it cooked.