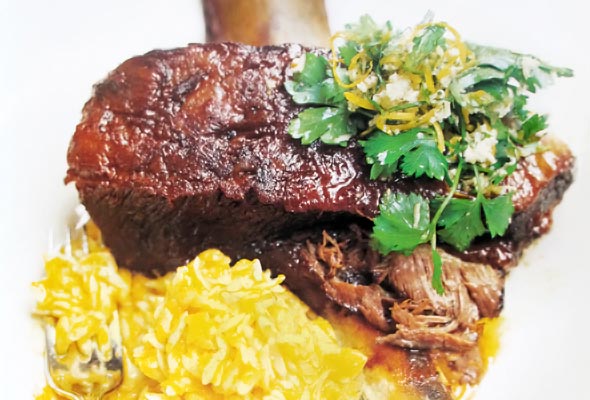 I've been making this braised short ribs recipe for almost as long as I've been doing this site. It was one of the first recipes by Mario Batali that I ever made, and in all these years, it's never disappointed me or my guests.
A word to the wise: One of the biggest potential problems home cooks encounter when braising short ribs is the amount of fat that this cut of beef throws off. What I do to combat that is make the dish the night before I'm serving it for two reasons: 1. The overnight chill in the fridge allows the fat to congeal on the surface of the luscious braising liquid, which means the next day you can easily scrape it off with a spoon before reheating everything. 2. When I slowly rewarm the braised short ribs in their liquid on the stovetop, that extra bit of cooking makes the ribs that much more tender.–David Leite
LC Over the Top Note
David Leite wouldn't be David Leite if he didn't find ways to take an already over-the-top braised short rib recipe and make it even more gratuitously over the top. During his latest kitchen escapade, he made uber silken mashed potatoes into which he swirled 1/4 cup white truffle oil, which took the place of the pumpkin orzo. He also swapped orange zest for lemon zest in the gremolata, explaining this lent the dish "slightly fruity high notes." Sigh. In English, please, David. Sheesh.)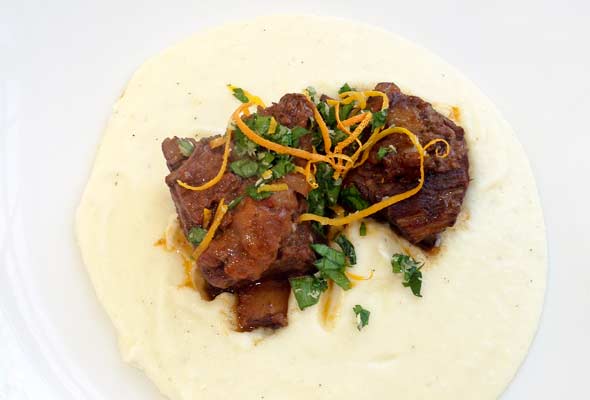 Braised Short Ribs
Quick Glance
1 H
2 H, 45 M

Serves 4
Print Recipe
Ingredients
For the braised short ribs

1/4 cup extra-virgin olive oil

Four (16-ounce) beef short ribs

Kosher salt and freshly ground black pepper

2 carrots, roughly chopped

2 onions, roughly chopped

2 celery stalks, roughly chopped

5 garlic cloves, smashed and peeled

2 cups full-bodied red wine

One (16-ounce) can peeled tomatoes, crushed by hand, with their juices

1 cup store-bought or homemade beef broth

1/2 bunch thyme

1/2 bunch rosemary

1/2 bunch oregano

For the pumpkin orzo
2 cups homemade chicken stock or good-quality store-bought stock, more if needed

1 cup pure pumpkin purée

1 cup orzo

2 tablespoons honey

2 tablespoons balsamic vinegar

Kosher salt and freshly ground black pepper

For the horseradish gremolata

Leaves from 1/2 bunch flat-leaf parsley

Zest from 1 lemon (preferably organic), julienned (that just means cut into matchstick-size strips)

2 ounces fresh horseradish, peeled and grated
Directions
Braise the short ribs

1. Preheat the oven to 375°F (190°C).

2. In a large, heavy-bottomed skillet or Dutch oven over medium-high heat, warm the olive oil until hot but not smoking. Season the short ribs with salt and pepper and add them to the skillet, being careful not to crowd them. Cook until they're deep brown on all sides, about 15 minutes total.

3. Transfer the short ribs to a plate and keep the pan over medium-high heat. Add the carrots, onion, celery, and garlic to the rendered fat and oil in the skillet. (Be careful, it may spatter.) Cook, stirring occasionally, until the vegetables are browned and softened, about 4 minutes. Season with salt and pepper to taste and stir in the red wine, tomatoes and their juices, beef stock, and herbs, scraping the bottom of the pan with a wooden spoon to dislodge any browned bits. Bring the mixture to a boil and return the short ribs to the pan. Cover tightly with aluminum foil and transfer to the oven. Cook for 2 hours, or until the meat is very tender and literally falling off the bones. Keep the oven on. (You can let the ribs and cover and refrigerate the ribs in their cooking liquid for up to 24 hours. When you're ready to serve, simply skim any congealed fat from the surface of the liquid and rewarm the ribs gently in the reduced-fat sauce over medium-low heat.)

Make the orzo

4. Bring the chicken stock to a boil in a 12-inch sauté pan. Add the orzo and pumpkin purée and cook over medium-high heat, stirring frequently to prevent the orzo from sticking, until the stock is absorbed, 8 to 10 minutes. If the orzo mixture is too thick, add a bit more chicken stock or water. Stir in the honey and vinegar. Season with salt and pepper.

Make the gremolata

5. In a small bowl, combine the parsley, lemon zest, and horseradish and gently toss by hand. Taste and adjust the amounts of ingredients accordingly.

Assemble everything

6. Divvy the pumpkin orzo evenly among 4 warmed serving plates or bowls. Place a braised short rib atop each mound of orzo, top with some defatted juices and the gremolata, and serve immediately.
Braised Short Ribs Recipe © 2002 Mario Batali. Photo © 2002 Christopher Hirsheimer. All rights reserved.
If you make this recipe, snap a photo and hashtag it #LeitesCulinaria. We'd love to see your creations on Instagram, Facebook, and Twitter.