This peanut butter sandies recipe turns out peanut butter cookies just like the ones sold at City Bakery in New York City.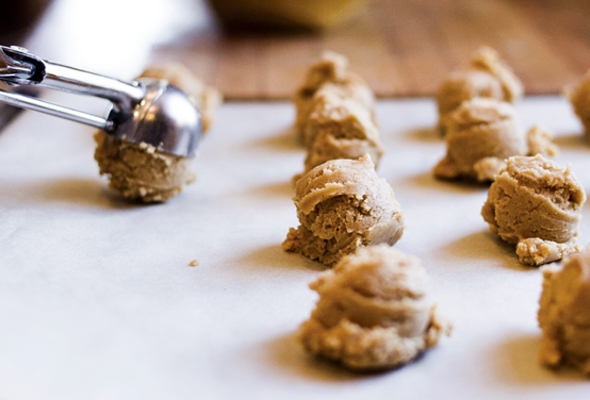 Baking
isn't always fun. You have to follow the directions minutely. I have spent many white-knuckled nights with cakes that wouldn't cool, custards that set too fast, and piecrusts that glued themselves to the counter. Baking is the high-stakes challenge of the home kitchen, and I like a quiet life. Thus, baking is a gentle chapter for me.
Except for my peanut butter cookies, which have a cup of revenge stirred in. My career as a stay-at-home mother lasted all of four months and is remembered by all as one long nervous breakdown. It's not like I was powering through a high-octane Wall Street career before I became a mom; in fact, I was a freelance writer and spent most days having unstructured time at home in my pajamas. But when the baby arrived, I didn't know what to do with him all day, or what to do with myself when I couldn't read and write and cook as I pleased.
It wasn't pretty.
One of my few solaces was the walk from our apartment in the West Village to a bakery in Chelsea, where the peanut butter cookies were (and are) nourishing in every way. They are salty and sweet, soft and sandy, rich and caramelized at the same time. I spent so much time there that I finally braved the strangeness of breast-feeding in public, a distinctly odd feeling until you've done it. When feeding my soul with that cookie and my baby with milk at the same time, I felt a little less dark about the future.
Many prescriptions later, when I had recovered my senses and made the leap from stringer to New York Times staff reporter, I confessed my feelings to the bakery's owner and asked for the recipe. It wasn't for publication—I was pregnant again and living uptown, too far to walk with a stroller, and I wanted to ensure a steady stream of peanut butter cookies for myself.
Not to sound grand, but as a reporter for the Times Dining section, when I ask someone for a recipe, I generally get it. Not from this chef, who felt it was important for him to protect his intellectual property.
I (obviously) sulked over this for years.
Sulking didn't help.
What helped? Finding the recipe online, posted by a home cook who had taken a cooking class with the owner. She didn't even like the cookies, but she'd heard that other people had a thing for them. The recipe worked like a charm the first time out. I've since improved upon it. It may have taken years, but revenge was sweet—and chunky

Peanut Butter Sandies
The City Bakery is one of my favorite places to eat in New York, a bustling all-day canteen that serves all kinds of New Yorkers and all kinds of food—sweet and savory, breakfast and lunch, blueberry muffins and banh mi. Everything is good and some things are great, like the pretzel croissants and the sandy-soft peanut butter cookies. The City Bakery reminds me of the New York subway system (in a good way), because it's democratic and efficient, and the people-watching opportunities are great. As far as I know, its only flaw is that the owner refused to give me this recipe when I asked for it. So I managed to acquire this bootleg copy, posted online by a home cook who once took a cooking class with him. Note there is no leavening in the dough, so the cookies will not spread out or rise while baking.–Julia Moskin
LC Crumbly, Sweetly, Salty Peanut Buttery Goodness Note
These cookies are slightly crumbly yet tender mounds of sweetly and salty peanut buttery goodness. Enough said.
Peanut Butter Sandies
Quick Glance
20 M
50 M

Makes about 6 dozen cookies
Ingredients
Email Grocery List
2 sticks unsalted butter (8 oz), at room temperature

2 cups granulated sugar

2/3 cup packed light brown sugar

1 teaspoon salt, plus extra for sprinkling

2 1/4 cups peanut butter (18 oz), creamy or chunky, it matters not

2 large eggs

2 1/4 cups all-purpose flour
Directions
1. Preheat the oven to 350°F (176°C) and position the oven rack in the center position. Line 2 baking sheets with parchment paper.

2. In the bowl of a stand mixer fitted with the paddle attachment, cream the butter, granulated and brown sugars, and salt until light and fluffy, at least 3 minutes. Add the peanut butter and eggs and mix well. Add the flour and mix just until well combined.

3. Using a small cookie scoop or a spoon, scoop the dough (2 to 3 teaspoons per cookie) onto the baking sheets, leaving a 1-inch space between them. Sprinkle lightly with salt.

4. Bake until golden, 10 to 14 minutes, depending on the size. Slide the parchment paper and the cookies onto a wire rack and let cool. The cookies will be very crumbly, especially when warm.
Recipe Testers Reviews
Peanut Butter Sandies Recipe © 2012 Kim Severson | Julia Moskin. Photo © 2012 Evan Sung. All rights reserved. All materials used with permission.
If you make this recipe, snap a photo and hashtag it #LeitesCulinaria. We'd love to see your creations on Instagram, Facebook, and Twitter.