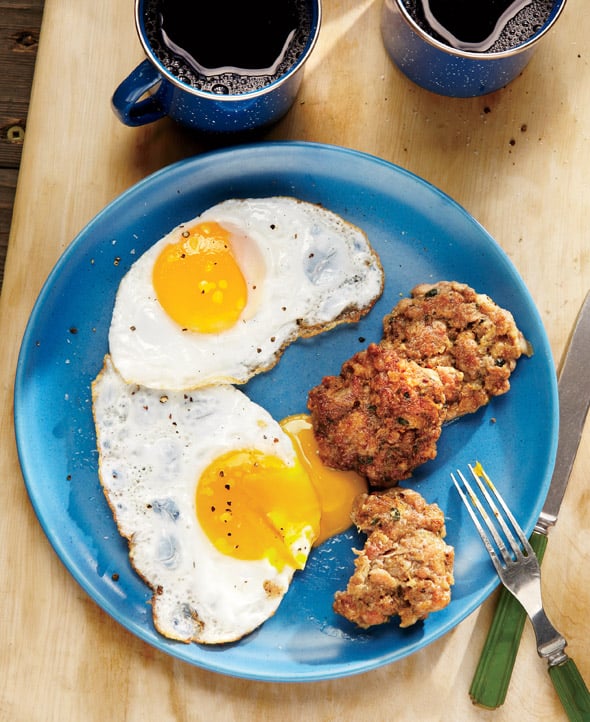 Breakfast sausage alongside sunny-side up eggs. Who could ask for anything more?
My Connecticut kitchen, gut-renovated in a disruptive and harrowing 12-week marathon last year, is my true north. It's not fitted with enormous restaurant appliances or testosterone-fueled gadgets. Rather, its gray-green walls and white cabinets are more Zen than anything else, its lightly patterned countertops a tabula rasa.
Sure, when The One and I entertain or cook for ourselves, the kitchen is strewn with platters, checkerboarded with ramekins for mise en place, and littered with wine bottles. But during the week when he's in NYC and I'm in alone in the country, the kitchen becomes my workshop. It's where my craft happens. Real craft. Not just the putting together of ingredients, but the making of ingredients: Homemade Maple-Espresso Bacon; kicky breakfast sausage patties, corned beef, and pastrami; duck prosciutto; intense stocks and demi-glaces; homemade ketchups, mustards, and vinegars; even links of Portuguese chouriço, which Papa Leite once declared, through tears, to be as good as the ones he grew up eating in the Azores. Even our frigging compost is artisanal.
Why bother doing all this? I hear a friend ask in my head.
I do it because I'm almost always hungry. I do it because I find no greater purpose than sitting down at the table with my beloved and our friends, knowing that I'm filling bellies and sustaining friendships. I do it because while I'm brining meat, rinsing sausage casings, and roasting bones, all the craziness in my head stops.
It's no different than my eighth-grade shop class at Joseph Case Junior High in Swansea, MA. Except that instead of chisels lining the wall, I've got knives lining a drawer, and instead of a mini foundry outside, I have a smoker on the patio. When I was 13, working in shop momentarily relieved my teenage angst, my feelings of being different, my terror at the betrayal by my surging homo hormones. Today, cooking in my kitchen workshop still beats back worries, but now they're about the mortgage, the inevitability of growing older, and my waning homo hormones.
Why do it? "I do it because I can," I say out loud to Devil Cat, who figure-eights between my legs, hoping for some scraps. It is here, in my kitchen, that I am utterly sure of myself.

Breakfast Sausage Patties
One of the most important things to keep in mind while making this breakfast sausage patties recipe is to keep everything cold, cold, cold. I scatter the pork butt (also known as pork shoulder) and fatback on a parchment-lined baking sheet and slip it in the freezer the moment I even begin to think about making the recipe and I leave them there until the edges of the meat are cold and crunchy. I even place the grinder's auger, blade, and grinding plate in the freezer, too. Otherwise the fat can melt and the meat can get squishy as the grinder heats from use. If you find this happening to you, just put the rest of the meat in the freezer until chilled before proceeding.–David Leite
LC Dexter-ify Note
We know, we know. You're glancing at the recipe below and thinking, with annoyance, that not everyone's kitchen is equipped with a meat grinder. And you're right. But you sorta need one for this recipe. N-E-E-D. Just wanted to clarify that lest you be tempted to try to Dexter-ify this recipe, because even though the opening credits feature that crazy captivating breakfast scene, and this is a breakfast recipe, we can't guarantee you'll get the same results for this sausage with anything but an actual meat grinder. Just go buy one. And watch some Dexter.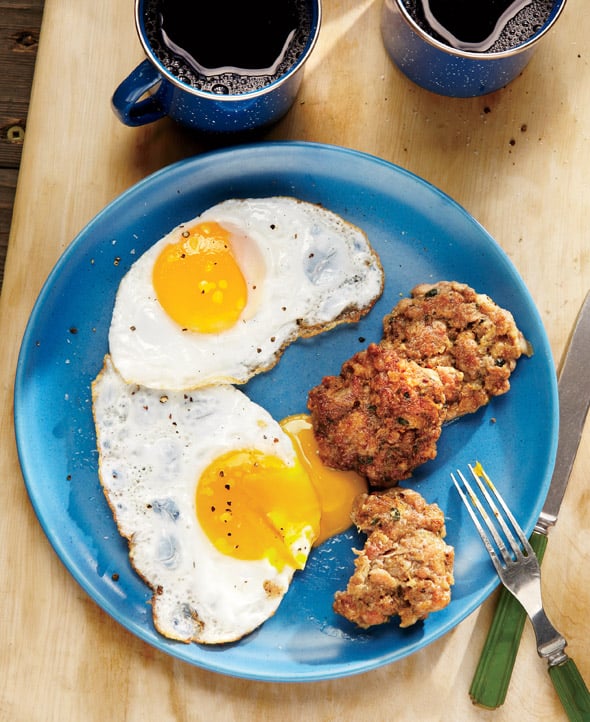 Breakfast Sausage Patties
These irresistible breakfast sausage patties are made with pork butt, parsley, ginger, sage, and other herbs and spices.
Ingredients
2

pounds

very cold pork butt

,

cut into 1-inch (25-mm) cubes

1

pound

very cold fatback

,

skin removed, cut into 1-inch (25-mm) cubes

1/2

cup

ice water

1/4

cup

chopped flat-leaf parsley leaves

1

tablespoon

kosher salt

1

tablespoon

ground sage

2 1/2

teaspoons

ground black pepper

1

teaspoon

ground coriander

1/2 to 3/4

teaspoon

red pepper flakes

,

(optional)

1/2

teaspoon

dried thyme

1/2

teaspoon

ground nutmeg

1/2

teaspoon

ground ginger
Instructions
You want to grind the meat twice for the best results. (Sweeney Todd fans will know what I'm talking about!) First, run the pork butt and fat though the 1/4-inch plate of a meat grinder. I prefer a finer grind, so for the second grind, I pass the meat through the 1/8-inch plate. If you like a coarser grind, then pass the meat through the 1/4-inch plate again instead.

In a large bowl, mix the pork, fat, ice water, parsley, salt, sage, black pepper, coriander, red pepper flakes (if using), thyme, nutmeg, and ginger. Work the mixture very well with your hands until all the ingredients are completely blended and the mixture is smooth. Pinch off a piece of the mixture and sauté it in a hot pan until cooked through, then take a nibble to test the seasoning. Tweak the ingredients any way you see fit. (I'm a ginger and sage freak, so I sometimes add a bit more of each.) Cover the sausage mixture tightly with plastic wrap and refrigerate at least 4 hours and up to overnight, if possible, to allow the flavors to meld.

Shape the sausage mixture into 3- to 4-inch patties, each about 1/2 inch thick. (You can toss the breakfast sausage patties in a resealable plastic bag and refrigerate them for up to 3 days or freeze them for up to 2 months.)

Heat a large skillet over medium heat. Add a few breakfast sausage patties to the skillet at a time, being careful not to crowd them, and sear until the patties are browned and cooked through, 5 to 7 minutes per side.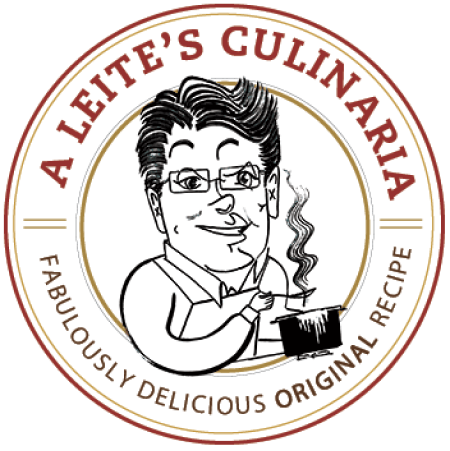 Nutrition
Serving:
1
portion
Calories:
205
kcal
Carbohydrates:
0.4
g
Protein:
8
g
Fat:
19
g
Saturated Fat:
7
g
Polyunsaturated Fat:
2
g
Monounsaturated Fat:
9
g
Trans Fat:
0.01
g
Cholesterol:
33
mg
Sodium:
319
mg
Potassium:
150
mg
Fiber:
0.2
g
Sugar:
0.02
g
Vitamin A:
75
IU
Vitamin C:
1
mg
Calcium:
10
mg
Iron:
1
mg
Nutrition information is automatically calculated, so should only be used as an approximation.
Recipe © 2014 David Leite. Photo © 2014 Alex Farnum. All rights reserved.
---
Recipe Testers' Reviews
Wow, this is wonderful breakfast sausage. Actually, it also proved to be a nice nibble before dinner last night as well as a yummy breakfast this morning with some berries and melon and a wonderful lunch with sunny-side up eggs and some sourdough toast. (Hey, I was making patties to freeze, and 2 just happened to find their way into the skillet.)
I wasn't able to find fatback, but one of my local butchers offered to save me a pound of pork fat. (Every place I called for fatback didn't have it in stock but suggested another place to try. I know that eventually I would have found it, although I may have needed to special order it, but I wanted to make the recipe sooner than that.) I left the pork butt and fat in the freezer a bit longer than the recipe suggests, but that didn't prove to be a problem. The auger, blade, and grinding plates had also been in the freezer. Grinding the meat and fat was very easy to do and nothing got squishy. I used the 1/4-inch plate the first time through and the 1/8-inch plate for the second grinding. I mixed all the ingredients with my hands while wearing rubber gloves. I let the mixture sit overnight in the refrigerator to meld. I used 1/2 teaspoon red pepper flakes, and when I tasted the small sample I cooked after I first mixed up the sausage, the heat from the pepper was very noticeable. The next day it had tempered a bit. I may just add 3/4 teaspoon the next time I make this. Then again, the flavor was so well-balanced, I might just stick with the 1/2 teaspoon. I'd suggest trying that to begin with.
I used a 1/3-cup measure to form my sausage patties. I found this to be a very nice size. My patties were about 3 inches in diameter and about 1/2 inch thick, perhaps a bit thicker. I got a well-seasoned cast-iron skillet very hot. I added a small amount of canola oil, just enough to coat the pan. I cooked the patties for 4 minutes on each side and they turned out a fabulously crisp, caramel-colored exterior and the interior also had a great texture. So, so delicious!
I try to always have packages of sausage in the freezer so that we can quickly defrost one—or more—to satisfy a craving. I now know what the sausage in our freezer will be. It will be the sausage I make using this recipe.
This is a very good and traditional breakfast sausage recipe. I ground my spices, including the black pepper, with a mortar and pestle, creating chunky bursts of flavor. I kept my sausage coarsely ground, as I prefer that. I also microplaned fresh nutmeg and used a spice grinder for the parsley and ginger. Normally I would use dried spices in homemade sausage, but I had fresh ingredients, so I thought, why not? I was not disappointed. The only dried herb I used was sage—oddly, all that I had was rubbed—and again, perfect. Yes, I did eat eat 3 sunny side up eggs and sausage patties for a midnight snack, but my favorite way was tossing some oversized sausage patties on the grill alongside burgers. Score: PIgs 1, Cows 0!