These borekitas are a traditional Sephardic recipe made with pastry dough and ample cheese filling.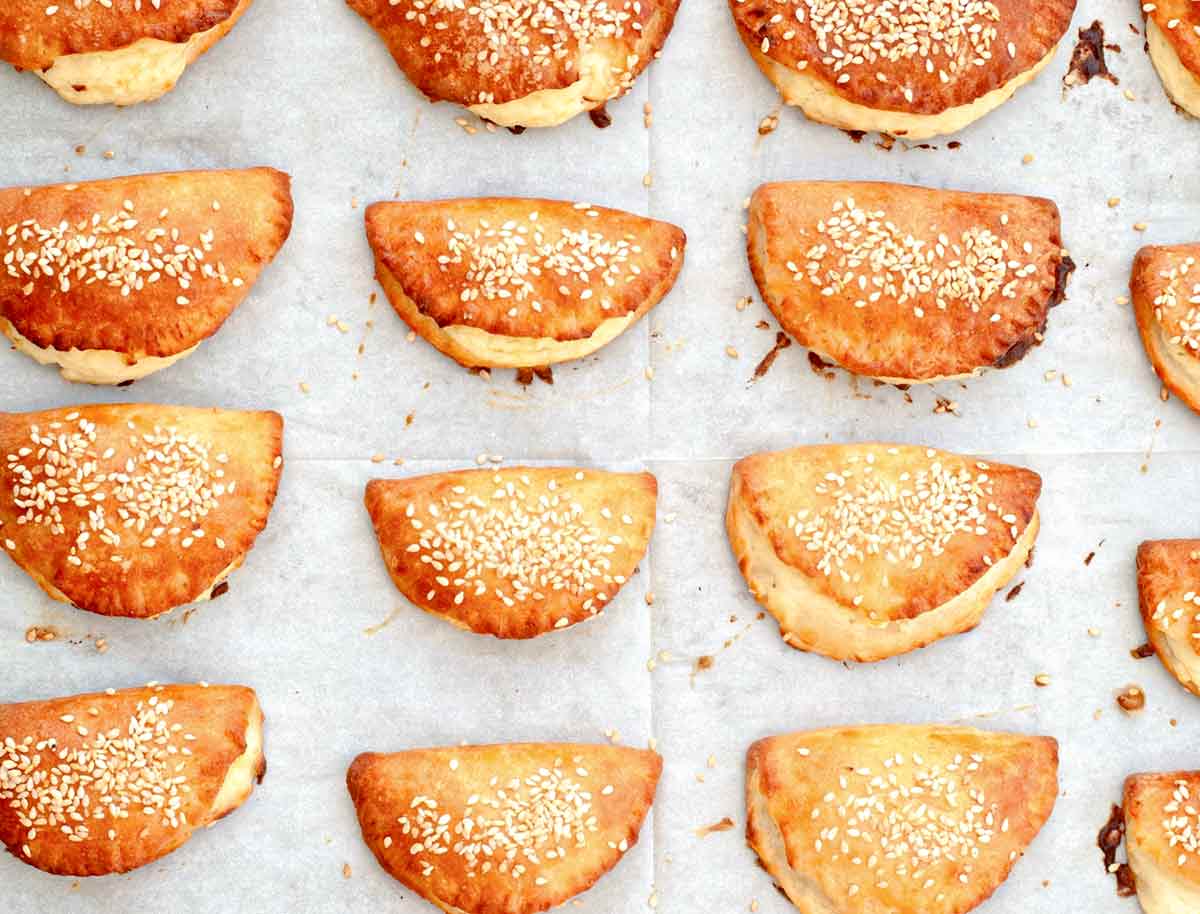 Regardless of whether you consider yourself a diva of homemade pastry dough or not, some days you're just not up to the task. But you can still have something similar to borekitas. Just purchase a package of frozen all-butter puff pastry (shhhhhhh!), roll it out ever so slightly on a lightly floured surface, and pretend nothing's amiss. Don't forget to toss the pastry package in the trash before guests invade the kitchen.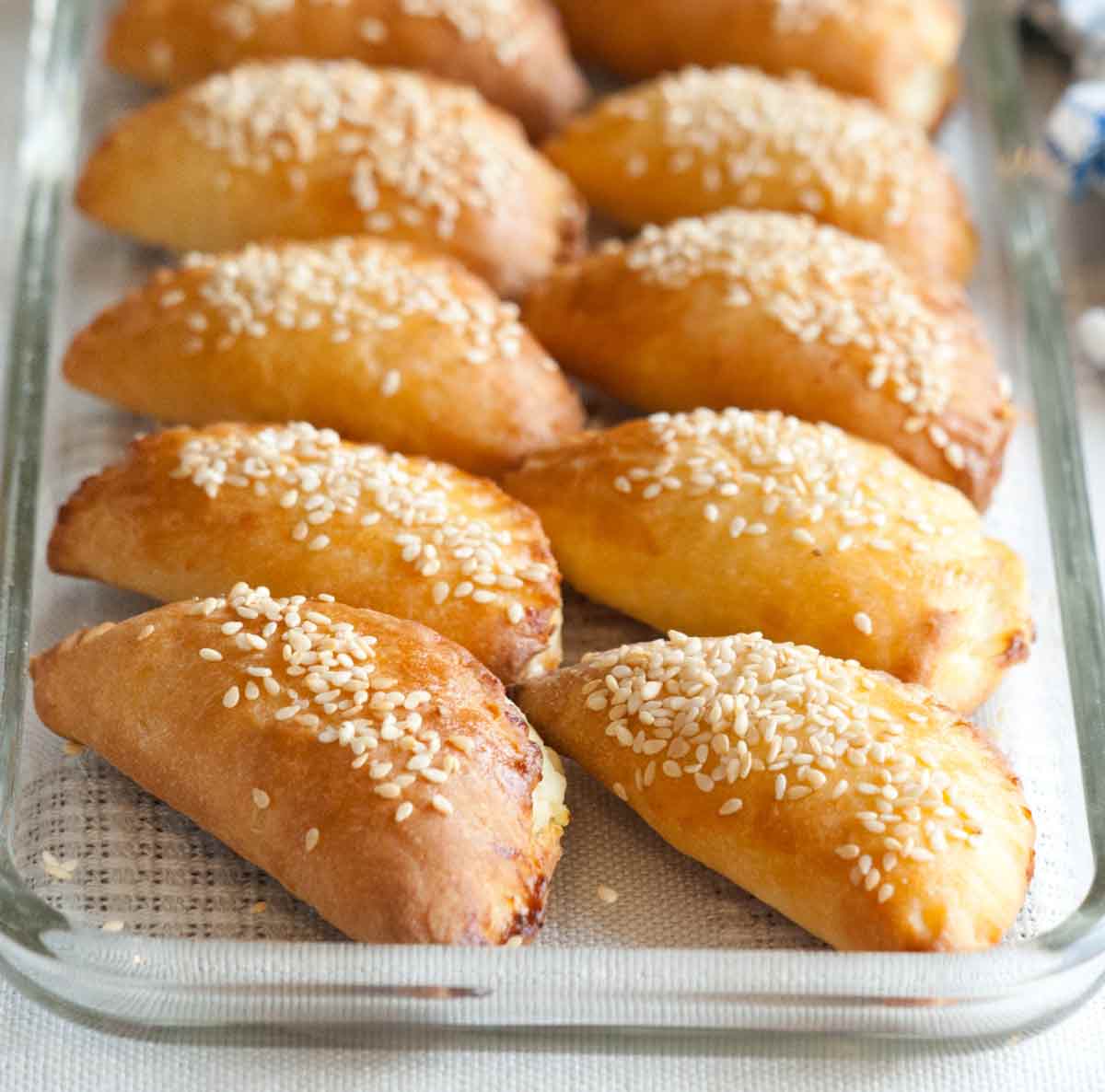 Borekitas with Cheese Filling
Quick Glance

(9)

45 M
2 H, 15 M
Makes

30
Print Recipe
Ingredients
For the dough
For the filling
For the topping
Directions
For the dough
In a bowl, mix together the dough ingredients until crumbly. Gently shape the dough into a round, cover the bowl, and refrigerate for 1 hour.
For the filling
Mix the cheeses, egg, and potato, if using, in a bowl until smooth.
For the assembly
Preheat the oven to 350°F (177°C).
Divide the dough into 4 portions. Working with 1 portion dough at a time, turn it onto a lightly floured work surface and roll it to 1/8 inch thickness. Using a round cookie cutter or an upside-down glass that's 3 to 3 1/2 inches in diameter, cut out circles from each portion. You should have 24 to 30 circles total.
Place 1 teaspoon filling in the center of each circle, fold in half to form a semicircle, and pinch the edges to seal. (You may have a little filling left over after making all the borekitas.) Transfer the filled pastries to a baking sheet lined with parchment paper.
For the topping
Brush the top of each borekita with the lightly beaten egg and sprinkle with sesame seeds.
Bake until golden brown, 25 to 30 minutes. 
Remove the borekitas from the oven, let cool to warm or room temperature, and succumb. (It turns out that the baked borekitas freeze well, too, allowing you to make them ahead and thaw them for a few hours on the kitchen counter.) Originally published August 4, 2014.
Print Recipe
Recipe Testers' Reviews
These borekitas are really very impressive for such little work. The filling came together very quickly and easily, and I used puff pastry instead of the pastry dough. I floured a marble slab and rolled the puff pastry sheet just a bit until it was about 10 inches square.
Then I cut each sheet of puff pastry into fourths. I put about 1/3 cup filling on each piece of pastry, wet the edges, folded each piece into a triangle,  and then sealed it with my fingers. I baked them for 30 minutes. I really want to make these again using phyllo dough and making the triangle shapes as well as the rolled cigar shapes. I am also going to play around a bit with the filling. I think that more feta is needed for a bit more of that tang and salty component that feta brings to everything. I will definitely be experimenting with this recipe in the future.
All my tasters liked this little borekitas recipe very much. It makes a tasty snack and could even be served as an hors d'oeuvre with a glass of wine. The dough is very easy to put together, and although it starts out crumbly it turns smooth and easy to handle if you shape it into a mound prior to resting.
I feel this dough is best mixed with your hands. I used a 3 1/2-inch round cutter and rolled the dough to a thickness of 1/8 inch and had a yield of 30 borekitas. I used ricotta with feta for the filling, and I'm pretty sure the filling would work just fine without the potato. I had 2 to 3 tablespoons filling left over, as I didn't want to overfill the rounds because I thought they might open up during baking.  (The next time I make these borekitas, I may use a very, very small potato or perhaps eliminate the potato altogether.) I pinched the edges to seal as the recipe instructed, but these would also look nice if they were pressed with a fork or braided like an empanada.
I thought the dough was a little salty, but no one else mentioned it. The recipe stated 1 teaspoon salt, and I always use fine salt for baking, but perhaps it was supposed to be kosher salt, which would have made the dough a bit less salty. In the future, I will either cut the fine salt to 1/2 teaspoon or use 1 teaspoon of kosher salt. They took 25 minutes to turn golden brown. We tasted the borekitas after they cooled a bit and again after they cooled completely.
Borekitas with Cheese Filling Recipe © 2013 Orly Ziv. Photo © 2013
Katherine Martinelli
. All rights reserved. All materials used with permission.
If you make this recipe, snap a photo and hashtag it #LeitesCulinaria. We'd love to see your creations on Instagram, Facebook, and Twitter.