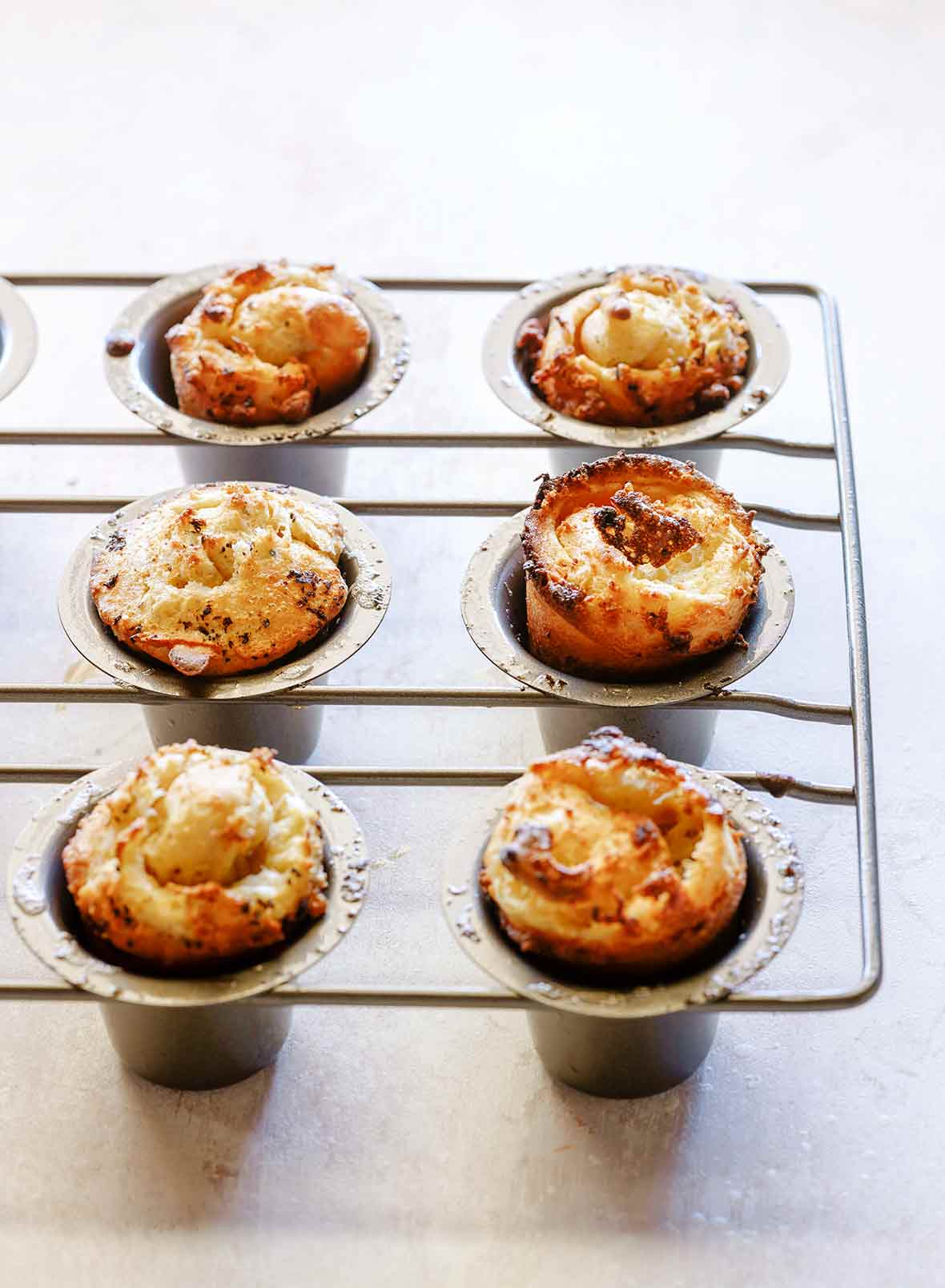 Yorkshire pudding. It's a British classic that you've perhaps heard of a lot this time of year but never actually experienced for yourself. That needs to change. And here's your chance. Despite it's rather froufrou appearance alongside fancy roasts, it's actually a quick and easy side dish that's weeknight doable. Think of it as sorta like a savory Dutch baby pancake given that it's made with just flour, eggs, milk, and the notable addition of pan drippings from a roast (or, in a pinch, bacon drippings). As with a proper Dutch baby, it puffs impressively, browns handsomely, and then collapses just a little into a rich, tender, irresistible carbaliciousness whose only reason for existence is to soak up those lovely pan drippings.–Renee Schettler Rossi
What's the secret to making Yorkshire puddings rise?
The secret can be found in this recipe in plain sight. First, the Yorkshire pudding batter needs to be well combined and rested—not necessarily in an armchair, simply on the counter at room temperature or a short spell. Second, you need that relaxed batter to be dribbled into hot, hot, hot fat. This is why it's essential that you first spoon the fat into the pan and then heat it in the oven. It's an essential component of the recipe that you don't want to overlook. From there, you'll need to work quickly, spooning the batter into the fat and iimmediately sliding the pan back into the oven. It's simple, unerring science. Though you don't need to know the specifics. You just need this recipe.
Yorkshire Puddings
This Yorkshire pudding is made the traditional way with flour, eggs, milk, and pan drippings from a roast. A commendable side dish for that Christmas standing rib roast.
Equipment
Popover pans or muffin tins
Ingredients
2/3

cup plus 2 tablespoons

all-purpose flour

1/2

teaspoon

kosher salt

1/2

teaspoon

ground white pepper

2

whole large

eggs

,

lightly beaten

2

large

egg yolks

,

lightly beaten

1

cup

milk

1/4

cup

fatty pan drippings from a roast,

(or substitute clarified butter*)
Instructions
In a medium bowl, whisk together the flour, salt, and pepper. Add the eggs, egg yolks, and milk, whisking until the batter is well combined. Let the batter rest at room temperature for 30 minutes.

Preheat the oven to 450°F (232°C).

Spoon 1 teaspoon melted fat (or clarified butter) into each cup of a popover pan or, if using muffin pans, use a little less than that less per cup. Place in the oven for 5 minutes to preheat.

Stir the batter to recombine. Carefully remove the hot pan(s) from the oven and immediately fill each cup a little more than halfway. Return the pan(s) to the oven and bake for 15 minutes.

Reduce the heat to 350°F (177°C) and continue baking until the puddings are puffed and browned, 15 to 20 minutes. [Editor's Note: We understand the temptation to peek at the puddings as they puff during baking. But the less you open the oven door, the more quickly and evenly the puddings will cook, so do your best to resist.]

Carefully remove the pan(s) from the oven and gently tip the Yorkshire puddings out of the pan onto a wire rack and turn them upright. Poke each Yorkshire pudding with the tip of a skewer or a sharp knife to let the steam out so it doesn't collapse. Let cool a few minutes before serving.
Notes
*Why It's Important To Use Clarified Butter In Yorkshire Puddings
If you're not using pan drippings and decide instead to use butter, it's not only important but essential that you rely on clarified butter. As one of our recipe testers who made these at home perfectly explained, with "regular butter, the fat solids will burn and you'll end up with a lot of little black spots on the exterior of the puddings." Clarified butter has had the fat solids strained out so there's no risk of a scorched appearance or taste. You can make your own clarified butter or you can buy it already made at the store.
Nutrition
Serving:
1
serving
Calories:
151
kcal
Carbohydrates:
10
g
Protein:
4
g
Fat:
10
g
Saturated Fat:
4
g
Polyunsaturated Fat:
1
g
Monounsaturated Fat:
4
g
Trans Fat:
0.01
g
Cholesterol:
101
mg
Sodium:
188
mg
Potassium:
81
mg
Fiber:
0.3
g
Sugar:
2
g
Vitamin A:
187
IU
Vitamin C:
0.03
mg
Calcium:
52
mg
Iron:
1
mg
Nutrition information is automatically calculated, so should only be used as an approximation.
Recipe © 2014 Fabio Viviani. Photo © 2014 Matt Armendariz. All rights reserved.
---
Recipe Testers' Reviews
I loved this Yorkshire pudding—so very easy but with a lot of "wow factor." The Yorkshire pudding did not collapse and tasted fab!
I made 1/2 the recipe using standard sized muffin tins and it made 8 puddings. I used butter and the recipe provided much more than I needed to butter the tins. I think I would have preferred oil (I've used that in the past for these), as the butter was JUST about to burn when I popped the mix in the pans.
This is pretty much a classic Yorkshire pudding. The puddings rose several inches above the pan and were perfectly browned on the outside and soft, moist, and buttery on the inside.
Since I made the puddings without a roast, I didn't have any pan drippings so I used melted butter in the recipe. (It's important to use clarified butter. With regular butter, the fat solids will burn and you'll end up with a lot of little black spots on the exterior of the puddings.)
The finished Yorkshire puddings were light and crisp.
The hands-on time is really only about 10 minutes—that's the time it takes to make the batter. The total time is about 70 minutes, but this is resting time and oven time, so you're free to do something else. I think it's useful to pour the batter into a jug before pouring it into the molds as it makes it easier to control. I actually prefer to use a bottle with a screw-top with any Yorkshire pudding recipe. The timing in the oven was roughly accurate—you just need to check on the puddings to see how they're progressing so they don't overcook.