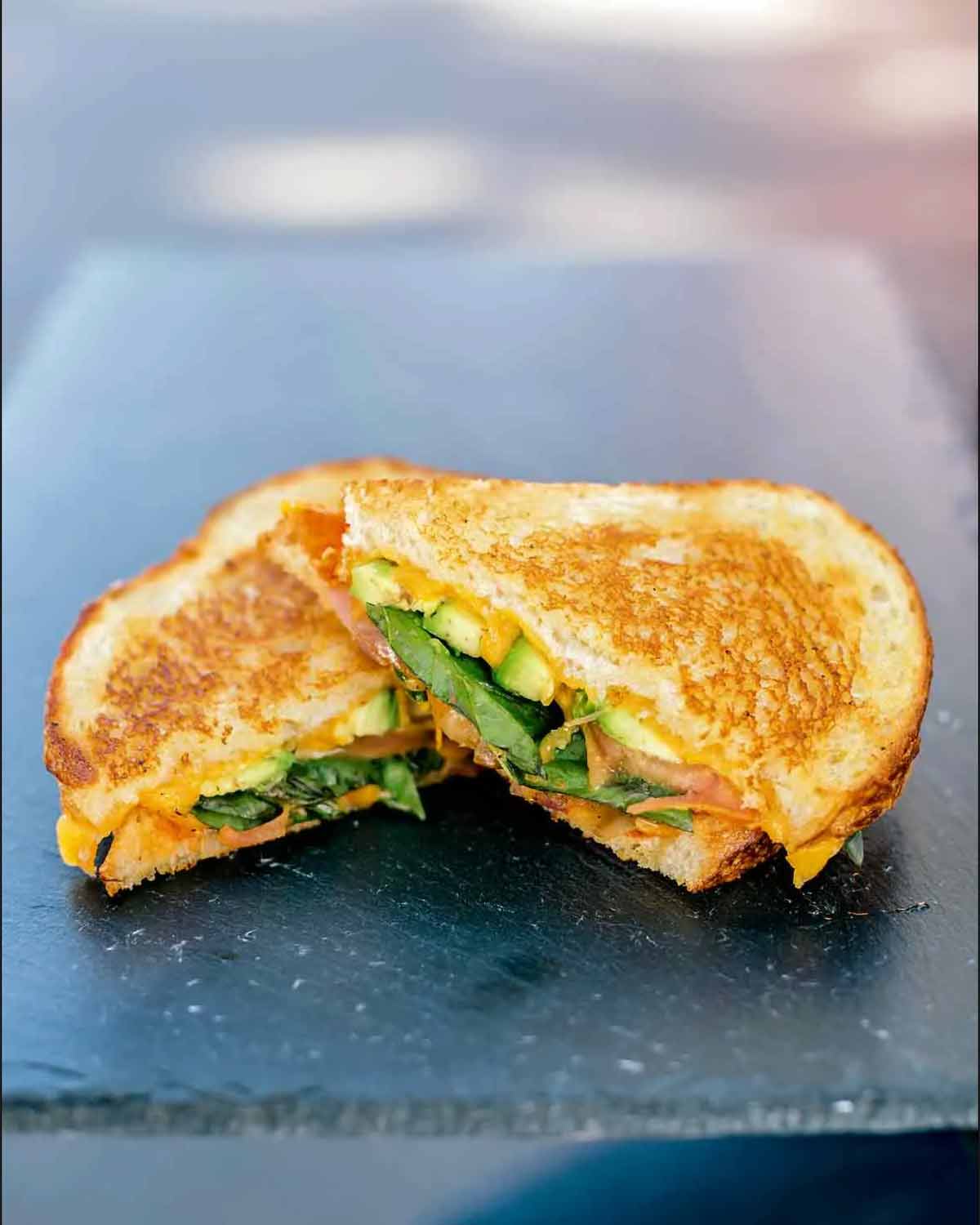 Say hello to a veggie grilled cheese sandwich recipe that calls for an inspired melding of about half your daily RDA of good-for-you veggies and a splash of Sriracha. Who loves you?!–Renee Schettler Rossi
Veggie Grilled Cheese Sandwich
This veggie grilled cheese sandwich adds mushrooms, onions, tomato, avocado, hot sauce, and basil to the comfort food staple that we all know and love.
Ingredients
1

tablespoon

extra-virgin olive oil

3

cremini mushrooms

,

sliced

1/4

medium (2 1/2 oz)

yellow or red onion

,

chopped

1/4

teaspoon

minced garlic

1/2

scallion (white and green parts)

,

chopped

Sea salt and freshly ground black pepper

Unsalted butter

,

for the bread, at room temperature

2

slices

sourdough bread

2 1/2

slices (2 1/2 oz)

mild Cheddar cheese (enough to cover your slice of bread)

1 1/2

teaspoons

store-bought or homemade Sriracha sauce

2

slices

tomato

,

(optional)

3

small

basil leaves

,

(optional)

1/2

small

avocado

,

peeled, pitted, and sliced
Instructions
In a large skillet over medium-high heat, heat the olive oil. Add the mushrooms and onion and sauté, stirring frequently, for about 4 minutes.

Reduce the heat to low, add the garlic, and sauté, stirring continuously, for about 2 minutes. Add the scallion and a pinch each salt and pepper and stir for 1 minute. The sautéed ingredients should be tender but a little crunchy with a tinge of a light brown color. Transfer to a bowl.

Return the skillet to medium-high heat. Butter 1 side of each slice sourdough bread and place the bread in the skillet, buttered side down. Divvy the cheese between both slices bread. Working in a zigzag motion, squeeze the Sriracha sauce over the cheese.

Add the sautéed vegetables, tomato, and fresh basil, if using, and avocado to a slice of cheese-topped bread. Top with the other slice bread, buttered side up. Cook, flipping once, until crisp and golden brown, about 3 minutes per side, during which time you may want to reduce the heat to medium so the cheese melts before the bread browns too much.

Serve the veggie grilled cheese sandwich immediately.
Nutrition
Serving:
1
sandwich
Calories:
842
kcal
Carbohydrates:
86
g
Protein:
20
g
Fat:
49
g
Saturated Fat:
16
g
Polyunsaturated Fat:
5
g
Monounsaturated Fat:
25
g
Trans Fat:
1
g
Cholesterol:
48
mg
Sodium:
848
mg
Potassium:
1088
mg
Fiber:
11
g
Sugar:
7
g
Vitamin A:
1279
IU
Vitamin C:
24
mg
Calcium:
116
mg
Iron:
6
mg
Nutrition information is automatically calculated, so should only be used as an approximation.
Recipe © 2014 Kim Pham | Philip Shen. Photo © 2014 KIM+PHIL Photography. All rights reserved.
---
Recipe Testers' Reviews
This veggie grilled cheese sandwich certainly is a very different grilled cheese sandwich compared to all the ones I've made in the past. If it were not for the tomato slices and avocado, it would have felt like a French onion soup on a sandwich. That's the best way I can describe it. I will definitely make this veggie grilled cheese sandwich again.
I don't know the last time I had a grilled cheese sandwich. It could well have been 40 years ago. Even as a kid, I was not a sandwich eater, and as an adult, even less so. When I was diagnosed with celiac disease, in 2001, sandwiches became even less a part of my life, and therefore suddenly more desirable. And now, grilled cheese is back. Two events happened on the same weekend to change everything for me—I finally found a really good gluten-free sourdough and this veggie grilled cheese sandwich recipe serendipitously arrived in my inbox. I made this sandwich recipe 3 times in 1 week. No, wait, 4 times!
I found the technique for grilling the sandwich in the skillet worked perfectly. I got a nicely browned, crunchy crust, and the cheese melted just right. I just loved having the vegetables on my grilled cheese. It turned the sandwich into a meal. The Sriracha added just a hint of a kick. Perfect.
As I made this several times, I started trying some variations. You could really take this recipe in a lot of directions. The second time I made it, I used a mix of shiitake and oyster mushrooms instead of cremini, and cilantro instead of basil. Still fantastic. And then I made a version with homemade caraway Gouda instead of Cheddar, parsley instead of basil, and harissa instead of Sriracha. Also fantastic. You get the idea. You have a nice template here with this recipe for a mix of cheese, vegetables, herbs, and spicy sauce that can go all sorts of places.
I really enjoyed this veggie grilled cheese sandwich. The ingredients brought great flavor to the sandwich. The heat from the Sriracha, the creaminess of the avocado, and the freshness of the tomato all worked very well together. My sandwich was beautifully golden after 3 minutes in the Griddler on the panini setting. I wish that I had the ingredients for this recipe in the house. I would love one of these for lunch.