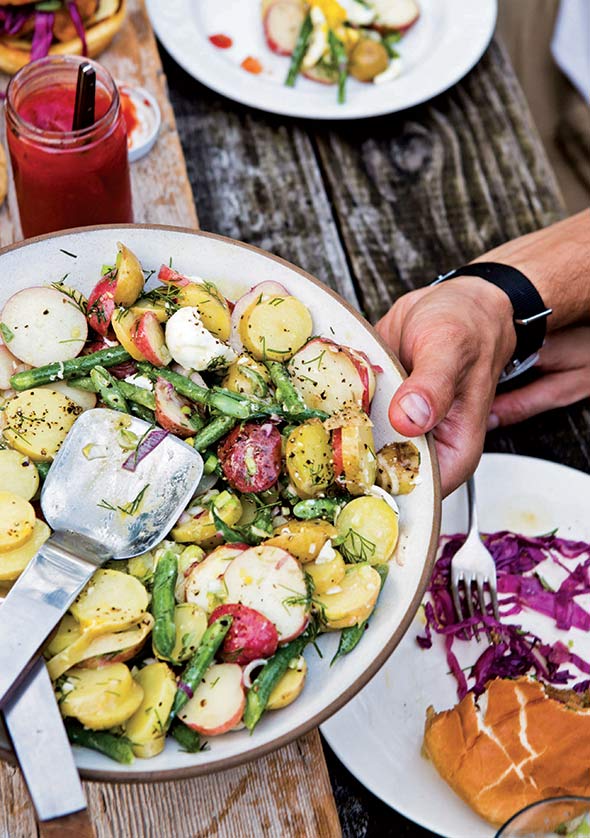 Potato salad is a barbecue classic. Instead of mayo, this French potato salad recipe uses mustard vinaigrette plus a few soft-boiled eggs to give it a creamy texture with complex flavor. Try to buy organic potatoes whenever possible (potatoes and other root vegetables absorb everything that is put into the soil, so you want to make sure they're not absorbing chemicals).–Ithai Schori & Chris Taylor
LC Not Your Mom's Potato Salad Recipe Note
This French potato salad is not your mom's potato salad recipe. And we couldn't be more okay with that. As to the potato salad's exact provenance, we can't say, as we refer to it as "French potato salad" because the recipe relies on egg yolk, rather than mayo or sour cream, for its enviably creamy consistency. That's really rather reminiscent to us of how the French rely on egg yolk to impart a velvety richness to countless things. And, on a separate note, it also sorta reminds us of salade Niçoise, minus the tuna and olives. (Although wouldn't olives be lovely in this?!) So go on. Try it. And then tell us if you feel we got the name right.
Raw Egg Caution
As with any recipe that relies on raw eggs, this French potato salad should be avoided by pregnant women, the very young, the elderly, the ill, and those with compromised immune systems. Here's more useful egg safety information.
French Potato Salad
Quick Glance
45 M
1 H, 30 M

Serves 6 to 8
Ingredients
Email Grocery List
18 small new potatoes (1 1/2 to 2 pounds potatoes—red, yellow, purple, doesn't matter)

5 to 9 ounces green beans or haricots verts (depending on how much you like green beans)

6 large eggs

1/2 medium red onion, diced, or 1/2 bunch scallions (white and green parts), chopped

1/4 to 1 cup chopped dill leaves, or to taste

3 tablespoons Dijon mustard

1 garlic clove, minced

6 to 9 tablespoons red wine vinegar

6 to 9 tablespoons extra-virgin olive oil

Sea salt and freshly ground black pepper
Directions
1. Place the potatoes in a large saucepan and add enough cold water to more than cover them. Generously salt the water and bring it to a boil. Reduce the heat and simmer until the potatoes are easily pierced with the tip of a sharp paring knife, 15 to 20 minutes, depending on their size. Using a slotted spoon, transfer the potatoes to a colander placed in the sink and let cool. (If you're making this recipe ahead of time, you can cover and refrigerate the cooled potatoes for up to several hours.)

2. Bring the water in the saucepan back to a boil. Add the green beans and cook for about 2 minutes, until the beans are bright green and almost tender yet still retain a little crispness. Fill a large bowl halfway with ice water. Using a slotted spoon, scoop the green beans from the boiling water to the ice water and let them chill for a minute or so. Drain the beans and pat them dry.

3. Bring the water in the saucepan back to a boil one last time. Carefully add the eggs and cook at a rolling boil just until coddled (that is, until the whites are sorta firm but the yolks are runny), 5 to 6 minutes. Transfer the eggs to the ice water just until they're cool enough to handle. Gently crack the shells and peel the eggs, being careful not to break the white or the yolk will spill everywhere. (This is a great task for a friend in need of a job in the kitchen.)

4. Slice the potatoes about 1/4-inch thick. Cut the beans into 1-inch pieces, first halving them lengthwise if desired. Dump the potatoes, green beans, onion, and dill in a large serving bowl and gently toss.

5. Make a vinaigrette by combining the mustard, garlic, vinegar, and oil in a Mason jar, screwing on the lid, and giving it several hard shakes. (Alternatively, you could just whisk the vinaigrette together in a small bowl.) Season with salt and pepper.

6. Using the back of a fork, crush the soft-boiled eggs against the side of the salad bowl to release the yolk and coarsely chop the white. Gently mix the eggs and some of the vinaigrette into the potato and green bean mixture. Taste and adjust with more salt or vinaigrette as desired. You can serve the potato salad immediately, but it's arguably best after an hour in the fridge.
Recipe Testers Reviews
French Potato Salad Recipe © 2015 Ithai Schori & Chris Taylor. Photo © 2015 Nicole Franzen. All rights reserved. All materials used with permission.
If you make this recipe, snap a photo and hashtag it #LeitesCulinaria. We'd love to see your creations on Instagram, Facebook, and Twitter.