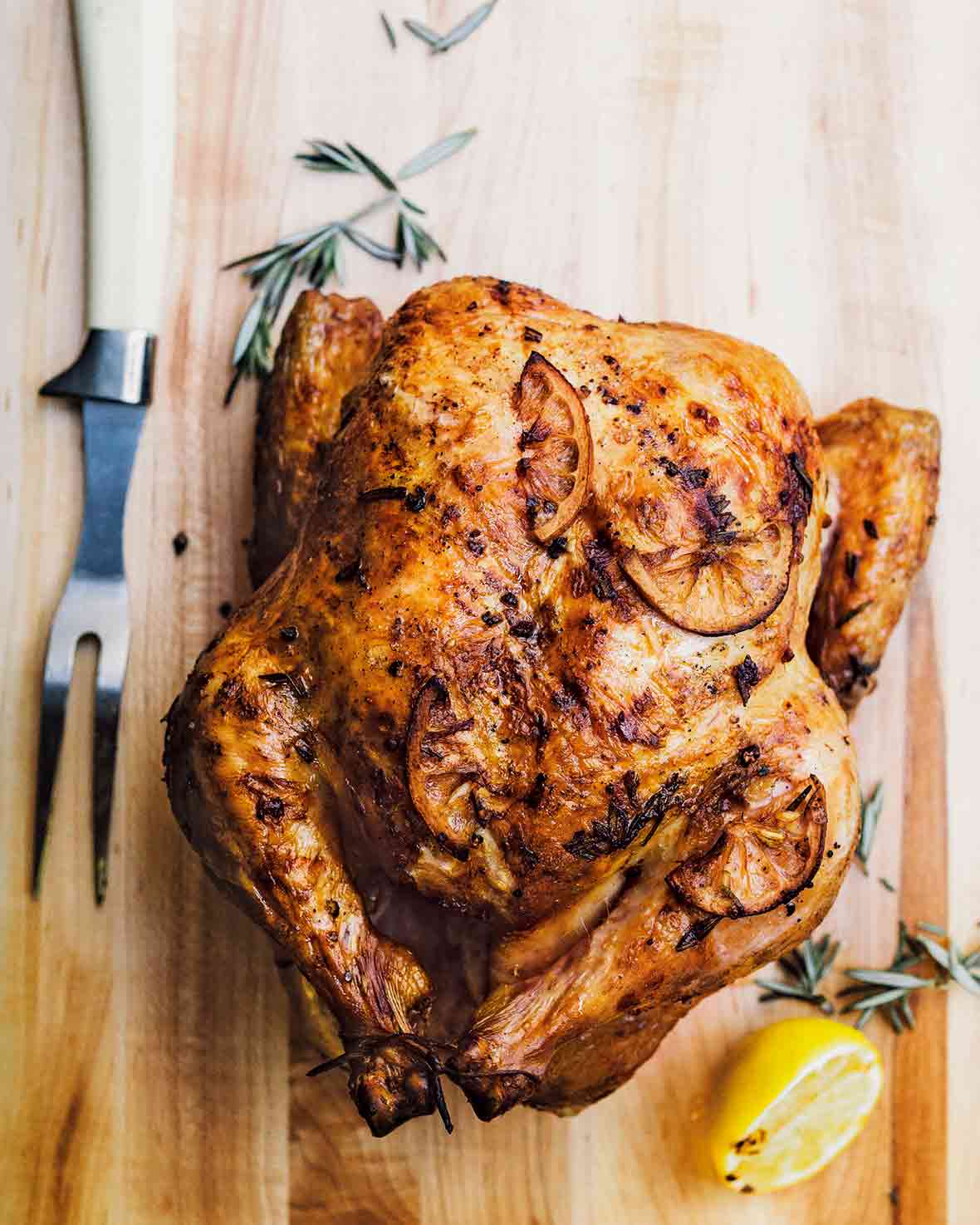 We sorta feel like we ought to issue the disclaimer that this whole grilled chicken may ruin regular roast chicken for you. To be fair, this recipe is inspired by a classic whole roast chicken with herb butter lovingly shoved beneath the skin. But c'mon, who are we kidding, EVERYTHING is better on the grill. Don't say we didn't warn you.–Renee Schettler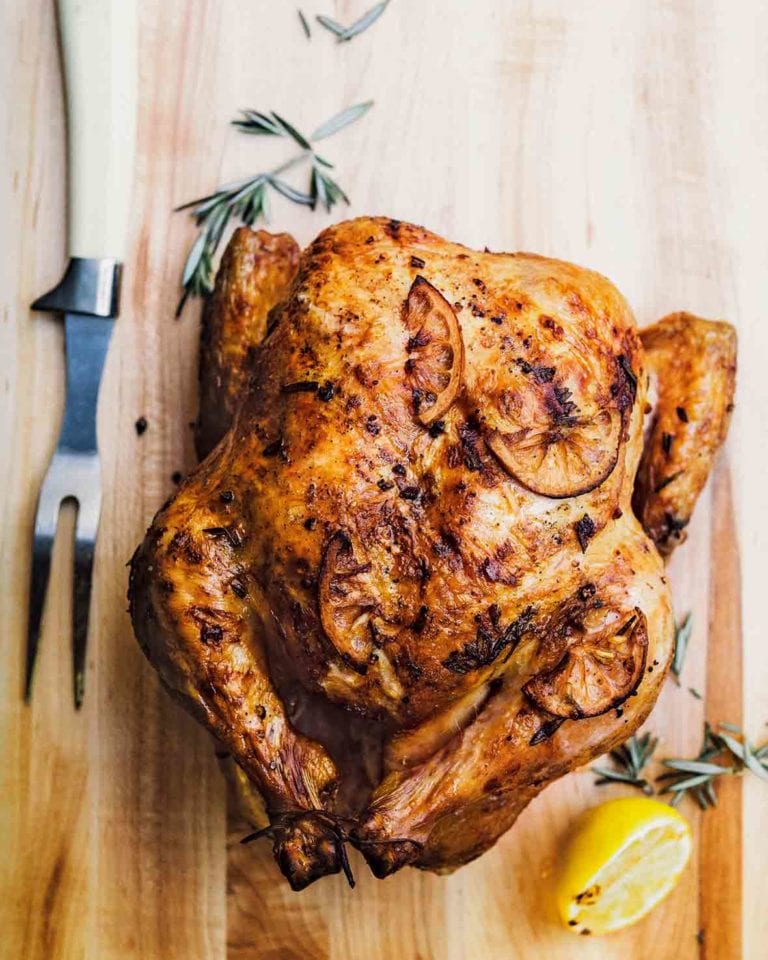 Whole Grilled Chicken
This whole grilled chicken is brined, then coated with lemon, rosemary, and garlic, and grilled to tender juicy perfection. Perfect for backyard barbecues or any other time you need to show off your grilling skills.
Equipment
1 cup apple or pecan wood chips (optional)
Ingredients
6

cups

cold water

1/2

cup

Diamond brand kosher salt

One

(4- to 4 1/2-pound)

chicken

1/2

lemon

,

sliced thin

2

tablespoons

rosemary leaves

,

finely chopped

2

tablespoons

minced garlic

,

finely chopped

3

tablespoons

extra-virgin olive oil

1/2

teaspoon

freshly ground black pepper
Instructions
Whisk together the water and salt in an 8-quart or larger container. Add the chicken, cover, and refrigerate for at least 12 hours and up to 24 hours.

Soak the wood chips, if using, in water for 30 minutes.

If using a charcoal grill, about 1 hour before grilling the chicken, set up your grill for indirect grilling (which basically means putting the pile of coals on one side and nothing on the other side).

If using a gas grill, about 20 minutes before grilling the chicken, heat your grill to 250°F to 300°F (121°C to 149°C), or medium-low.

Combine the lemon slices, rosemary, garlic, oil, and pepper in a food processor or mortar or molcajete or a heavy bowl and use a pestle or back of a wooden spoon to slowly but firmly mash the ingredients together until pulpy and mushy.

Remove the chicken from the brine, rinse under cold water, and pat dry with paper towels. Rub the lemon mixture onto the skin and let stand at room temperature for 15 minutes.

Place the chicken on the grill directly over the heat. Grill 7 minutes or until grill marks and some charring appear. Turn the chicken over and grill for 7 more minutes.

Using tongs, move the chicken to the cool side of the grill. If using wood chips, sprinkle them over the hot coals or fashion them into a packet made of aluminum foil and pierce the packet several times. Grill, covered with grill lid, for 1 to 1 1/2 hours or until a meat thermometer inserted into thickest portion registers 165°F (74°C). (A meat thermometer is essential when cooking a whole bird. The best place to check the chicken's internal temperature is where the thigh meets the body of the bird. Insert the thermometer deep into the meat, close to the bone.)

Remove the chicken from the grill and let it stand 10 minutes before carving and serving.
Nutrition
Serving:
1
serving
Calories:
383
kcal
Carbohydrates:
2
g
Protein:
27
g
Fat:
29
g
Saturated Fat:
7
g
Polyunsaturated Fat:
5
g
Monounsaturated Fat:
14
g
Trans Fat:
0.1
g
Cholesterol:
109
mg
Sodium:
115
mg
Potassium:
306
mg
Fiber:
1
g
Sugar:
0.3
g
Vitamin A:
227
IU
Vitamin C:
8
mg
Calcium:
40
mg
Iron:
2
mg
Nutrition information is automatically calculated, so should only be used as an approximation.
Recipe © 2015 David Guas. Photo © 2015 Johnny Autry. All rights reserved.
---
Recipe Testers' Reviews
This whole grilled chicken was fantastic! Brining the chicken kept it really moist and the flavor of the lemon and rosemary was really lovely.
I brined the bird for 16 hours, drained it, patted it dry, and let it sit in the fridge for 4 more hours before continuing with the recipe. I used a gas grill, and instead of sprinkling the apple chips around the grill, I soaked them in water for 30 minutes, wrapped them in a foil pouch, and poked several holes in the pouch. I put it on the grill next to the chicken for the whole cooking time. The flavor from the smoke was subtle, but it did impart a lovely coloring to the meat of the chicken.
Fantastic recipe!
I had been perfectly content grilling cuts of meat, including beef, chicken, and pork, until now. But I am utterly impressed with the juiciness of this whole grilled chicken. I can't wait to try my classic tandoori chicken recipe with this cooking method.
I smashed the garlic, rosemary, and lemon to a mashed guacamole consistency. (Did I mention I adore lemon and rosemary?) The Indian in me can't resist brining or marinating anything for less than 24 hours. So 24 hours it was. Since our gas grill doesn't have a temperature gauge, we kept it to "smoke" indicator. Took us closer to 1 hour and 45 minutes to cook it to 165°F. Either way, it was worth the wait.
Ultra moist and flavorful—truly a weekend winner. The flavoring is classic. Looking forward to grilling chicken using this method with my own spice mixture soon.