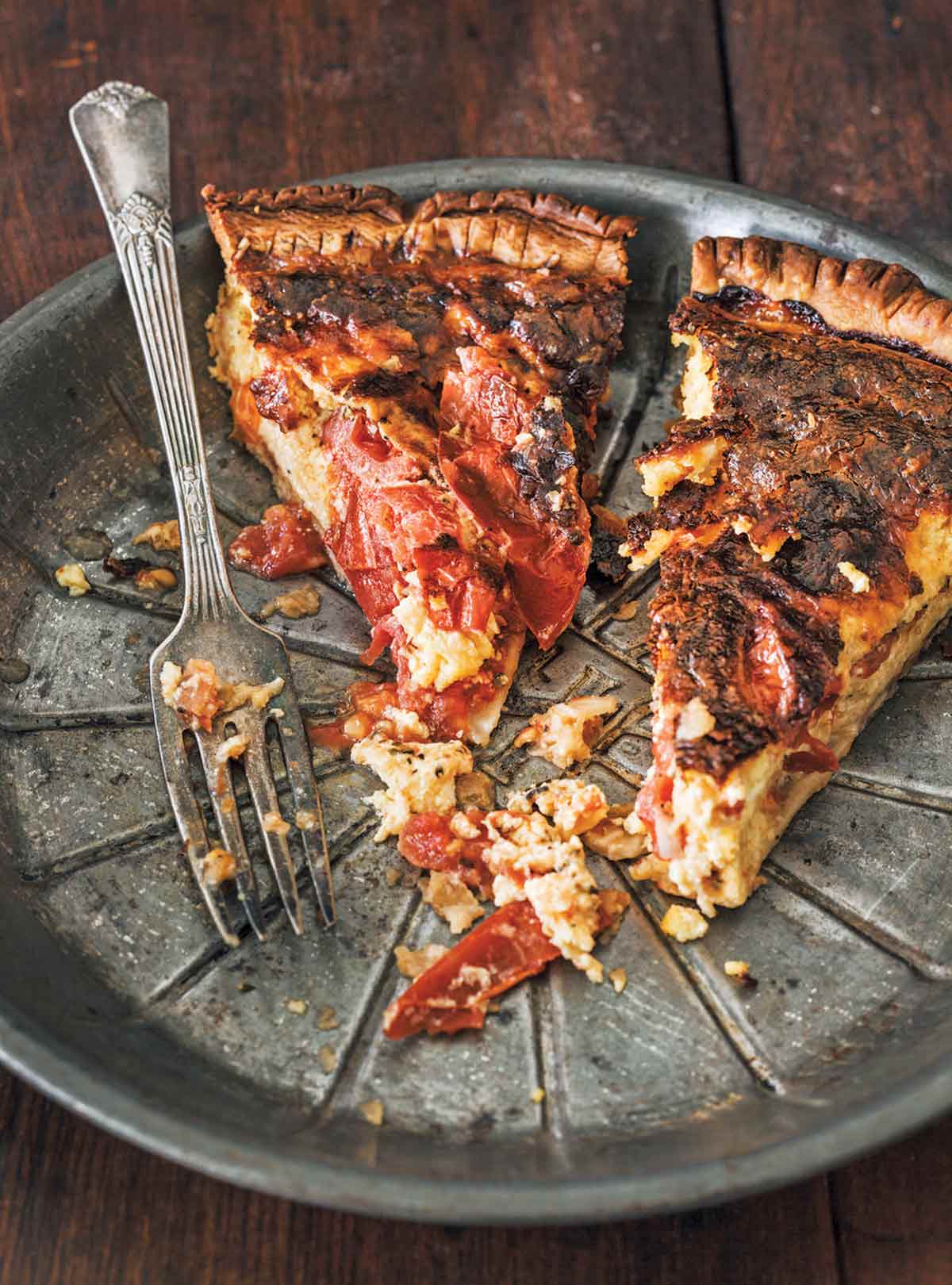 This roasted tomato quiche recipe is going to blow any prior assumptions or, dare we say, negative connotations you may have been harboring about quiche. As the author says, "I think folks are so scarred from cold, rubbery quiches sitting in glass cases in overpriced gourmet marketplaces that a tiny warning bell goes off in their minds if I even mention it." Nods. We understand. But we think this late-summer recipe, loaded with fresh tomatoes, basil, and cheese and roasted until its fairly oozing awesomeness, will do great things for quiche's name in your household. Just do yourself a favor and only make this with beauteous tomatoes straight from your garden or the farmers market. None of those insipid January hothouse tomatoes, please. And then bear in mind that this soulful and satiating quiche goes perfectly with chilled wine at dinner. Or with even more wine at brunch.–Renee Schettler
WHY IS MY QUICHE WATERY?
There's nothing more deflating than a quiche that has a watery filling or a soggy crust. A runny filling is one thing–generally, that just means that it's been undercooked and can be fixed by a little more time in the oven. A watery filling happens when your quiche is set but weeps a watery liquid. Here are the top reasons that can happen. 1. You over baked it. That sounds counterintuitive, we know, but when you overcook eggs, their proteins begin setting too hard and forcing out water. 2. You used thin cream (or thin milk). This recipe calls for heavy cream and there's a reason for that, beyond just the sheer deliciousness of it. Thin cream has far more water, and less fat, than the thick stuff and it doesn't have anyplace to go…except all over your plate. You can substitute milk for cream but remember to use one with lots of fat. 3. You used the top or bottom rack in the oven. Quiche needs to be cooked evenly from the top and bottom to avoid getting soggy. Make sure that you're using the middle rack and cooking for at least 45 minutes.
Tomato Quiche
A tomato quiche fairly overflowing with cheese and basil? Sounds like exactly the solution we're seeking for our glut of late-summer tomatoes.
Ingredients
About 1

pound

tomatoes

,

sliced 1/4 inch (6 mm) thick (about 10 to 12 tomato slices from 2 to 3 not gigantic tomatoes)

Extra-virgin olive oil

,

for drizzling

1

tablespoon

finely chopped basil leaves

,

or 1/8 teaspoon dried basil

1/8

teaspoon

dried oregano

,

(optional)

Salt and freshly ground black pepper

5

large

egg yolks

1 1/2

cups

heavy cream

One

(9-inch)

store-bought or homemade pie crust

1

cup

provolone cheese

,

shredded

1

cup

Parmigiano-Reggiano cheese

,

grated
Instructions
Preheat the oven to 425°F (218°C).

Spread the tomato slices in a single layer on a rimmed baking sheet, being careful that the slices don't overlap. Drizzle the slices with enough oil to generously coat them, turning to slick both sides, and then sprinkle them with the basil, oregano, salt and pepper. Roast until the tomatoes start to shrink, 15 to 20 minutes. Let cool on the baking sheet for 30 minutes.

In a medium bowl, whisk the egg yolks until light and fluffy, and then whisk in the heavy cream.

Arrange half the roasted tomato slices in a single layer in the bottom of the pie crust. Sprinkle half of each cheese over the tomatoes. Repeat the layering of tomatoes and cheese and slowly pour the egg mixture over the top, letting it fill in all the nooks and crannies.

Bake the quiche until golden brown on top and set in the center, or until a toothpick inserted in the center comes out clean, 30 to 60 minutes, depending on the wateriness of your tomatoes and exactly how thick your pie plate is. Check on the quiche after 30 minutes and then again at 45 minutes and if the crust or the filling are sufficiently browned, loosely cover the quiche with foil until it finishes baking. Let the quiche rest at room temperature for 30 minutes before slicing it into wedges. The quiche is far more fabulous when served warm as opposed to cold. (Don't even think about serving leftovers straight from the fridge.)
Adapted From
The B.T.C. Old-Fashioned Grocery Cookbook
Buy On Amazon
Nutrition
Serving:
1
portion
Calories:
539
kcal
Carbohydrates:
20
g
Protein:
18
g
Fat:
44
g
Saturated Fat:
24
g
Polyunsaturated Fat:
3
g
Monounsaturated Fat:
14
g
Cholesterol:
262
mg
Sodium:
611
mg
Potassium:
314
mg
Fiber:
2
g
Sugar:
2
g
Vitamin A:
2051
IU
Vitamin C:
11
mg
Calcium:
435
mg
Iron:
2
mg
Nutrition information is automatically calculated, so should only be used as an approximation.
Recipe © 2014 Alexe Van Beuren | Dixie Grimes. Photo © 2014 Ed Anderson. All rights reserved.
---